Problems and countermeasures of feed preparation in small layer chicken farms
2021-03-27 Back to List
If you are looking for related products or have any other questions, please feel free to contact us.
Contact Us
At present, the family-scale chicken farming of farmers has changed from a subsidiary industry to an important pillar industry of the family economy. Generally raising about 1,000 laying hens, the total investment is not too big, neither affects farmland management, nor does it need to hire people to help, but can also create considerable profits for the family. This is the rapid development of small-scale laying hens in recent years. Important reason. However, due to the low technical level of this type of chicken farm, there are many problems in production, the use of feed is more prominent, and the feed remuneration is not ideal. The main problems and solutions in the use of its feed are introduced as follows: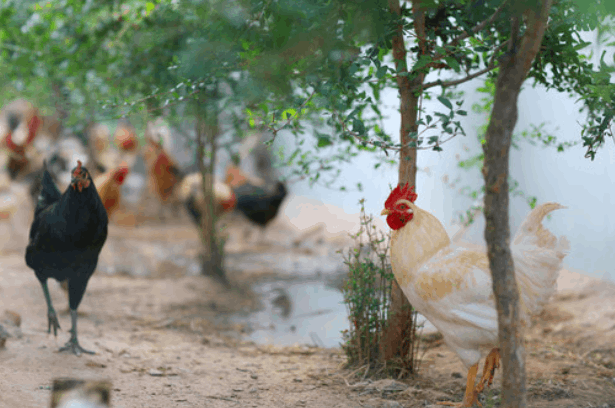 1. Problems in layer chicken feed preparation
(1) The content of metabolizable energy is too high: Many people believe that the higher the energy in the feed, the more eggs the chicken will lay. In some chicken farms, the feed energy for laying hens is as high as 1212 MJ/kg, and corn accounts for 70% of the total feed. From anatomy of the chicken body, it is found that due to high energy and accumulation of ovarian fat, it seriously affects egg production and egg weight. This type of problem is especially obvious when the feed protein content is insufficient.
(2) The crude protein content is too high: quite a few chicken farmers believe that the egg contains high protein content. This main component is from feed protein. Most of these farms are technicians with elementary cultural knowledge and use a lot of high protein in the preparation of feed. Protein feeds such as soybean meal, peanut meal, and other cakes and fish meal, etc., have resulted in increased feed costs and wasted protein, while laying hens are also poisoned due to excessive protein content in the feed.
(3) The ratio of calcium to phosphorus is obviously imbalanced: many chicken farms have low calcium content during the peak period of egg production, which is only 0.9%. This type of farm is mainly based on the nutritional standards of the chicks and blindly prepares the feed for the laying hens. Under normal circumstances, during the laying period, calcium should reach 3.5% to 3.7%, and phosphorus should be 0.45%. Otherwise, eggshells are often easy to break or soft-shelled eggs will be produced, causing undue economic losses.
(4) Blindly adding vitamins and trace elements: Most of the technicians in this type of farms have a low level and only understand some common knowledge of feeding. They know that these two types of substances are essential for the growth of laying hens, but they often cannot grasp the ratio of use. Therefore, most of them are added excessively, a few are insufficiently added, and some use more green feed to replace vitamins, which obviously affects the feed intake of chickens. Insufficient addition affects growth and egg production performance, and blindly adding vitamins and trace elements often leads to rising feed costs and backfires.
(5) One chicken feed formula has been used to the end: different breeds and different growth stages have different nutritional standards for laying hens, which requires proper adjustment of the feed formula. Most of these small chicken farms only treat chicken raising as a sideline at the beginning, and do not pay much attention to whether the feed composition is scientific or not. Instead, they use the feed formula of a larger chicken farm nearby and use it all the time. So that a certain feeding stage can not get sufficient nutritional needs, and cause undue economic losses.
(6) Improper addition of drugs to feed when chicks are infected with diseases: This situation is not uncommon, causing extremely bad consequences. For example, laying hens only lay about 5% when they are 25 weeks old. The reason was that when the chickens fell ill or died, they did not ask the veterinarian for diagnosis and treatment, but went to the pharmacy to describe the condition and buy medicine for use. Due to inaccurate conditions, inaccurate judgments, improper use or dosage of medicines, uneven mixing of medicines in the feed, more or less intake of chickens, poisoning or failure to achieve the therapeutic effect, and the growth and development of surviving chickens are inhibited , The production performance is extremely low.
2. Solution
(1) Hold technical training courses or on-site experience exchange meetings, earnestly organize the learning of chicken breeding knowledge, and master the key technologies in breeding. The feed ratio should be determined according to different laying hen breeds and different feeding stages. Adjust the feed formula timely according to the different growth and production stages to ensure the nutritional needs.
(2) Use feed ingredients scientifically. The amount of crude protein and energy in the diet should be determined according to nutritional needs, adhere to the standard of meeting needs, try to make reasonable use of feed ingredients, reduce waste, and scientifically adjust the feed ratio. For example, the crude protein content in the feed at the early stage of laying should be kept at 15%, while the peak stage of laying should be kept at about 165%.
(3) Use minerals accurately. There must be a full and correct understanding of the principle of mineral action. Excessive or insufficient use will bring greater losses to layer production. Practice has proved that the content and proportion of feed must be emphasized when preparing feed. For example, the feed for laying hens should contain 3.6% calcium and 0.45% phosphorus, and the ratio of calcium to phosphorus in the feed for chicks should be kept within the range of 1.5-2:1.
(4) Standardize the use of vitamins. Some breeders do not use vitamin products, but use green fodder (such as alfalfa, greens, carrots) instead of vitamins, which is not suitable for large-scale breeding. The main problem is that vitamin supplementation is not comprehensive, sometimes sometimes not. At the same time, excessive intake of green fodder directly affects the normal feed intake of chickens. Therefore, multi-vitamin additives should be used instead of green fodder. Green fodder can be used as a vitamin supplement.
(5) Design the feed formula correctly. Whether the feed formula is properly designed directly affects the egg production performance. For the design of feed formula, the general requirements are based on the different breeds of chickens, different growth and development stages, and different egg production stages. It should also be based on the status of the chicken group, the supply of feed ingredients, and the market conditions and seasons. Make appropriate adjustments to achieve better economic benefits.
In short, for such small chicken farms, the production organizers and leaders should not underestimate the technical problems in the preparation and use of feed, and should always study them. As long as attention is paid to the research of production technology, the benefit of raising chickens will be greatly improved.
【More info about chicken feed production】
Maintenance for several important equipments in 1-20tph chicken feed pellet production line
How to set up a poultry feed production line to process organic chicken feed?
Eat complete formula chicken feed to reduce cost of layer chicken feeding plant
Animal feed line machine to found a chicken feed pellet production plant with reasonable price
FAQs about making mulberry leaves into chicken feed pellets
Self-made chicken feed, mixing is really important
How To Use Small Poultry Chicken Feed Pellet Mill Machine
The key functions and values of poultry chicken feed pellet mills and poultry feed grinders?
Factory price 1 ton per hour poultry chicken feed pellet making plant
The solutions for common troubles of animal poultry chicken feed hammer mill machine
How to use and maintain ring die poultry chicken feed pellet mill properly?
How to Set up a conmplete poultry chicken feed pellet production line to start your business?
Treatment of common failures of poultry chicken feed grinder
How To Build An Chicken Feed Pellet Making Plant
How To Increase The Yield And Prolong Life Of Chicken Feed Pellet Making Machine?
What 1-2 ton per hour chicken feed pellet making machine needed in poultry chicken feed mill?
What chicken feed manufacturing machimes are nedded in 3-4 tons per hour chicken feed pellet making
What do you need to produce chicken feed in 5 tons per hour chicken poultry feed mill?
Why Choose Richi Machinery Chicken Feed Pellet Making Machine for Chicken Poultry Feed Mill Plant?
What is chicken feed pellet mill making machine?
Difference Between New And Used Chicken Poultry Feed Pellet Making Machine for Chicken Feed Mill
What is the purpose of cooling machine on poultry chicken feed pellet production plant?
Double shaft paddle mixer machine for animal poultry chicken feed mill production