FAQs about making mulberry leaves into chicken feed pellets
2020-08-06 Back to List
If you are looking for related products or have any other questions, please feel free to contact us.
Contact Us
1. Do chickens eat mulberry leaves?
The chicken does not eat mulberry leaves. When it comes out of the eggshell, it will eat mulberry leaves in the first bite. After a long time, it will adapt to this taste.
In order to let the chickens get used to the taste of mulberry leaves, they are not given fresh mulberry leaves, but mulberry leaf powder, which is the powder that is ground after mulberry leaves are dried. Mix the mulberry leaf powder with the chicken feed, and let the chickens eat from birth, so that the chickens will gradually adapt to the taste of mulberry leaves, and when the chickens grow to young chickens, they can be used Put it in the mulberry garden to eat mulberry leaves to replenish the body.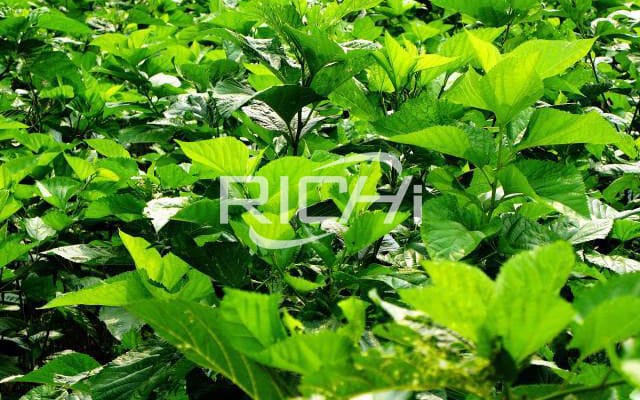 2. How to process mulberry chicken feed?
There have been some reports on the ingredients contained in the mulberry leaves and branches of the feed mulberry. Mulberry leaves contain 15%-30% crude protein, 4%-10% crude fat, 8%-12% crude fiber, 30%-35% nitrogen-free extract, and are rich in vitamins (C and B groups) and amino acids (Complete variety) and mineral elements (there are mainly 8 species, among which the content of potassium, calcium, iron, zinc and manganese is higher than that of corn or green alfalfa). It also contains many biologically active substances (phytosterols, flavonoids, alkaloids and polysaccharides, etc.).
Mulberry leaves are used as feed for poultry, livestock and poultry. They can be eaten fresh or dried, crushed and used in combination with other feeds. However, because the moisture content of fresh mulberry leaves is slightly higher than that of grasses or other leaves, it is generally about 70%. The proportion of mulberry leaves in the diet should not be too large, and should be used with other feeds. The mulberry leaves are dried, crushed, and added to chicken feed at a ratio of 5%-10%. The color of egg yolk can be significantly improved, the quality of eggs is improved, the number of eggs is increased, the flavor of chicken is improved, and the amount of ammonia emissions in chicken manure is reduced.
Feeding cattle and sheep with dried mulberry leaves, or adding slightly crushed dried mulberry leaves to pig feed at a ratio of 25%-30%, or adding it to rabbit feed at a ratio of 10%-15%, showed physical enhancement, Increased growth, improved meat quality, and reduced feed costs.
3. Does planting mulberry trees make money to raise chickens? Which mulberry tree is good for raising chickens, and how many mulberry trees are planted per acre?
If you only raise chickens, of course you will grow forage mulberry, which is 1,330 trees per acre. In fact, the combination of planting and breeding has the best effect. The fruit mulberry plant produces 5,000 catties of mulberries and 6,000 catties of mulberry leaves per acre. The mulberries are sold for money. Very suitable for making a fortune in the countryside!
4.RICHI factory price poultry chicken feed pellet processing line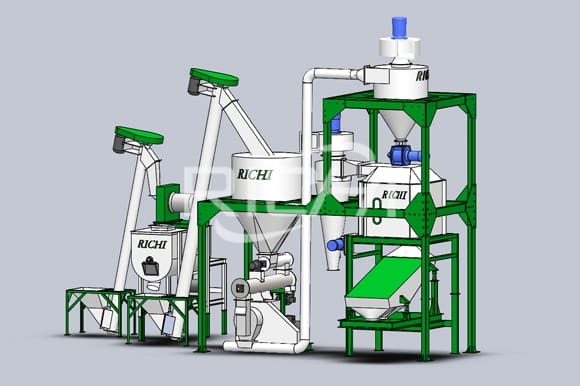 Whether it is a family farm or a feed factory, the processing of chicken feed pellets is of course not only simple mixing, but also requires crushing, pelleting and other stages. The following Richi Machinery will tell you in detail the process of a chicken feed pellet production line.
Capacity:1-100 tons per hour.
Final Product: Pellet feed.
Pellet Size:2.0-4.0 mm.
Batching System:Manual or Automatic.
Packing System: Manual or Automatic.
①Cleaning Machine
To ensure GMP cleaning is an important aspect. Different type of cleaner used for this purpose.
②Conveying machine
All transportations like bucket elevator, screw & chain conveyor etc. for conveying RM & Finished goods.
③Grinding machine
Raw materials need to be grinded as 225 m/microne perticle size by chicken feed crusher for different type of feed.
④Mixing machine
Different R/M are mixed here with additives, oil/fat, medicines, etc. Good chicken feed mixer ensure good quality.
⑤Pelleting machine
Produce final chicken pellet feed. A good pellet means "A complete feed" and a good chicken feed pellet making machine can ensure that.
⑥Cooling machine
Extruded feeds are about 70-90° C. Chicken feed cooling machine bring down it at normal temperature (+4° max).
⑦Screening machine
To ensure supply of quality and perfect size feed, screener plays a vital role. Uneven sizes screaned-out.
⑧Bagging machine
Ready chicken pellet feed need to be packed. It can be manual or automatic bagging depends on requirement.
5.Some typical turn-key poultry chicken feed pellet plant projects:
Afghanistan 10T/H turn-key poultry chicken feed production line machinery
Uzbekistan 15 tons per hour chicken feed making plant
Ethiopia 5-6T/H poultry chicken feed manufacturing plant
Kenya 5T/H ton per hour poultry chicken feed pellet making plant
Zimbabwe 3-5 ton per hour poultry animal feed processing plant
Colombia 3-4T/H Complete automatic chicken animal feed pellet making plant
Saudi Arabia 15-16T/H automatic chicken feed processing line plant
Papua New Guinea 1-2T/H Chicken Feed Pellet Processing Plant
<p>This article is about making mulberry leaves into chicken feed pellets.You can directly consult Richi Machinery for more questions about"high quality layer chicken feed pellet making plant"" how to make chicken feed for layers "" poultry chicken layer mash feed mill machinery""advanced small poultry feed mill price""ring die poultry layer feed pellet mill equipment",Email: enquiry@cn-pellet.com,Whatsapp/Cel: +86 185 7410 3366</p>