Brief Introduction
Get Quote
Drum Wood Chipper (Horizontal)
| | | | |
| --- | --- | --- | --- |
| Model | W-Drum-215 | W-Drum-216 | W-Drum-218 |
| Feeding Size(mm) | 160*400 | 230*590 | 300*680 |
| Number of blade (pic) | 2 | 2 | 2 |
| Rotated Speed (r/min) | 590 | 590 | 650 |
| Capacity(t/h) | 3-5 | 8-10 | 14-18 |
| Main Motor Power(kw) | 4-45 | 4-55 | 4-110 |
| Feeder Power(kw) | (2.2-3)*2 | (3-4) *2 | (4-5.5) *2 |
| Oil Pump Power(kw) | 1.5 | 1.5 | 1.5 |
| Transportation Power(kw) | 3 | 3 | 4 |
| Weight(kg) | 2990 | 5030 | 7000 |
| Dimension(mm) | 1470*1550*970 | 1800*1900*1210 | 2200*2150*1500 |
What Are The Parts of Wood Chipper Machine?
Wood chipper machine is a key equipment for the production of pellets, which composed of multiple components. It is mainly composed of drive system, feeding system, cutter and hammer, etc. The following figure is for reference.
Contact Us
1. Siemens Main Motor
2. Chipping General Contract
3. Feeder Main Motor
4. Feeding conveyor belt
5. Roller
6. Siemens Feed Motor
7. Siemens Discharge Motor
8. Finished Product Discharge Port
Detailed Instructions of Wood Chipper Machine
RICHI always believes that good products are one of the important indicators of corporate survival. We use high-standard materials in the production process and cooperate with internationally renowned brands to ensure that we can bring high-quality equipment to customers. The following is a detailed display of RICHI pellet machine.
Contact Us
High-strength feeding toothed roller, suitable for large-size logs, improving feeding efficiency

The main motor of the equipment uses Siemens motor, which has more stable performance and longer service life

The feeding motors are connected to the reducer to reduce the speed of the upper and lower feeding toothed rollers

The cutter assembly is connected to the knife roller, and the flying knife is fixed on the knife roller through a pressure block

According to different raw materials, the upper feeding roller assembly can float up and down with the help of hydraulic system

Both the inlet and outlet can be equipped with conveyor belts to facilitate connection to the entire production line

The belt connection between the main motor and the cutter roller makes the speed faster and the cutting efficiency higher
Application of Drum Wood Chipper Machine
Richi drum wood chipper machine, with their large in-feed openings, lead the market and are capable of processing any waste wood product. Logs or bundles of wood with a diameter of over a meter can be reliably processed in larger wood chippers.
Contact Us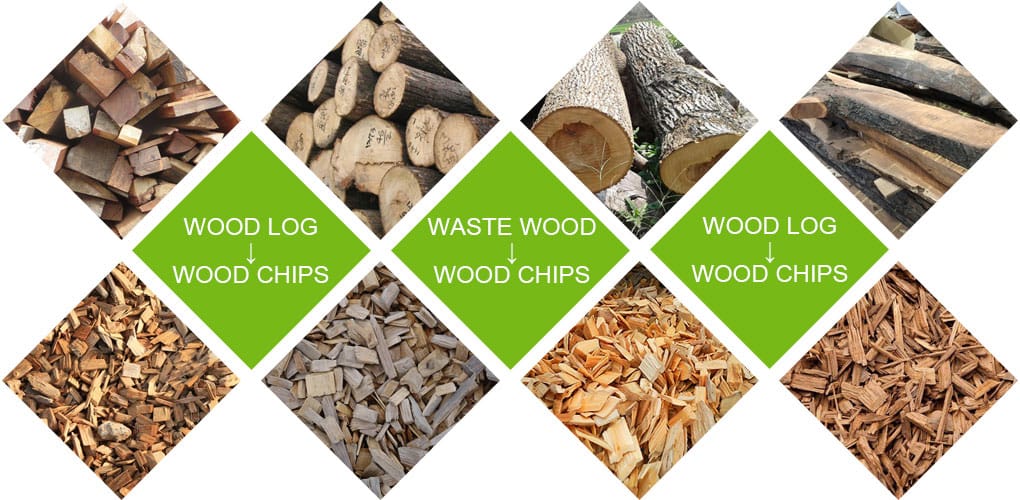 Accessories
Doing high quality products is RICHI's long-standing commitment. We guarantee that every equipment uses high specification accessories.
Contact Us
SIEMENS
Motor
SKF
Bearing
Grinder
Hammer
Grinder
Screen Sheet
Equipment In RICHI Workshop
Drum Wood Chipper
Wood Chipper Machine
Drum Wood Chipper Machine
Horizontal-fed Wood Chipper Machine