How to Set up a conmplete poultry chicken feed pellet production line to start your business?
2020-08-19 Back to List
If you are looking for related products or have any other questions, please feel free to contact us.
Contact Us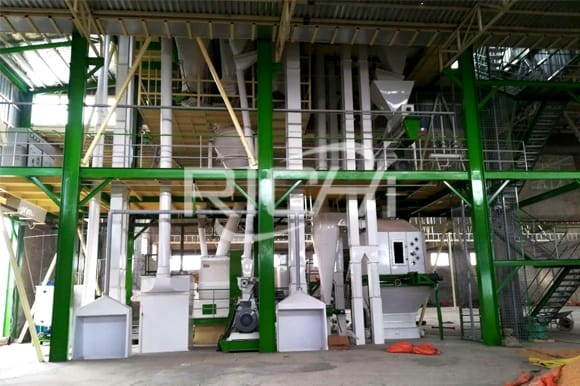 Some typical conmplete poultry chicken feed pellet production line projects RICHI has done:
Afghanistan 10T/H chicken poultry feed manufacturing plant
Uzbekistan 15 tons per hour chicken feed processing plant
Ethiopia 5-6T/H poultry feeding plant
Kenya 5 ton per hour poultry animal feed processing plant
Zimbabwe 3-5T/H turn-key poultry cattle feed pellet plant
Colombia 3-4T/H Complete Poultry Pellet Feed Production Plant
Saudi Arabia 15-16T/H manufacturing plant for chicken feed pellet
Papua New Guinea 1-2 ton per hour poultry chicken feed pellet making plant
As the world population is growing every year, there is more demand for food. To meet these demands a variety of nutritious food is sold in the markets globally. Chicken is one of the most consumed meats in the world. It is used in making numerous dishes. Demand for healthy chicken meat and eggs keeps increasing throughout the world. Poultry feed production has also increased to make healthy poultry feed available to the chickens due to which 47% of the total feed produced in the world is the poultry feed.
A variety of poultry feeds (mash feed, crumble feed, pellet feed) is produced for different purposes as a single feed cannot fulfill all nutritious requirements of the poultry.
The animal poulry feed production line makes and supplies food products for chickens, geese, ducks and some of the domestic birds. In earlier days, forage was the most common poultry feed like grains, garden wastes, household scraps, etc. With the rise of the farming industry, farmers became aware of the fact that those forages were not enough to give proper nutrients to the flocks. With this realization, requirement of healthy food products increased and more and more animal feed mill plant started to use modern technical machines and equipments to produce tonnes of these stuffs and started selling to the farms.
1.How to start your own production line with best business plan?
Poultry feed pellet production business is a very profitable business during the time when people are consuming more and more poultry products. This business has now grown from a small to large scale business in different countries that do not only meet their own needs with the feed produced but also export it to neighboring countries. The United States, China, the Philippines, Thailand, and some South American countries are some of the countries that have established large scale poultry chicken feed mills.
2.Complete poultry feed manufacturing plant
Setting up a complete poultry chicken animal feed pellet making plant for business is not as difficult as it may seem. You will need proper knowledge of the business, a hard-working team, a suitable workplace, poultry feed pellet making machine, and supply of raw material. So investing in this business is a good choice for you as it is an ever-growing business and its demand will never die rather it will increase more and more. Statistics show that poultry feed pellet production has been increasing every year in different countries so starting this business even though the market looks saturated is still a better choice. Investing in the poultry feed pellet production business today will bring you the following benefits:
(1)Pellets are light in weight and are easy to store. In the pellet production volume of feed is reduced up to 50% which makes storing it in less space easy. You can store it in one season to use it in next season without fearing about getting its quality damaged. Due to which people prefer it over other feeds so you can choose what people like in order to increase your sales.
(2)Feed pellets are a rich source of essential nutrients needed for the healthy growth of birds. People are getting aware of its uses and effectiveness.
(3)This is an ever-growing business because birds will always need feed to stay alive and provide healthy eggs and meat. So you will not have to fear about experiencing failure in this field as it is very demanding.
(4)Poultry feed pellet production business is an easy to establish business in which you do not need a large labor force to get started. You will need a few basic pieces of poultry feed machinery for the production of the desired volume of pellets.
(5)The chicken poultry farming is organized in a much scientific way as compared to the other livestock industries. The modern machineries are used in such a way that the poultry feed plant does not have to meet with any kind of loss or shortage in supply of the small poultry feed mill. These products are not only used in the local areas but also exported to many other countries as well and are of high demand due to the supreme quality and affordable price.
Anyone starting this business must first get a basic knowledge of which ingredients are good for which poultry. because if there is any problem or if there is an imbalance of nutrients used in the production of pellets then the growth of poultry can be affected badly. With this basic knowledge regarding the field, you can start this profitable business in a suitable market to earn immense profits in the future. Poultry feed pellet production business is continuously growing and thriving due to which you can always try making your name in this industry by providing quality products at affordable market prices. If you have any queestions about setting a complete poultry chicken feed mill plant , please contact Richi Machiner for professional technical supports!