Concerns in operation of 1-2 ton per hour poultry feed pellet mill making machine
2020-08-19 Back to List
If you are looking for related products or have any other questions, please feel free to contact us.
Contact Us
1-2 ton per hour poultry feed pellet mill making machine is main key equipment for all 1-2 ton/hour poultry feed plants,poultry feeding pellet mill machine can operate normally or not, affect the economic profit of enterprise directly,so the right operation is very important.
Operators should be conscientious in their work,strictly adhere to operating rules to operate animal poultry chicken feed pellet machine, start and stop 1-2t/h poultry feed pellet mill must follow procedures.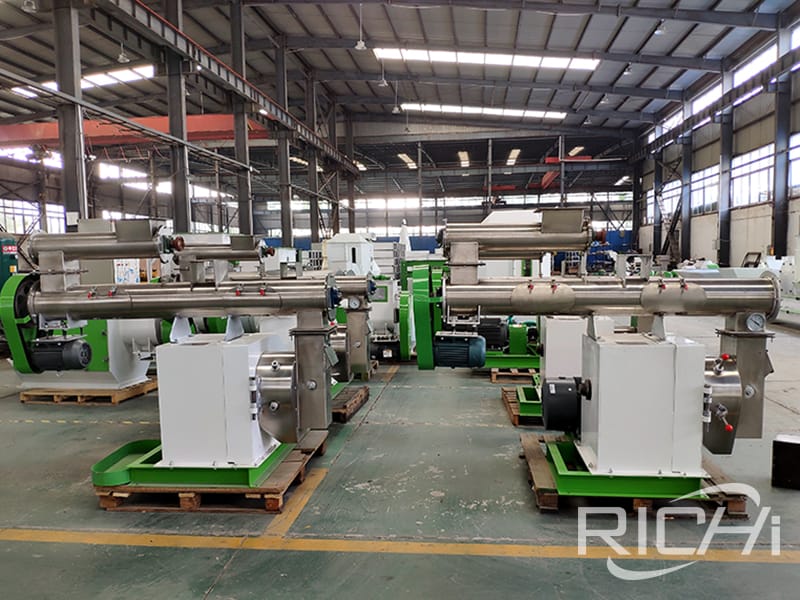 ① Keep steam dry, 0.3-0.4KG pressure enters into the conditioner.
② Adjust the distance between the die and the roller. Usually is 0.2mm-0.5mm,the pressure die can bring the pressure roller to run slightly, not too tight or too loose,too tight can shorten life of pressure die, too loose cause pressure roller to slip.
③ The raw material moisture is required between 12%-13%,raw material moisture after conditioning is about 14%-14.5%, must feed equally.
④Current controlled by stipulated load,absolutely can't produce in long time with over load, that is the main reason causing 1-2 ton per hour pellet mill damage.
⑤Notice current fluctuations in normal production,when discover abnormity, stop ring die poultry feed pellet machine immediately to check.
⑥ After new poultry granule feed pellet mill machine put into production,the chicken pellet machine gear box continually work 500 hours, engine oil should be changed,according to production situation, usually change engine oil once per 3-6 months, change 68# engine oil or 100#-120# industrial gear oil.
⑦ When poultry farming feed pellet mill machine is blocked, pressure roller must be adjusted loose, restart pellet mill untill the inner wall of pressure die is clean. Absolutely prohibit forced start in the blocked status, use tube spanner to move gear shaft is not allowed. Poultry chicken pellet mill in normal working condition, pressure roller added lubricant grease once per two hours.
⑧ Check the worn situation of poultry animal feed pellet machine easily damaged parts frequently,avoid sudden fault and ring die cracking.
The reasons of ring die cracking:
a.Worn encircling hoop can't hug ring die tightly;
b.Worn drive key and pressure die lining make pressure die can't fix position;
c.Main shaft loose cause pressure roller jumpiness to beat ring die;
d.Foreign matter enters into ring die;
e.Forced start because of ring die blocked ;
f.The ring die of chicken feed pellet mill machines has quality problem.
You can directly consult Richi Machinery for more questions about "high quality poultry chicken broiler animal feed pellet making plant cost"," small scale layer hens chicken feed pellet processing plant machinery price","simple home use poultry chicken feed pellet making line machine","poultry chicken complete feed pellet line 10 tons per hour",etc.Email: enquiry@cn-pellet .com, Whatsapp/Cel: +86 185 7410 3366