Poultry fodder machine chicken feed mill pellet mill machinery for small farm
2020-07-22 Back to List
If you are looking for related products or have any other questions, please feel free to contact us.
Contact Us
Poultry fodder machine chicken feed mill pellet mill machinery for small farm, this is a keyword that our customer entered on Google when searching for chicken pellet machine, because he didn't want to miss any search results, after all, different countries and different manufacturers,the names of the products sold are indeed somewhat different. Poultry fodder machine, chicken feed mill, and chicken pellet mill machinery all actually mean the same thing, which is equipment for processing poultry and chicken feed pellets (of course, feed mill mainly means feed mill).
Small poultry farms must use small pellet mills, commonly used ones include300-400kg/h small poultry feed pellet mill equipment,200-300kg/h small poultry chick goose duck feed pellet mill,300-400kg/h small animal poultry feed pellet making machine,simple operating manual feed pellet mill machine,simple operation portable small animal feed pellet mill machine,1t chicken pellet machine,etc.
1.Small ring die granulator and small flat die granulator
Small pultry feed pellet machines are divided into small ring die pellet mill and small flat die pellet mill, each of them has advantages and disadvantages:
(1) The ring die pellet machine is indeed a good hand in suppressing feed, especially concentrated feed. Its output is large and the power consumption is low, which is unmatched by the flat die pellet machine. The flat die pellet machine has a lower speed than the ring die pellet machine and other reasons, its output is less than the ring die pellet machine, and because of its excessive pressure, the density of the compressed concentrate is very large, so in this respect, the ring die pellet machine is far away Lead.
(2) Concentrated feed materials are generally corn and soybean meal, etc., which are highly viscous and easy to form, and can be formed without great pressure. For wood chips, straw, grass meal, waste tires and other difficult-to-form crude fibers such as high-temperature granulation and municipal solid waste , Sewage treatment, animal manure and other organic fertilizer granulation, which requires a lot of pressure.
Due to its structural limitation, the pressure of the ring die pellet machine is not adjustable. When these materials are pressed, the pressure load will be exceeded, causing wear or damage to the die roller bearing. The flat die pellet machine has simple structure and adjustable pressure, which has great advantages in adapting to different materials.
(3) Although the flat die pellet machine has structural advantages and less wear, the output is small, generally 300-3000 kg. Therefore, if you want to use one machine to complete the output of more than 1 ton, you can choose a ring die pellet machine.
2.Small flat die animal making feed plant processing flow for small farm
Grinding System—Mixing System—Pelleting System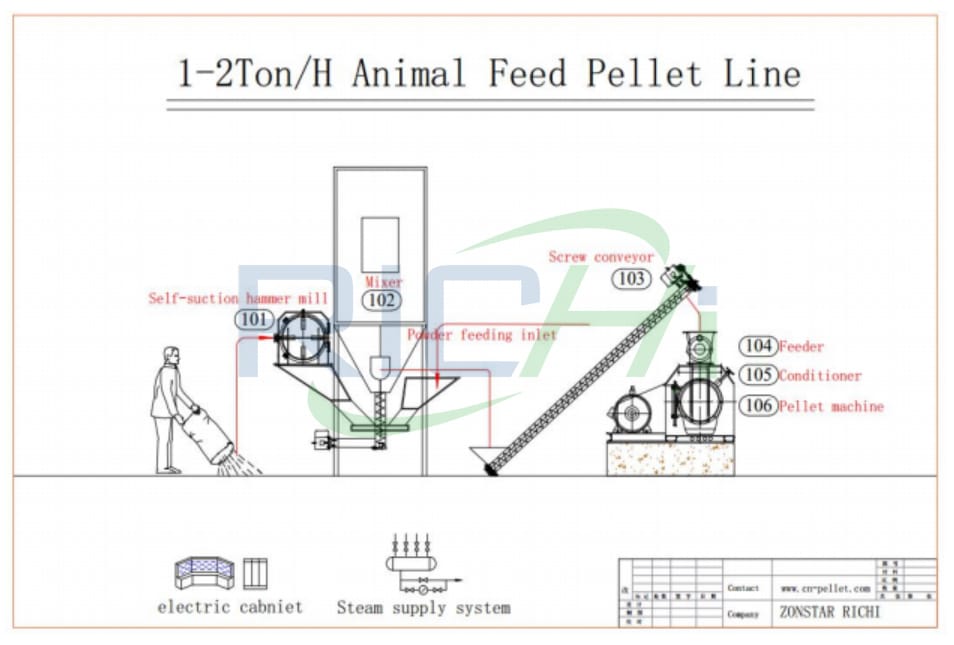 3.Small scale ring die poultry chicken feed production line processing flow for small farm
RM Receiving & Precleaning System—Grinding System—Dosing & Mixing System—Pelleting System—Bagging System—Auxiliary System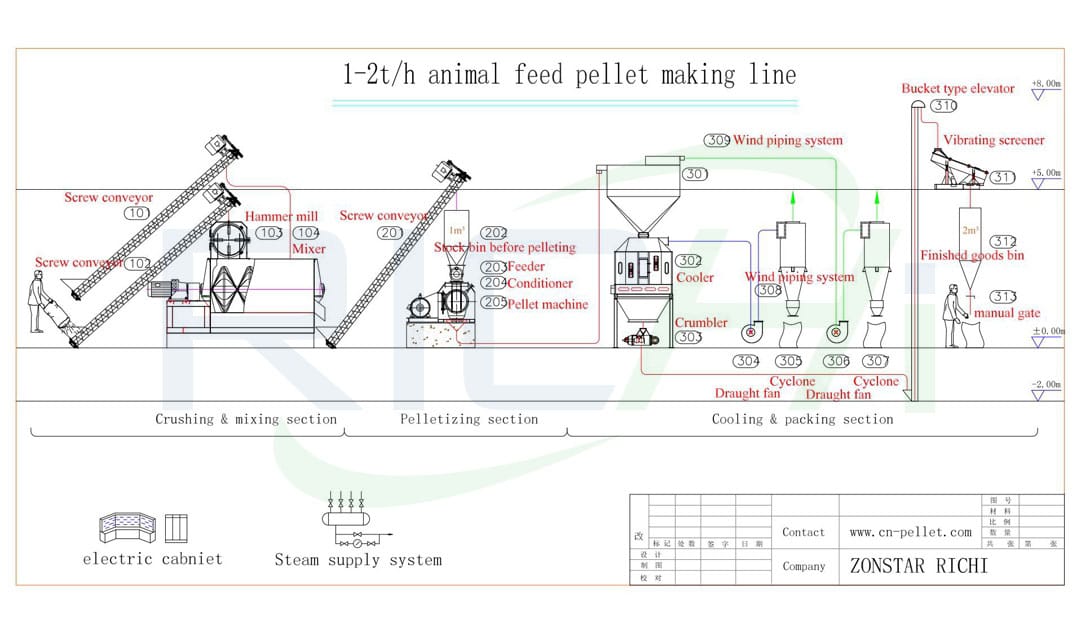 4.1-2 ton per hour small ring die poultry granule feed pellet mill machine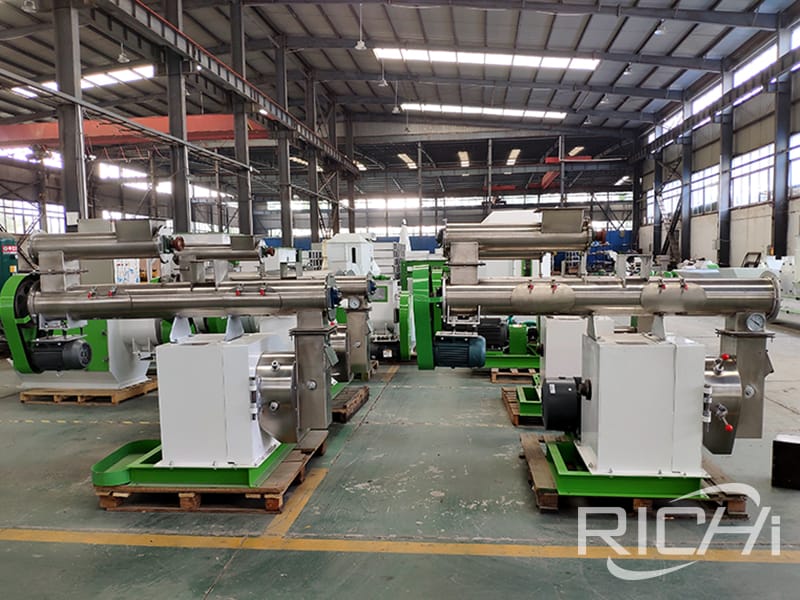 MODEL:SZLH250 small sized farms animal poultry fodder pellet making machine
CAPACITY : 1-2T/H
MAIN POWER : 22KW
(1)It is key equipment for pellet feed and adapts to small feed mill with capacity under 1500TPY, farmers;
(2)1-2t/h poultry chicken pellet mill absorbed advantages of pellet mill from both domestic and abroad, combined with our experience;
(3)The feeder is controlled by infinite variable speed motor, which is easy for adjustment. The main driving system is gear motor;
(4)SZLH250 poultry feed pellet machine is with advantages for high output, low noise, low power consumption, long working life, easy maintenance. And it is with magnet and over load protection system, so it is safe and reliable.
This article is about setting up a small scale poultry feed plant machine for small farm.You can directly consult Richi Machinery for more questions about"high quality poultry feed pellet making plant"" how to make poultry feed by feed pellet machine",Email: enquiry@cn-pellet.com,Whatsapp/Cel: +86 185 7410 3366