China factory price animal feed pellet machinery in kenya for animal chicken feeds manufacturing
2020-07-23 Back to List
If you are looking for related products or have any other questions, please feel free to contact us.
Contact Us
Today's article is based on the theme of "China factory price animal feed pellet machinery in kenya for animal chicken feeds manufacturing", because there are many customers from Africa at present, among which Kenyan customers often ask questions like "Factory Price poultry chicken feed pellet processing line plant in kenya","China Supply Poultry Feed Mill in Kenya","China Animal Chicken Granule Feed Mill in Kenya","China manufacturer poultry chicken feed plant machinery",etc. Today I will give you a detailed introduction to chicken feed pelletizers,which can be used in Kenya.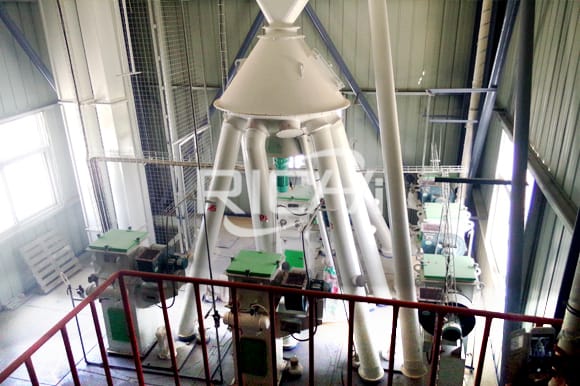 1. Prospects of Kenya's feed industry
The poultry and livestock industry for meat and dairy products occupies an important position in Kenya. Fishing in rivers and inland lakes can meet the needs of the domestic market. Not only Kenya, but for the whole world, the feed industry is a highly market-oriented industry. The huge market provides opportunities for the development of countless small and medium-sized enterprises. At the same time, it has a high degree of marketization and high industry transparency. In addition, with the increase of national income, people's consumption level will naturally continue to increase. This is not only reflected in the increase in the total consumption of meat, eggs, and milk, but also in the increase in demand for safe, nutritious and functional foods. Therefore, the feed industry is an industry with very good development prospects.
2.Chicken pellet mills for chicken feed production processing
Animal feed manufacturing process machine of poultry chicken feed plant,also called chicken pellet mills, ensuring highly efficient feed pelleting.
Today's demands for high-quality animal feed requires advanced pelleting equipment. Decades of pelleting experience and detailed know-how of the pelleting process has resulted in a range of well-proven Richi chicken feed pellet mills. Our poultry chicken feed manufacturing equipment focuses on high performance, reliability, feed hygiene, ease of maintenance and low energy consumption.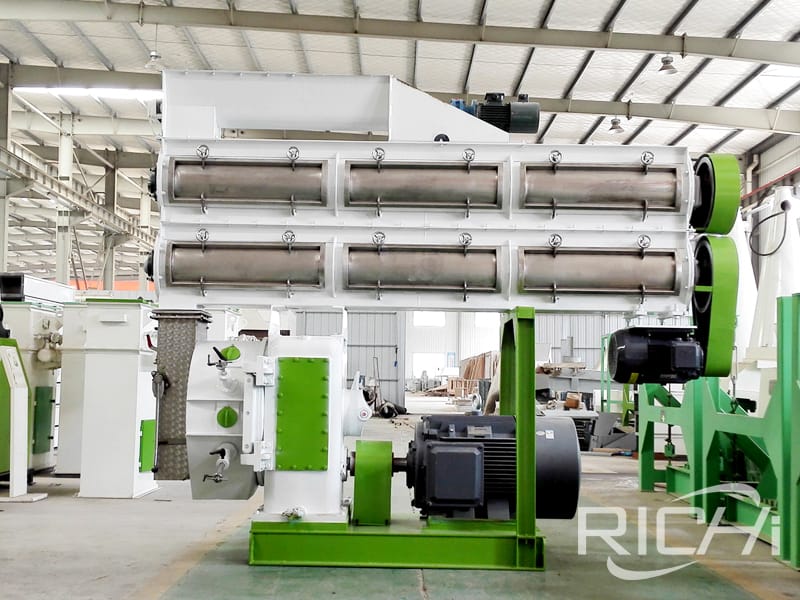 (1)Advantages of factory price chicken poultry feed pellet machine series:
①Compact profile, small footprint, and modular design, making it easy to fit into your feed plant.
②Internal spray nozzle lubrication system with a proven track record in securing optimum lubrication conditions for the gears.
③Effective feed distribution: a unique, one-piece adjustable feed plough design for fast and easy adjustment – ensuring uniform feed distribution across the die area and ahead of each roll.
④Designed for a longer life cycle: All parts that comes into contact with the feed are made of stainless steel, including the roller main shaft and die housing.
⑤Taper die fit with self-piloting effects making die changing smooth and easy.
3.How to make poultry chicken feed?
How to make chicken feed for layers?How to make chicken feed for broilers?How to make organic chicken feed?
(1) The simplest solution: you need a chicken feed pellet making machine
(2) Plan for processing powdered feed: you need a chicken feed hammer mill grinder (corn grinder for chicken feed)
(3) The most complete solution: you need China supplier animal poulry chicken feed production line
4. Richi Machinery's chicken feed processing project in Kenya
(1)China manufacturer 1-2t/hpoultry feed plant(final product:pellet feed)
(2)5T/H Automatic Poultry chicken mash feed production line(final product:powder feed)
(3)1-2t/h Widely used wholesale poultry feed production line(final product:pellet feed)
(4)Customizable easy to use small mini flat die feed plant(final product:pellet feed)
(5)1-2t/h turn-key poultry chicken feed production line machinery(final product:pellet feed)
As a Chinese professional manufacturer,Richi focus on animal feed making machines, Welcome to contact us to learn more about the products and these Kenyan feed processing cases.