What chicken feed manufacturing machimes are nedded in 3-4 tons per hour chicken feed pellet making
2020-08-24 Back to List
If you are looking for related products or have any other questions, please feel free to contact us.
Contact Us
How to start chicken feed business?The most important thing is high quality chicken feed machine. Today we will talk about what chicken feed manufacturing machimes are nedded in 3-4 tons per hour chicken feed pellet making plant.
3-4 tons per hour chicken poultry feed pellet making plant is usually suitable for medium and large chicken farms or small chicken feed factories. The design of the 3-4t/h small chicken feed production line is diverse, which should be determined according to factors such as the customer's raw materials and the internal structure of the factory. Every chicken feed production processing line of RICHI is customized, and each customer is different. Today, Richi Machinery will introduce to you the chicken feed pellet plant machine configuration of one of the 3-4 tons per hour chicken poultry feed mills, and we hope it will help you.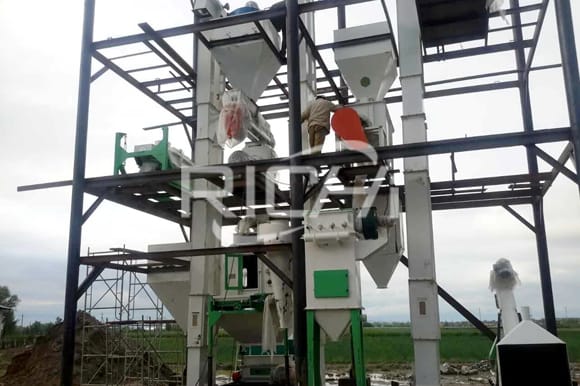 Main equipment needed to make chicken feeds in 3-4tph chicken poultry feed pellet making plant :
1.Chicken feed grinder in 3-4t/h chicken feed making plant(model:SFSP.56*40);
1) Spindle speed: 2970r/min; Siemens motor, SKF bearings;
2) The series is fine degree corn grinder for chicken feed,mesh aperture 0.8-1.5 is better;
3) Crush room with drop-shaped structure divided into two parallel grinding chamber and shear device,the lower the drop-shaped room with another smash to improve the hammer blow to the efficiency of materials;
4) Rotor with a special design,with two different hammer screen space to meet the exchange of different granularity;
5) Hammer's face hard surfacing materials,extended service life.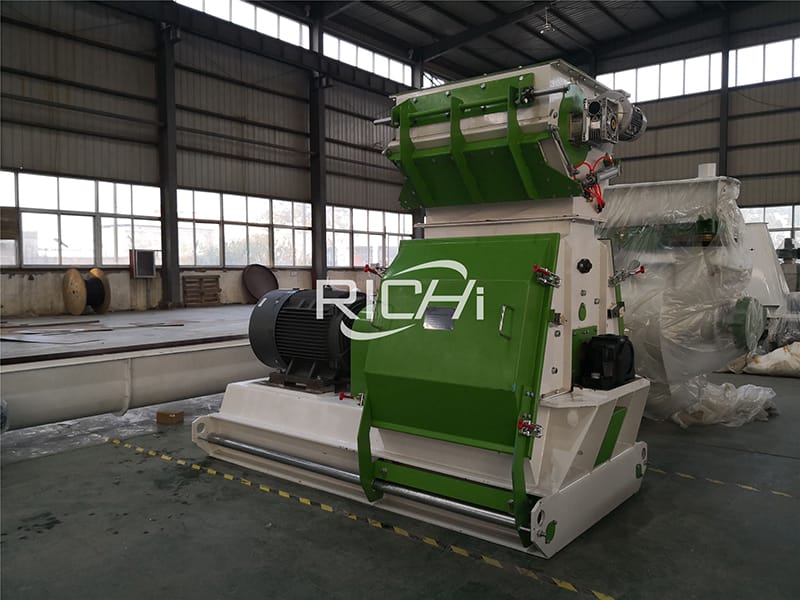 2.Chicken poultry feed mixing machine in 3-4t/h chicken feed manufacturing line(model:SLHY.1)
1) Capacity: 500kg/batch, siemens motor, SKF bearings;
2) Mixing period: 180-300s;
3) High uniform,patent the blade design enhanced material flow,shear,mixing,mixing uniformity very good,CV≦2.3%;
4) The blades and chassis,to ensure the retention rate is very low,to prevent cross-contamination of materials;discharge gate fully open,the material instantly emptied,no residue.
3.Chicken feed pellet making machine in 3-4t/h poultry feed manufacturing plant(model:SZLH.320)
1) SS304 Conditioner L= 2000mm*φ320mm ,Siemens motor, SKF bearing, stainless steel ring die;
2) This model uses one-motor straight gear drive system,with the ideal gear ratio,drive torque,stable transmission,highoutput,low noise,easy operation and maintenance;
3) Imported hig-quality spindle bearings SKF bearings and SIEMENS motor,to ensure smooth and reliable operation;
4) Roller to maximize the design,improve production capacity;
5) Cone roller axle combination,quickly and easily adjust the gap;
6) This model is available in a variety of aperture betweenΦ1.5-Φ12ring mold,the user can arbitrarily chosen according to different needs,in order to obtain the best technical and economic benefits.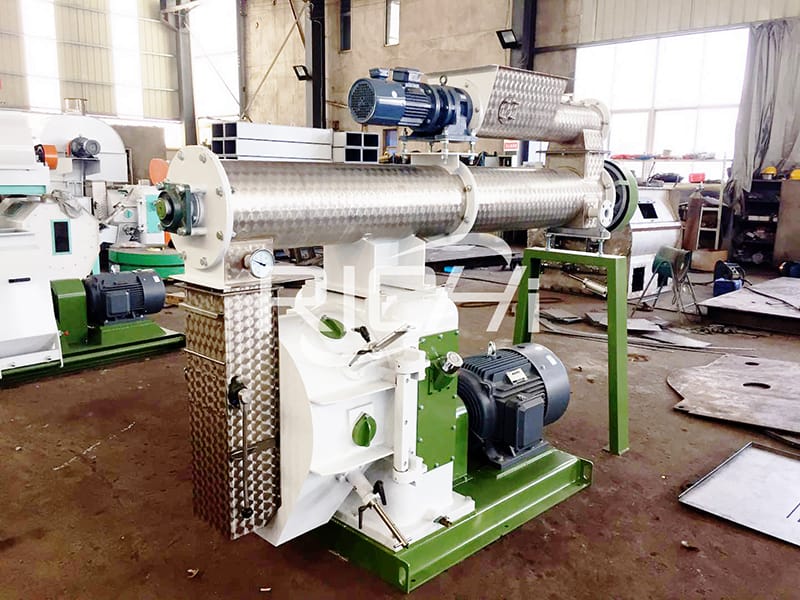 4.Cooling Machine in automatic small plant poultry pellet feed production plant(model:SKLN14x14)
1) The cooling aer and reverse motion of grain marerials ensures the gradual cooling of materials upwards,and aetter cooling result than other products;
2) The main parts,adopting mechanical bending ,rivet joint and sealing,features good airproof ability;
3) With its large capacity,even huge rain materials can be turned out,and the automation degree is high;
4) Widely used foe cooling of various materials such as the pelleting feed,extruding feedmmash material and so on,Especially using for the extruding feed.
5.Crumbler for poultry chicken broiler animal feed pellet making plant(model:SSLG15x80)
1) Siemens motor.Used for crumbling 1.8-5.0mm diameter pellet ; After crumbling, the pellets size are about 1mm;
2) Double-roller structure contributes to uniformly reduced particle size and high percentage of quality product;
3) Imported key parts featuring reliable performance and easy operation;
4) Widely used for crushing poultry chicken and livestock pellets and aquatic pellets.
6.Rotary screener(model:SFJH.80x2C)
1) Siemens motor. Steady and reliable manner, easy to operate and maintain;
2) Easy to change seive;
3) Combining the characteristics of circular motion, ellipse motion and to-and-fro linear motion, high sieving efficiency and low energy consumption.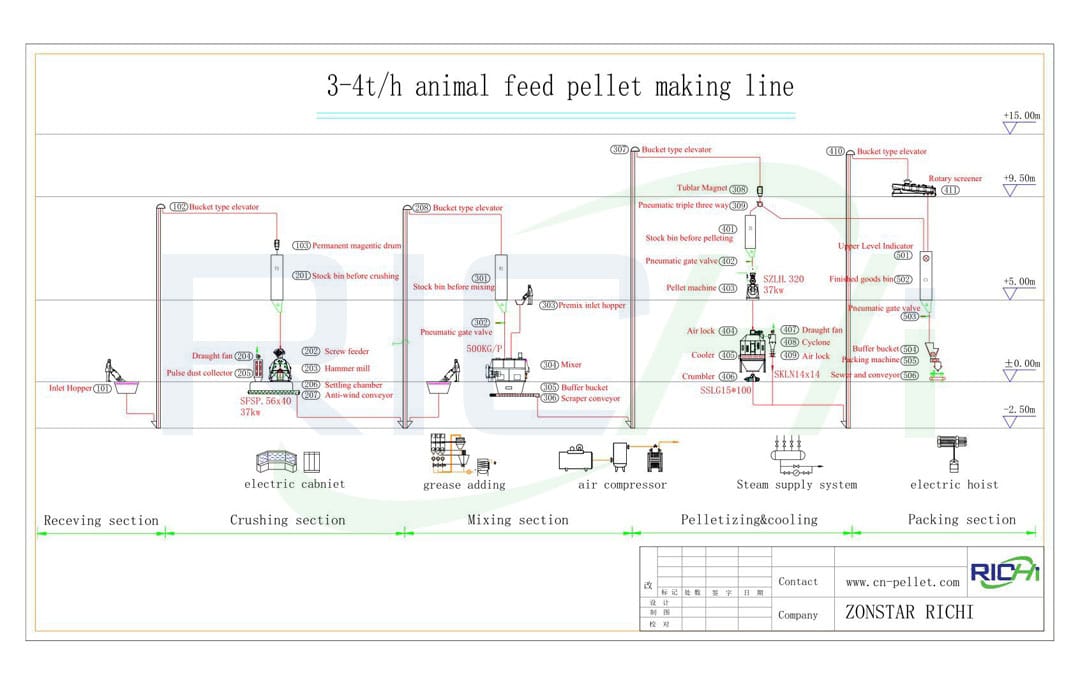 7.Auto Packing machine(model:DSC-50)
1) Unique anti-shock device to ensure measusrement accruracy,fast packing;
2) In external regulation machinery,it is convenient to repair;
3) The key parts are imported, long service life.
8.MCC Control Center ;Mimic control panel
(power range from 22 kw to 55 kw for star triangle start, main electric components are delixi brand)
9.Screw conveyor(model:TLSS20)
1) Specially designed to deliver powder material;
2) Large capacity, safe and reliable;
3) Strong adaptability, convenient installation and repair, long service life, and can be widely used In many kinds of powdery, granular and small pieces of material level and small angle(0°-20°)delivery;
4) The machine has the advantages of small volume, low noise, inlet and outlet position of flexible arrangement.
10.Pulse dust collector(model:TBLMa.8A)
1) Bag quantity:8;
2) Pressure of bag cleaning: 0.5~0.7 MPa;
3) Dusting Efficiency : ≥99.5% ;
4) Dismountable bag structures with skeletons ,and unique jet devices, to clean the bags;
5) Equipped with observation hole, easy to maintain.
11.More auxiliary chicken feed machine
Iron removing device,Draft fan,Settling chamber,Bucket Elevator,Buffer bin,Pneumatic gate valve,Oil adding machine ,Boiler system,Boiler system,etc.
The establishment of a 3-4 tons per hour chicken feed pellet production making line is more complicated, but it is indeed a low investment and high return business.RICHI is a large chicken poultry feed mill manufacturer from China devoting in feed processing equipment , integrating the design, manufacturing, installation, mainly produce all sorts of feed pellet machines, crushing machine, mixing machine, conveying machine, cooling machine,etc and the complete animal feed pellet production line machinery.
RICHI will do these things for your 3-4t/h chicken feed pellet production line:
①Determine the scale of chicken feed pellet manufacturing plant.
②Determine the feed process and recommend cattle feed machine.
③Control mode selection.
④Chicken feed manufacturing plant structure selection.
⑤Planning the general drawing of chicken feed mill plant site.