Price of setting up a 100kg-2t per hour small chicken poultry feed pellet processing plant
2020-08-25 Back to List
If you are looking for related products or have any other questions, please feel free to contact us.
Contact Us
The lowest price of setting up a small chicken poultry feed pellet processing plant is about 2000USD. This is the price of a 100kg/h mini chicken feed pellet production line, not chicken feed mill costs. And the maximum output we can provide is large scale 100t/h chicken poultry feed mill. Different chicken feed line output, different chicken feed equipment configuration, and different price.
"Small" is a relative concept. For some customers, a 1 ton per hour poultry chicken feed pellet making plant is a large output, and these customers usually operate small chicken farms; some customers think that a 10 tons per hour chicken poultry animal feed processing plant is relatively small. For example, in China, there are very few feed factories under 10 tons. This is determined by local policies. However, the situation in each country is different. In most countries, 100kg-2t per hour China manufacturer chicken poultry feed plant can meet the needs of many customers. Today, we temporarily call the 100kg/h-1000kg/h small scale chicken poultry feed line for pellet and the widely used 1-2t/h wholesale chicken poultry feed production line as the small size chicken feed plant.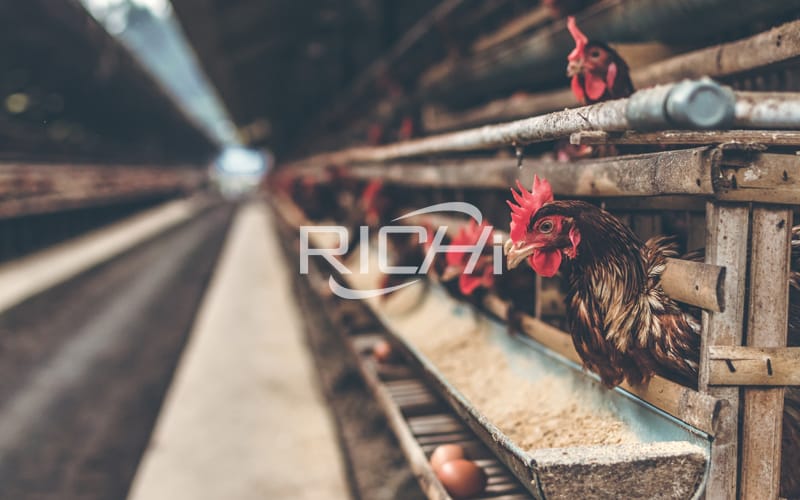 1.100kg/h-1000kg/h small flat die chicken poultry feed production line machine
Main chicken feed equipment:Vertical 2 in 1 type animal chicken poultry feed mixer and hammer mill machine,small flat die chicken poultry feed pellet mill machine(it is a farm poultry animal pellet mill machine for chicken ducks).
2.1-2t/h small ring die poultry chicken feed production line machinery
Main machine for chicken poultry feed:chicken feed grinder,chicken food mixing processing machine,small ring die chicken poultry feed pellet making machine,chicken pellet cooling machine,chicken pellet bagging machine,etc.
3.Complete chicken feed manufacturing process:
Section A: Receiving and storage raw material
Section B: Dosing components
Section C: Grinding
Section D: Mixing and adding micro-components
Section E: Storage flour and pelleting
Section F: Cooling, Sieving, dust recovery
Section G: Storage end product
Section H: Packaging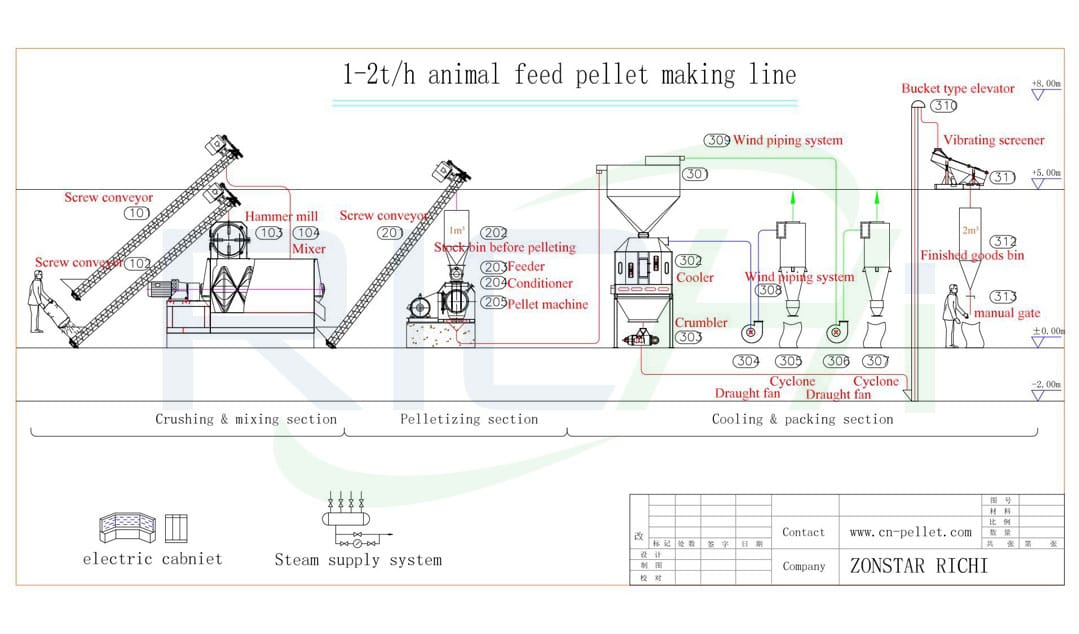 Different customers have different needs for chicken feed production process, and the configuration of the chicken feed production line is also different. The above content shows a complete turkey chicken feed pellet production manufacturing plant process, but maybe it is not necessarily what you need. We can provide customizable easy to use small chicken feed plant to meet your needs f, no matter what your budget is, no matter the size of your site, RICHI can do it.
This article is about cost of setting up a complete poultry chicken animal feed pellet production line .You can directly consult Richi Machinery for more questions about"1 ton per hour poultry chicken feed pellet making plant""small plant for chicken feed for egg laying chicken"" customized 1 ton per hour broiler chicken feeds plant""what do you need to produce chicken feed""Small Feed Factory Equipment Manufacturer",Email: enquiry@cn-pellet.com,Whatsapp/Cel: +86 185 7410 3366