How to make chicken feed for layers in chicken poultry farm?
2020-06-08 Back to List
If you are looking for related products or have any other questions, please feel free to contact us.
Contact Us
How to make chicken feed for layers in chicken poultry farm?Richi's layer chicken feed production line process is particularly suitable for laying hen feed processing. The most complete processes include: crushing, aging and conditioning (hydrothermal treatment), heat preservation and homogenization, drying, cooling, mixing (adding trace components), and packaging. The pellet feed produced by the chicken feed processing technology can meet the nutritional requirements of laying hens, increase the output of laying hens, reduce feed waste, reduce the bacterial content of eggs, and has the advantages of full price, safety, heat-sensitive component retention, The features of energy saving and convenient operation and management are widely used.Of course, if you only need granulation, then an efficient granulator can fully meet your needs.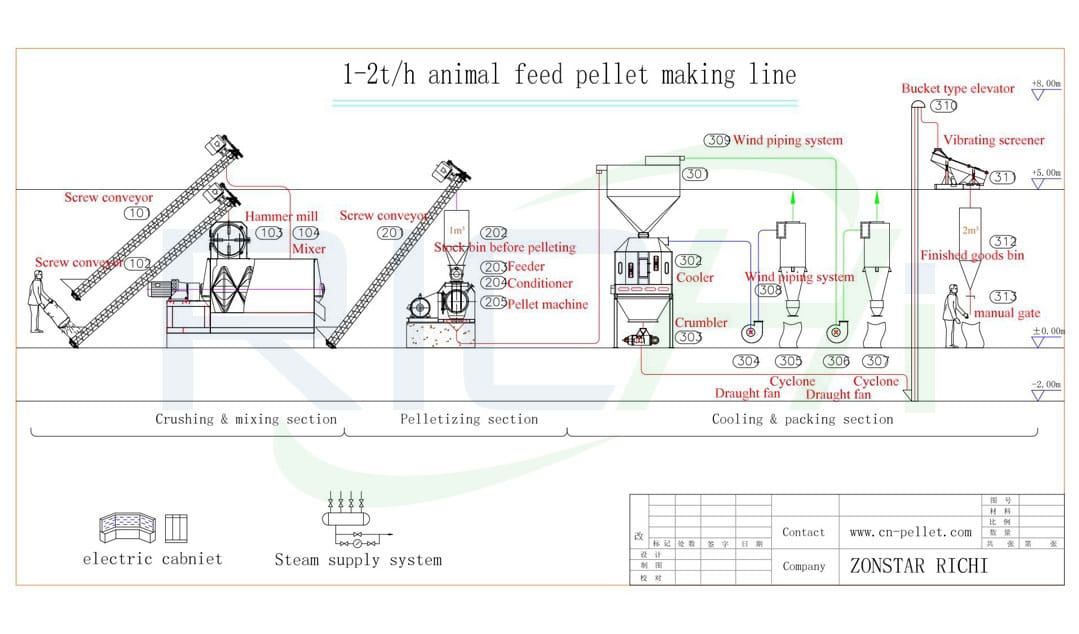 How to make chicken feed for layers in chicken poultry farm?Today we will talk about the chicken feed making plant of Richi in detail.
1. Application: It is used in poultry farms to produce various poultry feed pellets such as ducks, chickens, geese, pigeons, etc. It is commonly used in small chicken poultry farm, large, medium and small farms, and individual farmers. In addition, it is also suitable for processing feed pellets such as cattle, sheep and pigs, and individual sections are adjusted according to customer feed formulas.
2. Main equipment: The pelletizer production line is mainly composed of vertical mixer, screw feeder, silo, feed pellet machine, hoist, feed cooler, feed packaging scale, etc.
3. Raw materials: including corn, soybean meal, wheat bran, grass and other raw materials are equipped according to a certain proportion.
4. Processing flow of layer chicken feed line:
(1) Raw material crushing: Put the raw materials into the crusher to obtain powdery raw materials.
(2) Stirring of raw materials: fully mix the prepared raw materials to improve the quality of particles.
(3) Granulation: The raw materials with uniform stirring are sent to the granulator for granulation.
(4) Drying of pellets: The feed pellets compressed by the pellet machine are sent to the counter-current dryer to dry the moisture contained in the pellets, which increases the strength of the pellets and facilitates storage.
(5) Pellet cooling: The temperature of the dried pellets is too high and easy to agglomerate. After cooling, the pellets are easy to be bagged for storage and transportation.
(6) Finished product packaging: Store the compressed feed pellets, that is, the finished product bags, in a ventilated place.
5. Advantages of Richi laying hen feed pellet machine production line
(1) Safe, efficient and high-quality equipment.
(2) Advanced production and processing equipment.
(3) Strict acceptance to ensure product safety and reliability.
(4) Guaranteed quality and perfect after-sales service.
Example
1 ton per hour chicken feed pellet making plant configuration(machine for chicken feed)
name
model
quantity
power(kw)
remarks
one machine
total
一 Crushing system
1
corn grinder for chicken feed
SFSP
1
22
22
Including cyclone and pipeline
二 Mixing system
2
Screw conveyor
TLSS16
1
1.5
1.5
 
3
Horizontal mixer
SLHS
1
7.5
7.5
 
三 Granulating system
1
screw conveyer
LS220*5200
1
3
3
 
2
Silo
1.5m3
1
 
 
 
3
Feeder
LS160*1200
1
0.75
0.75
Inverter feeder
4
chicken feed pellet making machine
SZLH250
1
22
22
 
四 Cooling system
1
cooler machine
SKLN
 
0.75
0.75
 
2
dust remover
 
 
2.2*2
2.2*2
 
3
packing machine
200KG
2
 
 
 
4
Hand-held sewing machine
 
1
 
 
 
五 Electronic control system
1
Electric control cabinet
 
 
76.9
76.9
 
The above is the configuration of the 1 ton chicken feed production line customized by Richi for customers. The specific configuration is customized according to the size of the customer's production scale. As a chicken feed equipment manufacturers, Richi will provide free complete equipment configuration plans for complete laying hen chicken feed pellet line.