What 1-2 ton per hour chicken feed pellet making machine needed in poultry chicken feed mill?
2020-08-23 Back to List
If you are looking for related products or have any other questions, please feel free to contact us.
Contact Us
Which kind of 1-2 ton per hour chicken feed pellet making machine needed in poultry chicken feed mill?1-2 ton per hour chicken feed pellet making machine (also known as chicken feed machine, chicken pellet mill) belongs to feed pelleting equipment. It is a chicken feed processing machine that directly compresses pellets from crushed materials such as corn, soybean meal, straw, grass, and rice husk.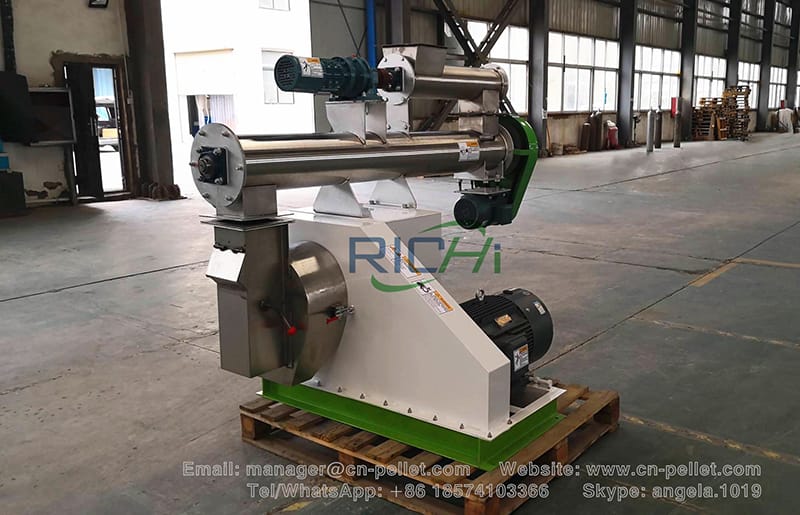 1. Technical parameters of SZLH250 1-2 ton ring mold chicken feed pellet machine:
Capacity:1-2TPH(1000-2000kg/h)
Main Motor Power:22KW
Feeder Motor Power:0.75KW
Conditioner Power:1.5KW
Dia.of Ring Die:250mm
Final Pellet:2-12mm
2. Advantages of 1-2 ton small chicken feed pellet making machine
(1) The chicken feed is processed by this model with moderate temperature rise, and can well maintain various trace elements in the raw materials. It has good palatability and large animal feed intake, which is beneficial to digestion and absorption of various nutrients.
(2) The pellet composition is uniform, the shape is neat, the surface is smooth, the diameter can be changed between 1.5-6mm (need to change the mold), the length can be adjusted between 5-20mm, and the particle density is large, which is convenient for storage and transportation. The needs of various breeding objects in different growth periods.
(3) The chicken pellet milling machine can also be used to process fish feed. The processed fish feed can stay in the water for a long time, improve the utilization rate of the feed, and help prevent water pollution.
(4) This chicken poultry feed pellet making machine has a wide adaptability to materials, and can process various full-price compound feeds with different requirements.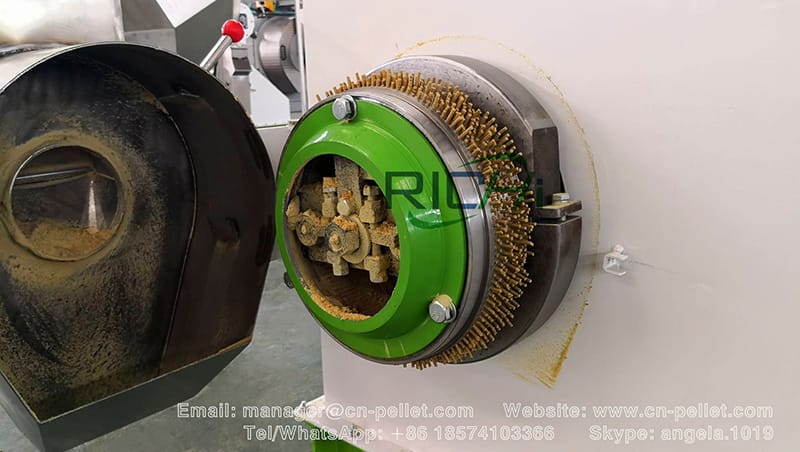 3. Application:
Used in 1-2 tons chicken feed pellet producing line
This chicken pellet milling machine can be widely used in medium and small aquaculture, food and feed processing plants, livestock farms, poultry farms and individual farmers.
4. Advantages of complete chicken pellet feed:
(1) It can avoid being picky eaters. The compound feed formula has a variety of raw materials with comprehensive nutrition, which can prevent animals from picking their favorite food from the powder and refusing to take in other ingredients. Since pellet feed can maintain uniformity during storage, transportation and feeding, feeding loss can be reduced by 8% to 10%.
(2) High feed rate of return. During the pelleting process, due to the comprehensive effects of moisture, temperature and pressure, the feed will undergo some physical and chemical reactions, which will gelatinize the starch and increase the activity of enzymes, which enables the fed animals to digest the feed more effectively, which translates into weight gain.
Feeding poultry and pigs with pellet feed can increase the feed conversion rate (that is, the rate of return) by 10%-12% compared with powdered feed. Feeding fattening pigs with pellet feed has an average daily gain of 4% and a feed-to-meat ratio reduction of 6%; feeding broilers can reduce feed-to-meat ratio by 3%-10%.
(3) Storage and transportation are more economical. After pelleting, the bulk density of the feed will generally increase, which can reduce the storage capacity and save transportation costs.
(4) Good liquidity and easy management. Many powders, especially fluffy feeds with small specific gravity, often stick to feed silos with molasses or high fat and urea-added feeds. Due to the good fluidity of pellet feed and little adhesion, pellet feed is definitely better for farms that use automatic feeders to raise dairy cows or poultry on a large scale.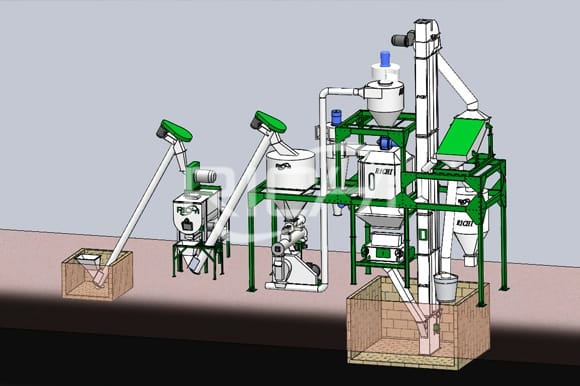 5. Case of our 1-2 TPH chicken feed manufacturing machine
1-2 ton per hour chicken pellet mill in Tanzania chicken feed making plant
chicken pellet mill machine for 1-2 ton per hour chicken poultry feed mill in Gambia
ISO approved chicken pellet making machine in Iraq small chicken feed processing plant
1-2 ton per hour machine for chicken feed in Cape Verde full automatic chicken feed pellet production line with CE
1-2t/h chicken poultry feed machine in Malawi complete set poultry animal feed pellet production line
1-2 ton per hour chicken feed making machine for widely used ring die pellet production line in sudan
1-2t/h chicken feed machine in Uzbekistan small scale chicken feed pellet making line
1-2t/h chicken feed pellet making machine in Botswana small chicken pellet production making line