Difference Between New And Used Chicken Poultry Feed Pellet Making Machine for Chicken Feed Mill
2020-08-31 Back to List
If you are looking for related products or have any other questions, please feel free to contact us.
Contact Us
There are some people who look for used chicken poultry feed pellet mill online, because they want to save cost on purchasing the pellet machine for chicken feed. But in fact, used chicken feed pellet mill machine has many disadvantages over new pellet mill, and users will also bear the risks of buying used chicken feed pellet milling machine.Let's see the difference between new and used chicken poultry feed pellet making machine for chicken feed mill.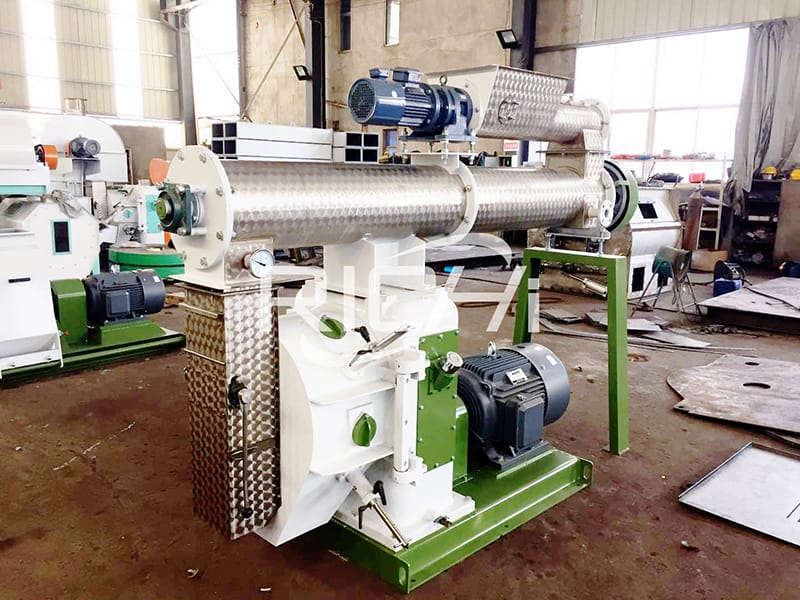 1.What risks for chicken feed pellet making plant to encounter buying a used chicken feed pellet production machine?
The used chicken poultry pellet mill is of course a cheap chicken pellet machine, but can you be sure about its quality and performance? You even cannot judge how many years the pellet mill to make chicken feed has been used!
There are generally 3 reasons that the sellers want to sell their used poultry feeding pellet mill machines:
(1)they want to expand their productivity;
(2)they are no longer in this business;
(3)and also probably, their poultry feed pellet mill machine do not perform well.But when you buy the animal poultry chicken broiler feed pellet mill, you are not able to judge its performance, and the seller won't tell you about this. As a result, you may possibly be cheated. You may encounter many machine faults during operation, and it may go wrong frequently. You think you bought a cheap boiler chicken poultry feed making machine,but in fact it can't be used for long.
From the long run, it is wise to buy a new high quality chicken feed pellet making machine instead of buying a used chicken pellet manufacturing machine.
So what are the advantages of new chicken pellet making mill machine over used chicken pellet milling machine?
Although new chicken feed pelletizing machine cost higher than used chicken feed pellet maker, new chicken poultry feed pellet production machine has significant advantages over used ones.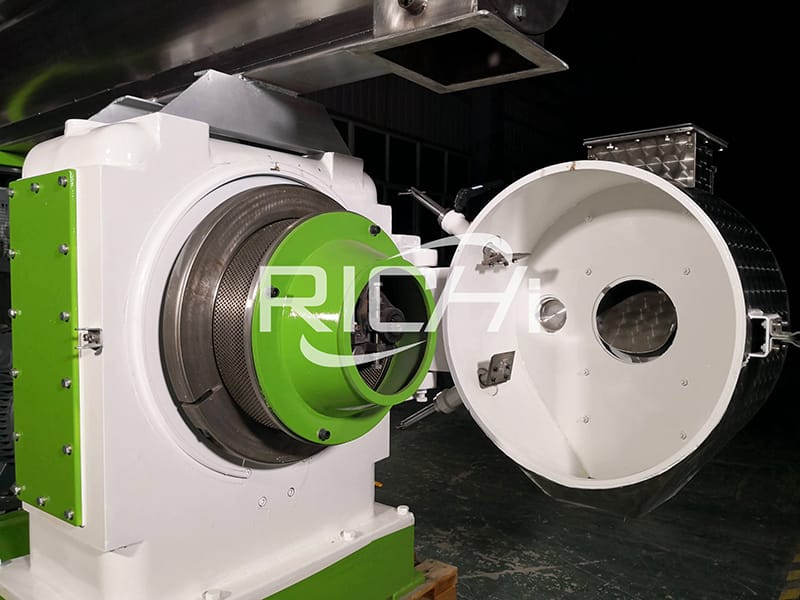 2.RICHI new chicken feed pellet processing machine
We know that every kind of equipment keeps improving, and with the development of science and technology, the functions and performance of new chicken food making machine is also improved. Here let's see the advantages of RICHI new chicken feed pellet processing machine.
(1)It adopts high precision cylindrical involute helical gear direct drive, so that the transmission efficiency can be as high as 98%.
(2)The transmission gear billet is forged first in water and then processed by heat treatment, so that the tooth surface hardness is increased. Besides, the gear tooth surface is treated by carburizing, and the carburized layer is as deep as 2.4mm, which greatly improves its wear resistance and prolongs the service life of components. The hard tooth surface is processed by silent fine grinding edge treatment, so the simple operating chicken feed pellet mill machine operates more quiet and stable.
(3)The main shaft and conjoined hollow shaft adopt Germany imported alloy structural steel by the processing of water forging, rough turning, heat treatment, finish turning and accurate grinding. Their fatigue resistance and abrasive resistance are improved, as a result the safe operation is guaranteed.
(4)The chicken feed pellet mill body is made from high quality steel with precision casting: the thickness is average and structure is tight. In addition, it is elaborately processed by imported equipment that has zero working accuracy error, which offers strong support to the normal operation of poultry chicken feed pellet mill equipment.
(5)The bearings of the transmission part adopt imported high precision bearing, and oil seals of transmission part adopt imported wear-resistant and heat-resistant fluororubber oil seal. The transmission part is also added a smooth oil return system, which makes the oil circulate and cool, and automatically lubricate the machine, making sure the bearings are fully lubricated and guarantee safe and reliable running.
(6)The ring die adopts high grade stainless high nickel steel, so its quality is better, lifespan is longer, but production cost is decreased.
If you are not short of cash, it is still advised to choose a new ring die poultry chicken feed pellet mill instead of a used pellet mill, since the former will bring you more benefits in the long run.
3.The following are all of our animal poultry chicken feed pellet mill machine models:
1-2t/h China small chicken feed pellet machine
3-4t/h China factory directly supply good performance poultry chicken feed pellet mill machine
5-7t/h simple operation portable small chicken feed pellet mill machine
8-12t/h High Quality Poultry Feed Pellet Mill
10-18t/h china supplier poultry farming feed pellet mill with ce
15-25t/h China factory price poultry food for making pellet mill
20-30t/h China hot selling boiler chicken poultry feed making machinery
25-40t/h pelletizer of ring die to making chicken poultry animal feed
28-45t/h China poultry chicken granule feed pellet mill machine with ce