What is the purpose of cooling machine on poultry chicken feed pellet production plant?
2020-09-01 Back to List
If you are looking for related products or have any other questions, please feel free to contact us.
Contact Us
What is the purpose of cooling machine on poultry chicken feed pellet production plant?Richi Machinery produce a wide range of counter current cooling machines that are used for the cooling of the poultry chicken feed pellet. The pelleted product goes from a temperature higher than 60°C to approximately +5°C in respect to the room temperature.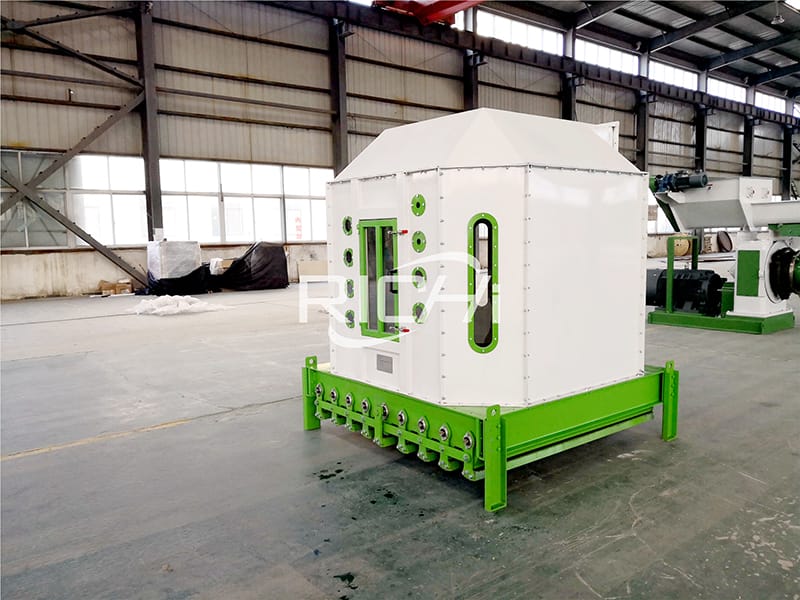 1.Technical characteristics of our chicken feed pellet coolers:
(1)Frame made of alloy section bars, with appropriate dimensions.
(2)Stainless steel aspiration hood with opening that can be positioned on every side of the cooler.
(3)Stainless steel case complete with inspection door and minimum and maximum level indicators. Min. level indicator height can be adjusted to enable the right product inflow into the case.
(4)Product extraction unit operated by micro reduction gear with brake.
(5)Stainless steel star valve with gear motor to adjust product inflow into the case.
(6)Discharging hopper to collect the product under the cooler.
(7)In case of anomalous stop of the extractor, a product discharging device with three ways of working, is foreseen.
2.Optional
(1)If required the machine can be supplied with building specification observing 3D regulations.
(2)Thermostat for fire prevention.
(3)Intermediate shutter for quick change of the product without stopping the system.
3.Beside the coolers, following machines are in a poultry chicken pellet feed production processing line:
(1)poultry chicken feed pellet making machine
4.Some typical conmplete poultry chicken feed pellet production line projects RICHI has done:
Afghanistan Poultry Chicken complete feed pellet line 10ton per hour
Uzbekistan 15 tons per hour chicken poultry feed pellet process line
Ethiopia 5-6T/H automatic chicken animal feed powder making plant
Kenya 5 ton per hour poultry chicken animal feed processing plant
Zimbabwe 3-5T/H turn-key poultry chicken animal feed pellet producing line
Colombia 3-4T/H complete chicken feed processing line plant
Saudi Arabia 15-16T/H manufacturing plant for chicken feed pellet
Papua New Guinea 1-2 ton per hour poultry chicken feed manufacturing plant