How to improve the efficiency of chicken breeding from a nutritional view?
2021-03-31 Back to List
If you are looking for related products or have any other questions, please feel free to contact us.
Contact Us
1. Follow the growth and development of laying hens
Growing chickens need to grow up from chicks, and the growth process is from birth to maturity. Including the development of internal organs. The so-called growth and breeding achievement is the deposition of calcium phosphate protein, and laying hen production is the process of laying eggs, which is the basic law. Laying hens must follow the law of nutrition. The growth law of all animals presents an S-shaped curve. This S-shaped curve is for laying hen breeding. It is the growth process, maturity stage and development process during the embryonic period.
The S-curve must increase linearly for broiler chickens. But for laying hens, it must be S-shaped. The incremental growth period can be linear growth, but the growth period must be curvilinear growth, not linear growth, because it has a process from the start of production to maturity. The weight gain of chickens during the rearing period is based on the structure of body weight. Refer to bone length, but more importantly, the amount of deposited substances in the body, including protein, fat, calcium and phosphorus reserves, etc.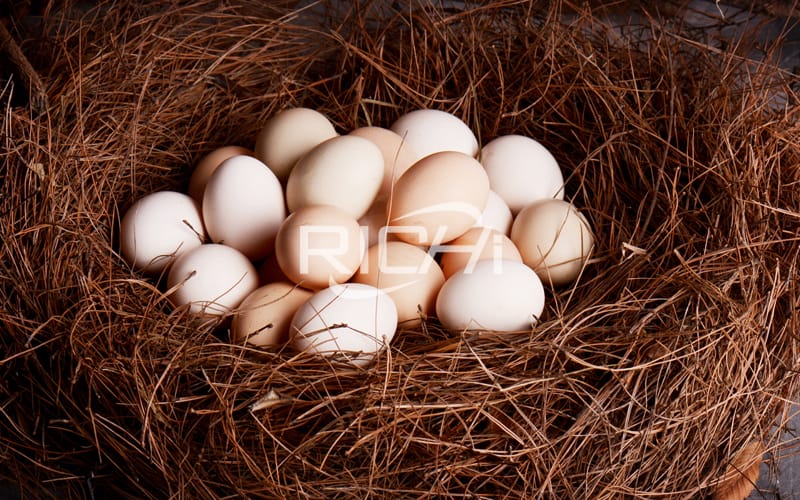 In other words, chickens lay soft-shelled eggs. It is not the calcium content in the feed for laying hens, but the calcium digestibility of the chickens and the ability of the bones to store calcium. Why is the quality of the eggs poor in the late by-laying period? Because when the egg shell is formed into the egg. There needs to be a lot of calcium in a short time. These calcium are calcium reserves in the body. If the chicken bones do not have a strong ability to store and mobilize calcium during the development process, the laying hen will sometimes be good, sometimes not good. If all the calcium reserves are used up. Without so many reserves, the quality of eggshells will deteriorate.
Regarding the issue of sexual maturity and physical maturity, chickens enter the stage of sexual maturity before they lay eggs, and sexual maturity can only be achieved after muscle development is complete. At this time, if sexual maturity is advanced, labor can start early, and nutrition can make everything mature early, so most of the chickens raised now are earlier than the normal start of labor. Therefore, any variety must follow the growth rules prescribed by the standard to grow.
2. The effect of nutrient supply on laying hens
The six nutrients that all animals need include: water, energy, protein, carbohydrates, fat, minerals and vitamins.
(1) High-energy and high-protein diets
The increase in energy and protein levels of chickens will surely make it mature and produce early. With high nutrition, it will lay eggs early, and early maturity will be lost. According to statistics, the total egg production will lose 1.48%. In addition, the weight of the eliminated chickens will also increase, and the weight and elimination rate of the eliminated chickens will increase.
(2) Functional nutrition regulates health
Water is the most important, and feed intake is related to drinking water. So water is indispensable: the influence of protein must be paid attention to. Amino acid balance will prevent gout. The reason for not gout is high protein; the influence of fat requires balanced nutrition. Laying hens do not add oil, add lard to get fatty liver. Adding soybean oil can reduce fatty liver. If you add some lecithin with high linoleic acid. You will not suffer from fatty liver; the fiber has a healthy intestine, and the crude fiber is less than or equal to 5, but now most of the calories can reach up to 3, and the crude fiber is less. The intestines of the chicken are healthy.
Some experiments show that the first functional fat. It's oil. How does fat work? Fat is energy, and layer fat is also energy, and more importantly, its nutritional regulation function. When creating an egg brand, don't just pay attention to the color, if the egg has a high level of soy lecithin. That is the brand. There is also a problem of linoleic acid, which is very important in the layer industry. When making feed formulations. Proteins and amino acids are calculated accurately, and each requires linoleic acid. Different types of linoleic acid have different stages at different stages. What is the importance of linoleic acid? For roosters. Promote the development of gonads, in terms of laying hens. Can promote the development of the ovaries.
(3) The benefits of feeding chicken with ginger
Adding some ginger to chicken feed can improve antioxidant and protect vitamins. In addition, the antioxidant of ginger powder can also protect vitamins. Then there is the application effect of ginger powder on laying hens. It can indeed have a certain impact on egg production, egg quality, egg color and egg composition.
(4) The effect of vitamins on the quality of eggs
Experiments show that. Vitamins have a great influence on the growth of laying hens and egg quality, and how much vitamins are needed in laying hens. It is also different at different ages of chickens. Therefore, the required amount of vitamins should be added as appropriate according to the production goals.
(5) Nutrition and economy of chicken feed raw materials
Now our formulators are very accurate, but nutritional deficiencies often occur. The author receives complaints from at least five premix plants every year that sodium selenite is lacking. But we usually don't add so much, because these two raw materials are very low in the composition of the feed. The other is methionine. The addition of methionine is based on cost, not based on nutrition.
【More info about chicken feed making】
Maintenance for several important equipments in 1-20tph chicken feed pellet production line
How to use and maintain ring die poultry chicken feed pellet mill properly?
How to Set up a conmplete poultry chicken feed pellet production line to start your business?
Treatment of common failures of poultry chicken feed grinder
How To Build An Chicken Feed Pellet Making Plant
How To Increase The Yield And Prolong Life Of Chicken Feed Pellet Making Machine?
What 1-2 ton per hour chicken feed pellet making machine needed in poultry chicken feed mill?
What chicken feed manufacturing machimes are nedded in 3-4 tons per hour chicken feed pellet making
What do you need to produce chicken feed in 5 tons per hour chicken poultry feed mill?
Why Choose Richi Machinery Chicken Feed Pellet Making Machine for Chicken Poultry Feed Mill Plant?
What is chicken feed pellet mill making machine?
Difference Between New And Used Chicken Poultry Feed Pellet Making Machine for Chicken Feed Mill
What is the purpose of cooling machine on poultry chicken feed pellet production plant?
Double shaft paddle mixer machine for animal poultry chicken feed mill production