Feeding Pig With Pig Feed Pellets Produced By Animal Feed Pellet Making Machine
2021-03-23 Back to List
If you are looking for related products or have any other questions, please feel free to contact us.
Contact Us
Still buy pellet feed for pig? If you are still buying feed pellets from commercial pig feed factory or feed shop, then your cost per year for buying feed may be a lot big. Why not choose an animal feed machine to make feed pellets by yourself to save cost. You can find a pig animal feed pellet mill to reduce your cost by making your own pellet feed with such a machine using grains like corn powder, wheat, rice husk, wheat straw, vegetables, and so on. Pigs really appreciate variety in their diets.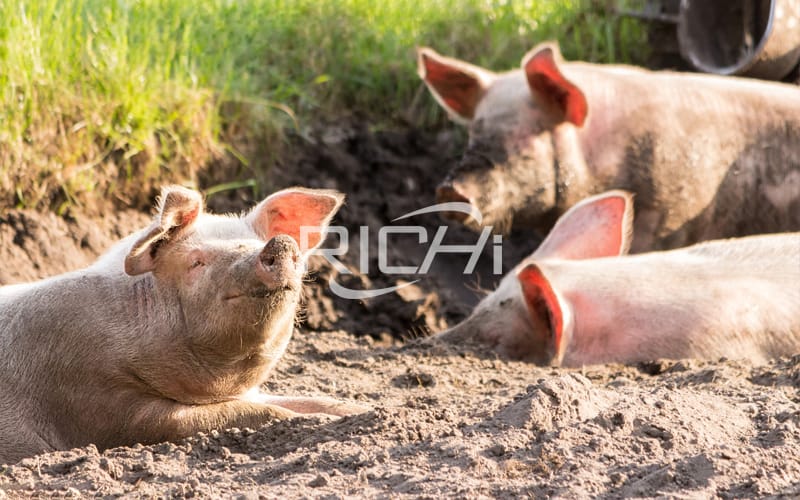 1.Tips Of Feeding Time
Pigs are strong and boisterous animals with a well-developed sense of humour, and they will be so eager to get their pig feed that they may knock you over when they get big enough. If you can, position the feeding trough where you can fill it from the other side of a fence. If not, throw a generous handful of feed into the enclosure as you enter it.
2.What Raw Materials Can Be Used To Make Pig Feed Pellets?
(1) Alfalfa meals should be the first one choice for making various feed pellets to meet the high fiber/low carbohydrate needs for pig – alfalfa is a great ingredient.
(2) Crushed oats which are a low – glycemic source of carbohydrates, but you have to remember that if you add oats to a pellet already high in oats, you may push your animal over their carb limit – the oats is a good ingredient.
(3) Wheat or corn Germ Meal – Another kind of raw materials with fiber and carbohydrates in a low glycemic form, also a source of fat.
(4) Ground barley is similar to oats is a kind of good ingredient.
2.How Does The Animal Pellet Press Machine Make Pig Pellet
If we would like to make pellets, then we need a feed pelleting machine. Pelleting is a process in which material is turned into small dry pellets. There is a wide range of applications for feed pelleting machine, and it is a commonly utilized industrial process all over the world, seen everywhere from plants which make animal feed to recycling facilities processing materials for reuse. This process is usually accomplished with a specialized machine called pellet press machine, which can operate in a number of different ways, depending on the material being pelletized.
Animal feed is also made by the pellet press machine. This type of feed is produced by grinding constituent ingredients which can be turned into pellets and allowed to dry before packaging. Drying animal feed pellet is lighter and easier to handle, and pelletizing allows animal feed production companies to create a range of feed blends for different animals, with various additives as needed.
3. Advantages of animal feed pelletizer machine
(1) It can avoid being picky eaters. The compound feed formula has a variety of raw materials with comprehensive nutrition, which can prevent animals from picking their favorite food from the powder and refusing to take in other ingredients. Since pellet feed can maintain uniformity during storage, transportation and feeding, feeding loss can be reduced by 8% to 10%.
(2) The feed rate of return is high. During the feed pelleting process, due to the comprehensive effects of moisture, temperature and pressure, the feed will undergo some physical and chemical reactions, which will gelatinize starch and enhance the activity of enzymes, which can enable the fed animals to digest the feed more effectively, which translates into weight gain. Feeding poultry and pigs with pellet feed can increase the feed conversion rate (that is, the rate of return) by 10%-12% compared with powdered feed. Feeding fattening pigs with pellet feed has an average daily gain of 4%, and the feed-to-meat ratio is reduced by 6%; feeding broilers, the feed-to-meat ratio can be reduced by 3%-10%.
(3) Storage and transportation are more economical. After pelleting, the bulk density of the feed will generally increase by 40%-100%, which can reduce the storage capacity and save transportation costs.
(4) Good liquidity and easy management. Many powders, especially fluffy feeds with small specific gravity, often stick to feed silos with molasses or high fat and urea added feeds. Because the pellet feed has good fluidity and seldom has adhesion phenomenon, pellet feed is the most popular for those farms that use automatic feeders to raise dairy cows or poultry on a large scale.
(5) Avoid automatic grading of feed ingredients and reduce environmental pollution. In the process of powder storage and transportation, due to the different volume and mass of various powders, it is easy to produce classification. After the pellets are made, there is no classification of feed ingredients, and the pellets are not easy to dust. During the feeding process, the pellets have much less pollution to air and moisture than powders.
(6) Kill Salmonella in animal feed. Salmonella will remain in animal tissues after being ingested by animals. People who eat animals infected with this bacteria will suffer from Salmonella gastrointestinal problems. The method of steam high-temperature tempering and re-granulation can kill Salmonella in animal feed.
[More info about pig feed]
How does the 4 tons per hour pig feed production line for processing suckling pig creep feed?
Construction project report of a pollution-free livestock animal pig feed factory with an output of 120 tons per hour
Comercial 16 tons per hour animal livestock pig feed pellet production factory project feasibility report
Corn DDGS Feed Application in Animal Poultry Pig Cattle Fish Feed Production Plant
Business plan for animal livestock pig feed production line with an annual output of 20,000 tons
China factory price full automatic 3-4tph good quality animal pig poultry feed mill plant cost
Main points of production technology of poultry chicken pig cattle livestock premix feed
Latest order of 1-2 t/h small sized pig feed pellet production line for Chinese domestic customer