Comercial 16 tons per hour animal livestock pig feed pellet production factory project feasibility report
2021-02-28 Back to List
If you are looking for related products or have any other questions, please feel free to contact us.
Contact Us
Today Richi Machinery will share with you a project we built in 2010-"Comercial 16 tons per hour animal livestock pig feed pellet production factory project", the following is the commercial 16tph turnkey pig animal feed prodution project proposal.
1. Project summary
The customer's agricultural and animal husbandry product company was established in 2008. With the support of the local government, it has successively introduced foreign original sows and built a Sujiang pig breeding farm at the same time. There are more than 2,000 breeding pigs in stock each year. More than 50,000 high-quality commercial pigs for slaughter, and in response to the "Pig Improvement" program, provided local farmers with more than 8,000 binary sows at a low price, with more than 60,000 commercial pigs for slaughter annually, and more than 35,000 tons livestock feed consumed annually. In order to provide high-quality, safe and reliable low-priced feeds to farmers in this county, to ensure the quality and breeding efficiency of commercial pigs produced by the growing client company, meet the relevant standards of the Ministry of Agriculture for pollution-free agricultural products, and truly ensure healthy breeding Food safety, plans to build a 16-ton pig feed factory on the east side of the company.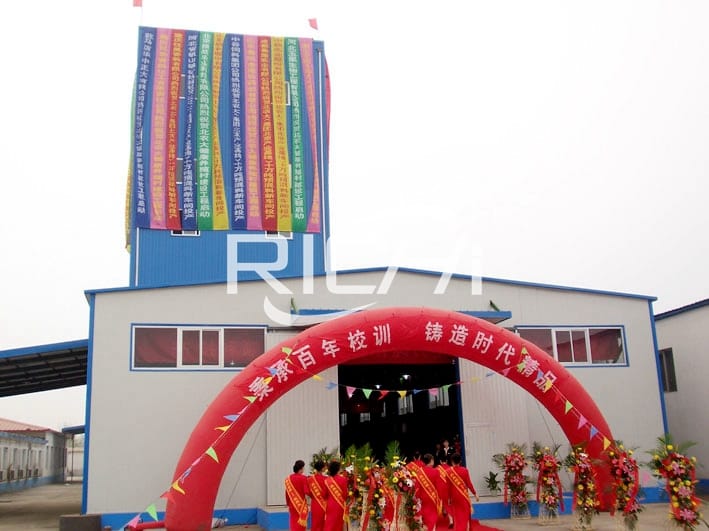 2. Demand analysis
This 16 tons capacity pig feed processing project is in line with national industrial policies and Jiangsu industrial planning. It realizes a one-stop process of agricultural products processing and sales. A large-scale pig breeding base led by the client company. The establishment of a high quality 16 tons/hour animal pig feed factory can reduce feed prices and produce high-quality products based on their own breeding species. Feed can ensure the quality of commercial pigs, make it convenient for poor households to raise pigs, and can digest corn, wheat, soybeans and other crops grown by local farmers, and increase farmers' income. This animal pig feed mill pllants with 16 tons production capacity produce feeds at low prices to farmers, enabling the company , A three-way profitable development between farmers and breeders.
The corn, soybeans, wheat and other crops planted by local farmers can completely solve the pig feed making raw materials needed for pig feed line production. The products are mainly feed used in different growth stages of pigs. According to the number of pigs raised and slaughtered in 2010, the company's annual slaughter volume and the slaughter volume of pigs raised by poor households are driven by the annual consumption of 35,000 tons livestock pig feed. Coupled with the annual increase in the number of pigs, the project is designed to produce 40,000 tons pig feed per year, and there is no problem in sales. The new build 16t/h automatic pig animal feed processing line project is equipped with dust collection equipment, which does not pollute the environment. The implementation of this project, driven by the client company, has driven a large number of poor households to develop pig breeding, and at the same time, it is driven by seed supply, material supply, technical services and sales. It is a strong driving project and promotes the industrialization of coastal pigs. Development and providing farmers' income plays a certain leading role.
3. Situation analysis for 16tph pig feed palnt project
(1) Resource conditions: The conditions for building the pig farm are met. The land (5 acres) reserved on the east side of the pig farm does not require land acquisition procedures. Water, electricity and roads are basically equipped.
(2) Raw material conditions: There are abundant feed resources such as corn, wheat and soybeans in the local area, and other auxiliary materials are purchased out of the country, and the conditions are met.
(3) Transportation: The transportation and communication conditions in the project area are available, and the products are transported by vehicles.
(4) Operation and management ability and technical situation: The customer's agricultural and animal husbandry product company has undertaken a number of provincial and ministerial projects, and has undertaken three agricultural projects in Jiangsu Province. Each project has good construction quality and high efficiency. They are all excellent projects. At the same time, the company has established scientific and technological cooperation relations with Nanjing Agricultural University and Jiangsu College of Animal Husbandry and Veterinary Medicine. The technical guidance and feed formula of the customer's 16 tons per hour commercial pig feed mill are supported by Nanjing Agricultural University. The company has 8 professional and technical personnel, who have the talents for project implementation.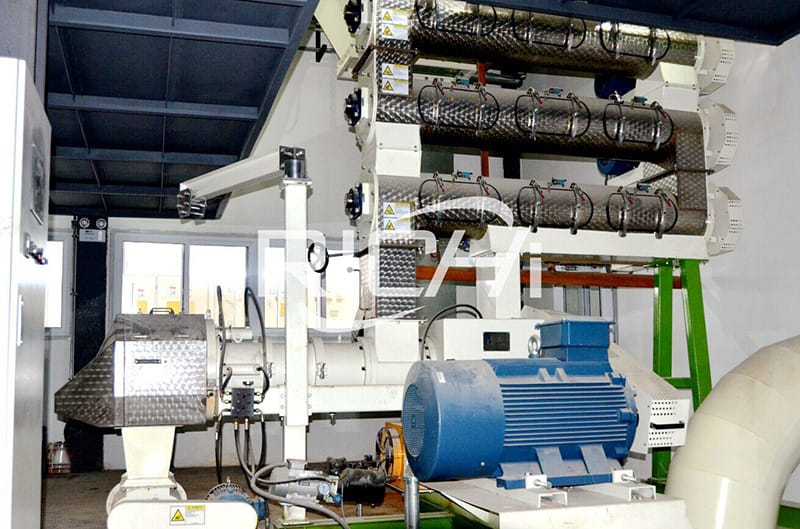 4. Scheme design
(1) Goal
①Product goal. It produces 40,000 tons of various livestock animal feeds for pigs in different growth periods each year, and the quality reaches the pollution-free standard.
②Functional goals. In addition to solving the company's pig farms, we also provide pig farming materials for farmers in surrounding areas to ensure high quality and low prices.
③Benefit goals. Mainly benefit the farmers, and the benefit target adheres to the principle of balanced operation of the 16 tons per hour animal pig compound feed manufacturing factory's own funds and a slight profit. The main benefits are placed on pig farmers.
(2) Implementation location and scope
Project construction site: To the east of the pig farm of the client's agricultural and animal husbandry company. Product supply range: pig farm and poor households in towns such as Baju, Batan and Binhuai.
(3) Implementation content
The construction scale is an annual output of 40000 tons pig feed pellets, and the total investment is about 8 million yuan. The specific construction content:
①To build a new pig feed processing workshop of 200 square meters, a raw material warehouse of 1,300 square meters, and a boiler room of 100 square meters, 1,800 yuan per square meter of building, 2.88 million yuan will be invested;
②The newly built office building is 400 square meters, the power distribution room is 50 square meters, and the guard room is 40 square meters. Each square building is 1,700 yuan, and the investment is 833,000 yuan;
③It is 1000 square meters to build a feed warehouse, 800 yuan per square building, 800,000 yuan is needed;
④ Purchasing a set of 16 tons/hour fully automatic compound feed unit for pig feed production requires an investment of 1.6 million yuan;
⑤The purchase of forklifts, packaging machines, transportation, ventilation and dust removal facilities requires an investment of 500,000 yuan;
⑥The purchase of supporting facilities such as boiler pipes requires an investment of 300,000 yuan;
⑦1000 square meters of cement road, need to invest 180,000 yuan;
⑧Water supply, drainage and auxiliary projects need to invest 140,000 yuan;
⑨It is necessary to invest 560,000 yuan to configure supporting facilities such as 400 kV transformer and power supply.
⑩The basic reserve cost of the project is 207,000 yuan.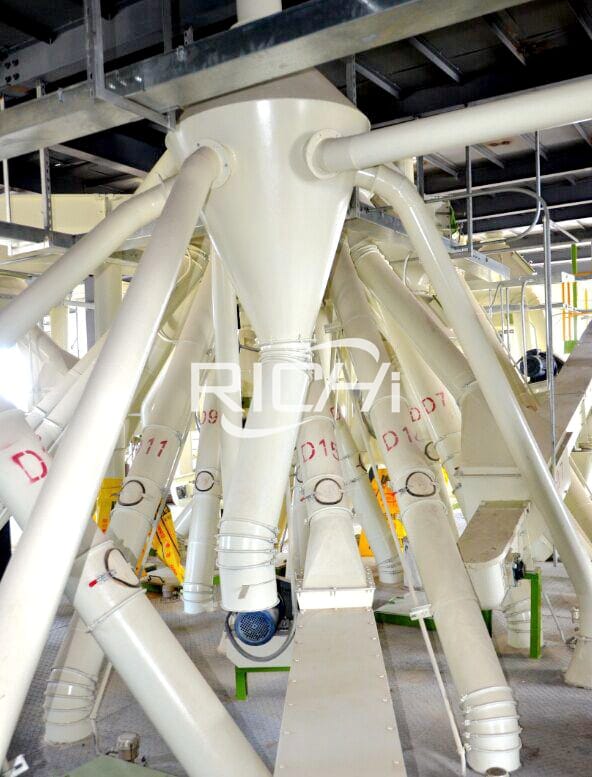 (4) Implementation plan
Project design and preliminary preparations before the end of June 2011, civil engineering construction from July 2011 to October 2011, purchase and installation of animal livestock pig feed processing equipment and power facilities completed from September 2011 to October 2011, 2011 Production was officially put into operation in November.
(5) Organization and implementation
Project management system, the pig feed plant factory is managed by the client company in a unified manner, the project implementation team is established, three departments are established according to production management, technical guidance, and marketing, division of powers, technical leaders are determined, various staffing, engineering Implementation of bidding for construction. Ensure the quality, progress and image of project implementation.
5. Benefit analysis
Economic benefits, the commercial 16 tons/hour livestock pig feed processing plant adheres to the principle of preserving low profit and giving benefits to poor households. Each ton of feed will benefit farmers 100 yuan, and the enterprise will have a meager profit of 50 yuan per ton. The project construction scale will produce 40,000 tons of feed per year, which can be transferred Farmers are 4 million yuan, and the company makes an annual profit of 2 million yuan, making a total profit of 6 million yuan. At the same time, 30 farmers will be employed.
6. Feasibility conclusion of 16 tons capacity commercial pig animal feed manufacturing project implementation
The establishment of this 16 tons pig feed production business project complies with the national industrial policy and the provincial government's industrial plan. It is conducive to driving poor farmers to develop pig-scale industries and increasing farmers' income. The construction of the project has a certain necessity and urgency. In view of the current large-scale pig feed processing factory in Binhai No, most of the large-scale breeding and farmer's pig feeds are purchased from outside. Due to the nonstandard product quality and weight, farmers have suffered losses.
The establishment of a 16 tons per hour good quality livestock feed factory for pig in the local area can solve the problems of farmers' difficulty in feeding pigs. Now it is a good time to build a animal feeding factory for pig feed production. The products are transported and sold in the right way, directly supplying the market and driving farmers, and there is no problem of difficult sales or slow sales. The animal pig feed processing factory is built on the original pig farm reserved land and has excellent conditions. The pig pellet feed project design plan is feasible, the construction technical route, equipment means are advanced and practical, the project construction investment capital is guaranteed, the project implementation not only has economic benefits, but also has high social benefits. The pig feed project construction will surely drive the coastal scale pig breeding and radiation Increased efficiency of farmers' pig raising has a certain role in promoting local economic development.
7. Project investment budget
| | |
| --- | --- |
| Project budget details | Budget amount (ten thousand yuan) |
| Total | 800.00 |
| 1. Newly build a feed processing workshop of 200 square meters | 36.00 |
| 2. Newly build a raw material warehouse of 1,300 square meters | 234.00 |
| 3. Newly build a boiler room of 100 square meters | 18.00 |
| 4. 400 square meters of new office building | 68.00 |
| 5. Newly build a power distribution room of 50 square meters | 8.50 |
| 6. Newly build a guard room of 40 square meters | 6.80 |
| 7. Converted into a product feed warehouse of 1,000 square meters | 80.00 |
| 8. Purchase whole set of 16 tons/hour pig feed pellet production unit | 160.00 |
| 9. Purchase forklifts, packaging machines, transportation, ventilation and dust removal facilities | 50.00 |
| 10. Purchase boiler pipelines and other supporting facilities | 30.00 |
| 11. 1000 square meters of cement road | 18.00 |
| 12. Water supply, drainage and auxiliary engineering | 14.00 |
| 13. Equipped with supporting facilities such as 400 kV transformer and power supply introduction | 56.00 |
| 14. Basic engineering reserve costs | 20.70 |