China factory price full automatic 3-4tph good quality animal pig poultry feed mill plant cost
2020-12-25 Back to List
If you are looking for related products or have any other questions, please feel free to contact us.
Contact Us
Complete sets of feed processing equipments in full automatic 3-4tph good quality animal pig poultry feed mill plant are the ideal machinery for animal husbandry, large medium-sized poultry pig farms and small scale animal feed production factories choose this 3-4tph animal feed production line to produce pig poultry feed with a high degree of automation.
RICHI Machinery is a professional feed processing machinery manufacturer, this article will introduce China factory price full automatic 3-4tph good quality animal pig poultry feed mill plant cost in detail.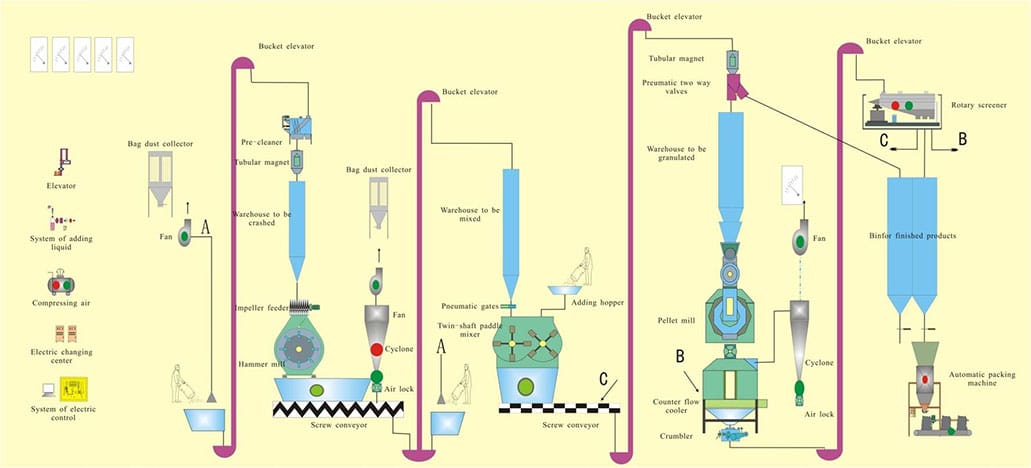 1. Introduction Of 3-4T/H Animal Poultry Pig Feed Manufacturing Plant
This automatic poultry pig animal feed plant designed for capacity 3-4T/H to make pig feed pellet and poultry feed Pellet, such as chicken feed, layer chicken,duck,goose, sow, piglet,and also for sheep feed,cattle feed,fish feed,etc. This 3-4tph capacity animal poultry pig feed mill plant equipped with the ring die SZLH320 ring die animal feed pelleting machine. The maximum capacity of this feed pelleting equipment is 5T/H.
2.Main features of 3-4 ton per hour complete poultry pig feed pellet producing line
(1)Unlike materials that are used to make biomass wood pellets, grains for making feed pellets can get into the pellet machine just through gravity, thus imperative feeding device is not necessary.
(2)During the pelletizing process, steam should add through the steam pipe. The steam can accelerate the ripening of materials and the finished pellets are easy to digest for animals.
(3)Multi-layers can mount to produce certain high-grade feedstuff pellets.
3.Complete automatic 3-4tph capacity livestock pig animal poultry feed processing plant production process
Automatic 3-4 ton small plant poultry pellet feed production plant flow chart:Raw materials receive and cleaning—crushing system—mixing system—pelleting system—cooling system——screening system——packaging system.
(1)Attaining of Fodder Materials
Raw materials that can use in the manufacturing of pellet feeds are numerous. Some include fish meal, corn, alfalfa, soya beans, additives, meat and bone meal, just to mention but a few.
(2)Grinding
Before pelletizing, grains such as corn, wheat, rice, and soybean, etc. need to be crushed into powder. In this process, a feed hammer mill is used to grind into powder the raw materials, in order to enhance the pelletizing effect.
(3)Mixing
ln order to attain a balanced nutrients supply in the feed, a poultry pig feed mixer is used to mix the various ingredients together. They should mix thoroughly with a mixer since other additives may add to ensure a balanced feed formulation.
(4)Pelletizing
A ring die poultry pig feed pellet mill machine is way more efficient as compared to a flat die feed pellet mill. This is also because a ring dies type poultry pig feed pelletizing machine is highly suitable for the production of quantity and quality animal feed pellets. It has an in-built steam collection conditioner that mixes an cooks the materials hence providing quality final animal feed pellets. Different animals have special requirements of pellets, we have several types of ring die poultry pig feed pelletizer machine which can respectively produce livestock and poultry feed pellets. CE high quality ring die feed pelleting equipment is an ideal poultry pig feed mill factory feed machine for high-quality feed pellets.
(5)Screening
This process mainly uses the vibrating screen and full ring rotating screen, the qualified pellets will deliver to the next process.
(6)Packing
This process is to pack the pellets into different bags, the packing bag size is from 10-50KG.
The finished feed pellets have a smooth surface and easy to digest for animal pigs and poultry. Therefore SZLH series poultry pig livestock feed pellet maker machine widely used in livestock farms, poultry farms, feed processing industry, and aquaculture. The end product is a feed pellet with high palatability, digestibility, and nutrition ready for packing. Pellet feed customization is also available. Since animal feed contains a lot of fiber, it is advisable to carry out conditioning by providing direct or indirect moisture to soften the pellets.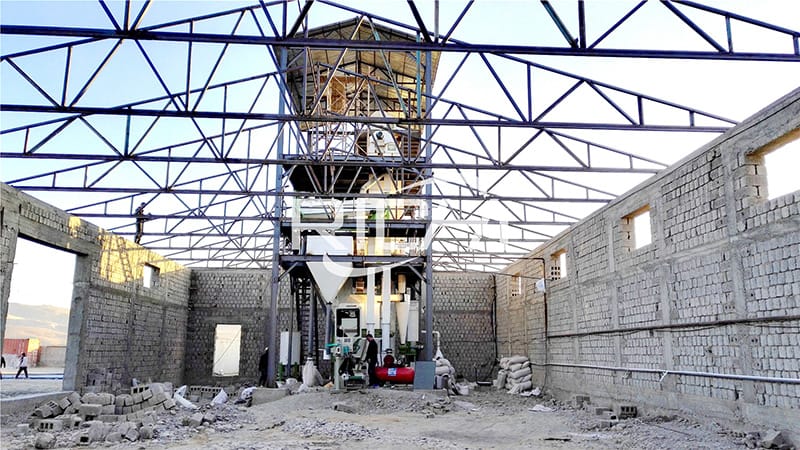 4.China factory price full automatic 3-4tph good quality animal pig poultry feed mill plant cost
Costs of setting up a ce high quality 3-4 ton capacity animal feed pellet making plant for poultry pig feed production is usually between 20000USD-100000USD.
5.Poultry Pig Animal Nutrient Requirements
Poultry pig diets must be formulated to provide all of the animal's nutrient requirements if optimum growth and production are to be achieved. Pellet machine for animal feed can make poultry pig feed pellets, Richi Machinery is a professional poultry pig animal feed line pellet machine manufacturer.There are six classes of nutrients:
(1)Carbohydrates, the major source of energy for poultry. Most of the carbohydrate in poultry diets is provided by cereal grains.
(2)Fats, provide energy and essential fatty acids that are required for some bodily processes.
(3)Proteins, required for the synthesis of body tissue (particularly muscle), physiological molecules (such as enzymes and hormones), feathers and for egg production. Proteins also provide a small amount of energy.
(4)Vitamins, organic chemicals (chemicals containing carbon) which help control body processes and are required in small amounts for normal health and growth.
(5)Minerals, inorganic chemicals (chemicals not containing carbon) which help control body processes and are required for normal health and growth.
(6)Water.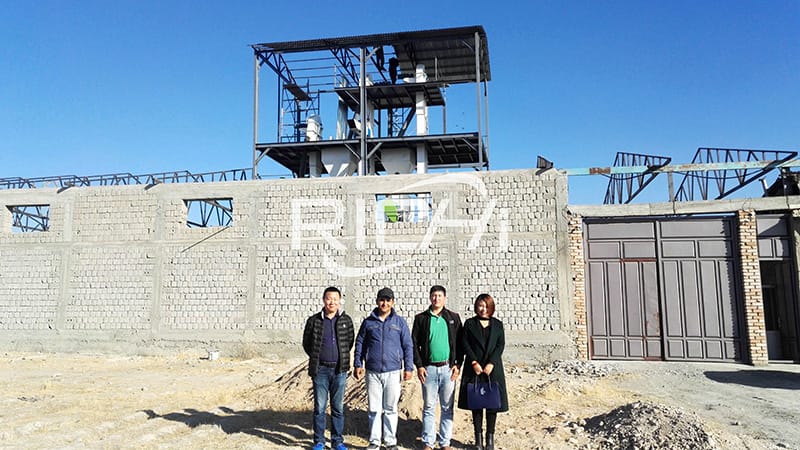 6.Factors Affecting The Nutrient Requirements Of Poultry And Pig
The nutrient requirements of poultry and pig are affected by a large number of factors, including:
(1)Genetics (the species, breed or strain of poultry) – Different species, breeds or strains of poultry have different average body sizes, growth rates, and production levels and will absorb utilize nutrients from feed pellets with different levels of efficiency. Therefore, they will require animal feed pellets with different nutrient compositions. The genetics of commercial poultry is constantly changing, and as a result, so are their nutrient requirements. Consequently, breeders of commercial poultry provide information on the specific nutrient requirements for the poultry they sell.
(2)Age – nutrient requirements are related to both body weight and the stage of maturity in poultry.
(3)Sex – prior to sexual maturity, the sexes have only small differences in their nutrient requirements and males and females can usually be fed the same compromise diet to achieve acceptable growth rates. Differences in nutrient requirements are larger following the onset of sexual maturity and significantly different diet formulations are then required for each sex.
(4)Reproductive state – the level of egg production in hens and sexual activity in males will affect nutrient requirements.
(5)Ambient temperature – poultry have increased energy requirements to maintain normal body temperature in cold ambient temperatures and the opposite in hot ambient temperatures. Food digestion processes produce body heat, the amount of which will vary according to the nutrient composition of the diet. This is called the heat increment of the diet. In cold temperatures, it may be desirable to formulate a diet with a higher heat increment and the opposite in hot temperatures.
(6)Housing system – the type of housing system will influence the level of activity of the birds and therefore their energy requirements.
(7)Health status – poultry experiencing a disease challenge may benefit from an increase in the intake of some nutrients, most commonly vitamins.
(8)Production aims – the optimal nutrient composition of the diet will vary according to production aims, such as optimizing weight gain or carcass composition, egg numbers, or egg size. Poultry that is raised for breeding purposes may need to have their energy intake restricted to ensure that they do not become obese.
Hope this article can help you know more about 3-4 ton per hour capacity poultry pig feed pellet prodcution, if you want to build your own 3-4tph animal feed pellet production line plant, please contact Richi Machinery.