Factory price of super quality biomass straw pellet machine for 1-20tph high quality ce straw wood pellet mill line
2020-12-25 Back to List
If you are looking for related products or have any other questions, please feel free to contact us.
Contact Us
Do you want to turn agricultural and forestry waste into treasure?Richi Machinery is a china biomass pellet production line manufacturer and china biomass pellet mill factory.today we will talk about "Factory price super quality biomass straw pellet machine for 1-20tph high quality ce straw wood pellet mill line".
Are you still worrying about how to deal with straw in the farm? Do you want to get a straw pelletizing machine from us and harvest the success? Please browse our websites about biomass straw wood pellet mills. Straw is a common biomass wastes for farmer that can be seen everywhere in the world,,common ones are rice straw,corn straw, cotton staw, peanut straw,wheat straw . Usually, people always burn it once when crops are harvested. But now, it has a new and important usage, which is processed into straw pellets as a new type of biomass fuel by the biomass wodd straw pelletizing mill. Then the straw pellets can be used for heating,cooking and power generation.

1.Technical Parameters Of Biomass Straw Pelletizing Equipment with Electric Motor
Model
MZLH350 Straw
MZLH420 Straw
MZLH520 Straw
MZLH768 Straw

Pelletizer

MZLH858 Straw
Anti-caking Feeder Power
1.5KW
1.5KW
1.5KW
2.2KW
3KW
3KW
Forced Feeder Power
0.55KW
0.55KW
0.55KW
0.75KW
1KW
1KW
Straw Pellet Machine Power
37KW
55KW
110KW
160KW
250KW
280KW
Capacity(wood sawdust,biomass)
300-400KG/H
500-700KG/H
1.0-1.2 T/H
2.0-2.5 T/H
2.5-4 T/H
3-4.5 T/H
Capacity(grass,straw)
600-800KG/H
800-1000KG/H
1.5-2 T/H
3-4 T/H
5-7 T/H
8-10 T/H
Capacity(organic fertilizer)
1-2 T/H
3-4 T/H
5-6 T/H
7-8 T/H
9-10 T/H
10-12 T/H
Final Pellet
6-12mm
6-12mm
6-12mm
6-12mm
6-12mm
6-12mm
Weight(KG)
2500
3500
4000
4500
5000
5500
Dimension(mm)
2200*900*1300
2500*1100*1600
2800*1150*1730
3000*1260*1860
3300*1500*2000
3500*1600*2180
Press Rollers and ring die are the most important components of the straw wood pellet making machine for 1-20tph high quality ce straw wood pelletizing line. The procedure of pelletizing will be finished between the compress of them. To process straw into pellets, firstly you need crush it into fragment. The moisture should be controlled around 15%, or it will be hard for the fragment being solidified. Size of fragment should be no longer than the diameter of holes on the die.
Put the fragment into the feeder hopper vertically. Then the straw fragment will enter the space of upper box. Here the straw fragment will be pressed under the force between rollers and die into holes on the die. Then straw pellets will get out of the discharge hole after cut into uniform size. When pellets cool down, they are available to use or bagged for storage and sale.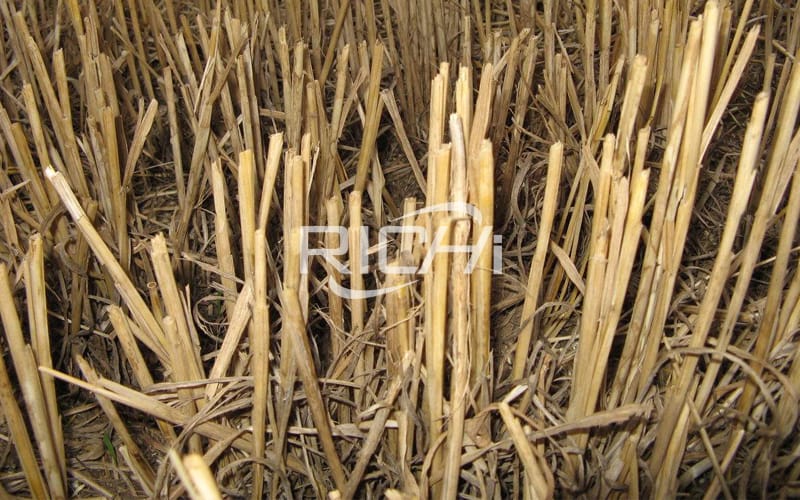 2.How To Ensure The Hardness Of Straw Pellets During The Super Quality Biomass Straw Pellet Machine Process?
RICHI hot sale easy operation straw wood pellet machine for 1-20tph biomass fuel pellet plant is a kind of pellet making equipment that can transform some agricultural waste into new fuel or feed pellets, which not only solves the problem of agricultural residues but also provides a new development direction for new energy. However, in the process of using the biomass energy straw wood pelletizing equipment, we have requirements on the quality of the straw pellets made through this straw pellet maker machine.
We all know that when the straw pellet processing machinery is in production, it is often affected by many factors. Which will jointly determine the quality of the products produced. In the production of hot sale 1-20 ton/h straw wood pellet production machines, since hardness is an important indicator of the quality of straw pellets, we generally require that the hardness of the pellets meet a standard. So, what factors will restrict the hardness of straw pellets?
(1)Straw Pellet Machine Production Process
Therefore, we must start with the straw pellet production process. In the production of straw press granulators, there is a relatively important process, which is steam conditioning. The effect of steam conditioning often determines the internal structure and appearance quality of the pellets. Steam quality and quenching time are two important factors that affect the quenching effect. Because high-quality dry and saturated steam can emit more heat to increase the temperature of the material and make the starch gelatinize. Then the longer the quenching time, the higher the degree of starch gelatinization, which will make the granular structure more compact and firm after molding. Therefore, the better the stability, the higher the hardness.

(2)Raw Materials For Straw Pellets
In addition, it should consider the perspective of raw materials. For example, a single raw material may not have the same hardness as the pellets formed after processing the mixture. Because after mixing the raw materials, it can ensure a more uniform distribution of different pellet sizes, which is more helpful to make the hardness of the wood straw pelleting machine consistent.
Except that, the consideration of moisture is also an aspect. If the moisture content of about 1% to 2% added during the production process of the RICHI ce good quality straw wood pellet press machine, the stability of the straw pellet will significantly improve, so the hardness of the pellets made will also improve. However, when adding water, be sure to control the appropriate amount according to the actual situation.
3.Price of straw pellet making machine for 1-20tph biomass stalk pellet production line
Cost of staw pellet pressing machine for 1-20t/h good quality cotton rice corn stalk biomass wood pellet line is usually between 15000USD-100000USD(each machine).
Hope this article can help you know more about the straw pelletizer machine for 1-20tph biomass wood pellet line, if you want to build your own 1-20t/h staw pellet manufacturing plant, welcome to visit our Industry Staw Pellet Making Plant.