Brief Introduction
Materials such as straw, rice husk and fruit shell are lighter, RICHI pellet mill series have added a forced feeding device to improve granulation efficiency and capacity.
Get Quote
Straw Pellet Machine
| | | | | | | |
| --- | --- | --- | --- | --- | --- | --- |
| Model | MZLH320 | MZLH350 | MZLH420 | MZLH520 | MZLH768 | MZLH858 |
| Capacity | 300-400kg/h | 500-700kg/h | 1.0-1.2 t/h | 2.0-2.5 t/h | 2.5-4 t/h | 3-4.5 t/h |
| Power | 37kw | 55kw | 90kw | 110/132kw | 250/280kw | 280kw |
| Final Pellet | 6-12mm | 6-12mm | 6-12mm | 6-12mm | 6-12mm | 6-12mm |
What Are The Parts of Straw Pellet Machine?
Straw Pellet Machine is a key equipment for the production of pellets, which composed of multiple components. It is mainly composed of drive system, feeding system, pelletizing system, etc. The following figure is for reference. It can be seen that in order to adapt to the particularity of the raw materials, we have increased the size of the feeding port and added a forced feeder, which not only solves the problem of low production efficiency of biomass particles, but also effectively reduces waste of raw materials.
Contact Us
1. Feeder
2. SKF Bearing
3. Forced Feeder Motor
4. Cutter Assembly
5. Gearbox
6. Shaft Coupling
7. Safety Assembly
8. Limit Switch
9. SIEMENS Motor
10. Stainless Steel Conditioner
Detailed Instructions of Straw Pellet Machine
RICHI always believes that good products are one of the important indicators of corporate survival. We use high-standard materials in the production process and cooperate with internationally renowned brands to ensure that we can bring high-quality equipment to customers. The following is a detailed display of RICHI Straw Pellet Machine.
Contact Us
Frequency Control Feeder with Anti-caking device

Stainless steel conditioner, 304 stainless steel, used for feed ripening, sterilization, improve water resistance and output

304 Stainless steel paddles, precise Angledesign, reasonable blade layout, corrosion resistance

Imported gear box, high processing accuracy, high transmission efficiency, low energy consumption

304 stainless steel ring die, corrosion resistance, Full automatic CNC ring die drilling machine and vacuum heat treatment technology

Press Roller Section - Made of 40CrMnTi, the structure of the eccentric shaft can better adjust the distance between the ring die and press roller
Application of Straw Pellet Mill Machine
Richi Machinery pellet mill is mainly suitable for the production of biomass pellets with straw, rice husk, fruit shell or the other biomass materials.
Contact Us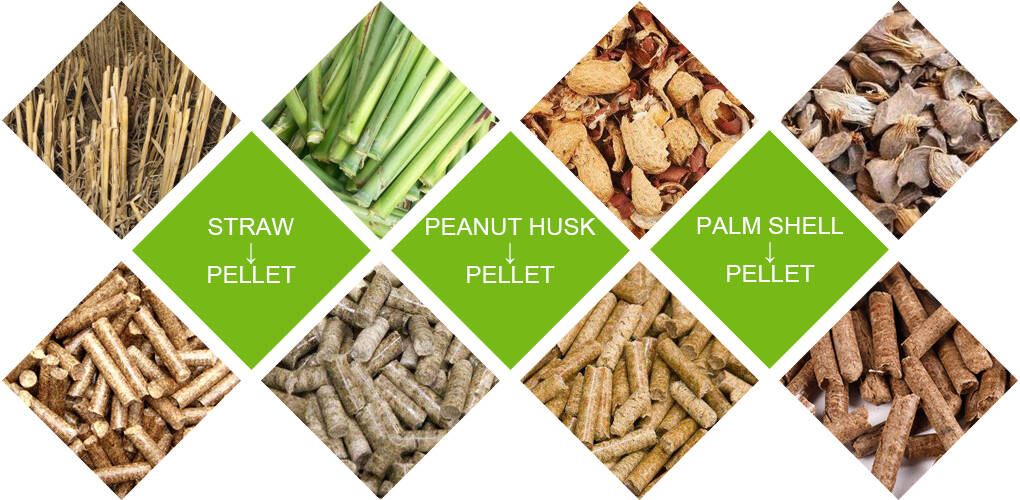 Equipment In RICHI Workshop
Ring Die
Straw/Husk/Shell Pellet Mill
Stainless Steel Conditioner
Straw/Husk/Shell Pellet Mill
Related Pellet Production Line
Our products are usually used in conjunction with other equipment in the pellet production line and have a wide range of applications. The following are common pellet production lines for reference only. If you have different raw materials or different requirements, please contact us for customization.
Contact Us