How to make your fish farming business profitable?How to start your Catfish farming business in Nigeria?
2021-03-24 Back to List
If you are looking for related products or have any other questions, please feel free to contact us.
Contact Us
Fish farming usually involves raising a variety of aquatic animals, such as fish, mollusks, shrimp, etc., in any enclosure such as a tank or pond. Today, the demand for fish and fish products is growing because of the health benefits of their overall demand for meat and meat products. For one thing, fish is a very healthy source of protein and fat.
Fish farming is undoubtedly profitable. This is especially true when they use cheap but nutritious ingredients at the lower end of the food chain. These are fresh-water ponds and water beds. If it is a sea pool, there are many fish that can be aquaculture. Herbivores and carnivores can also be farmed here.
All of these ventures are profitable. How much is it profitable – depends on many factors, such as the cost of fish species, feed, manpower used during cultivation and harvesting, freezing, and transporting to market.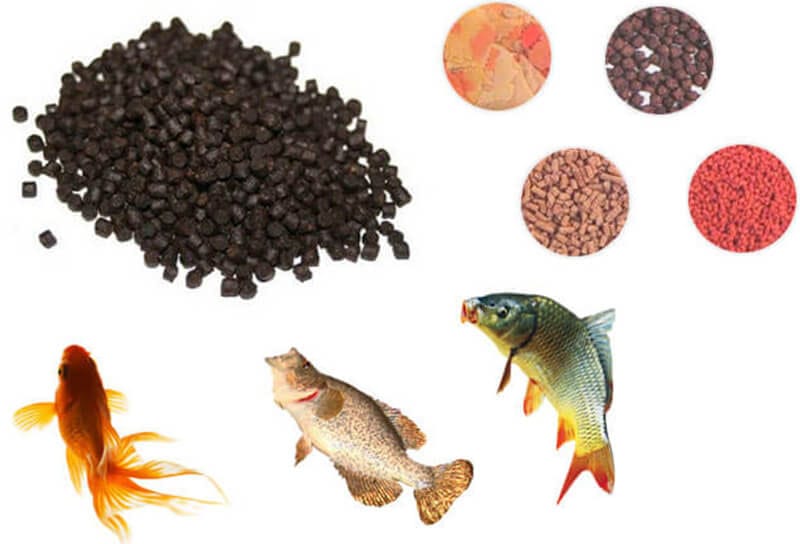 1.Reduce Feed Costs By Making Your Own Fish Feed
One fact is that, feed is the major operational cost for most fish farms, accounting for 50-70% of the variable cost depending on farming intensity. For almost all large or medium-scale fish farms, it is more economic-efficient to manufacture fish feed pellets by themselves than buying from the market.
Making your own fish food is a great way to give your fish a healthy diet and tailor the food to the exact dietary requirements of your fish. Different types of fish require slightly different vitamins, nutrients, and minerals. It means that you can customize the food for specific fish.
2.How Profitable Is The Fish Farming Business?
Realize all kinds of fish farming, and understand the benefits of fish farming, let us know the actual profit of fish farming.
One thing you have to be aware of is that in the first year of your fish farming business, regardless of the type of fish you raise. Because of the cost of pond construction, water management and maintenance, and the cost of a few other assets that you might incur in starting your fish business, you may not actually be making a profit at the first year.
You will need more than two fish production cycles before you can start making any significant profits from the fish farming business.
3.Factors That Affect Your Profit
In order to assess the profitability of the fish farming business, let us list the factors that may affect your profits so that you know how to handle them when you start a farm.Feeding, water, and temperature, the type of pond you use, feed costs, and other costs minus selling costs will affect your farm's profit potential each time. Other considerations include the location of farms, farms near markets, demand and supply, special holiday celebrations, etc.
4.Types Of Fish Farming
(1)Fish Hatchery
Hatchery is a kind of artificial fish breeding place, which carries out reproduction, hatching and growth in various stages of the life cycle of fish. Choosing the right fish is very important. Some common fish in hatcheries are shrimp, Tilapia, Salmon, Scallops, Carp fish, etc.
(2)Tilapia Fish Farming
Tilapia farming is very profitable. Some of the main reasons tilapia is profitable include its high protein content, rapid growth and large size compared to other fish.
(3)Shrimp Farming
Shrimp farming is another fish farming business that is considered profitable. The demand for shrimp is so high that you can start small or large.
(4)Crab Farming
Crab farming is another lucrative business. When running a crab farming business, you can reduce land and labor costs, and you can produce commercial quantities in a small area. Crabs grow very quickly and are highly accepted and desired in the market. Pricing is also great.
(5)Prawn Farming
Prawn farming is another fish farming business, where there is a lot of profit, probably due to the high demand for prawn.
(6)Ornamental Fish Farming
Ornamental fish are loosely called ornamental fish. They are beautiful, gorgeous and colorful. The demand for ornamental fish has increased greatly and there is a good market for them.
(7)Catfish farming
This is one of the most common fish farming operations. The cat-fish business is so profitable that farmers can easily combine it with other fish. In any case, startup costs are reasonable, depending on your location. You can easily start small.
(8)Carp Fish Farming
This is another fish farming business where you can delve into and capture the market. Carp are known as omnivorous fish, although they tend to eat animal foods as mollusks, as well as worms and insect larvae. You may not necessarily spend too much on feed when you are in the carp farming business.
(9)Salmon Fish Farming
Salmon is a fish that is considered a carnivore. You can also drill down into salmon farming and start producing commercial quantities.
(10)Indoor Fish Farming
You can start an indoor fish business from your backyard, in a tank, for very little money.

5.Questions About How Lucrative Fish Farming Really Is
Questions such as "What is the average fish farming profit margin" , "How does it compare to shrimp farming profit margin?", "how profitable is fish farming?", "Is fish farming more lucrative than poultry?", "Do you make money in fish farming", etc. tends to come from prospective individuals who are looking at setting up a fish farming business. Interestingly, these questions often lead to debates led by unwitting users who may not even raise fish.
6.How To Start Catfish Farming In Nigeria?
Catfish farming in Nigeria is the cultivation of one or more finned fish primarily for commercial purposes. In this article, you will learn how to start your own successful catfish farming business in Nigeria. We will provide you with all catfish farming tips so you can start your own catfish farming for profit. In terms of aquaculture, catfish farming is the most profitable in Nigeria.
There are various ways to start a catfish business. Catfish farming is simple and flexible livestock based business and you can start anywhere, especially in tropical climates like Nigeria. In addition, catfish farming can be done where you live, especially if you have large yards. Yes, you can start catfish farming at home.
Around the world, there are so many fish, some of them include: pangas catfish, greasy grouper, big fish, grass fish, silver snapper, common catla, Nile tilapia, and so on. But most fish are not suitable for farming in Nigeria. The most common fish in Nigeria are tilapia and catfish, and later catfish are the most common.
7.Profitability Of Catfish Farming In Nigeria
As mentioned, catfish is one of the most consumed sources of animal protein in Nigeria. Catfish meat on everything from local chili soups to roadside barbecue vendors to upscale restaurants. Please note that this is a home purchased for daily use. Catfish is in far greater demand than supply, and will continue to grow due to its huge health benefits. Because fish grow very fast, turnover is very high. If you put your best efforts into this profitable business, you can make a huge profit, and I can assure you that you should break even in a few months.
8.Decide What Size Of Farm You Plan To Have
You can start from small-scale catfish farming using one tank or a small pond. Catfish farming in tanks is an option for temporary business, if you want to have a real profitable long-term business, you should think about catfish farm in a pound. However, in order to avoid harm and money loss, it is better to start from small, to understand how this business works. Your business should not do any harm to the environment. Try to choose the proper place taking into account the size of the future farm, necessity of water supply and of course, not to spend a small fortune.
(1)Build up tanks or pounds
Use the services of experts (construction engineers), who will build a fish farm following all construction requirements. Ensure the proper drainage.
(2)Borehole or a river nearby
Water supply is one of the main necessities in fish farming, water must be changed regularly, so ensure the constant source of water. Catfish is a freshwater animal and you should assure the high-quality water. Do not use rainwater.
(3)High-level tank
Your ponds will be supplied by water from this water reservoir. It should be connected to the pounds through the special plumbing system.
(4)Water Supply Source
Studies have shown that in this part of the world, the best source of water for fish farming is a borehole. Now do not get me wrong, wells and other natural sources could also be used, but before use, try growing a few fish in the water to see how they thrive. If you opt for a borehole, depending on the capacity of the farm, one or two should be made available along with overhead tanks for water storage. There should also be a backup system especially in the mechanism for pumping water to avoid any failures, as it may be fatal to the operation of the farm.
9.Feeding the Catfish in Nigeria
Feeding catfish is far from an exact science. It's a very subjective process, catfish farmers are different. Changes in feeding methods are the result of many factors, such as cropping systems, fish size, the ability to manage water quality, the experience of feeding labor, and difficulties in estimating fish stocks.
In general, fish should be fed once a day as they will be consumed without adversely affecting water quality. During the warmer months, most catfish producers feed once a day, seven days a week. While feeding twice a day may slightly improve species growth, the logistics of feeding multiple times on large catfish farms make it impractical.
10.Health And Environmental Concerns in Nigeria
Keep your fish healthy, make a point to detect early signs of diseases, and take the necessary actions to prevent them. Follow safety guidelines and medication regulations for your fish farm. Know what chemicals are safe to use and how to treat diseases and the water in an eco-friendly manner to treat diseases and pests. Several chemicals such as copper sulfate, formalin, hydrogen peroxide, and povidone iodine are FDA approved and are safe to use in your pond for treating catfish diseases.
Hope this article can help you know more about catfish farming In Nigeria, if you want to build your own fish feed plant, please contact us.
11.How To Make Floating Fish Feed In Nigeria?
Fish farming is one of the most profitable businesses in Nigeria and almost guarantees a return on investment. Fish feed is a major expense of fish farming, and in order to minimize input costs, it is cheaper to produce fish feed than to buy ready-made fish feed. High quality fish feeds can be prepared from local ingredients, but these locally produced feeds are unstable or do not float, leading farmers to rely on foreign pellet feeds. Floating fish feed pellet machine is the indispensable machinery to make fish feed pellets.
12.Main Ingredients Of Fish Feed Pellets in Nigeria
The main ingredients of fish feed include rice bran, fish meal, soybean meal, maize, peanut cake etc., which can be purchased locally. The challenge of making fish feed is not sourcing ingredients in Nigeria, but the technology involved in formulation and processing. Fish feed is usually processed in two ways: by pelleting or extrusion. In order to obtain high quality fish feed particles, extrusion is more popular than pelleting.
13.Machines For Making Fish Feed in Nigeria
Fish feed extruder, also called fish feed pellet machine, is widely used for producing variety materials into high-grade aquatic feed pellets for fish, catfish, shrimps, crab etc. The final feed pellets have unique shape and good taste, high nutrition and smooth textures. For feeds of fish and shrimp, the floating time on water surface can be adjusted by the extrusion degree adjustment when extruding the pellets.
Currently, floating fish feed extruder has become an ideal for small and medium fish farm (catfish, tilapia, shrimp etc.) holders or fish feed processing plant.
| | | | |
| --- | --- | --- | --- |
| Model | Capacity | Machine Power | Dia. of Screw |
| DGP40-C | 0.03-0.04T/H | Single-phase-6KW | Φ40MM |
| DGP40-C | 0.03-0.04T/H | 5.5KW | Φ40MM |
| DGP50-C | 0.06-0.08T/H | 11KW | Φ50MM |
| DGP60-C | 0.12-0.15T/H | 15KW | Φ60MM |
| DGP70-B | 0.18-0.2T/H | 18.5KW | Φ70MM |
| DGP80-B | 0.2-0.25T/H | 22KW | Φ80MM |
| DGP90-B | 0.3-0.35T/H | 37KW | Φ90MM |
| DGP120-B | 0.5-0.6T/H | 55KW | Φ120MM |
| DGP135-B | 0.7-0.8T/H | 75KW | Φ133MM |
| DGP160-B | 1-1.2T/H | 90KW | Φ155MM |
| DGP200-B | 1.8-2.0T/H | 132KW | Φ195MM |
14.Requirements Of Aquafeed in Nigeria
(1)Grinding fineness:
Proper particle size of ground materials can contribute to lower energy consumption of a feed mill, facilitate the subsequent conditioning process, increase the water stability of aquafeed pellets. And eventually obtain nutritional aquafeed that benefits the digestibility of aquatic animals.
(2)Size of feed pellet:
It is depending on the size of aquatic animal to be fed and its feeding habits.
(3)Water stability:
45~90 min for shrimp feed and 5~30 min for common fish feed.
(4)Floating or Sinking ability:
Different aquatic animal species live in different depths of water (shallow water, middle water and deep water) and different habitats. Therefore, the feed for different aquatic animals should be sustainable in corresponding depths.
(5)Palatability:
Most of aquatic animals favor feed of special color, scent and flavor.
15.Floating Fish Feed Production Process in Nigeria
The main floating fish feed production process includes Grinding, Mixing, Extrusion, Drying. Although the initial capital expenditure on acquiring equipment may seem daunting, the machines will pay for themselves in the first year buy saving costs and improving production and quality. Therefore, any important fish farmer who wants to have a sustainable and long-term business can invest in floating fish feed processing machines. Floating fish feed pellets are more cost-effective, improve feed quality and increase profitability for farmers. You can also produce and sell commercially to other fish farmers.