Construction project report of a pollution-free livestock animal pig feed factory with an output of 120 tons per hour
2021-03-08 Back to List
If you are looking for related products or have any other questions, please feel free to contact us.
Contact Us
Today,RICHI will share you a 120 tons per hour large scale full automatic animal feed mill project proposal.
1. 120T/H livestock animal feed mill project name: Construction of a pollution-free animal livestock pig feed production factory with output of 120 tons per hour
2. 120T/H livestock animal feed project unit: Sichuan Defulong Company
3. 120T/H livestock animal feed factory project construction content
Introduced joint ventures to build 3 pollution-free livestock and poultry feed production lines with an annual production capacity of 300,000 tons. (1000 tons per day,25,000 tons per month)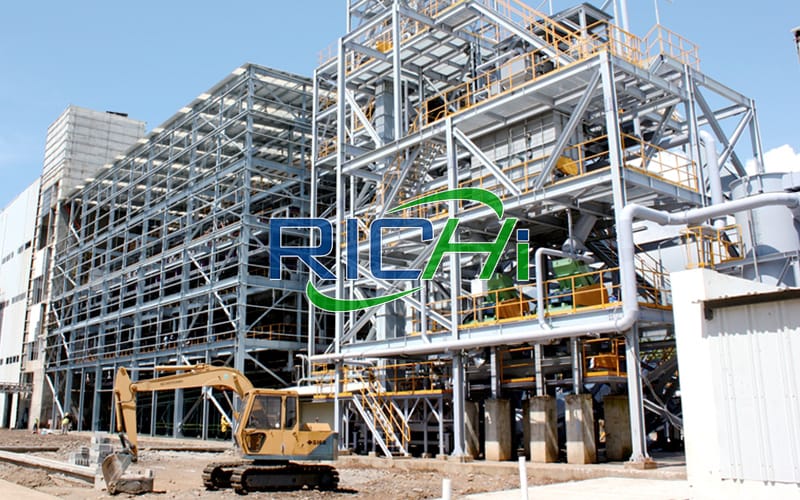 4. 120T/H big animal feed mill project construction conditions
The client company is a private technology enterprise with pig breeding as the main body. It is a key leading enterprise of agricultural industrialization in Sichuan Province, a national new rural construction contribution award unit, a leading poverty alleviation enterprise in Sichuan Province, and a core base for excellent pig breeding in Sichuan Province. Vice-chairman unit of China Livestock and Poultry Seed Industry Council. The company has 107 employees, hired several senior experts as the company's perennial technical consultants, and established a pig breeding industrialization expert compound.
The client company now owns 60 acres of land with property rights, 2347 acres of circulated leased land, 3 core pig farms, more than 1,500 pigs in stock, more than 30,000 pollution-free pigs for slaughter, and 1943 acres of lemons and seedlings; with the help of the association Platform, establish a pollution-free pig production base, and through the implementation of "seven unifications" management, radiation drives 8012 farmers to carry out pollution-free pig breeding. The live pigs produced by the company have obtained base certification and product certification from the Ministry of Agriculture. At the same time, the company has 5 non-polluted pork specialty stores in Neijiang City, which sells more than 600 tons of pollution-free pork annually.  
The construction of the 120 tons per hour automatic animal feed manufacturing project conforms to the national industrial policy and local industrial planning, and meets the needs of enterprise development. It will promote the development of the local economy and ensure food safety.
5. Investment budget of 120tph large turnkey animal pig feed production project  
The total investment of the animal feed making project is 113.2 million yuan, including construction investment of 73.2 million yuan and circulating capital investment of 40 million yuan.
6. Market analysis
In recent years, China's feed industry has developed steadily, achieving substantial growth in feed output, output value, profits and taxes, and employment, completing the leap from hand-crafted workshop production to the world's second largest feed producing country, and the rapid development of the feed industry It provides basic support and strategic guarantee for the development of animal husbandry and aquaculture.  
Since 2010, the feed industry has been facing an increasingly complex production situation, and the total feed output has maintained a steady growth. China's total annual commercial feed production exceeded 150 million tons, an increase of over 5% year-on-year; from a structural point of view, the growth rate of pig feed exceeded 10%. After years of development, China's feed industry is entering a mature period, and differentiated competition will become inevitable. Health, social responsibility, and mixed operation will be the characteristics of the feed industry. The construction of a pollution-free livestock animal feed production line is an urgent market need to drive base demonstration farms, professional pig breeding cooperatives, and large breeding households to standardize, healthy, and clean breeding.
7. Benefit analysis of turnkey project 120t/h pig animal feed factory
(1) Economic benefits  
After the 120 tons livestock feed plant project is completed, the annual operating income will be 1.050 million yuan and the profit will be 165 million yuan.
(2) Social benefits  
After the large livestock feed mill project is completed, good social benefits can be won. Significantly reduce the breeding costs of local and surrounding pig farmers and increase breeding income; the project provides safe and pollution-free feed products to farmers, which will effectively guarantee the safety of key inputs in pig production and also ensure the safety of pork food.
| | | | |
| --- | --- | --- | --- |
| Number | Livestock Feed Processing Equipment | Model | Quantity |
| 1 | Double shaft animal livestock feed crushing machine | Crushed corn (Ф3 mesh)>20 tons/hour, 75*2KW | 1 |
| 2 | Animal Livestock Feed Hammer Mill Grinder | Crushed corn (Ф3 mesh)>10 tons/hour, 75KW | 1 |
| 3 | Paddle mixer for animal pig livestock feed | V=4m horizontal, mixing uniformity <5%, 30KW | 1 |
| 4 | ce ring die animal livestock feed pellet making machine | 15 tons/hour (Ф4 ring die), 150KW | 2 |
| 5 | pellet crumbler machine | 20 tons/hour, three-kun structure, 15KW | 2 |
| 6 | Counter flow pellet cooler | 15-20 tons/hour, (2.2+1.5) KW | 2 |
| 7 | Pellet grading machine | 20 tons/hour, two-layer screen surface, 3KW | 2 |
| 8 | Electronic packaging machine | 25-50Kg/bag, 300-600 bags/hour, error ≤50g | 2 |
| 9 | Air compressor | The displacement is 3 cubic meters per minute, the pressure is 0.7PA, 22KW | 1 |
| 10 | Rotary distributor | Flow rate of 50 tons/hour, automatic positioning and locking structure | 7 |
| 11 | Liquid adding equipment | Adding speed 100L/min, adding accuracy 1% | 2 |
| 12 | Microcomputer batching system | Double scale, single scale, can weigh 12 varieties, dynamic accuracy 0.2% | 1 |
| 13 | Silo | Can hold 3000 tons of corn | 2 |
| 14 | Coal boiler | 4 Ton | 1 |