What are the machine for grinding and mixing poultry feed in 1-50t/h complete poultry feed mill plant?
2021-03-08 Back to List
If you are looking for related products or have any other questions, please feel free to contact us.
Contact Us
Today,we will talk about "machine for grinding and mixing poultry feed in 1-50t/h complete poultry feed mill plant". Poultry Feed, generally referred to the food of farmed poultry animals. It is a kind of conventional feed in the feed classification.The common raw materials are mainly consist of corn, wheat, barely, oats, sorghum, soyabean, soyabean meal, fish meal, amino acids, miscellaneous meal, whey powder, oil, meat and bone meal, grains, feed additives etc. more than ten varieties of raw materials.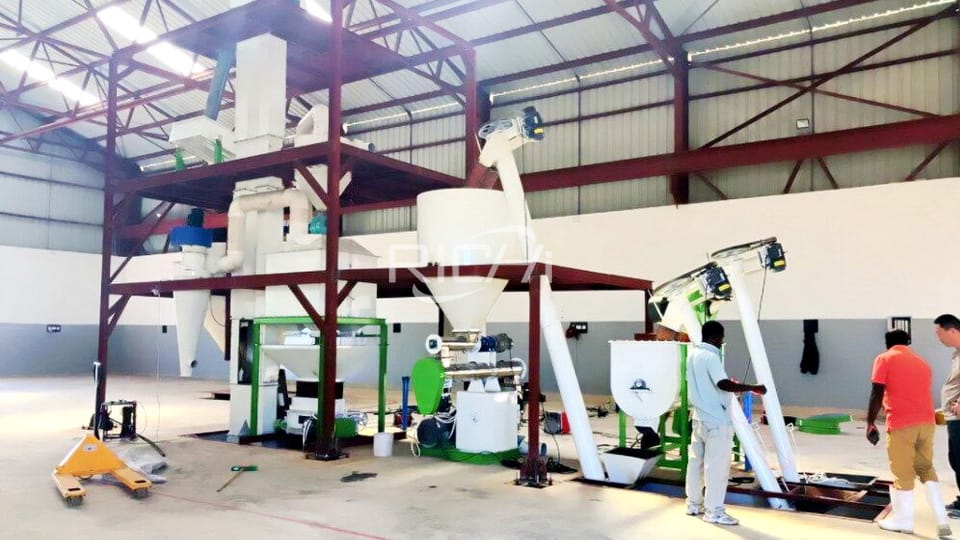 1.Grinding system and mixing system for 1-50tph completely poultry feed production plant
(1)Grinding system of 1-50 ton per hour animal poultry feed manufacturing plant
The usage of grinding system is increasing the specific surface area of feed which is good for animal digestion and absorption and improving the processing performance of raw materials. 1-50TPH complete poultry chicken feed mill adopts corn grinder hammer mills. also pre-grinding bins on the top of the poultry feed hammer mills. The impurities in the raw materials will be removed by tubular magnet device before feeding into the pre-grinding bins, to ensure that the poultry feed grinding equipment can operate safely.
The cleaned raw materials will feed into the poultry feed corn hammer mill chamber for grinding. Then the crushed materials will be transported to the bucket elevator through the screw conveyor, and then feeding into the dosing bins via the rotary distributor. When transporting, one set of auxiliary suction system will be needed. It not only saves energy, but also prevents dust spillage, lowers material temperature and improves crushing efficiency.
(2)Mixing system for complete 1-50 ton per hour poultry chicken feed processing plant
The mixing system is mixing various materials under the action of external force, after various materials are metered. It is an operation that makes the raw materials distribute evenly.This process use dosing scales, dosing bins and the adding system with checking scale. After the dosing and weighing process are finished, the raw materials enter the poultry feed mixer for mixing, and finally the raw materials are output by chain conveyor and bucket elevator.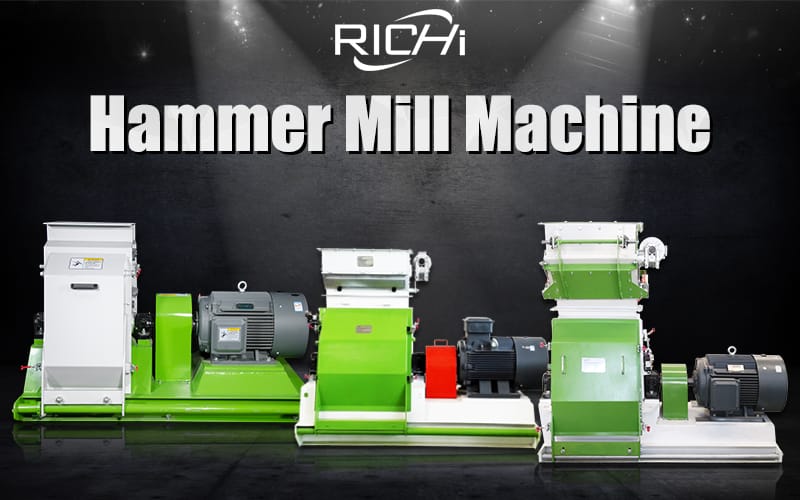 2.Machine for grinding and mixing poultry feed in 1-50t/h full set of poultry animal feed making plant
(1)Animal hammer mill crushing machine for grinding poultry feed
①The grinding chamber is of drop shape, effectively eliminating the circular flow in the grinding process and getting higher capacity;
②The Bottom of grinding chamber is fitted with U-shape double grinding structure, further improving the capacity with evener particle size;
③Rotor passes accurate dynamic balancing test, resulting in low equipment noise and smooth running;
④Both coarse and fine grinding is realized through adjusting the gap between beater and screen;
⑤New type S shape coupling directly connecting driving results in big offset travel and effectively avoid the heating of bearing;
⑥Beater blade edge is vacuum-welded by special alloy steel, resulting in long service life;
⑦The imported products are used for key parts, resulting in long service life and low maintenance cost;
⑧The moving full-wide operation door facilitates maintenance and replacing of beater;
⑨Animal feed shredder hammer mill is widely used in various animal poultry chicken feed mills, livestock feed mill plants, ruminant feed mill factory, oil plants, alcohol plants, citric acid plants, etc.
Poultry feed grain corn maize grinding hammer mill price: 5300-35000USD.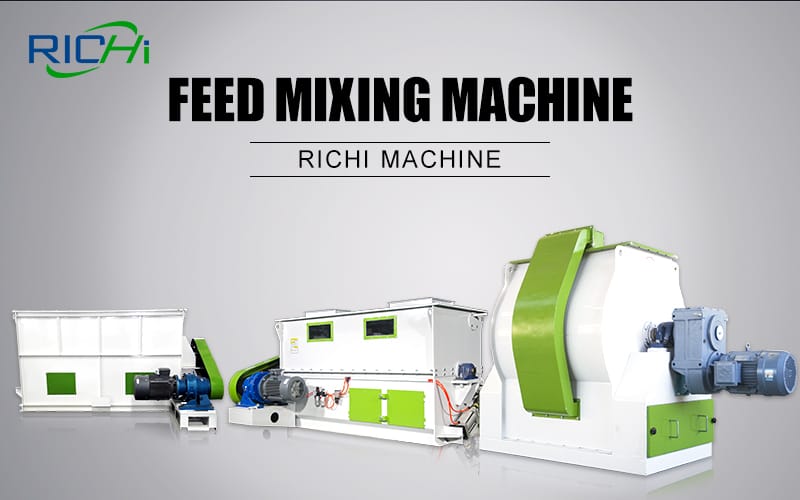 (2)Animal mixing machine for mixing poultry feed
①The mixing chamber is constituted by twin screw and atomizing system. The filling seal is adopted for ends of shaft to improve tightness and prevent from leakage;
②Specially designed discharger has big door-opening angle and quick discharging with little residue;
③Good tightness and no leakage;
④ Pneumatic or Electric driven discharging is uses with correct, stable move and good tightness.
⑤Applicable for compound feed plant, premix feed plant, food and flour plants.
⑥Gentle mixing, without deviation and good homogeneity.
⑦Reliable and low residue, convenient maintenance.
⑧Mixing homogeneity CV≤7%, Mixing Time:180~240s.
⑨Chain driving, rigidity design ensures long term operation without trouble.
Animal poultry feed mixing equipment price: 2800-36500USD.
Richi Machinery, a professional China poultry feed production line factory.RICHI's feed products and projects have covered many provinces, cities, autonomous regions all around China, with business covering over 100 countries and regions such as Southeast Asia, the Middle East, Africa, Europe, Oceania, South America, etc. RICHI has offered more than 2000 pellet mills to 65% of Chinese animal feed manufacturers and constructed over 1000 turnkey feed production factory projects worldwide covering fields of poultry and livestock feed, straw renewable energy, comprehensive utilization of agricultural and sideline products, breeding projects, poultry meat processing, compound fertilizer project, garbage treatment, etc. With increasing innovation and development on feed machinery industry for over 25 years, RICHI has been one of the famous animal feed machinery suppliers in China.