Points To Operat An Animal Poultry Cattle Feed Production Factory With 1-10 Ton Per Hour Capacity
2021-02-21 Back to List
If you are looking for related products or have any other questions, please feel free to contact us.
Contact Us
This article is "Points To Operat An Animal Poultry Cattle Feed Production Factory With 1-10 Ton Per Hour Capacity". Before the article starts, let's take a look at the 1-10 ton per hour poultry feed manufacturing line projects that Richi Machinery has done: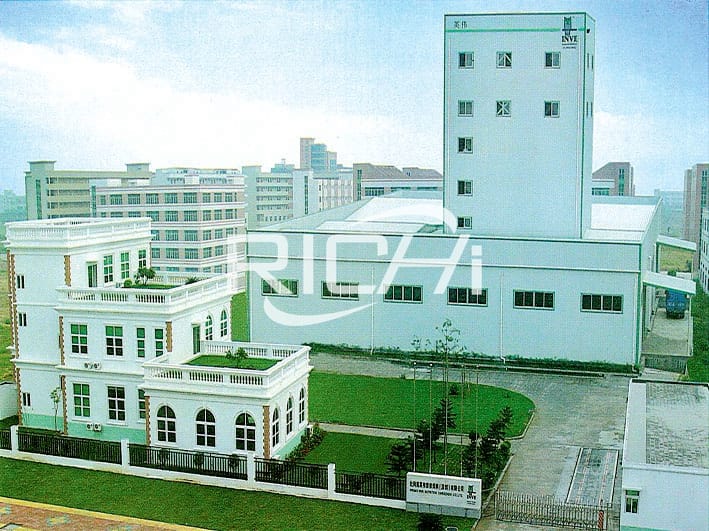 •Overseas poultry feed making project:
Afghanistan 10 tons per hour best poultry feed mill business pla
The 3-5T/H feed manufacturing plant for poultry In Uzbekistan
Ethiopia 5-6T/H Computer Control poultry feed manufacturing plant
Kenya poultry feed plant 5 ton machine atometic
Zimbabwe 3-5T/H hot selling automatic poultry feed mill project
Colombia 3-4T/H animal poultry feed processing plant
Saudi Arabia 5T/H poultry feed mill with good project proposal
Papua New Guinea 1-2T/H Easy To Use small scale poultry feed mill
Australia 1-2T/H Easy Operate Poultry Chicken Feed Pellet Making Plant Europe Standard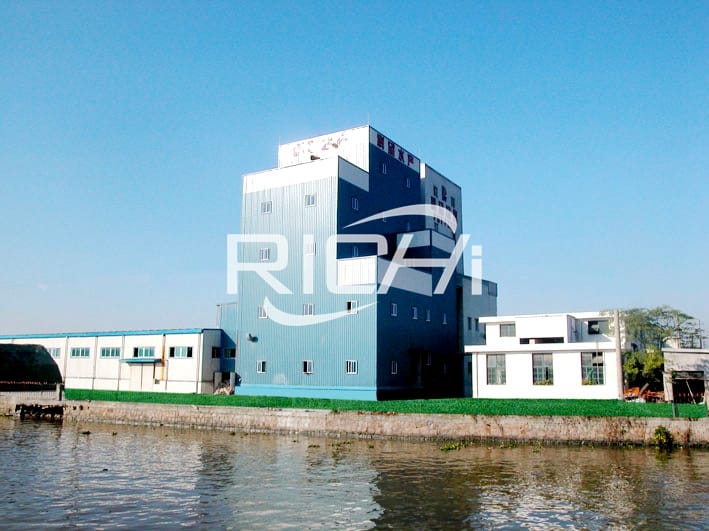 •Poultry feed production project in China:
Shangqiu Huipu Feed Co., Ltd (6tph customized china poultry feed mill project)
Weishi Lvfeng Feed Co., Ltd (china 4tph poultry pellet feed production line)
Henan Longbao Feed Co., Ltd (10 tons/hour customizable chicken feed making plant project )
Jinzhou Feed Co., Ltd of Liuhe Group ( 7tph poultry chicken feed production line project)
Shandong Yishui Zhengxiang Feed Co., Ltd (3tph computer control feed plant for processing chicken feed)
Henan Dade Aquatic Feed Factory (Zhengzhou) (10 ton capacity fully automatic poultry feed mill plant project)
Linyi Feed Factory of Shandong Mengfa Feed Group (2 ton per hour China manufacturer poultry chicken feed mill plant project)
Shandong Weizun Feed Co., Ltd (9 ton hr poultry pellet feed production line for chcken)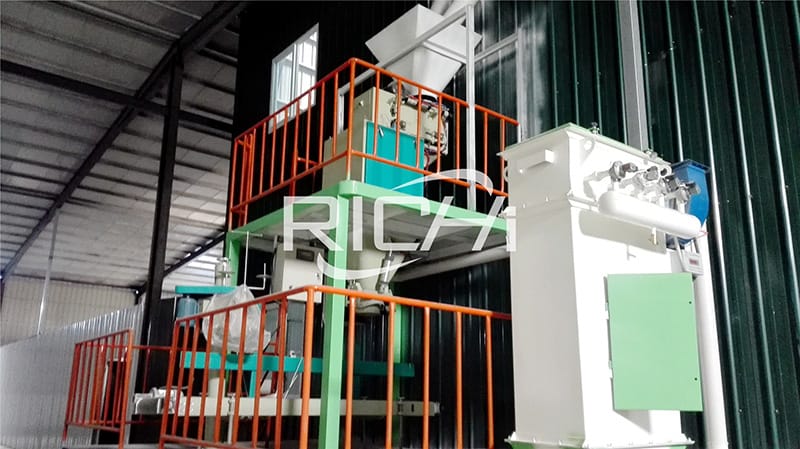 In this post, let have view of some tips for operating a whole set 1-10 ton per hour low cost poultry feed mill factory. RICHI Machinery - a experienced poultry feed production line factory from China, will talk about the preparation before start a hot selling 1-10 ton poultry feed manufacturing production plant, matters need attention during the feed making processing and what to do when stop the production.
(1)Setup 1-10tph complete high return low cost poultry feed factory
Referring to the equipment cost of setting up a 1-10t/h chicken poultry feed processing plant, here is some references:
①For starting a 2-3 ton/h chicken poultry feed manufacturing factory for making mash feed or pellet feed, about $30,000 to $120,000 is needed for purchasing poultry feed making equipment.
②For starting a 5-6 ton/h chicken poultry feed milling factory (mash feed & pellet feed), about $70,000 to $250,000 is required for machinery investment.
③For starting a 10 ton/h poultry feed mill factory (mash feed & pellet feed), about $150,000 to $300,000 is required for machinery investment.
However, make it clear that the investment is greatly related to production output, project plan, process design, and equipment selection. So just contact us to get the exact price of open a good quality feed mill for producing poultry animal feed.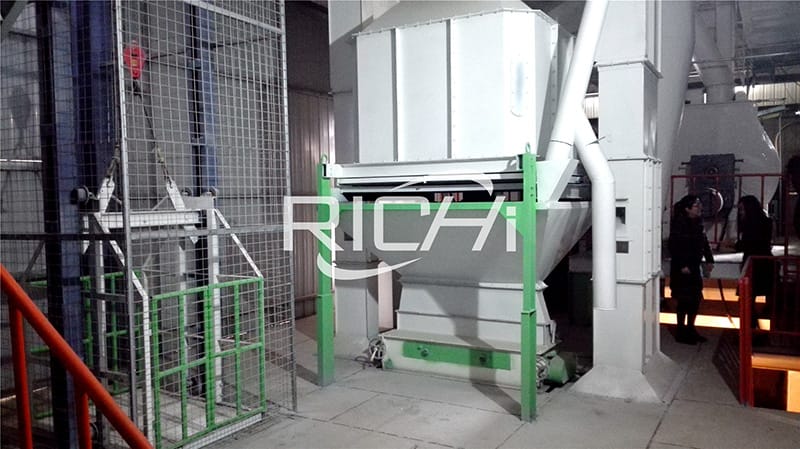 (2)Preparing for Running High Quality 1-10TPH Animal Poultry Feed Making Factory
Check the schedules before starting the 1-10 ton per hour chicken poultry feed processing plant: Before starting making poultry feed pellets or poultry powder feed, make sure that all the necessary preparations are done to ensure an effective and steady working process.
Complete the following steps:
①Make sure that the cooler, pipe, and windpipes included in the 1-10 ton capacity high return poultry feed making factory are free from any residues, taking note that the insides of the animal feed pellet machine should be cleaned before the night shift.
②Check the equipment status and see whether the poultry feed pellet making machine is working properly.
③Check the grading sieve and replace if necessary.
④Make sure that the clearance of the feed crusher is in good condition to produce high-quality poultry feed products.
⑤Check the following parts: guiding knife, ring-die, scraper, and the guiding knife's position.
After completing the steps above, start to run the 1-10tph automatic poultry feed mill factory and reduce the steam to slow the production rate. When the poutlry feed pellet processing machine has been running for an hour, it can complete the grinding procedure. Make sure to adjust the gap in between the roller and the annular mode. Doing so will place the ring die in idle position until the rollers stop turning. After this step, you have completed the preparatory procedure and can proceed on.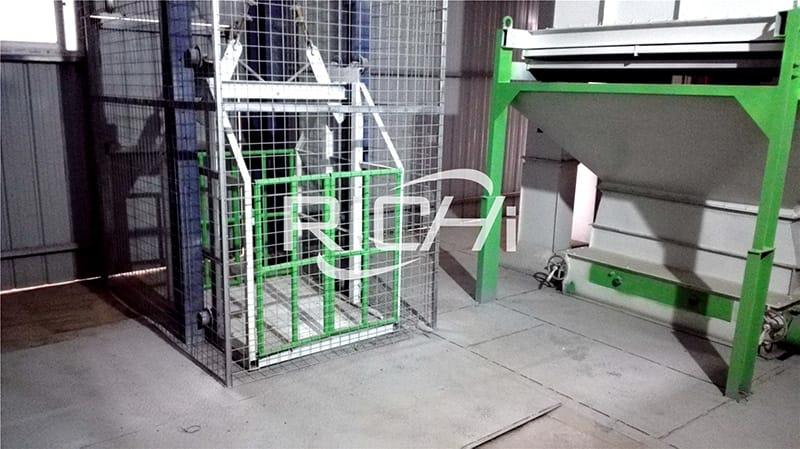 (3)Matters to Attention during the Whole 1-10T/H Poultry Feed Making Process
How to start the poultry feed making system and maintaining its opti​mal performance? Any incorrect procedure and operation in this process will largely affect the quality of the poultry feed manufacturing. To prevent machine blockages, it is crucial to use the relevant equipment in sequence according to the correct flow of procedure.
①Make sure the regularly do the following:
★Check and observe the 1-10tph ring die horizontal poultry feed pelletizer machine ammeter.
★The system is in a stable condition if the meter is not swaying back and forth.
★Provide ten minutes of our time in cleaning the workspace and areas around the animal poultry chicken feed pellet maker machine.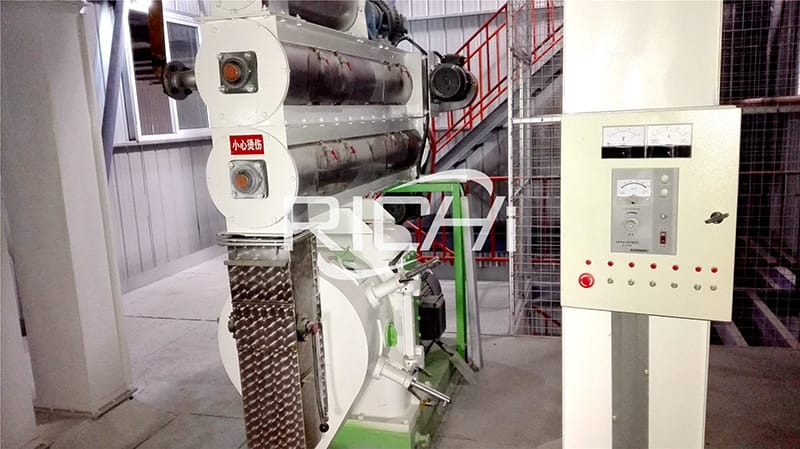 ②Recording production parameters and checking the complete poultry feed production process
★When running 1-10t/h easy to operate poultry feed making factory, the following steps must be done and completed every hour to check the 1-10 ton poultry feed manufacturing process and record the parameter of the 1-10tph poultry feed line production:
★Make sure that the produced poultry feed pellets are at the right temperature.
★Take the poultry feed to check its durability.
★Check the ratio of the powder with regards to the finished poultry feed pellets.
★Check the poultry feed crushing roller's clearance.
★Ensure that the return tube of the centrifugal dust collector and grading sieve is properly blocked.
In doing the steps above, also make sure that all the poultry feed production parameters are recorded systematically including the production time, durability, material temperature, powder ratio, tonnage, production variety, efficiency, and the like. Make sure that attention to the control screen is given while coordinating the pelletizing and packing efficiently to ensure that it is returned to the front and back pockets in time. Keep watch for any problem that may arise to prevent any losses in poultry feed production like having a high amount of powder or the presence of small particles in the poultry fodder.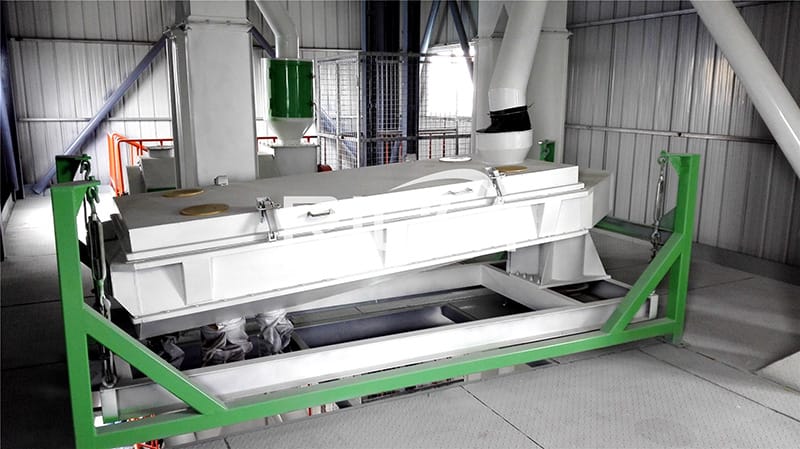 (4)Tips for Stopping the Poutlry Feed Production for 1-10TPH Poultry Feed Production Company
Here are th steps to follow when turning off the poultry feed production or shutting down the poultry chicken feed plant factory. Before completely shutting down the poultry feed manufacturing equipment, make sure that the low level of the ring die feed pellet milling machine for poultry is seen.
A way to do this is by opening the feeding door of the poultry feed pelletizer equipment to see the feeding flow.Do the following steps carefully:
①After the fodder material flow has reduced, let it manually discharge.
②Return to the machine with the tube material and wait for a few minutes before placing the remaining material inside the poultry feed pellet cooler.
③Check all the parts of the equipment including the centrifugal separator, poultry feed hammer mill crusher, grading sieve, and cooler to see if there is accumulated feed present.
④Shut down the power supply of the equipment fully.
⑤Clean the equipment to ensure that there is no residue left on various parts of the machine.
By following these steps and procedures carefully, high-quality poultry feed pellets can be produced. As such, 1-10 ton per hour complete chicken poultry feed manufacturing factory operators should have a wide knowledge of the poultry feed processing equipment and how to operate it effectively.