How to make your own poultry chicken pellet feed with hot sale small capacity 3-4tph poultry chicken pellet feed making machine?
2021-02-22 Back to List
If you are looking for related products or have any other questions, please feel free to contact us.
Contact Us
How to choose suitable 3-4tph poultry chicken feed making machine?How much is 3-4 ton per hour whole set poultry feed pelletier machine cost in Ghana?How to fix 3-4 ton capacity small automatic poultry chicken feed making machine?How to get a good quality 3-4 ton per hour poultry chicken feed pellet milling machine in Nigeria?Is ok to use fish pellet machine for poultry chicken feed?Where to get 3-4 ton feed processing machinery for pelleting and grinding poultry feeds?
All your problems can be solved in RICHI.RICHI Machinery can offer hot selling poultry feed making machine for manufacturing chicken broiler feed, layer feed, etc. Our China poultry feed mill machines comes with different capacity (from 1t/h to 20 ton/h per single machine). Today we are talking about 3-4 ton per hour poultry feed pellet granulator equipment.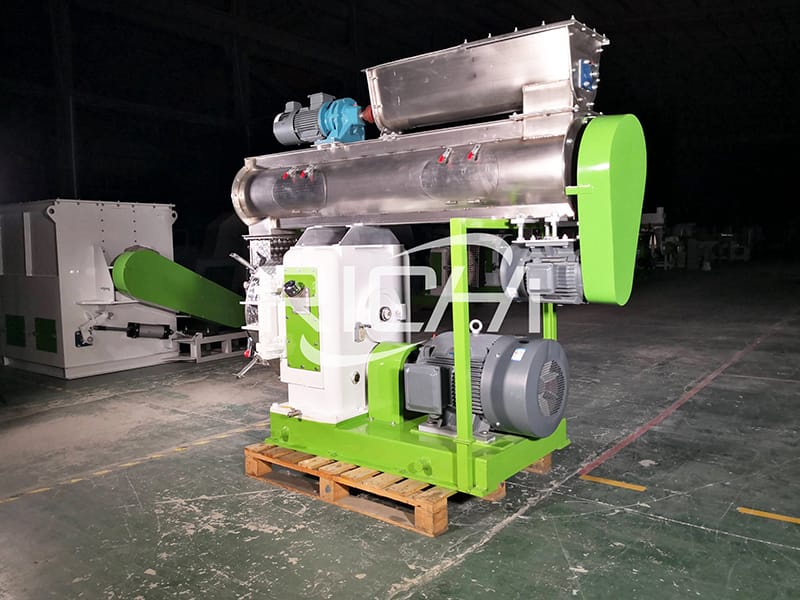 1.Introduction of 3-4tph poultry chicken feed pellet manufacturing machine for sale
Output:3-4t/h
Pellet specification:¢2,¢2.5,¢3.5,¢4.5,¢6,¢8,¢10 ,¢12
Main motor power :37kw
Auxiliary motor power:0.55kw±2.2kw
Weight:1350kg
3-4TPH hot selling poultry feed pellet machine price:12000-25000USD
(1)This 3-4tph easy to operate small poultry chicken feed pellet mill is a key poultry chicken feed equipment for producing pellet feed, with high output,good performance,low energy consumption,low noise and beautiful appearance characters.It is the ideal equipment for pressing poultry feed. In 1987, the small animal feed pellet mill has been awarded ministry and provincial high-quality product title.
(2)The feeding system adopts stepless speed changing motor control, adjust speed conveniently and reliably. Could be equipped with microcomputer automatic control system adjusts feed-in quantity and throttle flow automatically,make 3-4tph poultry animal feed processing pellet machine in the best working condition all the time.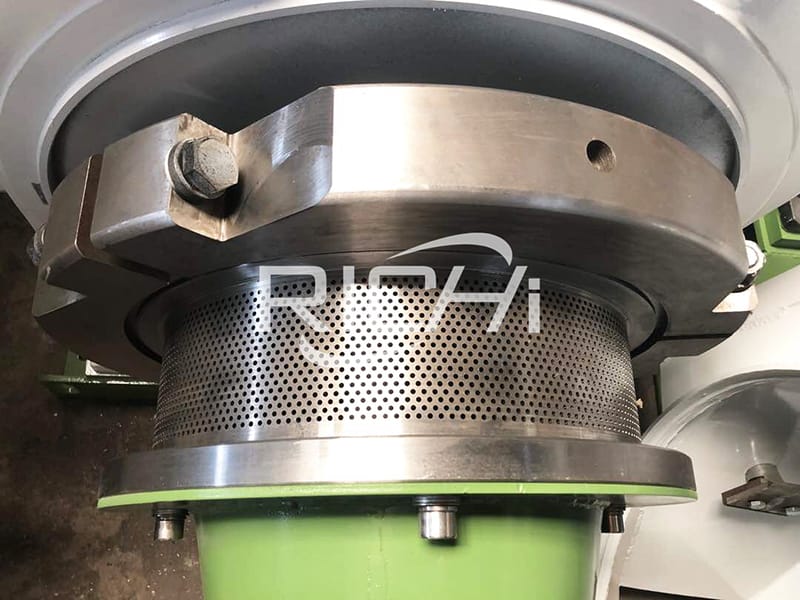 2.Hot product 3-4tph chicken poultry feed pellet mill making machine for small poultry feed production line
Innovation through engineering has had a tremendous impact on the agriculture field. Time-saving and cost-cutting by using 3-4tph high quality ce poultry animal feed pellet mill making machine have helped farmers. Farmers no longer spend most of their time making forage manually for their poultry. Scaling production for farmers and automation in chicken feeding has benefited through the use of industrial machines. We can also offer equipments for setting up livestock fish feed mills.
(1)Complete 3-4 ton per hour poultry feed manufacturing process
Pellet chicken feed is getting more and more popular due to its promotes in feed efficiency, egg & meat production yield in poultry farming. Especailly in recent years, more and more farmers set up their own small size 3-4t/h animal poultry feed mill factory and started local business. Actually, the process of making poultry chicken feed pellets is not complex and the main process is listed below:
①Fodder Crushing: Poultry feed making machine grinding mill is used to grind the raw fodder into mash. It not only helps improve the feed palatability, but also make the easier and more effecient to digest. As a result, the laying rate of layer chickens and growth rate of broiler chicken can be greatly increased.
②Feed Mixing: The crushed fodder will be mixed evenly and uniformly in poultry chicken feed material mixing machine according to your specific poultry feed making formula. The most common used ingredients includes corn flour, wheat bran, fish meal, bone meal, soybean meal and various minerals.
③Feed Pelletizing (from Feed Mash to Feed Pellets): Hot sale animal poultry chicken feed pelleting machine with 3-4 ton capacity is use to turn well mixed mash feed into pellets. Using pelleted feed helps reduce raise cost.
④Feed Pellets Cooling: The pelletized poultry chicken feed will be cooled to room temperature. The moisture content of final chicken feed pellets is below 12%.
Hot Sale 3-4TPH Poultry Feed Ring Die Pellet Mill uses little effort to produce animal feeds. The machine innovation has led tobirds like chicken and ducks to benefit immensely from its use in making poultry animal feeds.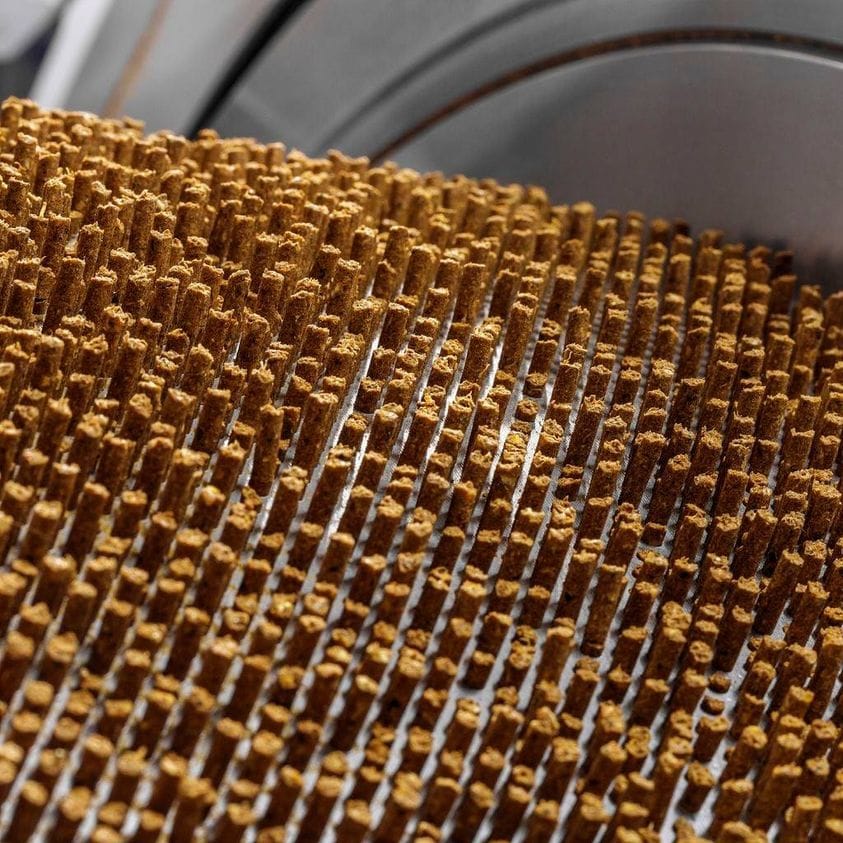 3.Global Market of Poultry Chicken Feed Production
In the United States of America, 70% of commercially produced poultry feed is pelleted. Chicken fodder is formulated by the feed pellet making machine to offer the farmer engineered woven feed retaining the essential organic nutrients. Chicken feed has various sources of nutrients. That is grains, nutrients, and beans. Weather, weight, age, and quality of production are some of the factors chicken feeds is dependent on. With the use of chicken feed making machines, helps create the favorable conditions that support the requirement of the poultry feed. Below we discuss the importance of using a poultry chicken feed processing machine for pellet.
4.Benefits of using hot products 3-4t/h poultry chicken granule feed pellet mill machine
The process of pelleted poultry chicken feed has the advantages including innovative technology, retains nutritional value, digestion of the feeds is easy, erases toxins, reduces wastage.
(1)Innovative technology
Poultry feed was formulated to help farmers in feeding a large number of animals. An average household could not accommodate a feed making machine for making poultry feed before because they were huge. The average house power source can now support the devices because our 3-4tph comlete set poultry feed pelletizer machine have single phase power. The structural change does not mean the machines are less efficient. They can pelletize plant matter and other sources to animal feed and fertilizer.
(2)Retains Nutritional Value
The small poultry feed pellet mill mixes the ingredients by pressing and then molding. Manual labor used to require lots of effort before the invention of the device. The process in formulating the poultry chicken feed does not affect the nutrition. The nutrients that help livestock in growth stick to the by-product.
(3)Digestion of The Feeds is Easy
Chickens ingest the pelleted feed efficiently because the small 3-4tph animal poultry chicken feed pelleting machine has pellet-die. The pellet-die influences the diameter of the pellet which is favored to be 3mm for easy digestion.

(4)Erases Toxins
The pelletizing pressure is a result of high temperatures produced by the machine. The high heat kills all harmful bacteria.
(5)Reduces Wastage
Poultry feed pellet press machines with 3-4 ton/hour minimize wastage in micro-ingredient which occurs in other techniques.
The 3-4 ton per hour poultry food pellet mill regardless of the ingredients will make nutritional poultry feeds. Our 3-4tph small broiler chicken poultry feed making machinery can be driven by electric motor, diesel engine or gasoline engine. The agriculture industry has achieved fewer costs and more produce through the use of the machine.
5.3-4TPH Ring Die Poultry Chicken Feed Pellet Making Machine Production Efficient Decrease Fact
As a kind of top sell animal feed making pellet mill, 3-4t/h good performance poultry chicken feed pellet mill machine is widely used in the current poultry feed processing market. However, due to improper operation or other factors, the with longlife guarantee poultry feed pellet mill often fails to achieve the ideal efficiency. What cause the production efficiency decrease of easy to use small poultry animal feed pellet mill machine? And this is also one of the most urgent problems for many users. Then, how to improve the feed pellet machine efficient?
(1)Uniform feeding rate: keep as even as possible when feeding the poultry fodder materials into the machine pellet production for poultry, so as the keep the machine running smoothly at high speed.
(2)Suitable Feed Diameter: Choose the suitable pellet die aperture according to different uses of feed products, so that to avoid the phenomenon of low output and no pellet discharge.
(3)Ensure the gap between pellet die and press roller is appropriate. It is not only related to the normal operation of the 3-4tph poultry animal feed pelletizer, but also affects the maturation degree of final feed pellets.
(4)Control the content of crude fiber materials: Crude fiber is one of the factors for pelletizing difficulty. Generally, the crude fiber content such as corn stalk is best to be controlled around 5%. Pease feel free to contact us for specific exact values for making different kinds of poultry, and we will give the calculation results according to your specific situation.
(5)Add oil: When using your 3-4t/h animal feed pellet making machine for making poultry pellets. Add 0.8% add can help reduce the equipment wear, and improve the service life of the feed pellet machine. Be careful not to overdo it.
(6)Finally, the cleaning and maintenance of the 3-4tph pellete machines for feed production of poultry is also an important part. Any questions about using 3-4 ton per hour ce ring die poultry animal feed pellet manufacturing machine, feel free to get in touch with Richi Machinery! And also welcome to visit our china poultry feed production line factory.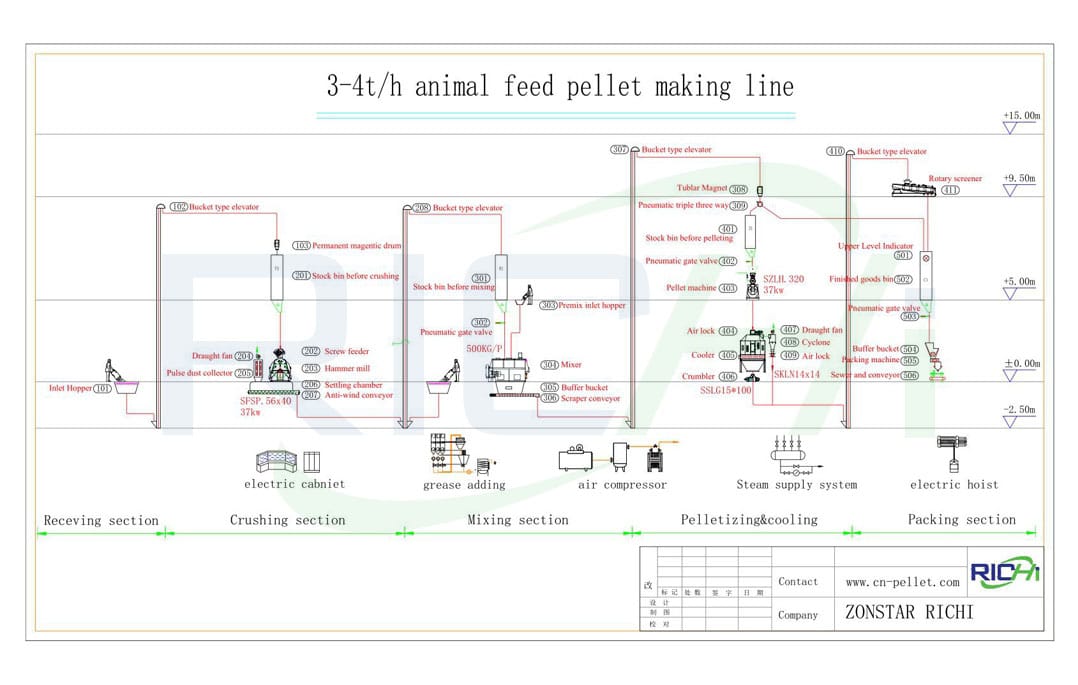 6.Market of 3-4TPH Poultry Feeding Pellet Mill Machine
China supplier poultry farming feed pellet mill 3-4 ton per hour for RICHI is simple to use, easy to clean, and can processing different kinds of fodder materials. The produced feed pellets have surface smooth, easy to digest, so that poultry chicken can get enough nutrition.
In recent years, due to the changes in consumer demand and breeding structure, the animal feed market has also changed accordingly. And with the development of science and technology, and the change of breeding industrial structure and the support of national policies, small 3-4t/h pellet mill for poultry animal is getting more and more attention by large poultry farms and small poultry chicken feed making factories.