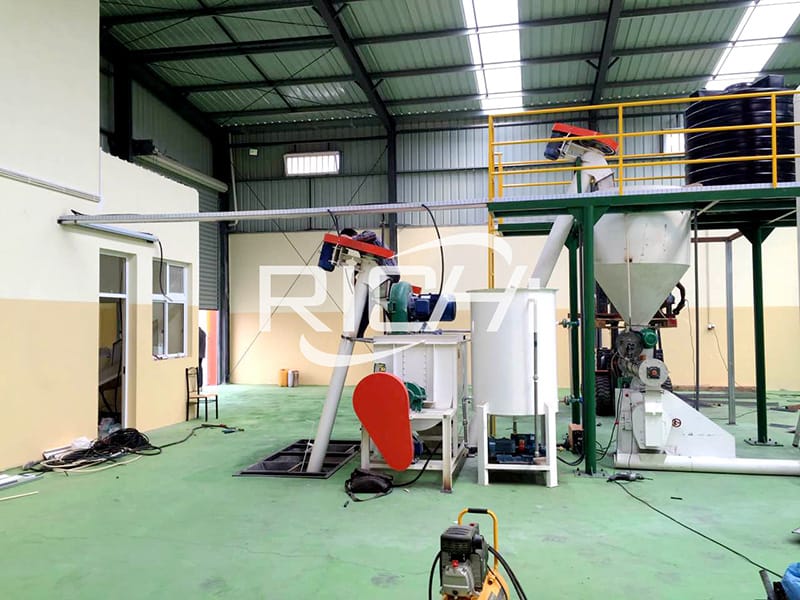 3. The technological characteristics and introduction of 2-3t/h small scale complete poultry chicken feed mill plant
(1) Raw material receiving and cleaning section: granular and powdered raw materials enter the chicken feed making line through two feeding ports respectively, in which the granular raw materials are cleaned by the feeding primary cleaning screen to remove impurities, and then iron is removed and enters the crusher; The raw materials need to be cleaned up in advance.
(2) Crushing section: RICHI water drop type chicken feed crusher is used, which can be used for coarse crushing or fine crushing. The feeding and preliminary cleaning equipment are integrated, and the raw materials are cleaned and the machine for grinding maize corn to chicken feed is fed at the same time. Frequency conversion control, feeding Uniformity, equipped with pulse dust collector, mechanical settling and discharging, simple process and low cost, suitable for pulverization of small output and multiple varieties of raw materials.
Crushing equipment: chicken feed grinder machine SFSP 568-I, 30KW, designed capacity 3-5T/H.
(3) Mixing section: there is a mixing chamber above the poultry chicken feed mixer, which can make the mixing machine work, the feeding can continue, to achieve the effect of continuous uninterrupted production, the mixed materials can be separately entered into the granulation warehouse and powder The finished product warehouse meets the demand for the simultaneous production of powder and granular finished products.
Mixing equipment: adopt double-shaft paddle chicken feed mixer SHSJ1, 11KW, 500kg/batch, mixing uniformity CV≤5%.
(4) Granulation section: a ce high quality ring die chicken feed pellet making machine with a single-layer conditioner, suitable for the production of ordinary poultry chicken broiler feeds; after pelletizing, it directly enters the chicken pellet cooler, and then is lifted by the elevator to enter crumbling and screening system, and finally manual bagging and packing.
Granulation equipment: ring die chicken feed pellet manufacturing machine SZLH32, 37KW, designed capacity 2-5T/H (¢3.5 conventional broiler feed formula);
Cooling equipment: counterflow cooler SKLN1.5, designed capacity 3-4T/H;
Pellet crumbler: SSLG15×80, with a design capacity of 2-3T/H, it can crush large particles of finished products into small particles to produce chicken nursery material. The crusher is equipped with a bypass system, which can be used when the production of crushed materials is not required. The bypass enters the rotary screen directly;
Screening equipment: plane rotary grading screen SFJH80×2C, designed capacity 4-6T.
(5) Auxiliary section: Liquid adding system, which can add grease to the mixer to improve the palatability of feed. The pneumatic system provides compressed air for the pneumatic components in the system.
4.Cost of 2-3 tons per hour easy to operate small chicken feed mill machines
Complete set 2-3t/h animal poultry chicken feed manufacturing plant machines cost is usually between 10000-120000USD.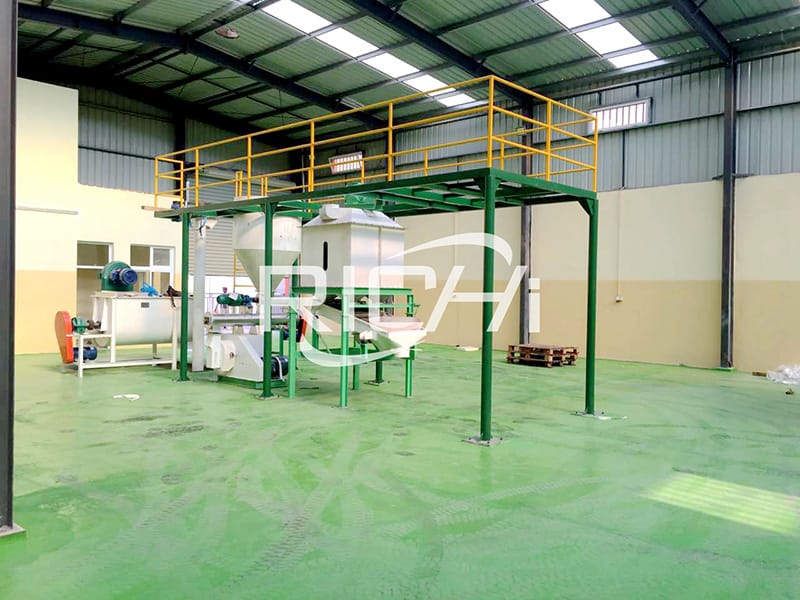 [Small chicken animal feed production line project by Richi Machinery]
1-2t/h chicken feed pellet production machine line for poultry feed in Australian
1-2t/h simple home use poultry chicken feed pellet making line in Papua New Guinea
1-2t/h small scale chicken feed pellet processing plant in Peru
1-2t/h automatic small plant poultry pellet feed production plant in Sudan
1-2t/h poultry chicken broiler animal feed pellet making plant in Tanzania
1-2T/H poultry feeding plant in Cape Verde
Zimbabwe 3-5T/H automatic small plant poultry pellet feed production plant
Two Sets 3-5T/H Poultry Chicken Feed Pellet Lines In Algeria
3-5T/H Poultry Feed Pellet Line In Senegal
3-5T/H Feed Pellet Line In Uzbekistan
Are you still looking for China best machines for chicken feed production?Contact Richi Machinery.