China factory offered ce certificated high quality biomass energy wood sawdust pellet machine for sale
2021-02-07 Back to List
If you are looking for related products or have any other questions, please feel free to contact us.
Contact Us
Wood sawdust pellets, also known as biomass fuel pellets, are mainly processed from pine, fir, birch, poplar, fruit trees and crop orange stems. They are used for burning, barbecue and fireplace heating, and their combustion efficiency exceeds 80% (more than ordinary coal The combustion efficiency is about 60%) The combustion efficiency is high, and it produces less sulfur dioxide, ammonia nitrogen compounds and dust.
As the world population is thriving continuously, people are looking for alternatives for fuels. Sawdust pellet is a great substitute that is used for heating purposes in variable industries. For making these pellets, wood residues that are left behind after the wood cutting process, are being utilized. Sawdust pellet machines are used for converting loose sawdust into more useful and dense pellets.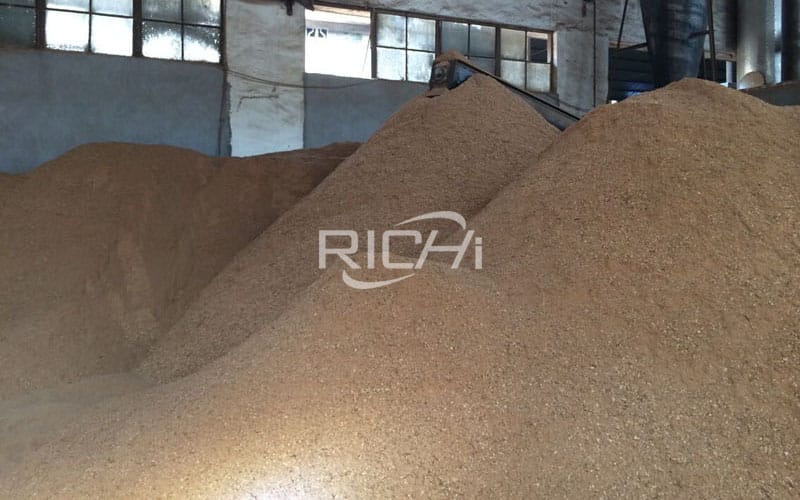 1. The advantages of wood sawdust pellets
(1) Biomass fuel has a large calorific value, the calorific value is about 3900-4800 kcal/kg, and the calorific value after carbonization is as high as 7000-8000 kcal/kg.
(2) Biomass fuel has high purity and does not contain other sundries that do not produce heat. Its carbon content is 75-85%, ash content is 3-6%, and water content is 1-3%.
(3) Absolutely no coal gangue, stones and other impurities that do not generate heat but consume heat, which will directly reduce costs for enterprises.
(4) Biomass fuel does not contain sulfur and phosphorus, does not corrode the boiler, and can extend the service life of the boiler, and enterprises will benefit a lot.
(5) Since biomass fuel does not contain sulfur and phosphorus, it does not produce sulfur dioxide and phosphorus pentoxide during combustion, so it does not cause acid rain, does not pollute the atmosphere, and does not pollute the environment.
(6) Biomass fuel is clean and hygienic, convenient to feed, reduces the labor intensity of workers, greatly improves the labor environment, and enterprises will reduce the cost of labor.
(7) There is very little ash and sludge after biomass fuel is burned, which greatly reduces the pile of coal sludge and reduces the cost of sludge.
(8) The ashes from the combustion of biomass fuels are high-quality organic potash fertilizers that can be recycled for profit.
2. Wood sawdust pellet parameter
| | |
| --- | --- |
| Item | Value |
| Burning | >=99% |
| Thermal efficiency | >=87% |
| diameter (mm) | 6-12 |
| Smoke blackness (Lingerman level) | <1 |
| Dust concentration | <=80mg/m³ |
| oxygen | 37.94% |
| Nitrogen | 0.08% |
| Sulfur | 0.02% |
| Hydrogen | 5.27% |
| ash content | 1.5% |
| Moisture | 8% |
3.Richi Machinery——a ring die sawdust pellet mill manufacturer from China
CE wood pellet machine for sawdust ,which makes them environmentally friendly as they help in fighting global warming. These good quality sawdust pellet machines can be used at homes and industries. As the need for fuel alternatives is increasing with the time and people are getting more aware of its uses, demand for sawdust pellet mill machine is also increasing.Common sawdust pelletizers are 1.5t/h beech wood sawdust pellet machine,2t/h ce certificated pine sawdust pellet machine,hot sale 110kw oak wood sawdust pellet machine,5tph heavy duty sawdust pellet machine,etc.
Hot selling good quality wood pellet mill sawdust pellet machine provided by RICHI Machinery features the functions of traditional biomass pellet making machine, but has less demand for the electricity and can adapt to more conditions. It has simple structure and is more flexible and convenient in use. It can also help users to reduce the labor and production cost with efficient biomass wood pellet manufacturing process.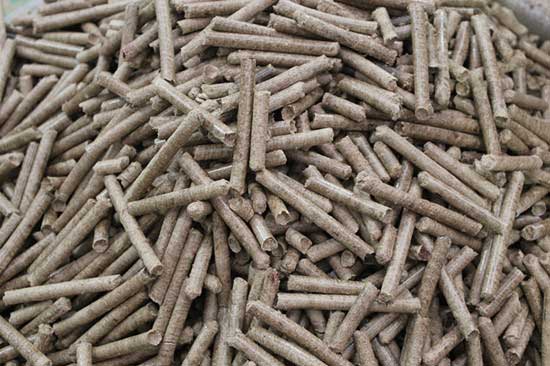 (1)The Main Technical Parameters
Model:MZLH Series Ring Die Sawdust Pellet Pressing Equipment
Diameter of Die hole:2-12mm
Output(single machine):300kg/h-4.5t/h
PS: RICHI ce certificated ring die corn stalk wood pelletizing equipments have many different models, so the data above is range.
(2)CE ring die 300kg/h-4.5t/h hot sale industrial use ce sawdust biomass pellet machine for sale
①300-400KG/H pellet machine for wood sawdust for sale
Capacity: 300-400KG/H
Anti-Caking Feeder Power: 1.5KW
Force Feeder Power: 0.55KW
Stalk pellet making machine power: 37KW
300-400KG/H China supplier high quality biomass wood sawdust pellet machine price: 12000USD-18000USD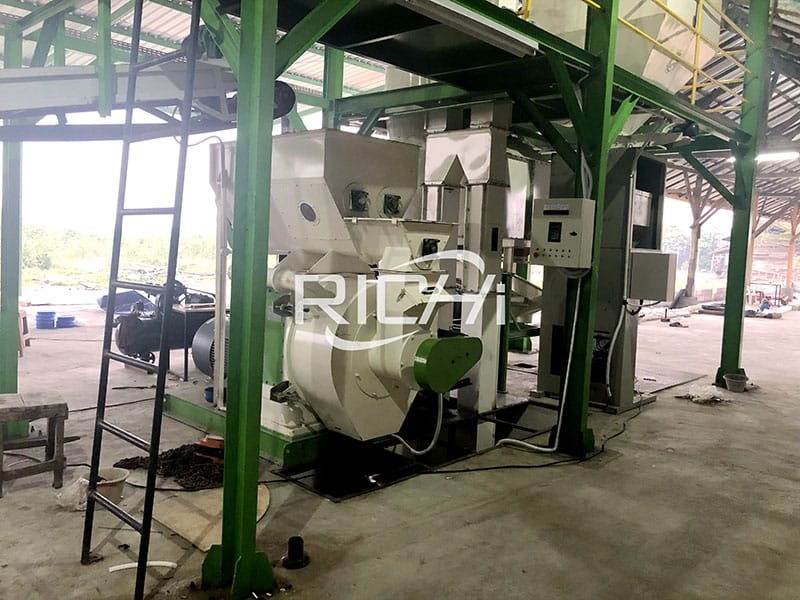 ②CE 500-700KG/H ring die sawdust pellet machine for sale
Capacity: 500-700KG/H
Anti-Caking Feeder Power: 1.5KW
Force Feeder Power: 0.55KW
Corn stalk pelleting machine power: 55KW
0.5-0.7TPH China factory offered sawdust wood pellet machine price: 20000USD-25000USD
③CE certificate 1-1.2T/H factory directly wood sawdust pellet mill for sale
Capacity: 1-1.2T/H
Anti-Caking Feeder Power: 1.5KW
Force Feeder Power:0.55KW
Corn stalk pelleting machine power: 90KW
1-1.2T/H hot sale 1-1.2 ton per hour sawdust pellet mill machine price: 30000USD-40000USD
④CE ISO approved 2-2.5 ton per hour high efficiency good sawdust pellet mill for sale
Capacity: 2-2.5T/H
Anti-Caking Feeder Power:2.2KW
Force Feeder Power: 1.5KW
Corn stalk pelleting machine power: 132KW
2-2.5TPH China supplier hot products biomass sawdust pellet mill price: 40000USD-50000USD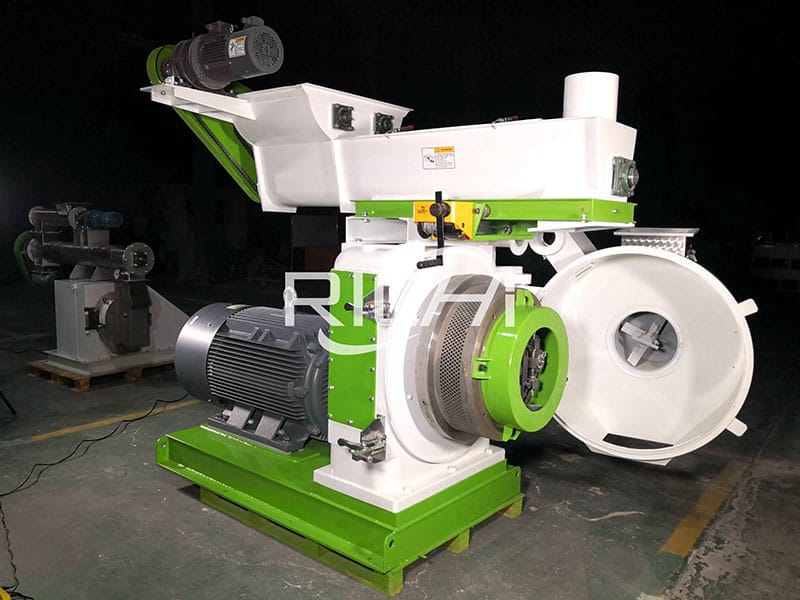 4. When choosing a horizontal ring die wood sawdust pellet making machine, why choose a large output rather than a small output?
When a customer purchases a bioenergy wood pellet mill for sawdust pellet production, we generally recommend choosing a large one instead of a small one. This is because the larger the model and the larger the output, the more stable and durable the wood pellet mill making machine. why? We also start with the principle of the wood pellet mill press machine.
The principle of the sawdust pellet manufacturing machine is that the pressure wheel strongly squeezes the sawdust through the hole of the mold to form sawdust particles. If I change the abrasive or the pressure wheel to wood, can it still be used for pellets? Obviously, no. Can the mold press roller be made of iron sheet? It certainly won't work.
The larger the model of the wood sawdust pellet production machine, the larger and thicker the grinding tool press wheel, the greater the stiffness and strength of the overall model, and the strength of the raw wood chips is the same, so the larger the equipment, the more "saving" and the more stable the sawdust pelletizer equipment will be. The better the performance, the longer the service life.
With the increase of equipment, the processing difficulty of the sawdust pelleting equipment itself has also increased. Therefore, it is difficult for some factories to produce qualified large-scale equipment, so they can only promote the unstable and immature large equipment. This is not good. Of course, if the output is small, we will not recommend large-scale equipment to you, because it is not necessary, as a regular factory will recommend suitable sawdust fuel pellet equipment for customers based on facts.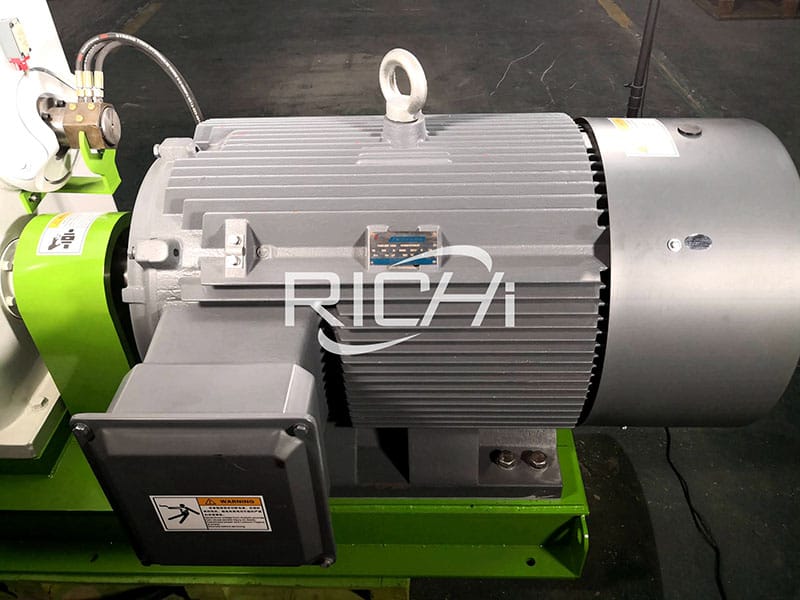 5.More Tips on Buying wood sawdust pellet making machine for biomass energy pellets
If you are thinking about starting a wood sawdust fuel pellet making business, then it is essential to be aware of what to look for in the ce high quality ring die sawdust wood pellet making machinery before buying it.
(1)Purpose of Buying Sawdust Pellet Production Machine
As a sawdust pellet press machine can be used for your domestic or wood pelletizing plant, it is important that you first ask yourself what the purpose of buying this machine is. When you visit the market, you will find there a huge variety of sawdust pellet maker machines. Every sawdust pelleting machine will have its own specifications according to the purpose of its use. So it would be easy for you to make the right choice if you know why you are purchasing it.
(2)Quality
The quality of sawdust pellets highly depends on the quality of biomass sawdust pelletizer machine you choosen. If a sawdust pellet processing machine has a very productive ring die, roller, and engine then chances are you will get profitable results. On the contrary, if the machine is not as productive as described by the sawdust pellet pressing machine suppliers then you might face loss. So you can check the quality of the wood sawdust pelleting machine if you bring your own raw material along with you and try it in the machine to see the results. If the results are what you were looking for, then go for that sawdust pellet making equipment and choose it.
(3)Maintenance
You should pick a sawdust pellet press that does not need lots of maintenance. Because if you make a wrong pick, then you could end up spending more on its services and maintenance after making the purchase. You should also examine the after-sales service provided by the wood sawdust pellet mill manufacturer. Before signing a contract, mention your terms regarding after-sales services.
(4)Usefulness
There are some sawdust pelletizer machines that are solely used for making sawdust pellets and there are some in which you can use different raw materials to make a variety of pellets. It is better to purchase a good price ce sawdust granulator that can be used for other raw materials as well. this way you can save a lot on money, space and time.
(5)Applicability
As mentioned above, bring your raw material with you to check the wood sawdust pelletizing machine's applicability for that material. Its mold plate must be properly examined so that you get the output that you wanted to get. Similarly, other important parts should also be observed cautiously.
If you are still have no ideas about how to choose a right ce ring die sawdust pelletizing machine for your own use or for your business, please just contact us and describe your requirements in details, our professional engineers will help you on the equipment selection, cost evaluation and more.