New designed 1-1.5 ton per hour wood sawdust pellet mill for sale
2020-09-21 Back to List
If you are looking for related products or have any other questions, please feel free to contact us.
Contact Us
Recently, many customers have inquired about 1-1.5 ton per hour wood sawdust pellet machine, they only know that they need 1-1.5 ton per hour, but they don't know which type of sawdust pellet mill machine to choose. As a professional ring die wood pellet mill supplier from China, we recommend MZLH420 model new designed wood pellet mill, its output is 1-2 ton per hour.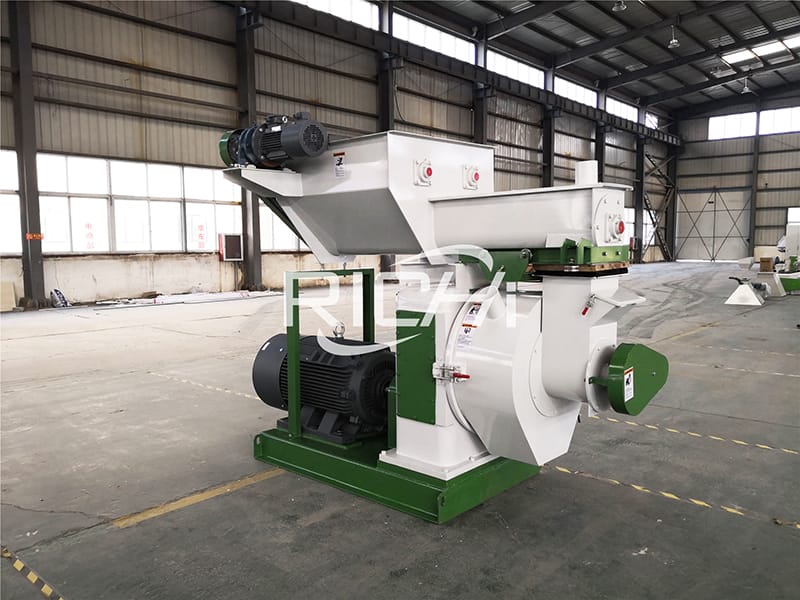 1.What is MZLH420 Horizontal Ring Die Wood Sawdust Pellet Mill?
MZLH420 wood sawdust pellet mill machine is widely used for compressing and forming of agro waste like straw, chaff shell, forestry waste like wood sawdust, wood chips, shavings, wood timber, branches and refuse derived fuel(RDF). These compressed pellets take the place of the energy fuel.MZLH420 ce certificated 1-1.5 ton per hour wood sawdust pellet mill, in a production capacity of 1 ton to 2 tons per hour, is the most commonly used pelleting machine for 1-2 ton per hour on selling good quallity wood sawdust pellet product line.
Parameter of MZLH420 CE wood pellet machine for wood swdust pellets:
Capacity(kg/h):1000-2000
Dimension(mm):2800*1150*1730
Weight(kg):4000
Diameter of matrix(mm):420
Main Power(kw):110
2.Technical Innovation of MZLH420 hot product 110kw biomass wood pellet machine for sawdust
(1)Four-grade rotation. Proper rotation speed and line speed makes better pelleting ratio and wider moisture content require (15%-20%).
(2)Connection of the hoop: the clip type. Compared with the traditional connection, its advantage is preventing the die expands in the heat and contract in the cold.
(3) Larger inner diameter (inner diameter: 510mm), more ring die holes, large output capacity (1.5-2 tons per hour).
(4)German technical plunger ring roller assembly. Good sealing puts an end of oil leaking, saving the oil; with abrasion of the press roller has been enhanced, it will work for longer time.
(5)Full-automatically lubricating device for principle axis. The bearing lubrication problem has been solved, realizing the program controlling regularly and quantificationally.
(6)Domestic fierce cow brand high torque motor. Load resistance is 20% stronger than the common motor, saving 10% more than the common motor in the same power.
(7)Optional hoisting device for ring die. It is simpler and more convenient for one person to hoist the mould.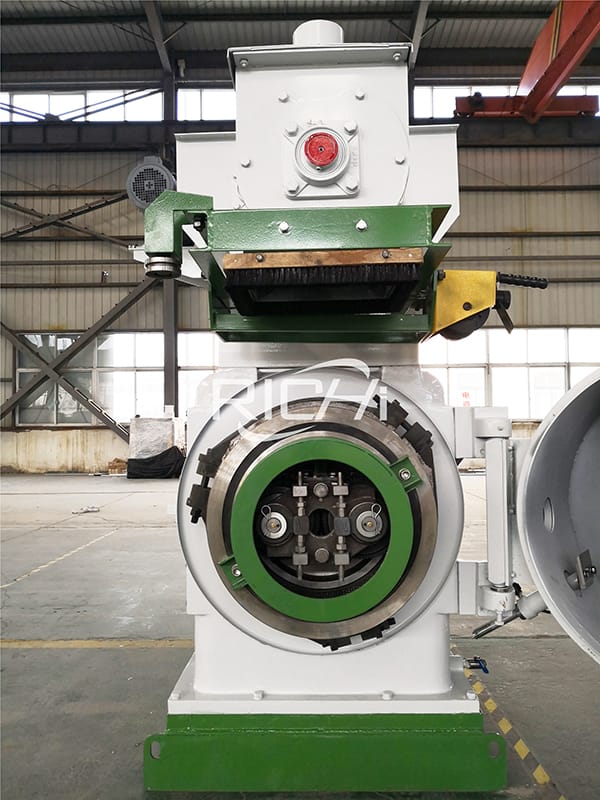 3.Features of MZLH420 China factory offered sawdust wood pellet machine 1-1.5 ton per hour
(1)Low energy consumption, high output capacity.
Compared with other wood biomass pellet machines with the same power in the same industry, this biomass energy sawdust pellet machine saves 50% more energy. For instance, for making wood pellet by using the ring die pellet machine at the same power 90kw, the common production output is in a range of 0.8-1.2 ton, but using 420 high efficiency large capacity biomass wood pellet machine, the production output can be in a range of 1-2 tons per hour. The output of making efb pellet is in or over the range of 2-3 tons.
(2)Low moisture content require.
Commonly, the moisture require of making pellet is in a range of 13% to 15%. For the material with the moisture content of 13%-22%, the 420 ring die type pellet machine for wood sawdust can produce normally, making the perfect biofuel pellets.
(3) Good performance biomass wood sawdust pellet machine operation low cost.
When the 420 type stable performance sawdust pellet machine is working, the oil is only required to add once every shift.
(4)Long lifetime of the ring die and press roller.
The material update of the die and the changing of the quenching process has lengthened greatly the life time for using of the die, and the total output has been increased greatly.
4.Best price wood pellet mill plant
1-1.5tph high quality ce wood pellet mill line in Iceland
Canada 2T/H Turnkey Biomass Wood Pellet Plant
Austria automatic wood pellet line 5 tph with CE
Netherlands 2T/H best solution biomass wodo pellet line for wood sawdust
United States 10T/H Customized Turnkey Wood Pellet Production Making Plant(Ongoing)
Thailand 10T/H Customized large capacity heavy duty wood pellet line(Ongoing)
Mexico 10T/H Wood Sawdust Bioenegy Pellet Processing Plant
If you feel like to build a best solution biomass wood pellet line for sawdust waste, MZLH420 factory directly offered 1-1.5 ton per hour wood pellet machine is the preferred choice.