China professional manufacturer animal feed pellet machine with over 20 years experience
2020-09-21 Back to List
If you are looking for related products or have any other questions, please feel free to contact us.
Contact Us
As the largest animal feed pellet machine manufacturer in central and western China, the history of RICHI can be tracked back to the founding of Richi Machinery Co., Ltd in 1995 since when we have started to engaged in feed and biomass equipment have become our main mission. At the same time, we have been consistently integrating superior resources both at home and abroad to offer our clients the best customized feed&biomass plans and projects.
Richi Machinery is mainly composed of new product R&D and design, machinery manufacturing, equipment installation and debugging, technical training and international trade and after-sales service. Over the past ten years, our R&D team has developed several advantageous technologies. And we have been achieving progress with the world-class advanced technologies developed in the feed sector and striving to lead China's feed industry. As the featured product, RICHI feed pellet making machine for sale, with the unparalleled design and superior quality, has been exported all over the world.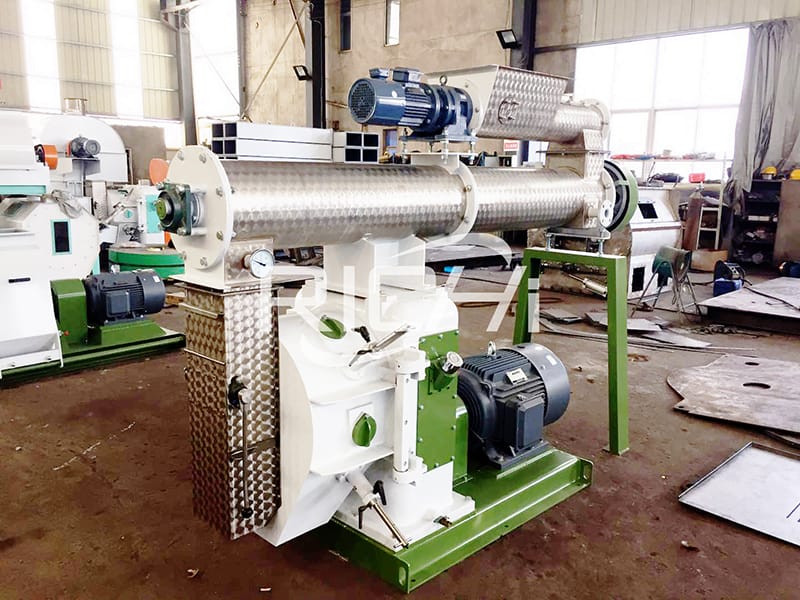 1.China supplier animal pellet mill features
Generally, RICHI animal food pellet mill is mainly composed of bearing, pellet die, press roller, motor and other parts. For the difference of working principles, RICHI CE certificate animal feed pellet mills is divided into two types, flat die feed pellet mill and ring die feed pellet mill, the former is based on the flat pellet die and press roller while the latter is base on the die in the shape of a ring.
2.Why use RICHI factory price pellet mill making machine?
As the most popular pellet making mill, RICHI feed mill equipment of pelletization has its own unique advantages:
(1)RICHI pellet mill for animal feed is configured with double-stage driving of belt and worm gear, which rotates stably with low noise.
(2)The materials are placed in the chamber by gravity, avoiding blocking.
(3)Lasting lubrication and distinctive sealing for the press roller and bearing prevent the lubrication from polluting the material and decrease the loss of the lubrication in the pelletizing processing.
(4)The speed of the main axis is around 60 rpm, while the speed of the roller is around 2.5 m/s getting rid of the gas of the material and increasing the density of the production.
(5) Low line speed and decrease of the noise in the operation and abrasion of the components, productions with high fat, molasses can be made.
(6)RICHI easy to use animal feed pellet mill machine is equipped with various apertures of ring-dies in the range of 2mm to 12mm and different compression ratio, meeting the different requires of the clients.
(7)Due to the decrease of the animal feed production line speed, noise in the operation and abrasion of components, productions with high fat, molasses can be made into pellets.
3.CE verified ring die animal feed pellet machine for sale
1-2 ton per hour China small animal feed pellet machine
3-4 ton per hour China factory directly supply good performance animal feed pellet mill machine
5-7 ton per hour simple operation portable small animal feed pellet mill machine
8-12 ton per hour China animal feeding pellet mill equipment
10-18 ton per hour china supplieranimal farming feed pellet mill with ce
15-25 ton per hour China factory price animal food for making pellet mill
20-30 ton per hour China hot selling animal feed processing pellet machine
25-40 ton per hour With Longlife Guarantee Feed Pellet Mill
28-45 ton per hour China granule feed pellet mill machine with ce
If you have interest in China High Quality Animal Feed Pellet Milling Machine, please contact Richi Machinery for more technical information.