Choose Chicken Feed Pellet Mill Machine For Your Large Chicken Poultry Farm
2020-11-16 Back to List
If you are looking for related products or have any other questions, please feel free to contact us.
Contact Us
Are you still looking for "chicken feed pellet machine in zambia farm", "Chicken feed pellet machine for kenya farm","Large Farm Popular Animal Feed Pellet Milling Machine in South Africa",etc.?Richi Machinery is a professional poultry chicken feed pellet mill manufacturer, this article will introduce the CE verified chicken feed pellet making machine in detail.
What is used in large farms is not only small equipment, but also a large capacity complete feed production line. Because many customers have their own farms, in addition to supplying feed for their own animals, they also sell processed feed. There are many such cases in our previous cases. If it is a small farm, a single chicken feed granulator equipment can meet the demand, and at most one corn grinder for chicken feed and one small chicken feed mixer can be added.
CE approved poultry chicken feed compress pellet making machine belongs to chicken feed mill equipment of pelletization, is an animal feed processing machinery that uses corn, soybean meal, straw, grass, rice husk, and other crushing materials directly pressed pellets. The reason for making chicken feed pellets is that complete feeds are a balanced mix of different kinds of nutrients that help livestock, poultry, and other animals grow better.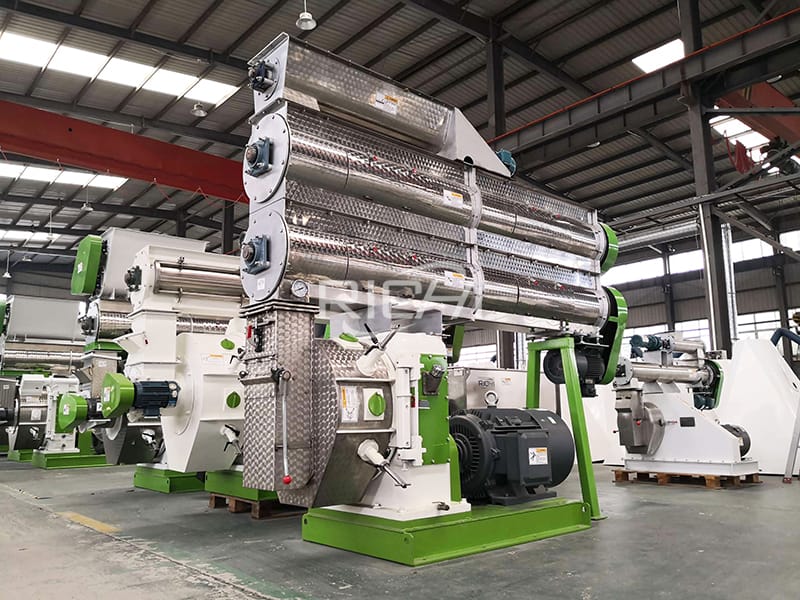 1.Raw materials of poultry chicken feed pellet manufacturing equipment
The raw material can be corn/maize, alfalfa, wheat bran, grass, rice, beans, oil cake, etc. Usually, large size raw materials should pulverize by poultry chicken feed grinder machine. Protein or other nutrients can also add to the raw powder.
2.Large animal farm feed pellet making equipments for sale
(1)Flat Die Chicken Feed Pellet Processing Machine
①The flat die feed pellet machine is low cost, convenient operation and maintenance.
②High yield, energy-saving, and environmental friendly.
③It covers a small area.
④Various power sources are available by Richi Machinery manufactured, you can choose according to your own needs.
(2)The Features Of Flat Die Chicken Feed Pellet Manufacturing Equipment
①The roller and die: the flat die poultry feed pellet mill adopts high-quality wear-resisting alloy steel and processed by special heat treatment.
②The hopper adopts thickening material to help strengthen it.
③The main box adopts a high-quality welding structure to have low noise and shock-absorbing ability.
④The electrical components adopt famous siemens brands and processed by parkerising, acid pickling and spraying plastics. It is also designed with a radiation structure.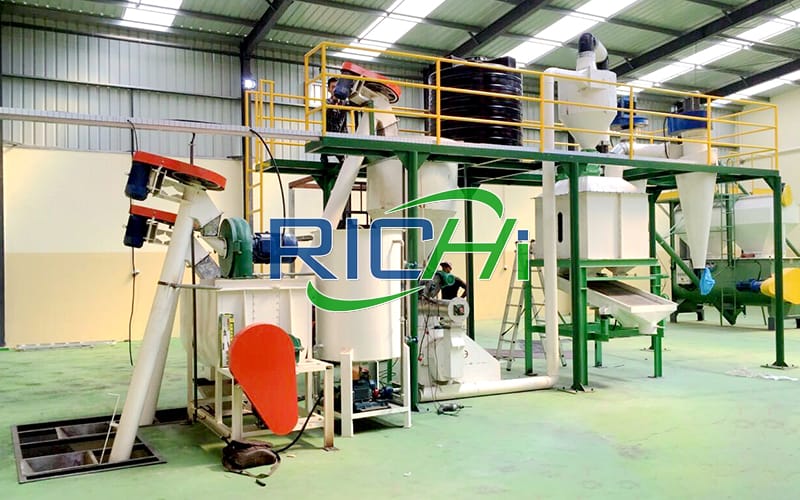 (3)High-quality ring die chicken feeds pellet makers
The ring die chicken feed pelletizing machine mill is high precision gear transmission by Richi Machinery manufactured, the machine adopts stainless steel governor, with frequency conversion speed regulation function, using Swiss "SKF" high-quality bearing, to ensure efficient, stable, low noise drive, can work with its electric control box alone. It can be used in a variety of large, medium and small farms as feed pellets to feed animals, as raw materials, it can be used as food, such as wheat, corn, corn, and some grass, straw can also be used in the machine, has a broad application prospect. Used for 1-100t/h customized animal poultry chicken feed pellet production plant.
(4)Ring Die Chicken Feed Pellet Making Machine Features
①The compression ratio can be customized
②Electrical machinery: Siemens, Germany
③ Pelletization bearing: Swiss SKF
④The whole 304 stainless steel conditioning device guarantees the high quality of granular feed.
⑤We can customize two or three layers of conditioner for customers.
3.1-100TPH Chicken Feed Processing Line For Large Scale Poultry Chicken Farm
Professional China factory customizable poultry chicken feed pellet producing line includes electric corn animal feed grinder for chicken feed, chicken feed mixing machine, screw conveyor, bin, chicken feed pellet manufacturing machine, pellet cooling machine, and packing machine. The turn-key poultry chicken feed production line can crush corn and soybean into a fine powder, and then mix the fine powder with wheat bran, bone powder, trace elements, vitamins, and other raw materials to make a complete feed net. The chicken feed granular making machine is used to make pelletization through the mesh.Chicken feed pellets can package directly after sieving and cooling.
Richi Machinery is the leading of animal feed machinery manufacturer, providing high-quality feed processing equipment and professional services for agriculture and aquaculture industries. We not only provide a complete poultry feed pellet line with reasonable price,but also provide a single chicken feed machine in each chicken feed production process.
[More info about poultry chicken feed production]
(1)how to manufacture chicken feeds?
(2)how to start your chicken feed plant business in cheap price?
(3)10 ton per hour poultry feed manufacturing plant cost
(4)2 ton per hour animal poultry feed making machine for sale
(5)15t/h turnkey project chicken poultry feed factory made in China
(6)full automatic 6t/h chicken feed pellet production line with CE