How to start your own 1-40tph biomass wood pellet production line with best business plan?
2020-11-15 Back to List
If you are looking for related products or have any other questions, please feel free to contact us.
Contact Us
How to start your own 1-40tph biomass wood pellet production line with factory price and best business plan?What is needed to start a 1-40t/h wood pellet plant?You need to understand biomass energy, you need to understand wood pellet mills. If you want to build a best selling ce complete biomass wood pellet production line for fuels energy plant, you also need to know the professional complete wood pelletizing line production process. Today, I will focus on these questions.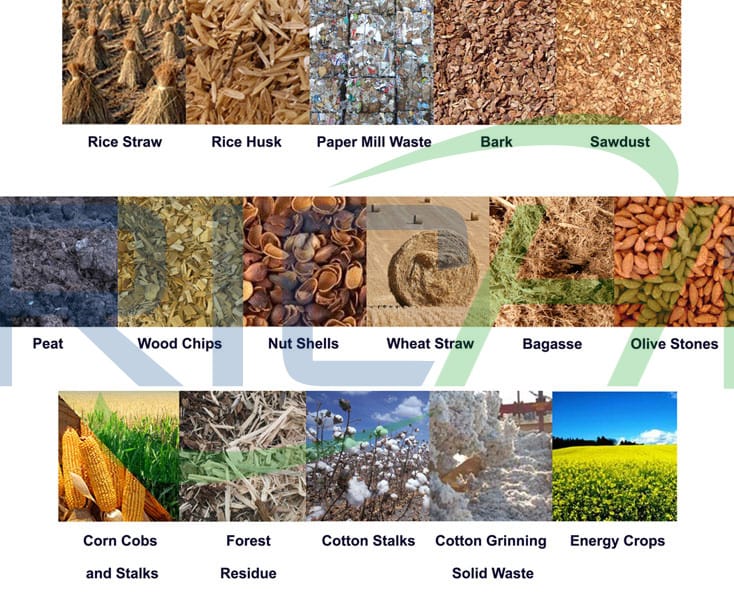 1.Biomass Resources and Biomass Classification
(1)Materials Suitable For Pellets Making Production
A wide rang of biomass materials can be processed into pellets for burning and fertilizer purpose. If you are interested in start making your own pellets but don't know if your raw materials are suitable and wonder what kind of equipment to choose, don't hesitate to contact us! We can help you step by step! Biomass resources include natural biomass, residual biomass and energy crops.
①Natural Biomass: get directly from the ecosystems.
②Residual Biomass: produced from the process of different industry production.
③Energy Crops: refer to crops plant for energy purpose of producing biomass.
Among these three sources, the most widely used ones are wood wastes,energy crops and residual biomass.
(2)Biomass Classification
★ Woody biomass such as trees, shrubs and bushes;
★ Herbaceous biomass such as non-woody plant, grains and cereals;
★ Fruit biomass such as palm shell and coconut shell;
★ Mixed biomass;
Spruce Wood,Pineapple Peel,Grass Powder,Turfgrass Powder,Bamboo,Canola Straw,Chicken Litter,Fresh Grass,Soybean Stover,Maize Sraw,Moso bamboo pellet,Paper Dust,Peanut Husk,Grain(such as,maize),Pine Sawdust,Sawdust,Rice Bran,Rice Husk,etc.The above materials are included, but not limited to.Click here to see Pellets Made from Different Biomass Materials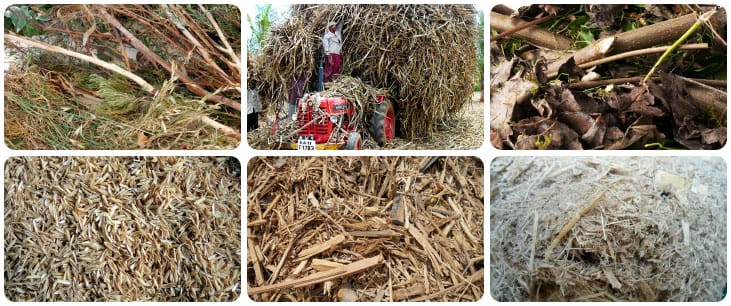 2.Biomass Advantages
(1)Sufficient biomass resources, affordable price and eco-friendly characteristic make biomass fuel over fossil fuels. And these factors also motivate the development of biomass fuel market. The amount of residual biomass which is produced from logging or other industries is huge. Making biomass fuel from these waste residues is a win-win choice. Besides, biomass-to-energy facilities such as wood pelletizing mill and also promote the industrialization of biomass production.
(2)Use fallow lands to plant energy crops can bring incomes and benefits the water retention of soil at the same time.
(3)Promote biomass in energy production can reduce pollution emissions such as CO. HC and NO and better protect the environment and contribute to maintaining the photochemistry of the atmosphere.
(4)Using agricultural biomass as biomass energy instead of burning or burying can not only reduce the risks of forest fires but also can reduce insect plagues. Besides, the exploitation of agricultural wastes can is also a new and promising market.
(5)Alleviating the greenhouse effect is another important reason to promote biomass energy. Using biomass energy can greatly reduce the emission of CO2.
(6)Promoting biofuels can make up the lacking of oil resources and reduces dependence on foreign oil.
3.How Does A Biomass Fuel Pellet Mill Machine For 1-40TPH Biomass Wood Fuel Pellet Plant Project Work?
Biomass energy wood pellet mill operators are entirely knowledgeable with regards to processing hardware like a professional design ring type-horizontal of biomass wood pellet machine. The normal client, however, is left to ponder what it is or the way it works. So far as that is concerned, why is it essential to know the mechanical idea with which processing gear works? As the clients simply needs is to have a basic machine to transform wood scraps into more helpful fuel pellets or creatures bolsters.
On the off chance that a client is to have a biomass fuel pellet press machine, it is critical that he knows the small building ideas included in it. Knowing these can guarantee that the client can have the capacity to tinker, disassemble, and alter the gadget when issues happen after some time. Having a pelletizer machine for biomass pellets implies that inevitably the hardware itself will bow down to consistent wear and tear, and that it will need to get a wedge and a lever to alter it. To bolster him do that here is a rearranged, however definite, clarification of how biomass pellet manufacturing equipments work.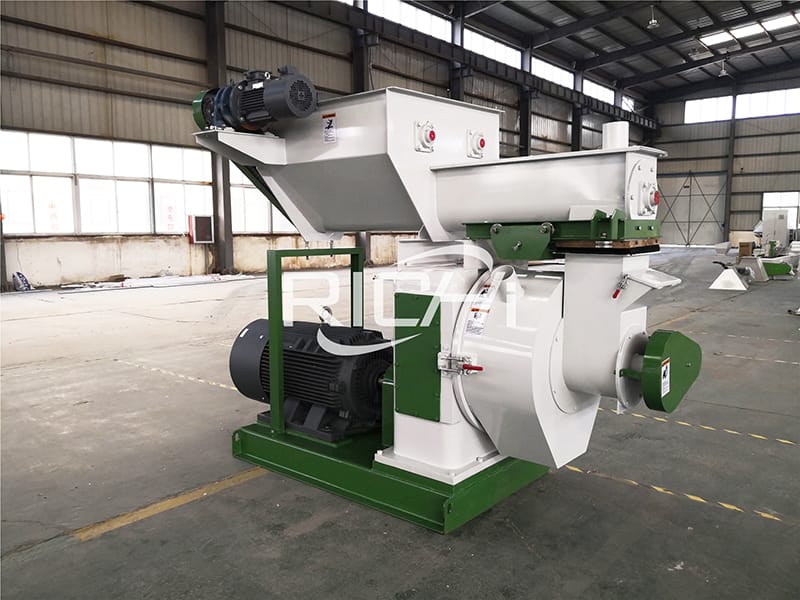 4.General Structure Design of Biomass Wood Pellet Press Machine For 1-40TPH Complete Biomass Pellet Plant
The biomass pellets material can be any of the dried natural squanders found all through the house, for example, saw dust, wood shavings, corn stalks, wheat grain and so forth. These materials are called "sustain." The raw pelleting material is streamed into the feeder which is a pipe like opening on the highest point of the pellet machine. The stream should be painstakingly controlled to let the required measure of steam or molasses in. Something else, the machine itself would get stuck.
The biomas materials such as wood are processed in the chamber and squeezed by rollers and bites the dust, which has gaps where the material is pushed down with the weight brought on by rollers and pellet die. That is a straightforward clarification. The particular steps are as per the following: The raw mateial is released from the conditioner over a kind of lasting magnet, after which expulsed by means of a spout which drives the distance down to a pelleting bite the dust. You will discover between lift flights inside the pellet mil to cover the pound so it can be squeezed equally by both of the two rollers. The moves force the biomass mateirals through bite the dust gaps with grating where weight is connected. The dish itself spins all the while.
There are bring off sharp edges mounted some place down the swing cover that cleaves off the pellets into legitimate lengths, as the pellets are expulsed from the wood pelletizer. The pellet machine is, by then, prepared to release the recently made pellets through the chute. The entire structure is twofold size of the pellet machine because of the engine. The engine is appended to the pellet squeezing machine and associated by a center elastic material, so that the turning metal a portion of the engine does not coarseness as opposed to the one relating to it on the pellet squeezing machine. To total up, figuring out how a biomass wood pellet making plants' capacities is fundamental. A professional wood pellet mill operator who become more acquainted with how to alter and keep up the machine would not apprehensive of it separating after steady utilize. It's basic yet in any case vital piece of biomass pellet manufacturing plants.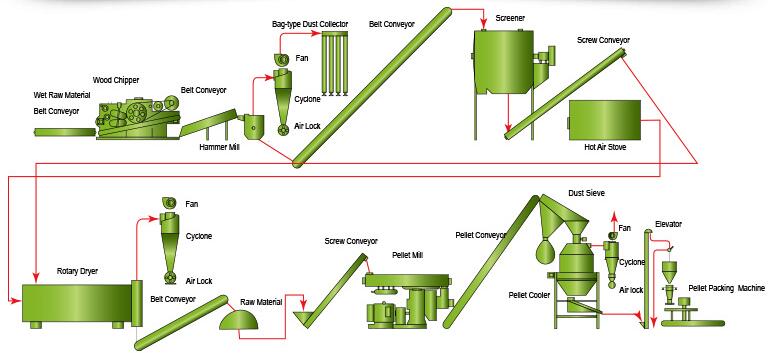 5.China professional 1-40t/h wood pellet line manufacturing process for biomass waste
Generally, a complete wood fuel pellet manufacutring line includes processes of crushing, drying, pelleting, cooling and packing / bagging. It can be divided into three main processing systems:
(1)Raw material handling system
To protect the health of operators and offer them a comfortable working environment, the crushing system is designed with dust collector device. We adopt bag dust collector and water film dust collector in biomass pellet processing line.
(Related equipments: high efficiency wood chips crusher, hot sale new type wood hammer mill machine)
(2)Drying System
Drying system is an important factor that impacts the quality of final wood pellets. Drum drier is suggested for large pellet production. Our drum drier is designed to be fire proofing and has the function of moisture checking.
(Related equipments: hot selling high quality biomass sawdust rotary dryer)
(3)Customized Pelletizing system
1-40TPH stable performance biomass wood pellet production line is actually a project that includes various equipments. It is not a simple product. To build a 1-40t/h turn-key biomass pellet plant, it is more than selecting and paying. It should be customized depending on the raw material along with the situation and requirement of each client.
(Related equipments: high performance ring die wood pellet mill)
(4)Packing or bagging system
(Related equipments: pellet cooling machine and packaging machine)
6.1-40TPH new technology biomass wood pellet production line factory price
China factory price of best design wood pellet production line for biomass energy pellets is between 100000USD-5000000USD.