CE 2 ton per hour automatic biomass wood pellet press machine for biomass pelletizing plant
2020-11-17 Back to List
If you are looking for related products or have any other questions, please feel free to contact us.
Contact Us
CE 2 ton per hour automatic biomass wood pellet press machine is a kind of pelletizing equipment for 2 ton per hour biomass pelletzing plant or higher yield.The main step of biomass wood pellet line pelleting process is pressed the powder biomass raw material into biomass pellets by wood sawdust pelletizing machine. As a result, we can not only deal with the storage of raw material but also reduce the transportation cost and raise the fuel calorific value. However, the pressure roller and ring die with a series of holes are the key parts of a high quality automatic 2 ton per hour wood pellet press making machine, which have an impact on the quality of biomass pellets.
Biomass energy pellets are a form of biomass material processed into with high calorific value, which are an ideal energy with the advantages of clean and alternative. So the ce good stability 2tph automatic industrial biomass pellet making machines is an expanding market increasingly. For you, how to capture the market opportunity and obtain extra benefits from automatic biomass energy sawdust pellet machine 2 ton per hour.
China factory directly offered ce 2 ton per hour automatic biofuel pellet mill can also named 2t/h automatic biomass pellet press,2t/h automatic wood pellet maker.Ring die high performance 2 ton per hour wood pellet making machine is applied for pellet production line with advantages of high capacity and low consumption for commercial purposes. Here are some knowledge on the new technology 2 ton per hour wood pellet mill.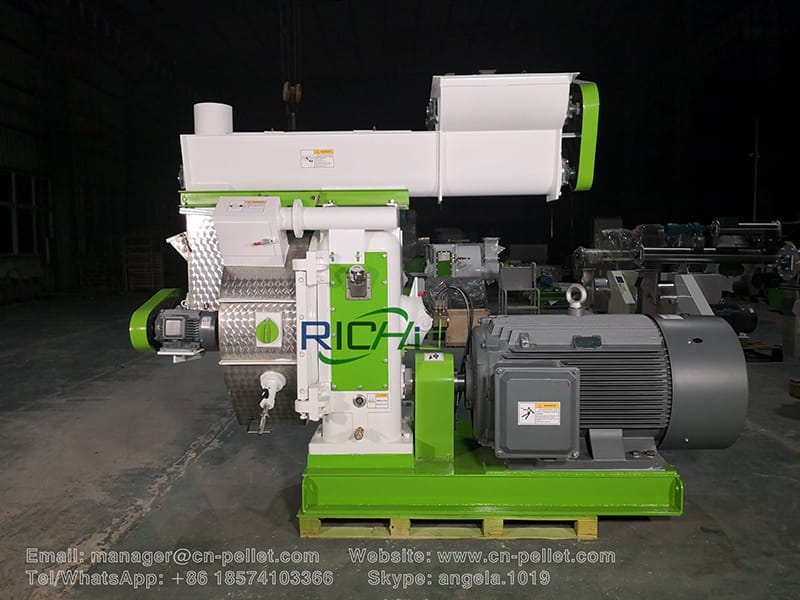 1.2T/H automatic biomass wood pellet mill for complete biomass pellet plant
(1)Pelleting process
Producing biomass pellets doesn't mean purchase a pelletizing machine at a competitive price for sale online or on sale in the shop. Instead, how to choose suitable raw material, adjust the moisture content and appropriate pelleting knowledge are needed. Compared with the straw and grass, wood material has a higher density. Therefore, pelletizing machine need some specific feature for raw material like sufficient power, high temperature and reasonable design. So the price of wood pelletizer machine is more expensive in the market. What's more, the operation of pelletizing machine is at a lower speed so as to increase the time that pellets spend under compression in the die.
Abou the MZLH520 Biomass Pellet Mill:
Capacity of wood sawdust pellet:2000-2500 KG/H
Capacity of grass alfalfa hemp pellet: 3000-4000 KG/H
Capacity of organic fertilizer pellet: 7-8 T/H
Size of Pellet Machine: 3000*1260*1860 MM
Anti-caking Feeder Power:2.2KW
Forced Feed Power :0.75 KW
Pellet Machine Power: 160KW
Final Pellet :6-12mm
Weight : 4500KG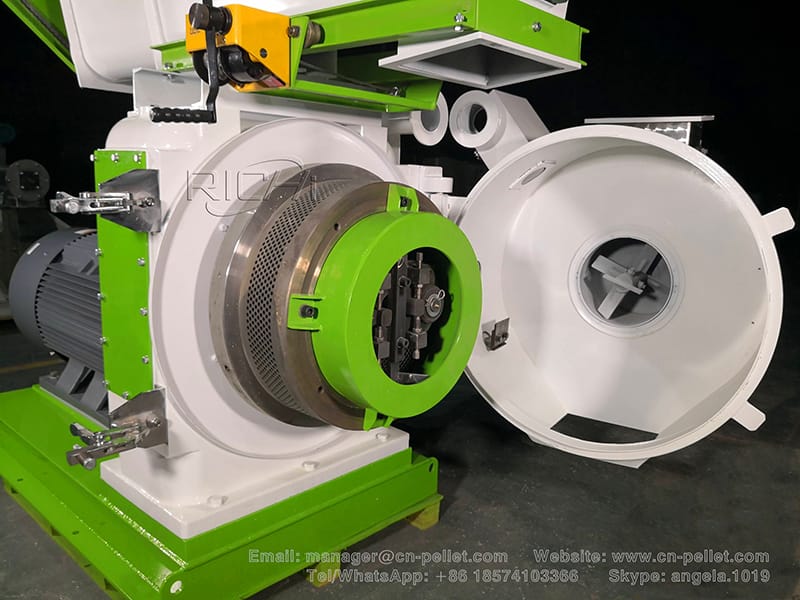 (2)Main parts of 2t/h ring die biomass wood pelletizer machine
Let's know more about the main parts of the high efficiency 2 ton per hour capacity biomass wood pellet granulator machine:
The press roller is the most important parts of the 2t/h horizontal biomass wood pellet machine. The press roller we supplied and manufactured are made with high quality alloy metal, whichi makes the roller not easy to broken and durable. Usually, the 2tph ce certificate ring die biomass fuel pellet press machine has two pairs of press rollers which have larger capacity of making biomass pellets. The die has many holes for forming the raw material into biomass pellets. The diameter of the holes ranges from 6mm to 12mm. Of couse, you can purchase the proper 2t/h automatic china best price biomass wood pellet making machine depending on your needs.
2.Applications of biomass pellets
Burned to get heat for supplying districts;
Boil water or communal services;
Used in fireplaces or cauldrons to heat private houses;
Used as bedding for horses or other cattle;
Used as industrial absorbent;
Used as cat litter or something alike;
Other developing usages.
3.Advantages of biomass fuel pellets
Pellets are easy to store since they occupy less space compared to original shape wood, straw or other biomass materials;
Pellets are more convenient to transport;
Pellets can release more heat than the same quantity and quality biomass materials, at the same time less air pollutants like SO2, CO, etc.
4.How much does a ce iso 2t/h professional ring die biomass wood pellet mill machine cost?
2T/H biomass wood pellet making machine price is usually between 40000-50000USD.
Since there is an increasing demand of biomass pellets, their price will no doubt raise rapidly. So it is rightly a chance to start your own pellet making career now! By using our 2 ton per hour ce certified biomass pellet mill for wood pellet making, you can produce qualified biomass pellets.
It is the right time to start your own biomass fuel pellet manufacturing career!As a leading biomass pellet press machine manufacturer, we have received thousands of emails inquiring about our wood pellet machines for biomass energy industry, 30% have bought our ring die automatic wood pellet machines and other auxiliary equipments, 45% show great interest in buying our good bio-fule wood pellet machines with ce in the future. The other 25% have become our friends and said will introduce RICHI to their friends and relatives. They are not only satisfied with our best price good wood pellet machines, but also our service and care.
If you are still wondering about our automatic 2t/h biomass wood waste pelletizing machine, contact us now! We will give you the most professional and personalized customer service!