How to make chicken feed pellets for broilers in complete turnkey 1-2tph small capacity broiler chicken feed factory?
2021-01-31 Back to List
If you are looking for related products or have any other questions, please feel free to contact us.
Contact Us
How to make chicken feed pellets for broilers in turnkey 1-2tph small capacity broiler chicken feed factory?Starting 1-2 ton/hour broiler chicken poultry food manufacturing business with turnkey service now.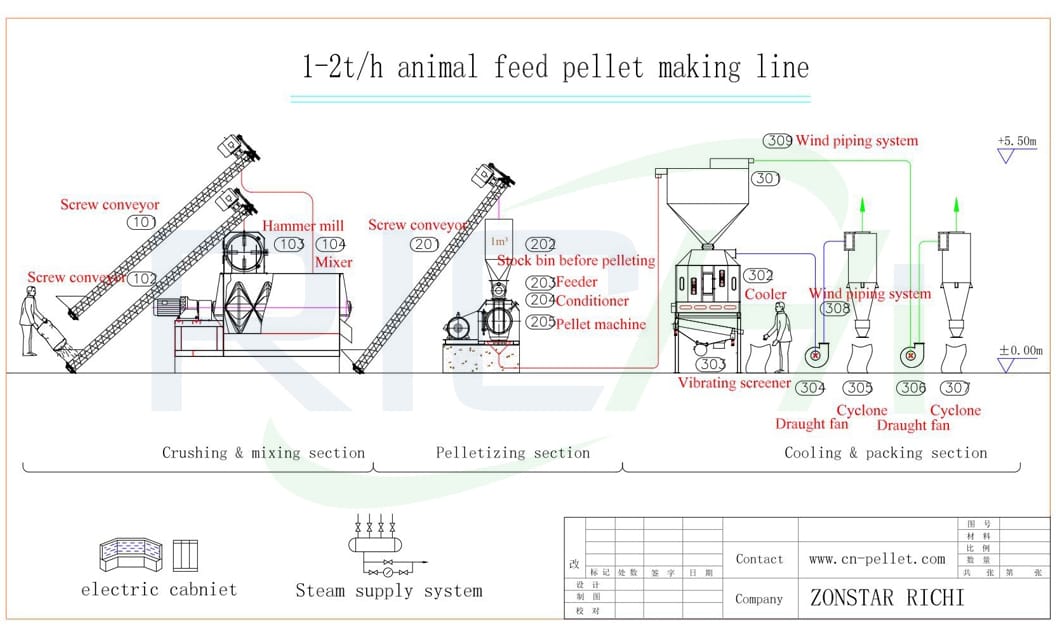 1.Stages of turnkey poultry chicken broiler feed production factory with 1-2 ton per hour capacity
(1) Weighing. The various ingredients in the formula are accurately weighed according to their added quantities.
(2) Smash. The main purpose of crushing corn, bean cake, peanut cake and other kinds of seed and lump feed is to reduce chicken chewing and increase the contact surface with digestive juice, thereby improving the digestibility of feed nutrients. Chicken feed crushing generally requires the sieve hole diameter to be less than 1 mm.
(3) Mixing. The above-mentioned pulverized raw materials and other various raw materials in the formula are added to the mixer in batches according to their added quantities for mixing, and the mixing time is 3 to 5 minutes. The mixed feed is called powder feed.
(4) Granulation. The mixed powder feed, through the comprehensive treatment of steam, heat and pressure from the pelletizer, gelatinizes and matures starch substances, which can improve the palatability of the feed, increase the digestibility of nutrients, avoid picky eating by chickens, and increase the picking Appetite. Pellet feed is often used for broiler feeding, the diameter of pellet feed is 3~5 mm.
2.Machinery for production of 1-2 ton capacity quality broiler poultry feed in a turnkey chicken feed line
3.Turnkey plan for 1-2 ton per hour small broiler chicken feed production factory with ce
| | | |
| --- | --- | --- |
| Item | Specification | Remark |
| 1-2T/H Broiler chicken feed mill machinery | 1 Line | Including all equipments and all Electronic control section. |
| Auxiliary Equipment(With Bolier System) | 0.3T | Quantity of steam 0.3T/H 0.7Mpa,verticle/horizantal type with control cabinet, accessories. |
| Steel structure of whole broiler feed plant | size 10*4*5m | The steel structure and attached parts ,The main shop C structure steel, stairs,platform. |
| Installation Cost | 2 engineers*15days | Including installation and test 10-12days, training workers and accormpany workers on production 3-5days. |
4.How much does it cost to start a small scale turnkey 1-2 ton per hour broiler chicken feed mill plants?
Turnkey 1-2 ton per hour complete easy to operate broiler chicken feed factory price is usually between 15000USD-50000USD.
Check more infor about "cost to start a 1-2t/h small sized broiler chicken feed processing plant":https://www.cn-pellet.com/faq/1045.html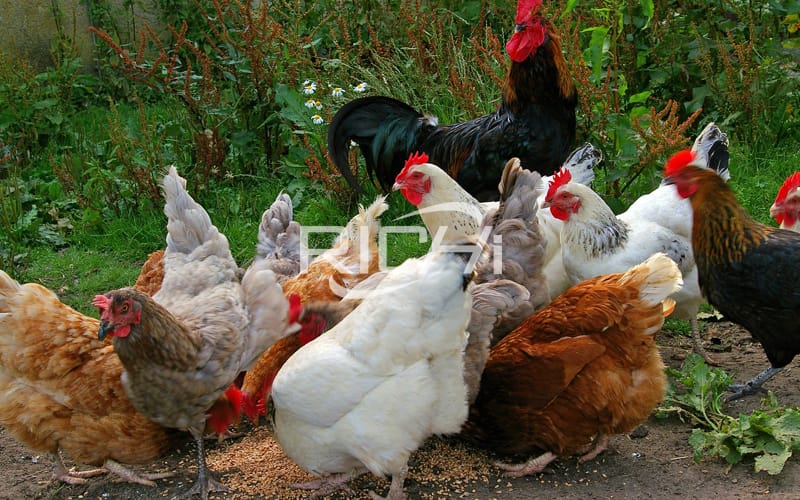 5.Some complete China supply best price 1-2t/h poultry chicken broiler feed production line we have done:
1-2t/h ring die chicken feed pellet production machine line for broiler in Australian
1-2t/h simple process design broiler chicken feed pellet making line in Papua New Guinea
1-2t/h small scale broiler chicken feed pelletizing plant in Peru
1-2t/h full automatic small feed plant for broiler pellet feed production in Sudan
1-2t/h ring die poultry chicken broiler animal feed pellet making plant in Tanzania
1-2tph easy to use broiler feed manufacturing plant in Cape Verde
6. What are the cold-resistant feed additives for broiler chickens?
Broilers love temperature and are afraid of cold. In cold and low temperature seasons, physical fitness and production performance decrease, material consumption increases, egg production decreases, and it is easy to catch colds and other respiratory infectious diseases. If appropriate additives are added to the feed, the cold resistance of the chicken body can be enhanced.  
Cod liver oil: mainly containing vitamin A and vitamin D, it has the functions of strengthening physical fitness, improving eggshell quality, and enhancing the ability to resist cold stress. Cod liver oil is best to use oil or liquid, so that it can be used at the same time with other drugs. 
Vitamin E: Low temperature in winter will cause the performance of chicken ovaries to decrease and egg production. The usual dosage of vitamin E: 10 mg per kilogram of diet, 2-6 times more in winter, to improve cold resistance and egg production rate.  
Vitamin C: has the effects of anti-infection, detoxification and anti-stress, can increase chickens' resistance to cold and disease, prevent infectious diseases, and increase egg production. Adding 5 grams of vitamin C to every 100 kilograms of broiler chicken feed can reduce feed consumption and increase egg production. 
Calcium: The broiler chicken body lacks calcium. In mild cases, soft-shelled eggs are laid. In severe cases, the toes may twitch, which is life-threatening. In winter, low temperature and less light will increase the demand for calcium in chickens. 
Chili powder: rich in carotene and multiple vitamins. Adding 1% chili powder to the chicken diet in winter can improve the chicken's cold resistance and egg production rate. 
Iodine: Iodine supplementation can enhance cold and warmth resistance. There are two methods: supply iodized table salt with the same amount as ordinary table salt; or add kelp in the feed, the amount of which accounts for 2%-6% of the diet. The kelp is cold, and an appropriate amount of ginger can be prepared to ease its coldness.  
Iron: Animals lack iron, reduce their ability to resist cold, and are afraid of cold. Iron supplementation for laying hens is very important, and the requirement is 35-45 mg/kg diet.