How to make 3-4 ton per hour capacity poultry chicken feed commercially?
2021-02-01 Back to List
If you are looking for related products or have any other questions, please feel free to contact us.
Contact Us
How to make chicken feed commercially?How to manufacture 3-4 ton per hour capacity poultry chicken feed commercially?You need to start a commercial chicken poultry feed manufacturing plant with 3-4 ton per hour capacity. Calculated by processing 300 days per year and processing 8 hours per day, 3-4 ton/hour means 7200-9600 tons per years. So what poultry feed equipments and poultry feed making raw materials do you need to start your 3-4 ton per hour complete ce poultry feed production factory business?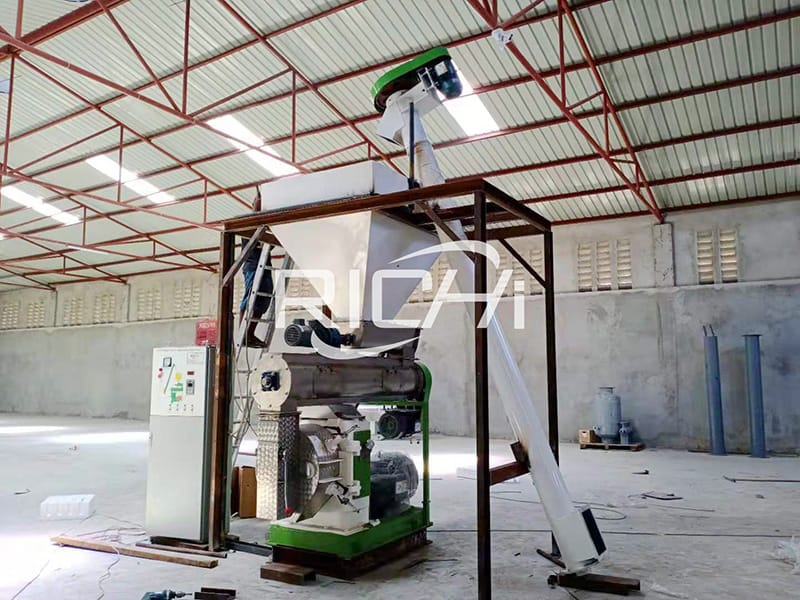 1.Complete poultry feed mill process flow for 3-4 ton capacity chicken feed production
Complete 3-4tph poultry feed processing methods:Silos-Raw material receiving-Cleaning-Grinding-Raw material extrusion-Batching-Mixing-Pelleting-Cooling-Crumbling-Liquid Adding & Coating-Packaging-Conveying
2.How to make chicken feed for business in 3-4t/h commercial poultry feed making plant?
(1)Business plan 1 for Complete 3-4 ton per hour chicken poultry feed processing plant with high standard design
Total power:107.6KW
3-4t/h poultry feed line price:around 80000USD.
(2)Business plan 2 for 3-4tph feed manufacturing plant for poultry with simple design
Total power:103.48KW
3-4tph poultry chicken feed processing line price:around 60000USD.
(3)Business plan 3 for full automatic 3-4t/h poultry feed mill plant with packing system
Total power:129.8KW
3-4T/H complete automatic poultry chicken feed production line price:around 60000USD.
| | | |
| --- | --- | --- |
| Poultry feed making equipment | Model | QTY |
| Iron removing device | Z-Type | 1 |
| feed hammer mill grinder for poultry | SFSP56*40 | 1 |
| Bucket Elevator | TDTG36/18 | 1 |
| Poultry Mixing machine (Pneumatic door) | SLHY.1 | 1 |
| ce ring die pellet mill for poultry feed | SZLH320 | 1 |
| feed cooler | SKLN14x14 | 1 |
| Rotary screener | SFJH.80x2C | 1 |
| Automatic Packaging machine | DSC-50 | 1 |
| Sewing+belt conveyor | / | 1 |
3.Complete 3-4 ton per hour chicken poultry feed manufacturing plant cost
China best prices for 3-4 ton per hour complete high quality chicken poultry feed mill factory is usually between 50000USD-250000USD.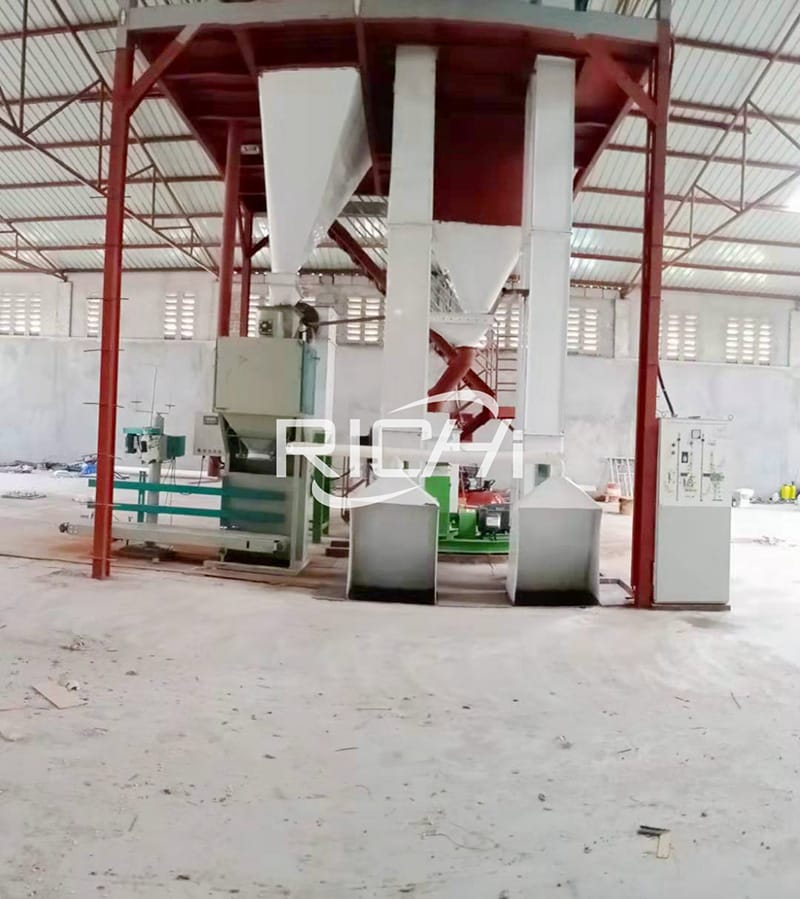 4. How to realize the refined management of the 3-4 ton per hour poultry feed manufacturing factory?
How to realize the refined management of the 3-4tph poultry feed factory? How to run a 3-4tph widely used poultry feed mill plant effectively? After decades of development, the feed industry has experienced great leaps in terms of output and quality from the growth period, maturity period to the current stable period, and the profit has also changed from the original "windfall profit." "Transition to the current "mean profit", how to maintain profits in the current "mean profit" era, in addition to controlling sales expenses, management expenses, and financial expenses, the use of refined management in production is also particularly important because it controls manufacturing costs. basis. The implementation of fine management in feed production can start from the following aspects:
(1) Reduce material loss
①Recover and reuse the floor materials in time
The presence of ground material is unavoidable in the feed production process. If the ground material is not recovered in time, it may be confused with other materials or be cleaned and thrown away. This is an unnecessary waste, because any company Waste will increase costs.
②The weight of the package and the feed error must be within the specified range
For example, if the net content of 50kg requires an error of ±0.3%, then the net content of packaging should be within 49.85~50.15kg. If the material is less, the customer will certainly not agree. If you give more, our company's Benefits will be damaged. Therefore, strict control of the feeding amount is part of the fine production management.
③The remaining part of the seam line should be as short as possible
This requires the seamstress to strengthen the sense of responsibility when operating, and the setting value should be a little smaller when automatically wrapping and cutting. Imagine that if the packing line for each bag of material uses 1cm more, then every 1t of material will consume 20cm more. According to the annual production of 20,000 tons, the extra packing line will be 4000m. This is an invisible waste. Waste can be avoided through refined management and operation.
The above is a list of several representative items. Of course, there are many places to reduce material loss, such as reducing the man-made damage of packaging bags, not barbarous loading and unloading, etc. This requires us to control the daily production management Start with small things and educate employees to start with meticulous operation to do a good job.
(2) Improve production efficiency
①Improve the working efficiency of the corn hammer mill crusher for poultry feed
This work requires a planned operation. Arrange the types and quantities of materials to be crushed every day in advance. After the poultry feed grinder machine is turned on, it must work at full capacity. Try not to work with no load or half load.
②Improve the working efficiency of the poultry feed mixing equipment
The machine to mix chicken poultry feed is the core poultry feed processing equipment of the entire poultry feed production workshop. If the poultry chicken feed mixer machine has a low working efficiency, the efficiency of the entire team will not be high, and of course there is no energy saving and consumption reduction.
③Improve the work efficiency of the ce ring die poultry feed pelletizer machine
The poultry feed pellet granulator is the last process in the production of finished products. It is necessary to "consume" the materials prepared at the front end in a timely and rapid manner. The chicken poultry pellet feed making machine must be optimistic about the motor current (power), feeding speed, material maturation, and moisture. , Powder content and other indicators, adjust the granulating system to an optimal feeding and discharging state.
The above items are the core production process in the poultry feed production workshop. Of course, there must be some cooperation and support of conveying equipment, such as scraper conveyors, hoists, etc., which require these equipment to perform their best working conditions. Only when the five elements of machine, material, method and environment are properly coordinated can they be seamless and perfect in production and operation.
(3) Save energy consumption
Energy consumption is the most important indicator in the production evaluation index. The amount of water, electricity, and steam required per unit of feed output is what we call unit energy consumption. How to reduce this index is recommended to pay attention to the following aspects:
①Small varieties and mass production are carried out every day. This will reduce the switching of material numbers, save working time, and also reduce the generation of material ends and ends, and reduce the cost of secondary processing when returning to the machine.
②Shut down the equipment in time to avoid idling of the equipment, idling and half-load operation will cause the greatest waste of electrical energy, so I won't repeat it here.
③ Avoid running, running, dripping and leaking. If problems are discovered, they should be dealt with promptly. Any running, running, dripping, or leaking is a waste of resources. What we have to do is to block all waste points.
④Pre-communication, many tasks require good communication to cooperate smoothly. For example, the granulator needs to use steam after starting. The ideal state is that the boiler pressure just meets the requirement when the granulator needs steam, and the boiler pressure just drops when the granulation is finished. This requires the granulator and the boiler worker. Communicate beforehand.
(4) Refined production safety
Safe production is the top priority of an enterprise. Without safety, everything else is just empty talk. Therefore, we cannot ignore safety issues and cannot manage extensively. They must be included in the category of refined management.
①Personal safety and equipment safety
Personal safety is our top priority. There is no shortcut to implement fine management in this regard. The key is to perseverely implement various safety management measures and effectively incorporate safety production into the daily work of production management.
Equipment safety is the basis for normal production and is also a part of fine management. Equipment safety focuses on maintenance, that is, pay attention to inspections and maintenance during operation, starting from small problems, and eliminating major problems in the bud. In addition, we must conduct TPM knowledge training for all employees, so that all employees involved in production can participate in the comprehensive and independent maintenance of the equipment.
②Product quality safety, storage safety
In the production process, feed enterprises must control product quality and safety from the raw materials entering the factory to the product leaving the factory. Work with the quality concept of "feed = food, quality = life". Product quality management requires a wide range, large area, multiple links, and great difficulty. At the same time, there are many factors affecting quality. If a link is out of control, major problems may occur. For quality control, the emphasis is on "timeliness and accuracy". During the production process, the workshop provides laboratory information in a timely manner to guide production and achieve in-process control.