Cylinder Pulse Filter For 10T/H Fully Automatic Poultry Chicken Feed Pellet Making Plant
2020-11-05 Back to List
If you are looking for related products or have any other questions, please feel free to contact us.
Contact Us
1.Introduction Of Pulse Filter For 10T/H Automatic Chicken Feed Mill Plant
Low pressure cylinder injection pulse bag dust remover is a new developed product,low resistance,high dust cleaning efficiency,convenient operation,simple maintenance, with air pressure, low noise, long useful life (continual operation two years) and small overall dimensions.The scraper ash discharging mode of A model dust remover reduces the equipment height,improving the ash discharging effect, widely used in grain,metallurgy,building and medicine industries.
(1)Features: Cyclone principle adopted for dust separation and settlement, prolonged service life of filtering bags; quick bag changing device, ease of use.
(2)Application: Dust collection on a dumping pit, a pneumatic conveying system and etc.Widely used for dust separation of dusty gases. Suitable for many industries like food, grain, medicine, building materials, chemical.
(3)Working air-pressure: 0.03-0.08 MPa.
(4)Filtering area (optional): 13.5m2, 19.5m2, 6m2, 29.3m2, 39.2m2, 58.5m2, 78m2, 97.5m2.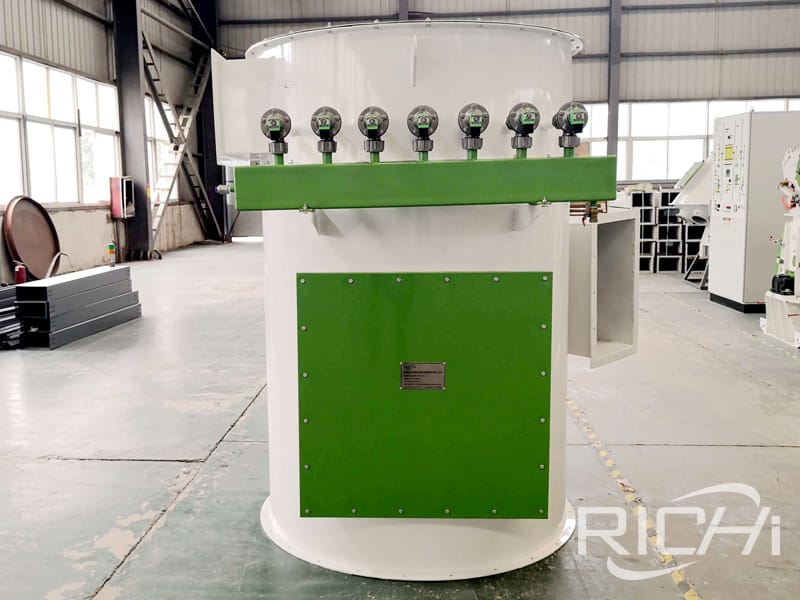 2.The points of dust generation in 10 ton per hour large chicken feed mill workshop
Speaking of dust control equipment above, I have to talk about the dust generation point in the 10t/h chicken poultry feed manufacturing plant.The problem of dust in chicken feed production process is the focus of safe production and environmental protection work in 10tph chicken feed mill processing plants. It is said that chicken feed making plants cause different amounts of dust in different processes, such as material conveying, mixing, crushing, screening, packaging and so on. Now let us learn the points of dust generation in 10t/h full poultry chicken feed mill plant workshop.
(1)Feeding inlet:
Most automatic chicken feed mill plants uses manual feeding to feed raw material into feeding inlet, which is easy to generate a large amount of dust during the process. Therefore, a small vacuum cleaner can be set at each feeding inlet, on the dust cover of feeding inlet. In this way, it can be used as a vacuum for feeding, or as a suction for the base of each feeding elevator, to achieve feeding, dust removal and recycling simultaneously.
(2)Chicken feed grinding machine
If corn grinder machine for chicken feed uses mechanical discharging, we can set up a pulse filter at the opposite end of discharge auger, with functions of dust removal and suction. Be careful to lock air at the exit of the conveyer during installation to prevent air leakage. The poultry chicken feed grinder hammer mill inlet can have a secondary entry to ensure that it has sufficient air volume to pass through the crushing cavity when crushing in different holes, and also solves the problem of clogging of air-lock machine and improves the reliability of the system. This way is also applicable to the process reforming project of current bad suction system of poultry feed hammer mill crusher.
(3)Additives adding
The additives amount is small, so it needs to be added separately in mixer. Due to the fine size of this part of material, it is easy to cause dust although the amount is small. For small chicken feed mills, a dust removal machine can be set up here; for large and medium feed mills, we can set up a vacuum cleaner system or a central dust collection system, which can avoid cross-contamination in the combined wind network, and can make the powder directly return to the chicken feed mixer machine to prevent the loss, thereby effectively ensuring the quality of feed.
(4)Bin group:
The large and medium chicken feed mill factories have various high material bins, causing dust when materials are put into the bins, so the negative pressure facilities should be installed. For a combined bin group, it is impossible to have dust removal point for each bin. The point should be determined according to the location, but it should be connected on the upper part of each bin. The dust removal points collected can collect the dust from each bin through the upper space. Generally, we can set a point in the pre-crushed bin, two points in the batching bin, a point in the pre-pelleting bin, a point in the finished bin, and combine them into their respective dust-removing air network. The suction volume can be determined based on the size of the bin, then equip the appropriate vacuum system.
(5)Bucket elevator:
In the machine knot below 10,000 tons, the suction is generally carried out at the head, namely, at the discharging outlet, to prevent dust. For large and high elevator, suction should be used at feeding inlet and discharging outlet simultaneously, and combined into the air network to reduce its length and reduce the resistance.
(6)Others
In the raw material cleaning, pellet cooler and finished product packaging points, the suction should also be designed according to the demand and combined into the air network.
We know that the dust itself is non-toxic, but when mixing with air to a certain extent, it will cause dust explosion if ignited. Long-term environment with a lot of dust can seriously affect people's health. Dust that falls on the equipment may affect the operation, cause malfunction of the electrical equipment, and cause accidents.
Therefore, effective measures must be taken in chicken feed mill production line to control the dust, including the layout and design of dust removal air network system, the selection of vacuum cleaning equipment, and daily equipment management.
RICHI is a large professional poultry chicken feed mill manufacturer from China devoting in feed processing equipment , integrating the design, manufacturing, installation, mainly produce all sorts of feed pellet machines, crushing machine, mixing machine, lifting machine, cooling machine,etc and the complete turnkey animal poultry chicken feed pellet production line machinery. About more large scale 10t/h poultry chicken feed plant project details, please Email: enquiry@cn-pellet.com, Whatsapp/Cel: +86 185 7410 3366.