How to prepare commercial pellet feeds with 1-70t/h broiler chicken feed production line with ce?
2020-10-27 Back to List
If you are looking for related products or have any other questions, please feel free to contact us.
Contact Us
How to start your own 1-70t/h poultry chicken broiler feed manufacturing line business? Here is an article about 1-70t/h chicken broiler feed production line process design,required machine,factory layout and production cost.Also some chicken feed processing project report for your reference.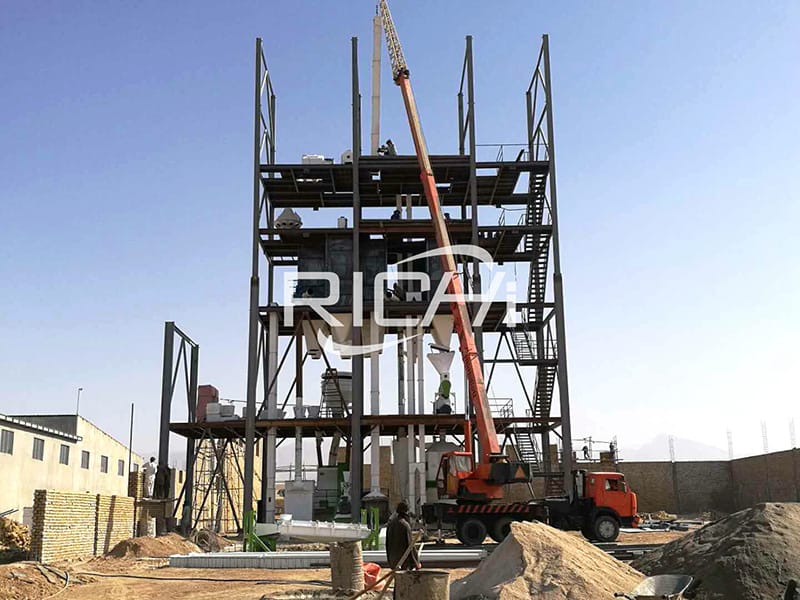 1.Why choose boiler chicken poultry feed making machinery or 1-70t/h complete chicken boiler feed making plant?
Poor feed quality is a growing concern for most poultry farmers. It leads to slow growth, poor meat and egg production, weak chickens that are prone to diseases, death, and ultimately huge losses. As a farmer, starting your own broiler feed production is an effective way of being self-sufficient, reducing your production costs, and maintaining the chicken feed quality that ensures your chicken get all the nutrients needed to produce quality meat and eggs.
You can feed the animal anything you like to make them growing bigger,so why you still need chicken feed making machines?Let's take chicken for example,if you feed them normal grains only or let them to find food themselves,it may take 1 year for them to grow big enough before you can eat them.Such a long time,you may start to love those chicken and do not want to eat them any more.So what we are talking about now is the complete feed,or called formula feed,is to set up a reasonable nutrition proportion in the daily diet to meet the needs of different animals in different growing periods.Also chicken for example,we will need different feeds when we want to table poultry to grow quickly from baby to strong cock in 3-4 months or we want make the hens to lay eggs earlier.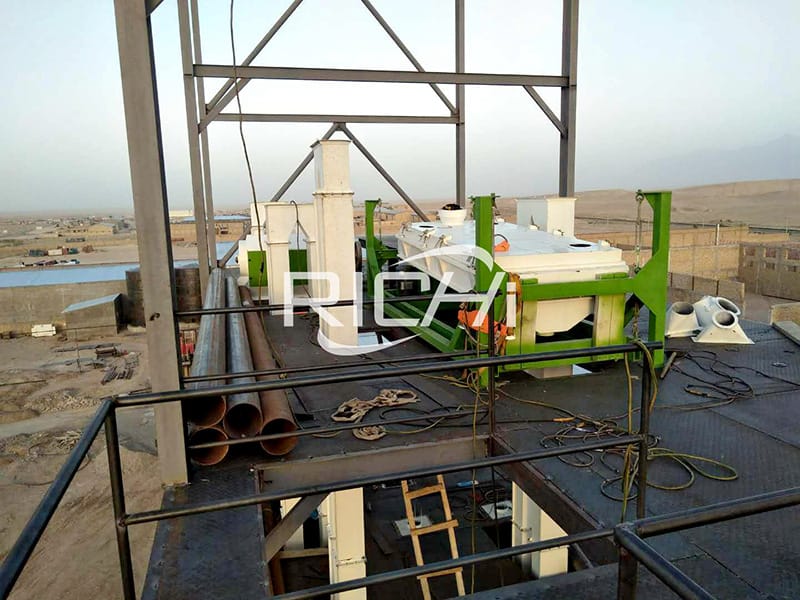 2.Tips For Starting Your Chicken Broiler Feed Pellet Production Line Business
To start your chicken broiler feed production process, you need to know the necessary ingredients required for a broiler feed and the mineral composition of those ingredients. The necessary ingredients for chicken feeds can include a mixture of cereal grains, protein meals, fats and oils, minerals and vitamins. Farmers who grow corn, maize, or wheat in their farms, have an extra advantage because they can avoid Genetically Modified Versions of some of the grains that are available in the market.
It is important for you to consider the age, species, production level and the costs of ingredients before making the feeds. Feeds should have a high nutrition level, and palatable for the chicken to take voluntarily. The presence of aflatoxins and indigestible nutrients can affect chickens negatively.
Broilers have different feeding requirements during different feeding stages compared to other poultry chickens. When broilers are young, their feeds need to be high in protein for the development of feathers, muscles, and bones. As they grow older, their protein requirement reduces and their energy requirement increases.
Therefore, it is important in knowing what nutrients your chickens need at their various stages of development and their feeding rations to improve their productivity. Broiler feeds must have about 22%~24% of Digestible Crude Protein in their diet. Young and finisher broilers require about 67g of feed daily.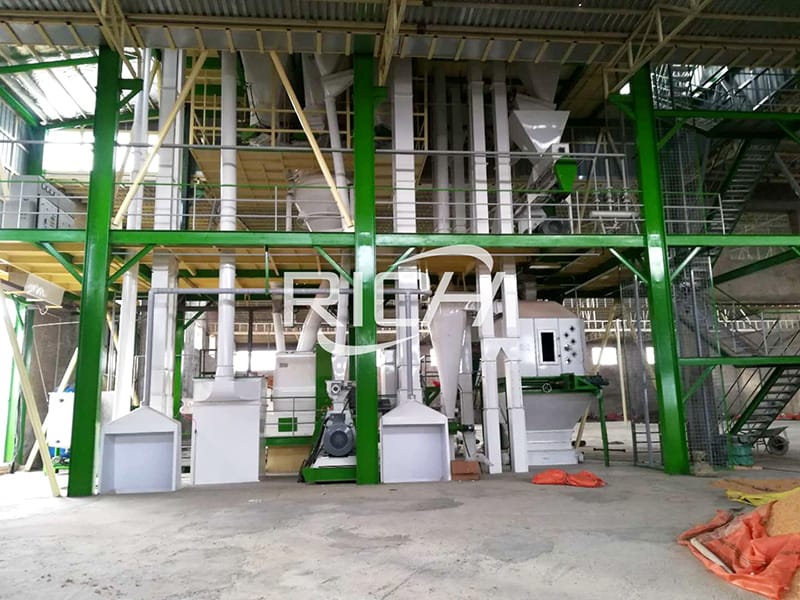 3.Widely used broiler chicken feed making line production process design and factory layout
If you want to make chicken broiler pellet feed, the manufacturing process: Cleaning -- Crushing -- Mixing -- Pelleting -- Cooling -- Packing
(1)Generally,we can divide the raw materials into two parts:one need to be crushed,the other need not.So when we feed material to the broiler feed pellet producing line,we will first separately feed them to different channels: particle materials go through feeding port to the chicken feed grinder crusher,mash materials go through feeding port to the feed mixer directly.Usually,there are impurities in the particle material,so they will first be put into the pre-cleaner to remove the stones,clods and ropes etc. from them,and the go to the permanent magnetic tube to remove the iron part.The Cleaning system will help you to get the clean material and ensure that there's no unexpected impurities to damage the following chicken broiler feed processing equipment.
(2)All cleaned materials will be stored and discharged in the bin for the chicken feed hammer mill.As the poultry chicken feed hammer mill grinder is the key machine of crushing system.
(3)Evenly mix different materials into complete mash feed.All materials are mixed together in the feed mixer.Usually the volume of the bin for chicken feed mixer,chicken powder feed mixing machine and the buffer bin are all the same to ensure the animal poultry chicken food mixer can work continuously batch after batch.Please note that the you must make sure the materials every batch in the mixer are accurate to your formula(so you have to weigh the material every batch before feed them to the feeding port.).If it is OK for your budget,you can change for automatic poultry chicken feed producing line to let the computers do this.Chiken broiler premix feed are delivered into the chicken feed mixing machine directly because of the small quantity and accurate requirement.
(4)For chicken broiler pellet feed,the chicken mash feed will go to the following chicken broiler feed pellet making machine.
(5)Poultry chicken feed pellet mill will form the mash feed into boiler pellet feed.Usually we use ce verified ring die chicken feed pellet milling machine for customized poultry chicken feed mill plant,by changing different ring dies of the poultry granule feed pellet mill machine we can make pellets of different sizes for different animals.
(6)As we have add steam to the ce approved poultry chicken feed compress pellet making machine,the pellet out from the poultry chicken pellet mill will be about 80℃,moisture 15%-16%,not suitable to pack,so we need to cool them.
(7)Fan,cyclone,airlock and necessary pipes form a system to provide airflow for the counter-flow cooler,chicken broiler pellet feed will be cooled in the cooler and discharged. After cooling,the temperature of the pellet will be about 2-3℃ above the room temperature and with 13% moisture more or less.Usually we will add crumble under the chicken pellet cooler.If we are to make small pellet for baby chicken broiler,directly making it from the chicken granule feed pellet mill machine will reduce the capacity of the whole chicken poultry feed processing plant and cost more energy,we can first make bigger pellet and then send it to crumble to make it smaller.
About poultry chicken broiler animal feed pellet making plant factory layout,we can provide 1-70t/h customized poultry chicken feed line services.Every customer's poultry feeding plant design is different.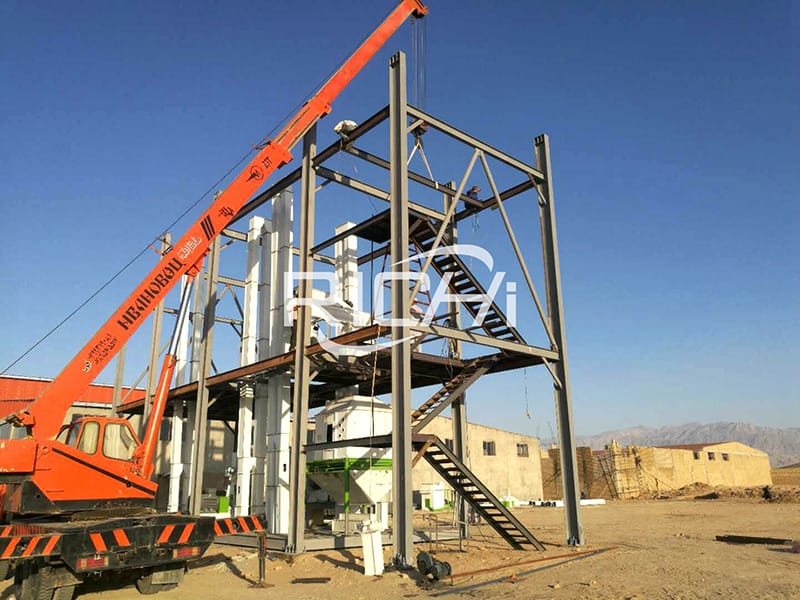 4.1-70 Ton per hour customized poultry chicken feed manufacturing plant cost
Factory Price of 1-70tph poultry chicken feed pellet processing line plant is between 30000USD-5000000USD.
Capacity:1-70 TPH per line.
Final Product: Pellet or Powder feed(broiler,layer,chicken and duck,etc).
Pellet Size:powder,2.0-6.0 mm.
Dosing System:Manual or Automatic.
Bagging System: Manual or Automatic.
According to customer different poultry feed types, different output configuration can be customized. We devote ourselves to undertaking all poultry feed production line 1-20T/H and to providing more value added service to all the customers.
(1)Determine the scale of poultry feed mill plant.
(2)Determine the feed process and recommend poultry chicken feed processing machine.
(3)Control mode selection.
(4)Poultry boiler feed pellet manufacturing plant structure selection.
(5)Planning the general drawing of poultry chicken feed pellet making plant site.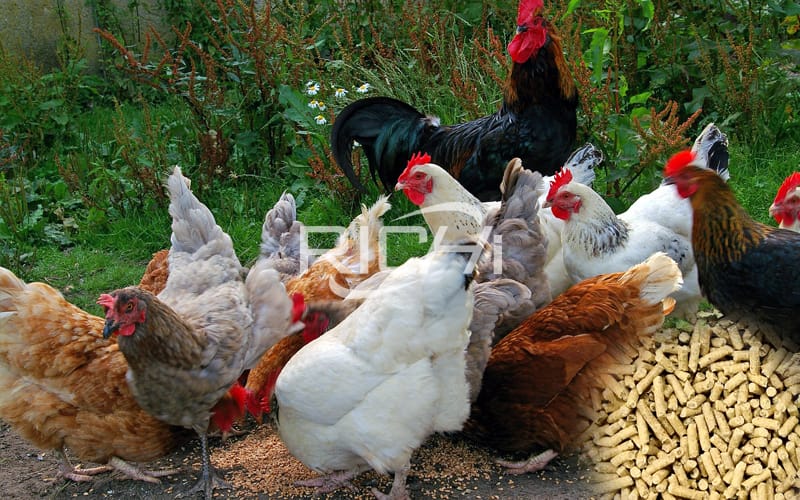 5.Why Feed Your Broilers With Pellet Feed?
Broilers fed with feed pellets gain weight faster than those which feed on mash and also have improved digestibility of amino acids. Pelletized feeds have gelatinized starch that are durable and amino acids that are have been denatured to increase digestibility and feed conversion. Using this process is the best for processing the feeds for your broilers.
6.Balance Between Macronutrients And Micronutrients In Broiler Feed Production
But how do you strike a balance between macronutrients and micronutrients in your broiler feed? Farmers use the Pearson Square Method to get the theoretical considerations that your feeds need to have to be nutritionally valuable to your broilers. You can set aside a group of broilers for trial purposes. This is better than going all in on your flock without knowing how the broilers will respond to your recipe. If you like the results, you can choose to start an animal poultry feed plant production line for broiler feed making business.
7.Choose suitable broiler feed pellet machine for 1-70t/h broiler chicken feed production line with ce
Choose Suitable Broiler Feed Making Machine is the most important thing for starting your own chicken feed production business.You will need a commercial, heavy-duty chicken pellet milling machine to mill the grains, and a poultry chicken feed pellet plant to process the broiler feeds in bulk. You will also need a storage facility for the bags of grains and a storage for the broiler feeds. You should also think about transportation costs, permits, and getting the necessary regulation approved for your business and your products. Of course, if you want to build an easy to use small poultry chicken broiler feed pellet plant to meet your needs, you even only need a small poultry granule feed pellet mill machine.(You maybe also interested in organic fertilizer pellet machine machine for processing chicken manure >> )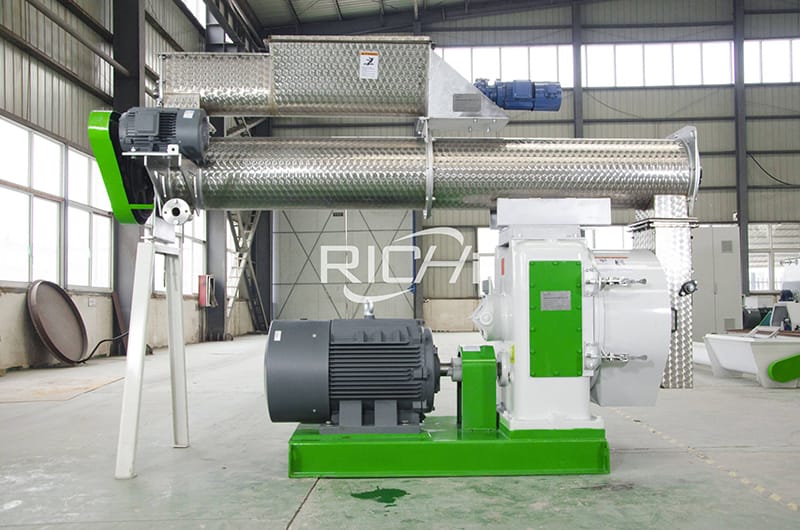 8.Some Tips For Making Animal Poultry Livestock Ruminant Feed
(1)Dust in the workshop may course serious accident,so when it is OK with your budget,do not ignore the dust collecting equipment.
(2)It is better for you not to produce poultry feed and cattle feed in one animal feed pellet production making line,that may course diseases of the animals;If you are to do so,do remember to clean all the machines before you change the formula.
(3)Normally,pig feed and poultry feed and other animal feed can share one feed pelletizing production line(not including floating fish feed but sinking fish feed is OK),cattle feed should not be done at the same line.
(4)When you make your business plan in feed industry,you must first get the formula you need.This will also help me to design the technical process of the animal poultry chicken feed production line accurately for you.
9.Why choose Richi Machiney 1-70tph poultry chicken broiler feed processing line machine?
(1)Richi Machienry is a capable poultry chicken feed making machine manufacturer and supplier, which has engaged in feed machinery for more than 20 years and thus has rich experience on animal feed machinery after repeated attempts and trials.
(2)All key equipment like motor, reducer and bearing parts are equipped from first-class brand.To ensure the refined products,RICHI production all use CNC laser cutting, CNC bending presses,flaming cutting machine, CNC machining center, NC shearing machine, sand blasting and baking varnish equipment.
(3)RICHI has a professional installation team with skilled training. All after-sales engineers stand by 24 hours, who will respond immediately for customers' requirements.
(4)RICHI establishes two new products test base. All new products have to go through over-loaded production to ensure 100% qualified quality before launching to the market.
10.Main machinery for poultry chicken feeds production projects
(1)Afghanistan 10T/H chicken poultry feed manufacturing plant for boiler feed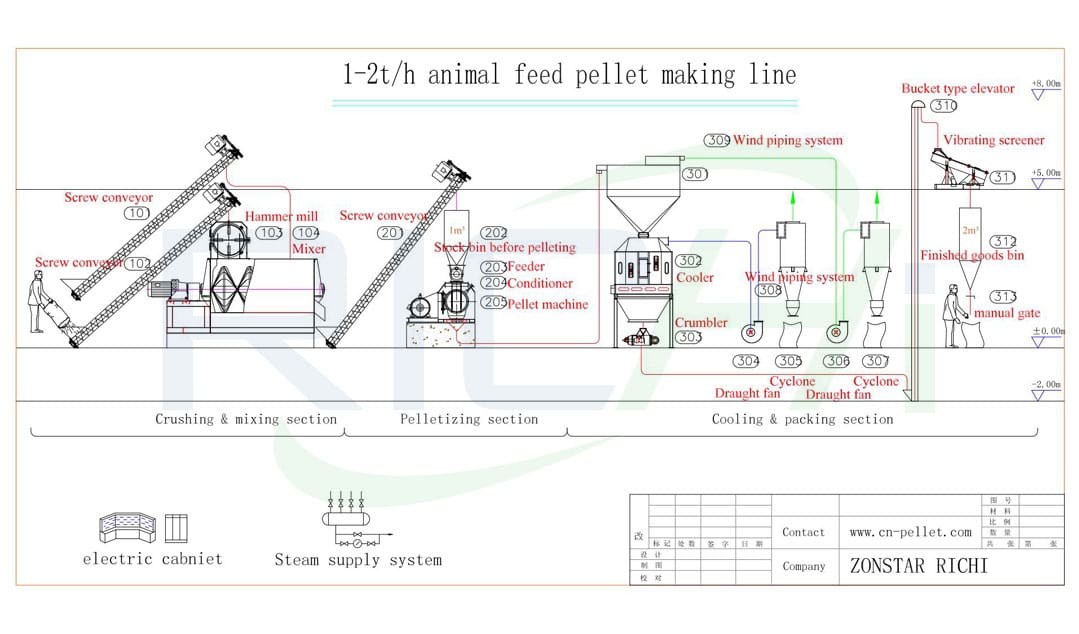 Main Machines:poultry feed grinder*110KW,Batching Scale*1000KG/Batch,chicken feed mixer*1000KG/Batch,poultry chicken feed pelleting machine*110KW,Cooling Machine*SKLN20*20,Pellet Crumbler*SSLG15*150,Screen and Packing Machine,Other Auxiliary Equipment.
Main Raw material:Corn, wheat,Soybean Meal, and other Grain.
Pellet Size2-6mm chicken feed pellet
The install period:40 Days
(2)Uzbekistan 15 tons per hour automatic chicken animal feed pellet making plant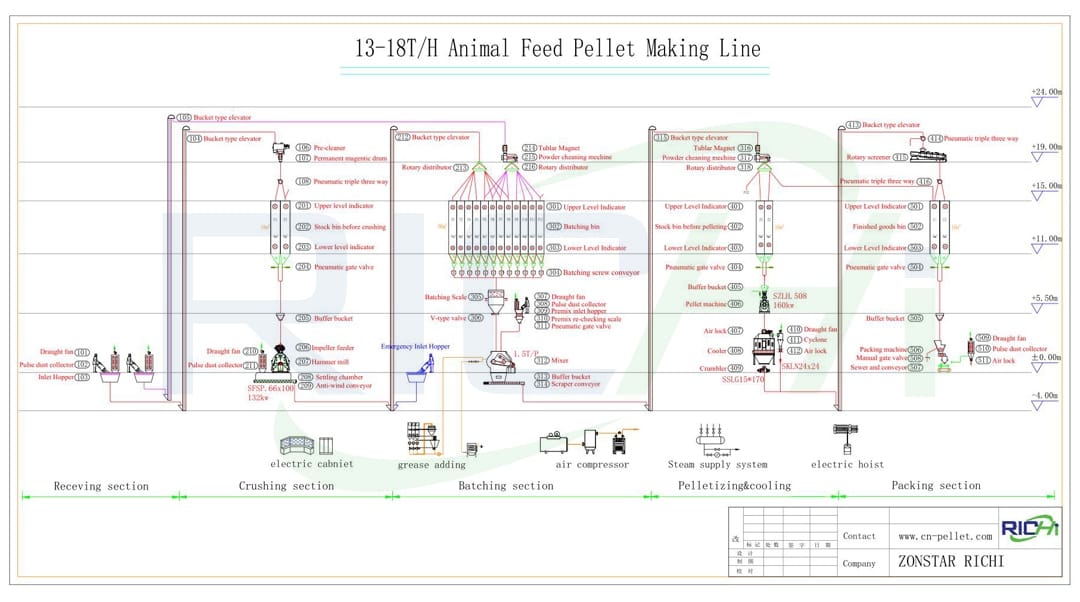 Main Machines :electric corn animal feed grinder for chicken feed*110kw,Batching Scale *1000kg/batch,poultry feed mixer*1000kg/batch,chicken feed pellet making machine*110KW,Cooling Machine*SKLN20*20,Crumbler Machine*SSLG15*150,Vibrating Sereen ,Packing System and other auxiliary equipment.
Main Raw material:Corn, wheat,Soybean Meal, and other Grain.
Pellet Size:2-6mm chicken feed pellet
The install period:60 Days
(3)Ethiopia 5-6T/H China supply poultry chicken broiler animal feed pellet making plant
Main Machine:poultry feed grinder with CE*37KW, broiler poultry feed mixer used in factoryr*500kg/batch and other auxiliary equipment.
Main Raw material:Corn, wheat,Soybean Meal, and other Grain.
Pellet Size:powder feed
The install period:30 Days
(4)Kenya 5T/H poultry feedstuff powder feed processing unit line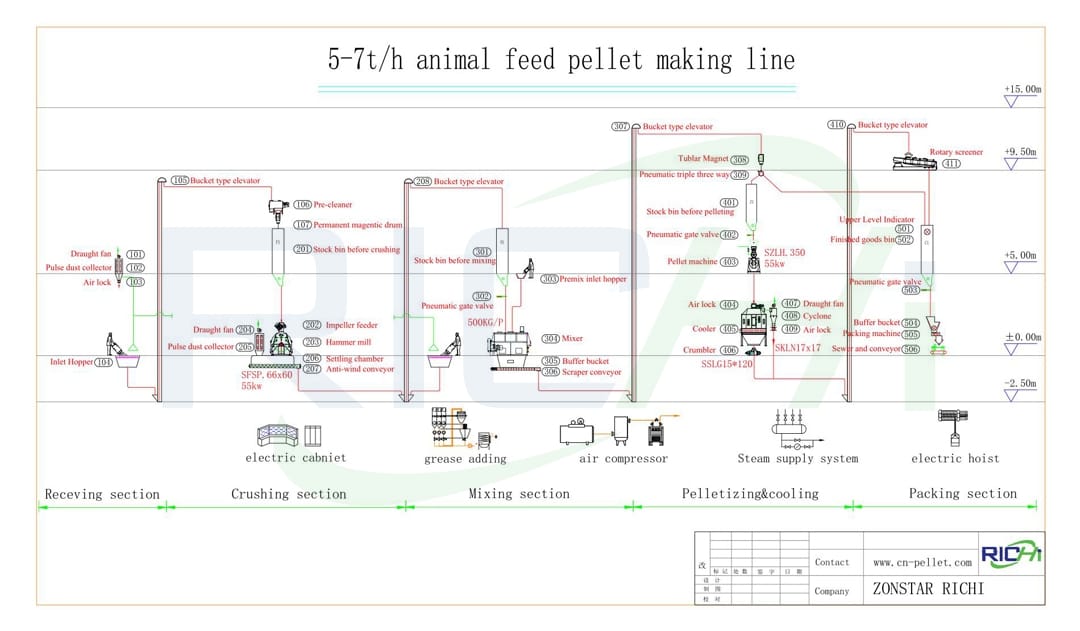 Main Machine: animal chicken feed hammer mill grinder*37 kw, Chicken feed mixer mill*1000kg/batch, cooling machine*1.5kw, screen machine*1.5kw, auto packing machine and other subsidiary equipment.
Main Raw material:Corn
Pellet Size:powder feed
The install period:30 Days
(5)Zimbabwe 3-5T/H automatic chicken feed manufacturing line
Main Machine: small poultry feed grinder mill*37kw, feed mixer for poultry feed*500kg/batch, poultry feed compress pellet making machine*37kw, pellet cooling machine*1.5kw, pellet crumbler machine*5.5kw, screen machine*1.5kw, coal-fired boiler and other subsidiary equipment.
Main Raw materia:lCorn, wheat, and other Grain.
Pellet Size:1-2mm small baby chicken feed, 3mm,4mm,6mm chicken feed
The install period:30 Days