China Supply Widely Used 1-100TPH Cattle Feed Pellet Manufacturing Plant (making feed for cattle)
2020-10-27 Back to List
If you are looking for related products or have any other questions, please feel free to contact us.
Contact Us
If you want to invest in a 1-100 ton per hour cattle feed mill plant, do you have this question: "how to start cattle feed business","how to make cattle feed formula","how to make my own cattle feed","cattle feed process flow chart","what do you need to make cattle feed business","cattle feed plant project cost","what is needed for production of cattle feed","machine for making feed for chicken or cattle how it is done"," how to make cattle feed from maize cain","raw material for cattle feed plant", etc. Today we will focus on how to make pellet feed for cattle.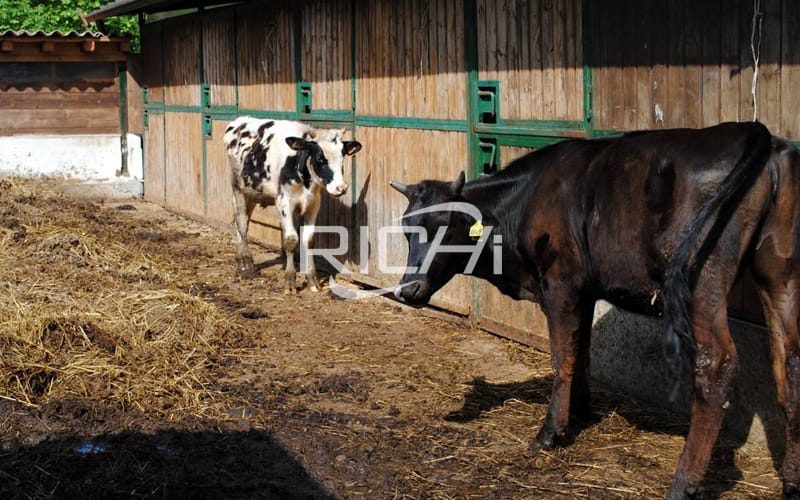 1.Customizable 1-100TPH Cattle Feed Pellet Manufacturing Plant
According to customer different feed types, different output configuration can be customized. We devote ourselves to undertaking all cattle feed production line 1-100T/H and to providing more value added service to all the customers.
Capacity:1-100 TPH per line.
Final Product: Cattle Cow Pellet feed.
Pellet Size:2.0-12.0mm.
Dosing System:Manual or Automatic.
Bagging System: Manual or Automatic.
(1)Determine the scale of cattle feed processing line plant.
(2)Determine the cattle feed production process and recommend cattle feeding plant machine.
(3)Control mode selection.
(4)Cattle feed manufacturing plant structure selection.
(5)Planning the general drawing of customized cattle cow feed pellet making plant site.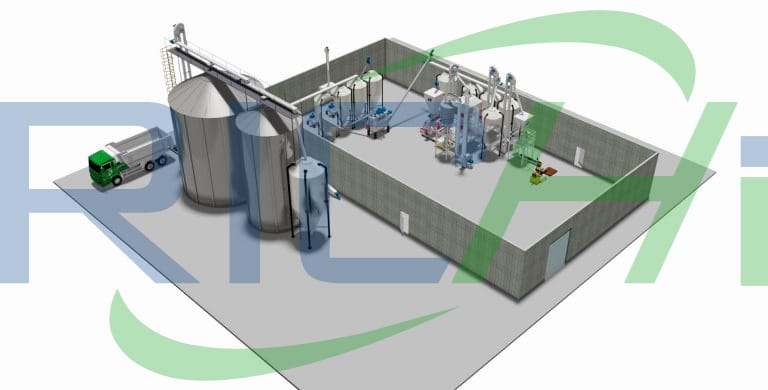 2.1-100TPH cattle cow feed pellet making plant prodction process and machine for cattle feed
(1)1-100TPH Complete ruminant cattle cow feed pellet line manufacturing process:
Raw Material-Cleaning-Grinding-Batching-Mixing-Liquid Adding & Coating-Pelleting-Cooling-Screening -Packaging-Feed
①crushing process
The task of this section is to crush the clean materials we got in the last section into powder(less than 3mm),and then deliver the powder to the next section.
②mixing process
The task of this section is:
A. evenly mix different materials into complete powder feed.
B. According to the certain operation order between the bin for the cattle feed mixer, the mixer and the buffer bin,to ensure the continuous operation.
③ pelletizing process
The task of this section is to pelletize the powder feed to required sizes.
④Cooling Process
After the pelletizing process,the temperature of the feed pellet is about 60/80 degrees Celsius,with a moisture content of about 15%.A Cooler must then be used to reduce the moisture content of the pellets to about 3/4%,thereby making the pellets easier to store.
⑤Sieving Process
It is for screening and classifying of mash or pellet feed.
⑥ Packing Process
Independent packaging system, manual packing ,optional automatic packing like following, high precision.10-50KG/bag, 800-1000kg per bag.
⑦Electrical Control System
All machines can be interlocked and safety, alarm device is available.The operation is simple and convenient.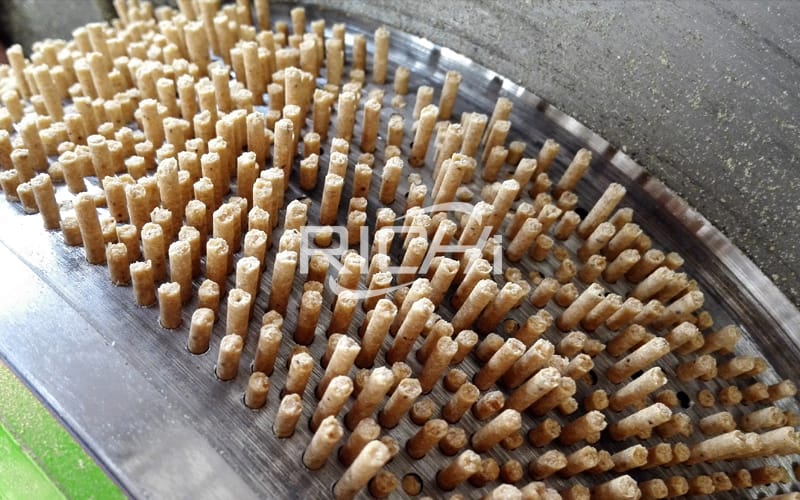 (2)What machine is needed for 1-100tph pellet production of cattle feed?
①cattle feed hammer mill grinder machine
②Cattle Cow Feed Mixing Machine
③CE ISO approved ring die cattle feed pellet making machine
(3)1-100 Ton per hour cattle feed pellet production line flow chart
(Just a simple example, because the cattle feed producing line is customized)
(4)1-100TPH cattle feed processing plant project cost
China factory price of 1-100tph cattle cow feed manufacturing plant is between 30000USD-7000000USD.
3.Nutritional Supplement in 1-100TPH Cattle Cow Feed Pellet Manufacturing Process
In the 1-100t/h animal cattle feed line manufacturing process, nutritional supplement refer to the content that constitutes less than 1% of the feed. These nutritional addictives need to be separated when weighing trace elements that compared to the raw fodder materials added in a lesser quantity. Some of the trace elements include drugs, vitamins, attractants, amino acids and anti-mould preservatives. What do you know about nutrition additives when runing a cattle feed manufacturing plant?
The characteristics of the nutritional supplement in both small scale and large scale cattle feed manufacturing plant tend to vary in a number of ways including in price, physiological efficiency, biological activity, and dosage among others. What is important is to note is that these differences in characteristics immensely influences both the health of the feed production personnel and cattle animals growth. Additionally, a little bit of nutritional addictives would complete the whole recipe and that is crucial in the process of feed processing.

(1)Tips Of Cattle Feed Nutritional Supplement Selection
Having learnt that the nutritional supplement can have an impact on the overall health of the cattle and the production personnel, here are few precautions to be observed.
①To avoid chemical reactions, vitamins should not be combined with pharmaceuticals and minerals. There should not be mixing of Choline chloride with pharmaceuticals or vitamins.
②The small bag always contains a higher amount of raw materials. That is for the reason that there is always partial uncleanliness, only 5 grams allowed. In the end the cattle feed is denser making it easy to pour out.
③The final cattle feed ingredients should constitute a large number of materials that are not easily susceptible to humidity and thus spoil easily. The materials include minerals, vitamins and pharmaceuticals.
④Consider a number of problems including the present order and easy operation. The amount of each batch ideally should be less than 100g of raw materials, as the reserved small material of the formula is for 2 decimal places.10 grams is the minimum electronic scale reading.
⑤To be able to increase weighing accuracy and also to reduce cross contamination can be achieved by way of making a specific component for a batching scale.
(2)The Adding Sequence Of Cattle Feed Nutritional Supplement
There are 2 kinds of materials which must be separated and made up and then lastly combined. The order must be observed as illustrated below, that is "a" into "b" and not vice versa.
①SaIt, vitamins, sweeteners, acids, sulfadiazine, mycobacterium sulfuric acid, preservatives, whey, white sugar and so on.
②Mineral, aureomycin, copper, Zinc Oxide, lysine, fat powder, wheat bran and so on.
In 1-100t/h cattle feed pellet making plant production process, environmental associated problems are unavoidable in the workshop in the process of adding, most commonly produces dust. That is because the nutritional additives generally have fine grain size and also low water content.
Because of the dust produced and the caused environmental problems, it is thus important that 1-100t/h cattle cows feed pellet production line must be well equipped with appropriate air cleaning network and necessary effective measures. Additionally, the equipment that comes into contact with the feed nutritional supplement must be made of stainless steel to reduce the effects of their corrosive nature. Sealing should also be implemented at the same time.