How to choose suitable pellet machine for 10t/h cattle & poultry chicken feed processing plant?
2020-10-28 Back to List
If you are looking for related products or have any other questions, please feel free to contact us.
Contact Us
1.10TPH China best feed pellet machines for chicken and cattles feed
Richi Machinery is a reliable and professional animal feed pellet making machine set manufacturer in China. We can offer small size and large scale cattle&poultry feed pellet making machines with the capacity ranging from 80kg/h to 18t/h depending on the demand.
Many different models of feed machines for making cattle and poultry feed pellets exist in the market today. They are grouped based on the source of power they use to operate. The main power source used is electricity feed pellet milling machines.Today we will talk about "How to choose suitable pellet machine for 10t/h combined cattle & poultry chicken feed processing plant?"
2.10 Ton per hour feed pellet processing machines for 10tph poultry chicken and cattle feed plant
Suitable pellet machine for 10t/h combined cattle & poultry chicken feed processing plant is a ring die type 10t/h pellet producing machine.Most 10t/h poultry chicken cattle feed pellet makers are electric ring die annimal feed processing machine. lt is convenient and has strong adaptability. Moreover, the 10 ton per hour feed pellet mill machine is simple to operate with low energy consumption. The machine has a high output rate suitable for the production of both cattle and poultry feed pellets.
Our feed processing machines run smoothly producing low noise. And they can process different materials including wheat bran, corn, beans, and rice. Besides, our pellet processing machines are also suitable for processing chicken manure organic fertilizers and cattle cow manure organic fertilizers.
(1)10T/H poultry cattle feed processing pellet machine with single-layer conditioner for sale
Model:SZLH420
Capacity(TPH):8-12
Main Motor Power(kw):110
Conditioner Power(kw):7.5
Final Pellet(mm):2-12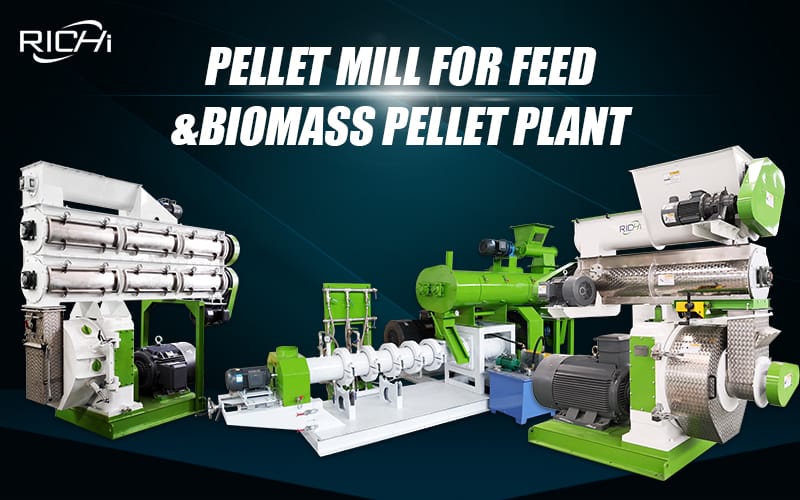 (2)10T/H High quality ce ring die chicken cattle animal feed pellet machine with double-layer conditioner
Model:SZLH420
Capacity(TPH):8-12
Main Motor Power(kw):110
Conditioner Power(kw):15
Final Pellet(mm):2-12
(3)10 Ton Per Hour Hot Sale Cattle and Poultry Feed Ring Die Pellet Mill With Triple-layer Conditioner
Model:SZLH420
Capacity(TPH):8-12
Main Motor Power(kw):110
Conditioner Power(kw):22.5
Final Pellet(mm):2-12
3.Benefits Of 10T/H Cattle & Poultry Feed Machine In 10T/H Combined Cattle & Poultry Chicken Feed Manufacturing Plant
(1)Improvement of pelleting room and drive system enhance the balance,output raised 10-15%.Meanwhile,enhance cut level up,especially improve position,solve beautiful pelleting in small bore.If two lines of 508 annual output is 180,000 tons feed, one year in the same power consumption,two lines will produce more than 18,000-27,000tons feed. If one ton feed production need 20 kilowatt-hours, the whole year will save electric bill 18,000-27,000 tons×20kwh×0.5RMB/kwh≈180,000-270,000RMB.
(2)Conditioning time increased to 35 seconds,improve the curing degree greatly.
(3)In order to redouble useful life of poultry cattle chicken feed pellet mill making machine case,RICHI pelletizer of ring die to making animal feed cases adopt the same materials as diesel body, the useful life is improved more than one time.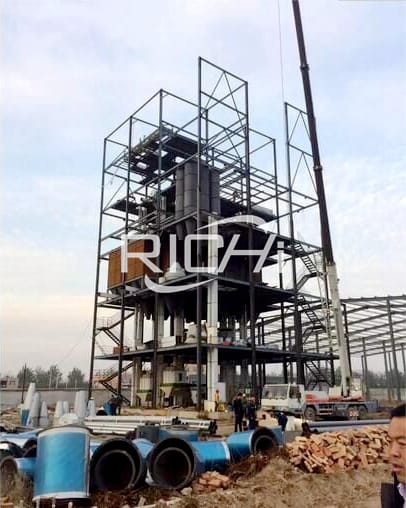 4.Factory price of machine for making cow feed and poultry feed
How much is a milling machine for chickens feeds?This is definitely a problem that every customer cares about.Cost of 10t/h pellet machine 110kw for processing chicken cattle feed is between 30000USD-35000USD.
5.10TPH compound animal poultry &cattle feed processing plant machinery and equipment producing pellets
If you are planning to starting a 10t/h complete combined feed mill factory, what are the requirements to start up a poultry cattle feed production?The following is a 10t/h poultry chicken cattle feed making manfacturing plant design.
(1)The step to take in setting your own poultry chicken cattle feed pellet making plant is to have silos that will be used for raw material storage.
(2)The next step is to have a top-notch receiving material system.
(3)Next on the list is to have your first batching system.
Main feed machine in this section:batching scale
(4)Go ahead to install your crushing device.
Main feed machine in this section:cattle poultry feed grinder machine with CE
(5)At this juncture, you will have to introduce your second batching.The mixing system should be added at this point.
Main feed machine in this section:Horizontal Cattle Poultry Feed Mixing Machine With CE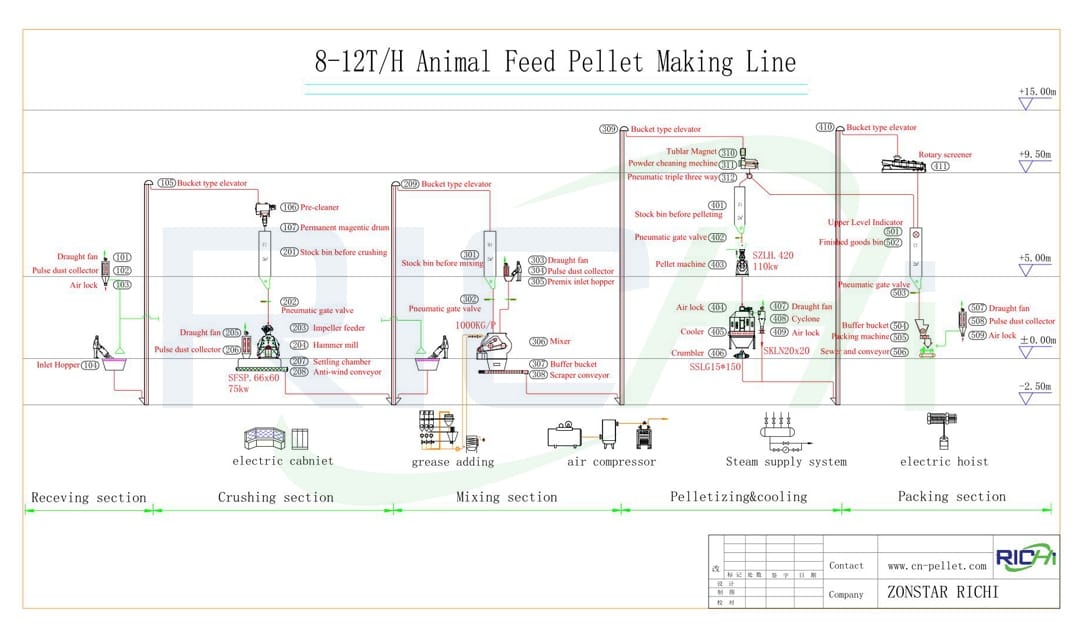 (6)The pelletizing system can come in after the mixer is installed.
Main feed machine in this section:best price cattle chicken feed pellet machine with ce
(7)The cooling system is the next step to help cool your crushed materials.
Main feed machine in this section:Pellet Cooler
(8)The bagging or packaging device remains the last step to take in designing your own animal feed pellet machine.
Main feed machine in this section:Fully automatic packing machine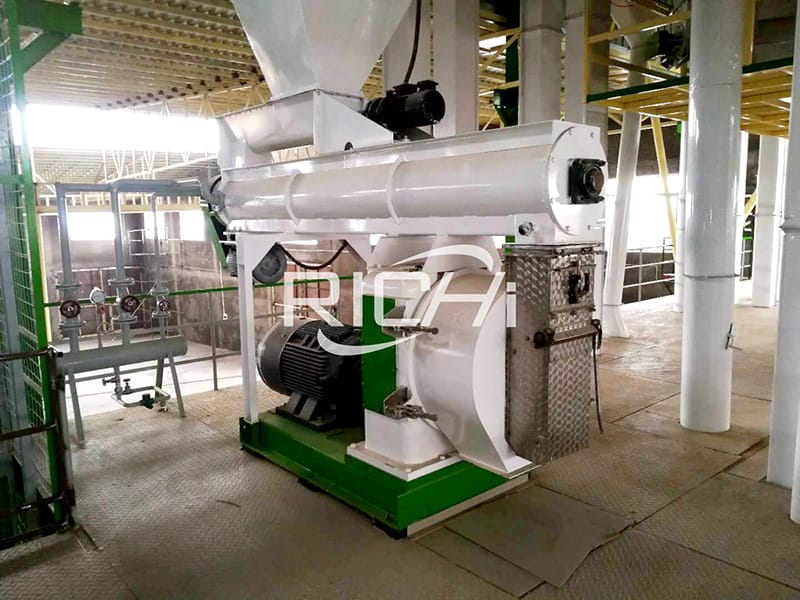 6.Cost of new design 10 ton per hour combined cattle and poultry chicken feed processing line
China factory price of customized 10 ton per hour cattle chicken poultry feed plant costing plant capacity of 10ton per hour is usually between 200000USD-1000000USD.
7.Buy Cattle Cow and Poultry Chicken Feed Machinery From Richi Machinery
Richi Machinery uses premium high quality materials as well as shift drive equipment. We design most of our feed pellet machine using high quality alloy steel making the machines strong and durable thus increasing their lifespan, estimation stands at 5 to 7 times. Our multi-purpose animal feed manufacturing machines are cost-effective, consumes low power, and produces little noise to the surrounding. They also have high capacity and a lower failure rate working continuously. Inquiry now to get the latest price list of our cheap price poultry cattle feed processing equipment.
8.Tips for starting you combined poultry cattle feed poduction line
(1)It is better for you not to produce poultry feed and cattle feed in one feed production line,that may course diseases of the animals;If you are to do so,do remember to clean all the machines before you change the formula.
(2)Normally,pig feed and poultry feed and other animal feed can share one feed production line(not including floating fish feed but sinking fish feed is OK),cattle feed should not be done at the same line.
(3)When you make your business plan in feed industry,you must first get the formula you need.This will also help me to design the technical process of the feed production line accurately for you.
Recruiting Agents Worldwide
We have been vigorously setting up cooperation relations with more agents and dealers. We sincerely call for more clients and friends to establish the marketing strategic partnership with us.
As one of the top feed machinery suppliers in China, we will further support our partners with more professional and skilled personnel. We can assign excellent personnel to give technical assistance and coordinate negotiations when agents encountered difficulties during negotiating large and medium sized project. Apart from the above, our agents will enjoy annually free-of-charge personnel trainings on product knowledge and on sales in a bid to help the agents foster a most ambitious and competitive work team. Despite the different areas and time zones between you and Richi Machinery, we will keep same zone-distance contacts with you and offer timely services. All prospective clients and friends embracing the same dream and expectations are cordially welcome to join us. Both your support for and trust upon Richi Machinery are appreciated indeed.
If you are determined to join Richi Machinery, don't hesitate to send us a message below! Let's have further discussion agent business.