How to process animal feed pellet and wood pellet by good quality pellet making machine?
2020-08-26 Back to List
If you are looking for related products or have any other questions, please feel free to contact us.
Contact Us
Animal feed pellets and biomass wood pellets are all pellets, and both need a pellet making machine, and the principle of feed pelletizer and wood pelletizer is the same, even in the eyes of many people, their appearance is similar. In fact, this is the case, their appearance is similar, but because the raw material properties of feed and biomass pellets are very different, there are big differences in feeders, materials, parameters, etc.So how to process animal feed pellet and wood pellet by good quality pellet milling machine?
The raw materials of feed can be eaten directly by the animals, but the effect is not better than the feed pellets. The biomass wood pellets are usually used as fuels, they can be used in the household fireplace, furnace and other places. The raw materials include wood, chips, sawdust, seed powders, grass,peanut shells, stalks, rice husk , household waste and so on. Although they are for different usages, their processing steps are the same.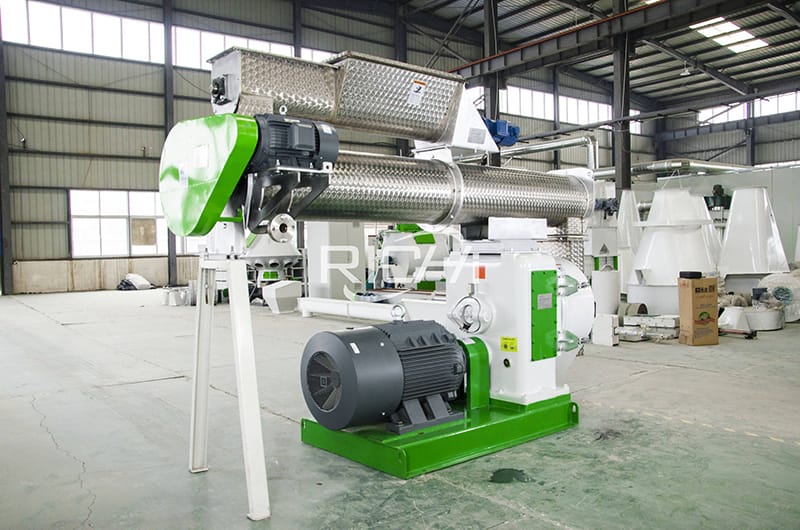 1.Processing steps of the animal pellets and biomass pellets
(1)The raw materials are processed into the proper size and the moisture content of the raw materials should be also also proper, then the pellets quality can be guaranteed.
(2)After preparing the raw materials, you can start to produce pellets. The main parts of the pellet mill, die and roller will work together and press the raw materials into rods, then the cutter will cut them into pellets with certain length.
(3)The pellets being produced have high temperature, so you need to cool them by the cooling machine or by the natural cooling method until the pellets temperature gets to the environment temperature. Then they are molded and you can use them.
2. Pellet making machine for feed and biomass processing
The pellet milling machines of Richi Machinery can be times separated into large pellet milling equipment and small pellet making equipment.
(1)The large pellet mill is also called ring die pellet mill machine, from its name, we can know that it is suitable for the large scale pellet production. Large pellet milling machine is often used in the large pellet mill production line matched with other auxiliary machines like hammer mill grinder, drying machine,pellet cooling machine and packing machine, etc. It is convenient for the producers and brings large profits to the users.
(2)The small pellet making machine is also called small flat die pellet mill, it is suitable for the small pellet production processing plant. Small flat die pellet machine with good quality is usually used in the farm, family and so on. It is easy to operate and it can totally meet customer's requirements.

3.Advantages of the animal pellets and biomass wood pellets
(1)Animal pellets:
They are easy to be digested by the animals and once the animals eat the pellet feeds, they will grow healthily.
The cost to make animal pellets are low, for the raw materials are normal and they are easy to be processed into pellets.
Animal pellets take less space than the raw materials and they are easier to be stored than the raw materials.
(2)Biomass pellets:
Biomass pellets belong to a kind of clean energy, so they are environmental.
Biomass pellets can be the substitute of traditional fuels and they are renewable.
Biomass pellets are easy to transport and store.
So you will make a huge profit and our pellet mills will bring you more, you will make a huge profit and our pellet mills will bring you more convenience.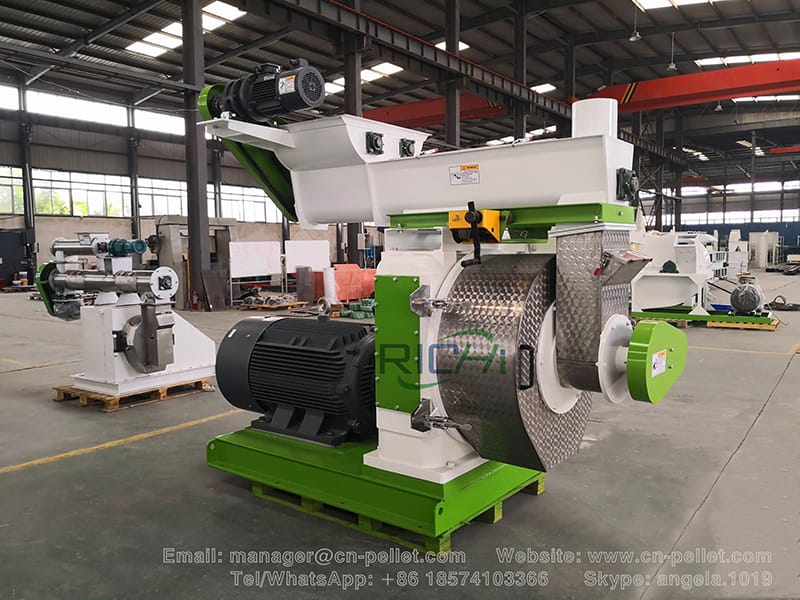 【Read More】
1.animal feed pellet mill making machine models:
1-2 ton per hour animal feed pellet mill
3-4t/h animal granule feed pellet mill machine
5-7t/h China supplier animal pellet mill
8-12t/h ring die animal poultry rabbit aqua fish shrimp feed pellet mill
10-18t/h ring die animal livestock horse goat duck dog cow prawn pig feed pellet mill
15-25t/h China supplier poultry farming feed pellet mill
20-30t/h China hot selling CE certificate animal feed pellet mill
25-40t/h with longlife guarantee pellet mills for animal feed production
28-45t/h China factory price animal food for making pellet mill
2.ce certificated ring die biomass wood pellet mill machine series:
MZLH320 wood pellet mill making machine(capacity:300-400kg/h)
MZLH350 hot selling ce wood pellet mills(capacity:500-700kg/h)
hot selling 110kw 1 ton per hour biomass wood pellet mill machine(1.0-1.2 t/h)
MZLH520 hot selling good quality wood pellet mill sawdust pellet machine(2.0-2.5 t/h)
MZLH768 factory supply competitive prife biomass wood pellet mill(2.5-4 t/h)
MZLH858 wood pellet mill to make wood pellets(3.0-4.5 t/h)