Brief Introduction
Materials such as grass, alfalfa, hemp and hops are lighter, RICHI grass/alfalfa/hemp/hops pellet machine series have added a forced feeding device to improve granulation efficiency and capacity.
Application of Alfalfa/Hemp/Hops Pellet Machine
Henan Richi Machinery grass/alfalfa/hemp/hops pellet machine is mainly suitable for the production of cattle feed, sheep feed with grass, hay, alfalfa, or the other husk material pellets.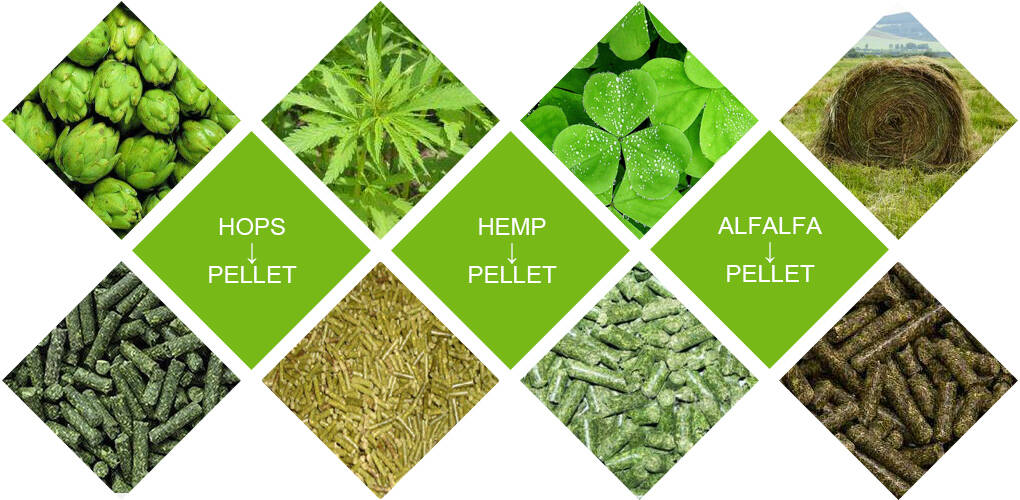 Accessories
Ensure that the equipment uses high quality ring dies and press rolls, and all pellet mill machine uses Siemens motors and SKF bearings.
SIEMENS
Motor
SKF
Bearing
Pellet Machine
Ring Die
Pellet Machine
Ring Die
Equipment In RICHI Workshop
Hemp Pellet Machine
Alfalfa Pellet Machine
Spiral Conditioner
Press Roller
Application
Our products are usually used in conjunction with other equipment in the production line and have a wide range of applications. The following are common pellet production lines for reference only. If you have different requirements, please contact us for customization.