SZLH 420 Poultry Feed Ring Die Compress Poultry Mash Feed Mill Machinery With Manufacturer Price
2020-08-03 Back to List
If you are looking for related products or have any other questions, please feel free to contact us.
Contact Us
SZLH 420 Poultry Feed Ring Die Compress Poultry Mash Feed Mill Machinery With Manufacturer Price.You may think this is a very long sentence, but this is indeed a sentence that when customers looking for SZLH 420 Poultry Mash Feed Mill Machinery. From this sentence, you can see several customer needs:
(1) The customer needs pellet mill machine model SZLH 420;
(2) What customers need is a ring die pellet machine, not a flat die pellet mill;
(3) The customer's output should be 8-12 tons/hour, and the customer should have the szlh 420 pellet mill production line;
(4) Customers are looking for granulator manufacturers, not middlemen such as foreign trade companies, because customers need "Manufacturer Price";
It can be seen from the above that the customer needs a High Quality SZLH 420 Ring Die Poultry Feed Pellet Mill Machine for the poultry feed production line. Today we will focus on this model of Animal Mash Feed Pellet Machine.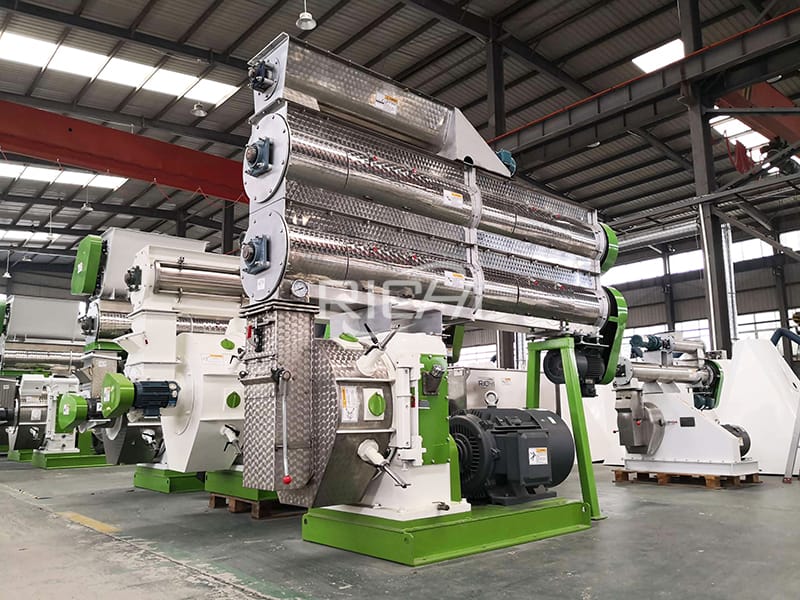 1、SZLH 420 Ring Die Compress Poultry Mash Feed Pellet Machine
Pellet mill permits to transform a meal, fibre or small granules product or mixture into pellet.The product forced by the rollers through the holes of the die, comes out in the form of small cylinders.The updated model szlh 420 pellet mill, production is increased by 15% compared with the original 420 poultry feed pellet production line, and transmission efficiency is up to 97%, reducing the power consumption.
(1)Adopt gear main drive, with higher transmission efficiency.
(2)New model 420 poultry mash feed pellet machine produces feed with good appearance and same length, increasing the breeding benefit.
(3)Humanized and automatic operation.
(4)Optional feed quality optimization System, controlling the feed moisture online.
(5)Optional the door cover spraying system, adding various nutritive elements.
(6)Optional ring die lifting device, safe and time-saving.
The long time experience in spare parts' production, in pellet mills' production, in conduction and maintenance pant and installations, in refurbishing, repairing pellet mills even of different suppliers, allowed us to know in detail and analyse the technical characteristics of each machine on the market.
As a feed machinery manufacturer with 25 years of project experience,Our SZLH 420 poultry mash feed pellet mills are solid and strong, their captivating design, studied for a long problem free life, continuously evolves in order to be more and more versatile, and tailor made: different models, versions and optional answer to all the operators' needs, to all production fields necessities and to requirements of process' automation.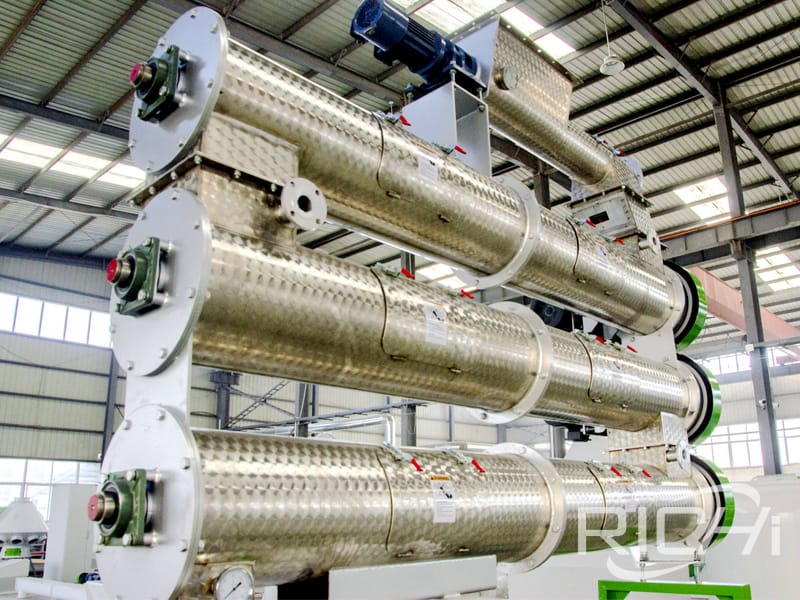 2、The main parameters of SZLH 420 poultry feed pellet making machine
Model:SZLH420
Capacity(TPH):8-12
Main Motor Power(kw):110
Feeder Motor Power(kw):1.5
Conditioner Power(kw):7.5
Dia.of Ring Die(mm):420
Final Pellet(mm):2-12
3.szlh 420 pellet mill in poultry feed production line
(1)If you want to make poultry mash feed, the manufacturing process: Cleaning -- Crushing -- Mixing -- Packing
(2)If you want to make poultry pellet feed, the manufacturing process: Cleaning -- Crushing -- Mixing -- Pelleting -- Cooling -- Packing
For poultry pellet feed,the poultry mash feed will go to the following feed making machine.SZLH 420 pellet making machine will form the mash feed into pellet feed.Usually we use ring die pellet mill for poultry feed processing line,by changing different ring dies of the pellet mill we can make pellets of different sizes for different animals.
As we have add steam to the poultry feeding pellet mill machine,the pellet out from the pellet mill will be about 80℃,moisture 15%-16%,not suitable to pack,so we need to cool them.Fan,cyclone,airlock and necessary pipes form a system to provide airflow for the counter-flow cooler,pellet feed will be cooled in the cooler and discharged. After cooling,the temperature of the pellet will be about 2-3℃ above the room temperature and with 13% moisture more or less.Usually we will add crumble under the cooler.
If we are to make small pellet,directly making it from the poultry pellet feed machine will reduce the capacity of the whole poultry feed making plant and cost more energy,we can first make bigger poultry feed pellet and then send it to crumbler to make it smaller.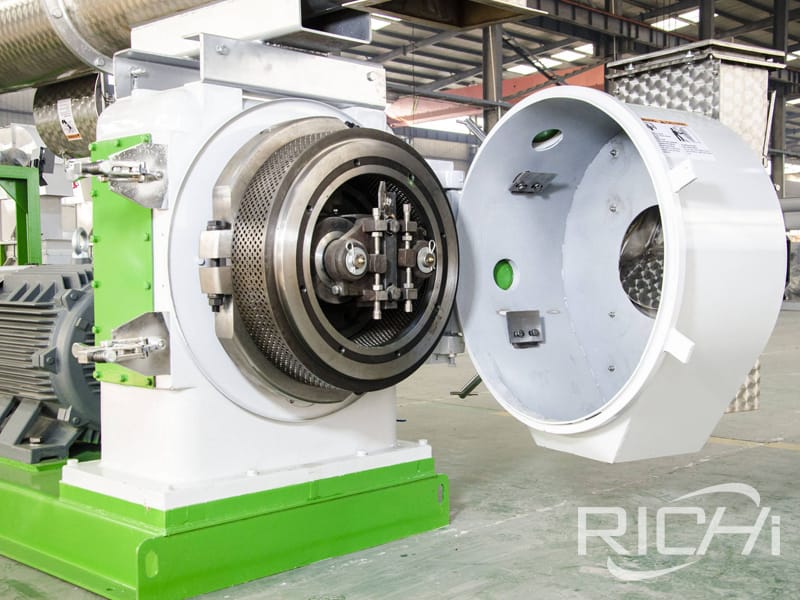 4、Poultry animal feed processing pellet machine with manufacturer price
Poultry animal feed processing pellet machine with manufacturer price,factory price poultry feed pellet mill machine,factory supply high quality poultry feed pellet mill,etc.Factory price, factory direct supply, even China supply,many customers will enter these words when asking online search, because buying directly from the factory can avoid the middlemen from earning the difference, which is also very correct. Nowadays, there are more and more foreign trade companies. Some customers want to save troubles, so they directly find foreign trade companies to purchase.
This is the case among our previous customers. In the end, many customers paid higher fees. It seems actually unnecessary. Because Richi Machinery has its own official website and also has shops on the international Alibaba e-commerce platform, and the reputation level is very high, you can find us with a little search. However, this is only the case of a very small number of customers. Most customers will still find the real manufacturer by themselves. This requires the customer to visit the factory directly or through some channels to confirm whether the seller is the real manufacturer.
As for the Poultry animal feed processing pellet machine with manufacturer price, the price of different pelletizers is different. Even the SZLH 420 poultry feed pellet making machine is divided into two types: double-layer conditoners and three-layer conditoners,the price is different,about thousands of dollars per unit. Whether it is a small ring die pellet mill or a large pellet making machine , Richi Machinery can fully meet your product needs. Because of our strong technical support, we can also customize the animal feed pellet mill products for the special process needs of some customers. The detailed product quotation needs to be determined according to your needs. Please contact Richi Machinery directly online, and our technicians will give you the most professional help.