1-3TPH poultry chicken farming equipment produce poultry pellet feeds
2020-08-04 Back to List
If you are looking for related products or have any other questions, please feel free to contact us.
Contact Us
1-3TPH poultry chicken farming equipment produce poultry pellet feeds,means 1-3TPH poultry chicken farming equipment for chicken broiler layer duck goose feed pellet.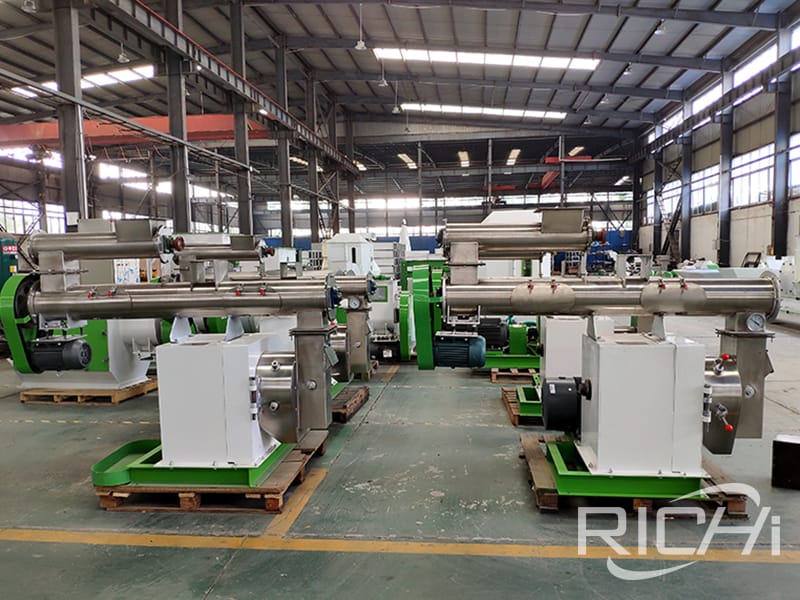 1.1-3t/h poultry animal farm feed making equipment
(1) Application
1-3t/h poultry feed pellet processing equipment is not only suitable for the production of poultry pellets, but also for the production of animal feed pellets for livestock, ruminants, and aquatic products.
(2) Working principle
The modulated crushed material is uniformly fed into the two pressing zones in the ring die by means of gravity, centrifugal force generated by the rotation of the ring die and the action of the feed scraper by the chute through the die cover, namely the two press rollers and the ring die. In the wedge-shaped space, because the minimum gap between the pressure roller and the inner wall of the ring die is only 0.1~0.3mm, under the strong squeezing action of the ring die and the pressure roller, the material is gradually compacted, squeezed into the die hole of the ring die and Shaped in the die hole. Because the extrusion of the material between the die and the roller is continuous, the formed material is continuously discharged from the die hole in a columnar shape, and then cut into particles of the required length by the cutter, and then enters the next process.
(3)1-3t/h poultry feed processing equipment recommendation
①Model:SZLH250 Poultry Feed Pellet Making Equipment
Capacity(TPH):1-2
Main Motor Power(kw):22
Feeder Motor Power(kw):0.75
Conditioner Power(kw):1.5
Dia.of Ring Die(mm):250
Final Pellet(mm):2-12
②Model:SZLH320 Poultry Feed Processing Equipment
Capacity(TPH):3-4
Main Motor Power(kw):37
Feeder Motor Power(kw):1.5
Conditioner Power(kw):2.2
Dia.of Ring Die(mm):320
Final Pellet(mm):2-12
2.How To Choose Poultry Feed Pellet Machine
Poultry feed pellet manufacturing equipment refers to the equipment that can be made into pellet feed by powdery feed or grass powder without adding or a little liquid. With this equipment, all kinds of animal feed can be produced, such as, cattle, sheep, goat, pig, rabbit, chicken, duck etc. The finished animal feed made from the animal feed pellet making machine is featured with full nutrition, reducing the feed waste and stopping the animal being picky, meanwhile improving feed digestibility of animals and reducing the rate of animal being sick. Thus, animal feed pellet machine is getting more and more popular around the world.
Poultry feed pellet machine is generally composed of two types: including ring die poultry feed mill equipment and flat die pellet mill type.
(1)1-3t/h ring die poultry feed mill equipment
Ring die poultry pellet mill is also called large feed pellet machine(Compared with the flat die granulator) due to its high output, thus widely used in the complete feed pellet production line. It is more suitable for large and medium feed pellet production factory, large scale animal farms.
The raw materials used in ring die poultry feed pellet making machine generally belong to concentrated feed, such as, corn, bean pulp, cotton pulp etc. They have high adhesion rate, and before making pellet, the steam conditioner is equipped for softening and maturing the raw material, to make the better poultry feed pellet. What's more, the glossiness of the final poultry feed pellet goes better as well. The poultry feed pellet like this sales better and tastes better.
(1)1-3t/h Flat die poultry feed plant pellet equipment
Flat die poultry feed pellet machine is small feed plant animal food manufacturing equipment, it produces pellet without adding any water, belonging to style of "dry in and dry out". It is specially manufactured for the small scale farm, and the produced poultry feed pellet can be stored for over half a year. During the production, high temperature in side the feed pellet machine can kill the microbial species in materials, meanwhile not affecting the poultry pellet quality.
1-3t/h flat die pellet machine is manufactured with compact structure, low power consumption, simple operation. It adopts step-less speed regulation motor speed regulation for controlling feeding quantity to suit different material types and different production requirement with different diameter. For the small scale farm, if making simple type feed with single raw material, one flat die animal feed pellet machine is enough; if the raw material is various, the grinding equipment for poultry and mixing machine is suggested to equip for matching production.
1-3t/h small scale poultry farming feed production equipment line is featured with high cost performance of simple structure, low investment, covering a small area, able to producing various raw materials.
Richi Machinery has engaged in animal feed manufacturing equipment for over 20 years, possessing rich experiences of design, manufacturing and sale. Would you like to own your poultry feed pellet mill machine? Please contact Richi Machinery!