Business appraisal for complete good quality animal poultry feed mill 30 ton per day project
2021-02-02 Back to List
If you are looking for related products or have any other questions, please feel free to contact us.
Contact Us
Today RICHI will share a business appraisal for a complete poultry feed mill 30 ton per day project in China.Poultry feed mill plant with 30 ton per day capacity,aound 4 ton per hour ,and 9000 ton per year.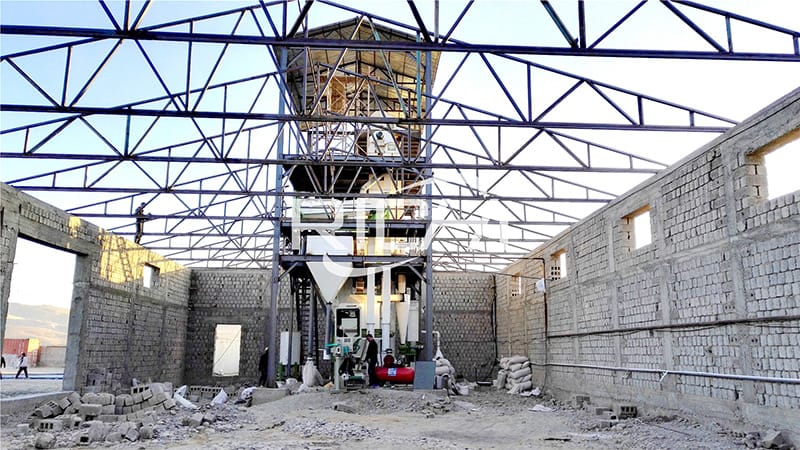 1. 9000 Tons per year China poultry feed mill project situation
(1) Construction content: occupies an area of ​​20,000 square meters, using the original factory building to rebuild 4,000 square meters of pre-processing workshop, premix workshop, concentrated batch workshop, and 8,000 square meters of office buildings, dormitories, warehouses and other supporting facilities.
(2) Raw materials: corn, soybean meal, calcium carbonate, calcium hydrogen phosphate, minerals, vitamins, additives, etc.
(3) Process flow: lifting-crushing-mixing-granulating-cooling-packaging.
(4) Production capacity: 30 ton per day, with an annual output of 9,000 tons of poultry feed
(5) Whole 4t/h poultry feed plant investment cost: 2000 (ten thousand yuan)
(6) Construction period: 2018.09.12 to 2018.10.22
(7) Main poultry feed equipment: purchase and install 10 sets of dust removal equipment, 13 sets of lifting equipment, 2 sets of automatic batching equipment, 1 set of crushing equipment, 6 sets of mixing equipment, 1 set of granulating equipment, 1 set of cooling equipment, and 5 sets of packaging equipment.
2.High quality complete 30 ton per day poultry feed pellet plant manufacturing process flow chart
Complete 30 ton per day poultry chicken feed processing methods:
Raw material receiving--Cleaning--Grinding--Raw material pelleting--Batching--Mixing--Pelleting--Cooling--Crumbling--Liquid Adding & Coating--Packaging (The difference in raw materials and output will directly lead to different processing processes of pellets.You can rely on RICHI to get maximum fuel efficiency at minimum maintenance cost, to receive the most productivity. )
Process introduction:
This 9000 tons per year poultry feed production factory project uses manual weighing ingredients, and the designed total production capacity is 4-5T/H for powder products and 3-4T/H for pellet products. The raw materials need to be pre-weighed and then fed into the production line from two different feeding ports. The raw materials that need to be crushed are fed from the pellet feeding port to the crusher in batches. The crusher is fed by a screw conveyor and does not need to be crushed. After pre-weighing, the powder enters the production line from the powder feeding port, and then is mixed by the mixer. The mixed material can directly enter the finished product warehouse as a powder product, or enter the granulation section for granulation cooling processing. Use manual weighing and packing. The total equipment power of the unit is about 172KW; the size of the unit is about 13×6×11m; it needs to be equipped with a 0.5T boiler. The whole unit adopts splicing frame, compact design, reasonable structure, meeting environmental protection requirements, and can be oriented design according to customer requirements./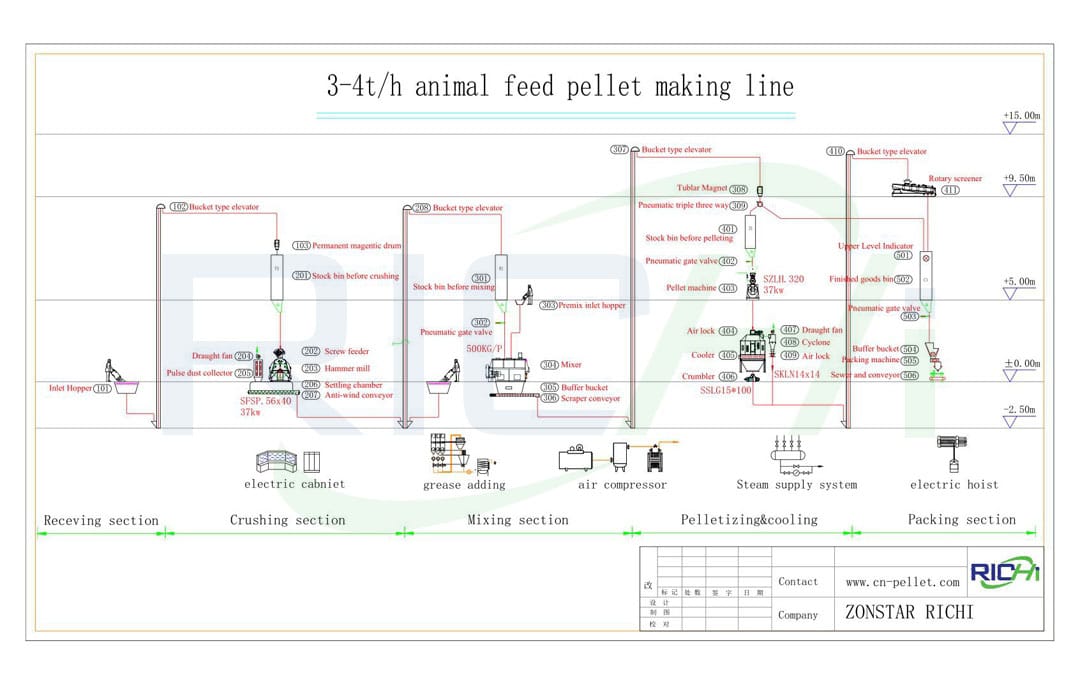 3.Complete 4tph poultry chicken feed processing line machinery with its accessory accessories
The followings are components of china 4tph poultry pellet feed production line:
Poultry feed mill equipments
Model
Power(KW)
Screw conveyor
TLSS20
2.2
Iron removing device
Z-Type
/
Poultry feed hammer mill grinding machine
SFSP.56*40
37
Pulse dust collector
TBLMa.8A
/
Bucket Elevator
TDTG36/18
1.5
Poultry feed mixing machine
SLHY.1
7.5
CE ring die poultry chicken feed pelletizing machine
SZLH320
37
Stainless Steel Conditioner
TZQ320X200
2.2
Cooling Machine
SKLN14x14
1.5
Poultry pellet crumbler
SSLG15x80
5.5
Rotary screener
SFJH.80x2C
1.5
MCC Control Center ;Mimic control panel
(power range from 22 kw to 55 kw for star triangle start, main electric components are delixi brand)
/
/
4.How much is a 30 tons per day animal chicken poultry feed mill factory?
Complete 30 ton per day poultry animal feed manufacturing plant cost is usually between 50000USD-250000USD.