Complete automatic ce 2-3t/h chicken feed machine and chicken feed mill plant price in German
2021-01-22 Back to List
If you are looking for related products or have any other questions, please feel free to contact us.
Contact Us
German industrial feed occupies an important position in the world's industrial feed. In 2016, it ranked eighth in the world with an annual output of 24.49 million tons, second only to Spain in Europe. There are currently 330 feed mills in Germany, which is equivalent to 5% of the number of feed mills in China (6,000), and the output is equivalent to 13% of China's industrial feed. The concentration and production efficiency of the feed industry are higher than that of China. The chicken feed industry is very promising in Germany. .
1.Introduction of Richi Machinery
RICHI Machinery supplied poultry and cattle feed plant adopts module design which can realize customized feed processing plant. Meanwhile, as an experienced animal feed mill machine factory, we can also help you make the best business plan for setting up your own animal feed pellet plant, like small feed line for chicken, or large chicken feed or poultry feed production factory. Just feel free to send an inquiry to get 2-3 ton per hour chicken poultry feed manufacturing plant cost and designs details.
RICHI Feed Production Business Scope: Provide 1~10,000,000 tons/year turnkey project plan design and feed equipment for complete chicken animal feed production plant for poultry, cattle, fish and pet, from designing, equipment manufacturing, factory constructing, comissioning, debugging and onsite operation training.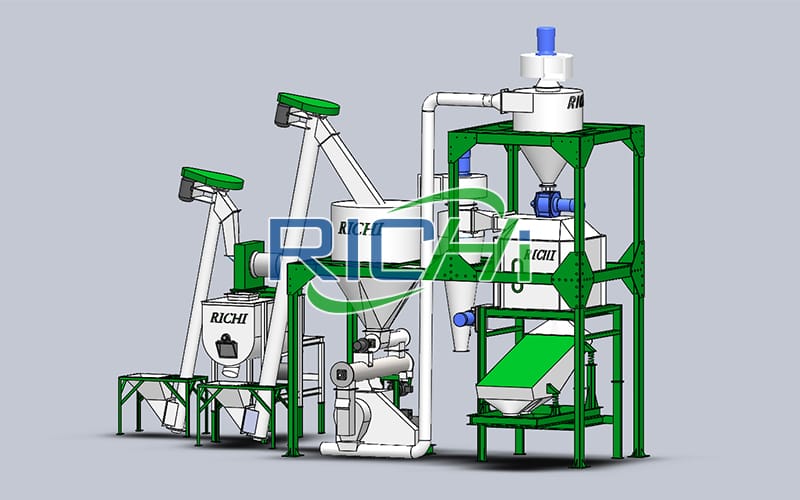 2.Introduction of complete automatic ce certificate 2-3t/h chicken feed machine set for Geman market
Capacity:2-3 ton per hour capacity
Type:Fully automatic and semi-automatic
Application:For producing poultry feed pellet, such as chicken,duck,goose,bird,etc.
Pellet forming rate:98%
CE Chicken feed pelletizer price:7000USD-15000USD
3.Introduction of complete small capacity CE certificate 2-3t/h chicken poultry feed mill plant for sale in Geman
(1)How to Start a 2-3 TPH Chicken Feed Pelletizing Line in Geman?
How to make chicken feed commercially in Geman?The following is steps to make chicken feeds pellet:
CE hot selling 2-3 ton capacity chicken feed mill plant is also called 2-3t/h chicken feed pellet production line. A complete 2-3tph automatic ce chicken feed plant generally includes silos for raw material storage, raw material receiving system, first batching system, mixing system, second batching, crushing system, pelletizing system, cooling system and bagging system.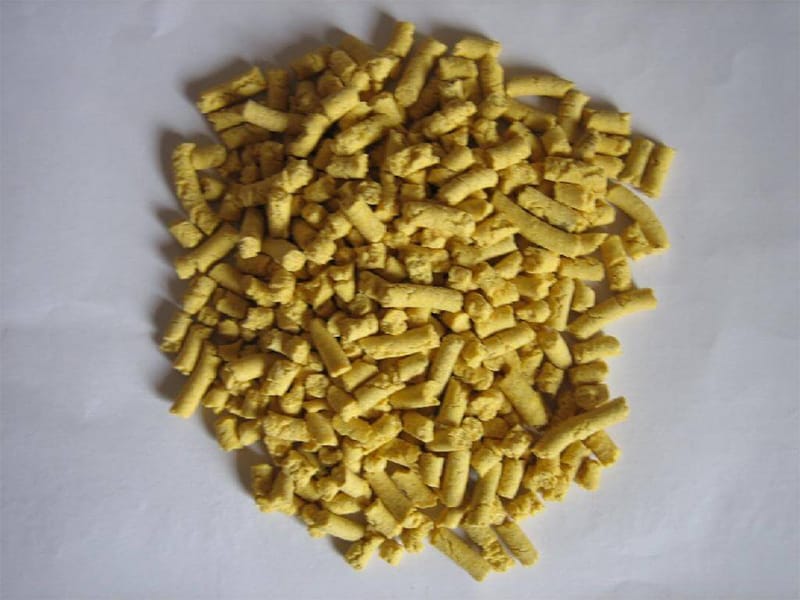 (2)Chicken feed equipments needed to start a 2-3 ton/hour easy to operate chicken feed making plant in Geman
Whether it is a family farm or a feed factory, the processing of chicken feed pellets is of course not only simple mixing, but also requires crushing, granulation and other stages. The following Richi Machinery will tell you in detail the process of a 2-3t/h complete chicken feed pellet producing line.
Capacity:1-100 tons per hour.
Final Product: Pellet feed.
Pellet Size:2.0-4.0 mm.
Batching System:Manual or Automatic.
Packing System: Manual or Automatic.
①Cleaning Machine
To ensure GMP cleaning is an important aspect. Different type of cleaner used for this purpose.
②Conveying machine
All transportations like bucket elevator, screw & chain conveyor etc. for conveying RM & Finished goods.
③Grinding machine
Raw materials need to be grinded as 225 m/microne perticle size by chicken corn feed hammer millcrusher for different type of feed.
④Mixing machine
Different R/M are mixed here with additives, oil/fat, medicines, etc. Good chicken feed mixer ensure good quality.
⑤Pelleting machine
Produce final chicken pellet feed. A good pellet means "A complete feed" and a good ce ring die chicken feed pelleting machine can ensure that.
⑥Cooling machine
Extruded feeds are about 70-90° C. Chicken feed cooling machine bring down it at normal temperature (+4° max).
⑦Screening machine
To ensure supply of quality and perfect size feed, screener plays a vital role. Uneven sizes screaned-out.
⑧Bagging machine
Ready chicken pellet feed need to be packed. It can be manual or automatic bagging depends on requirement.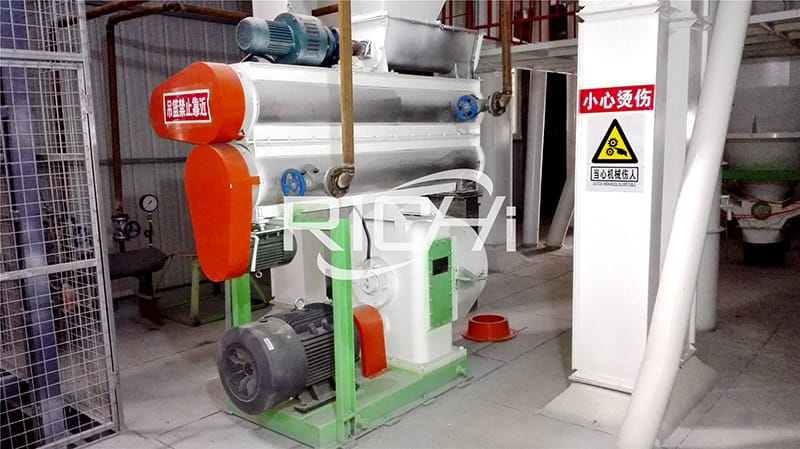 (3)Cost to start a 2-3 ton per hour widely used chicken feed pellet processing line in Geman?
Cost of starting 2-3 ton capacity chicken poultry food manufacturing business in Geman is usually between 20000USD-70000USD.
4.Some typical turn-key poultry chicken feed pellet plant projects:
Afghanistan 10T/H automatic chicken poultry feed mill factory project
Uzbekistan 15 tons per hour chicken feed plant project
Ethiopia 5-6T/H Animal Powder Feed Production Line Project
Kenya 5T/H Chicken Powder Feed Production project
Zimbabwe 3-5T/H automatic chicken pellet feed production line
Colombia 3-4T/H Complete Chicken Pellet Feed Production Plant
Saudi Arabia 15-16T/H large capacity chicken poultry feed pellet making plant
Papua New Guinea 1-2T/H Small Capacity Chicken Feed Plant Project