Manufacturing Price of Europe Standard CE Good Stability 500KG/HOUR Oak Wood Pellet Press Equipment For Sale
2021-01-23 Back to List
If you are looking for related products or have any other questions, please feel free to contact us.
Contact Us
Recently,an Europe standard 500kg/hour biomass oak wood pellet press equipment delivered to Romania.It is ordered by a buyer in Romania. He want to make 500kg/h small scale BBQ pellets production from oak wood wastes. Pricing is a big strategy towards attracting customers as we try to assure that our machinery is quality and it is priced competitively.
Before delivery, a test running was arranged to ensure the best pelletizing result. The raw materials for this test are oak wood blocks. Before pelletizing, they are processed into sawdust. The moisture content of the oak sawdust is around 12.3%. The result is quite satisfied. After packing, this 500kg/h good price ce certificated biomass fuel oak wood pelletizer was sent to our client.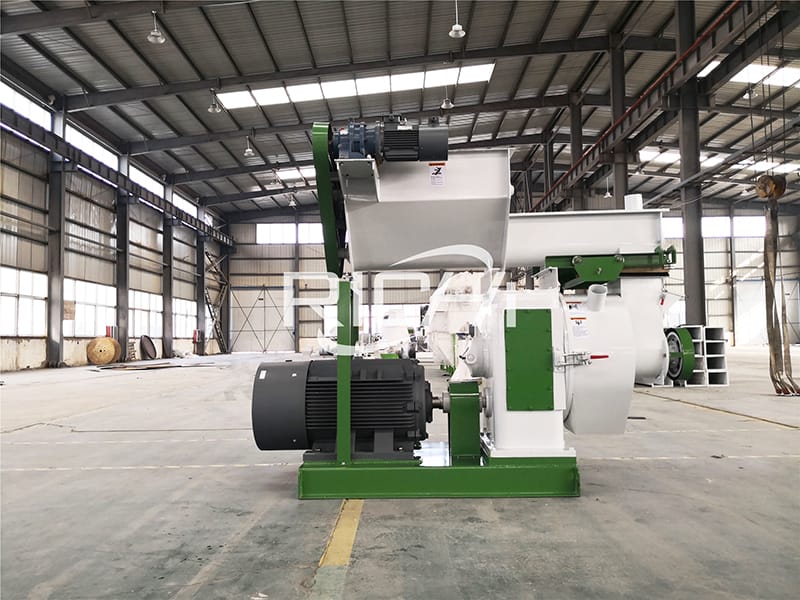 1.Introduction of RICHI CE Certificate Europe 500kg/h small capacity oak wood pellet mill for sale
(1)Parameters of MZLH Type 500KG/HOUR Stable Performance CE Horizontal Ring Die Wood Waste Pelletizer Machine
Capacity:500-700 KG/H
Size of Pellet Machine: 2500*1100*1600 MM
Anti-caking Feeder Power:1.5KW
Forced Feed Power :0.55 KW
Main Power: 55KW
Final Pellet :6-12mm
(2)Manufacturer price of ce 500kg/h oak wood pellet mill pellet press for fuel pellets
Price of 500kg/h oak wood pellet making machine for 6-8mm biomass energy pellets is usually between 20000USD-24000USD.
(3)Features of ce hot sale easy operation 500kg/h biomass wood fuel pelletizer machine for oak wood pellets
①With on-site electric control cabinet, ,with oilidng machine;
②Siemens motor, SKF bearing;
③Suitable for sawdust,herbage,chrysanthemum,palm leaf,etc lightweight raw material granulating;
④Special feeding mechanism, reliable feed evenly, specially designed for suppressing various specific gravity of 0.3 to 0.6 g/cm3 designed lightweight material granulating;
⑤Feeding ground speed is adjustable, can apply various production requirements;
⑥The whole set oak wood pelleting machine is equipped with iron and overload protection device, give full consideration to the protection of the machine in use process;
⑦The main transmission gear drive with high precision, USES the quick-release ring mould type of anchorear type,output is about 15% higher than type belt drive;
⑧The machine transmission part selects Japan high quality bearing, ensure transmission efficient, stable and reliable;
⑨Adopt international advanced wood pellet maker equipment and process of production and manufacturing of steel ring die, long service life, the final pellet is smooth, high quality.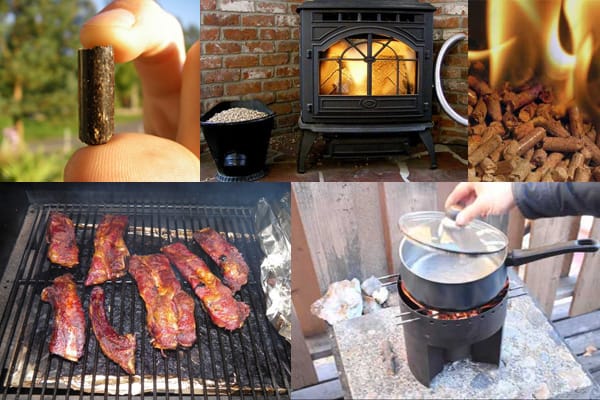 2.Oak wood pellets
Oak wood pellets has been put into production for many years, and steadily gaining popularity with its ever increasing customer base. Due its poor binding properties as it contains a very low percentage if resin, oak pellets are extruded using wood pelletizer. To make premium oak wood pellets, it is suggested to use 100% pure oak.
Hardwood oak pellets burn clean and never dirt chimneys as compared to pellets made of spine wood or spruce. This is further enhanced by the fact that hardwood pellets contain no adhesives, binders or other added chemicals.
(1)Oakwood Pellets – Ideal Choose for BBQ
The term base as used by most BBQ companies refers to the stable substance in their pellets. Oak and alder are the mostly preferred base substance. Some BBQ companies prefer 75% alder as base with the remainder being the main hardwood sawdust. For instance, hickory pellets is 75% alder and 25% hickory whereas the mesquite pellet is 75% alder and 25% mesquite. However premium oakwood pellets are 100% oak with no additives added.
(2)Fuel Pellets: Oak Wood Vs Coniferous Wood
Oak wood pellets assume a light brown colour because of the raw material used. However the pellets may sometimes assume a darker colour and it really never translates to poor quality pellets as its the common misconception. Oak pellets are of very high calories value of up to 18.51 megaioules for every kilo of pellets. This property makes the pellets burn 30% longer than coniferous wood pellets. They also have a really low ash content further making these pellets attractive.
(3)Choose the Best Quality Wood Pelleting Machine With 500KG/HOUR Capacity
Colour and shape of the produced pellets are the first thing to always look out for when choosing the best quality 500kg/h ring die oak wood pelleting machine, always check the pellets for their uniformity in colour. Another aspect to check the condition if pellets as quality pellets should be shiny on their surfaces and without spots. They also should be compact. Another aspect to check is the type of technology used in manufacturing the oak wood pelletizing equipment. Quality is directly dependent on technology as superior technology assures best quality pellets. Technology assures the firmness and compactness of the final pellets and as always the principle the harder the pellets the superior the technology used.