Hot sale ce 1 ton per hour biomass wood sawdust pellet press machines price
2021-01-21 Back to List
If you are looking for related products or have any other questions, please feel free to contact us.
Contact Us
Recently, a customized 1tph ring die wood pellet maker was delivered to one of our client in Canada. He is one of our old customers who have bought 2-3 ton per hour complete wood pelletizing line unit from us in last year. As the pelletizing result is good, he decided to bought one more.
The default color is green,but customized color is also acceptable. If you are interested in tailor-made ring die wood sawdust pellet maker machine or want to need a detail quotation, don't hesitate to get in touch with Richi Machinery—a professional China wood pellet making machine manufacturer!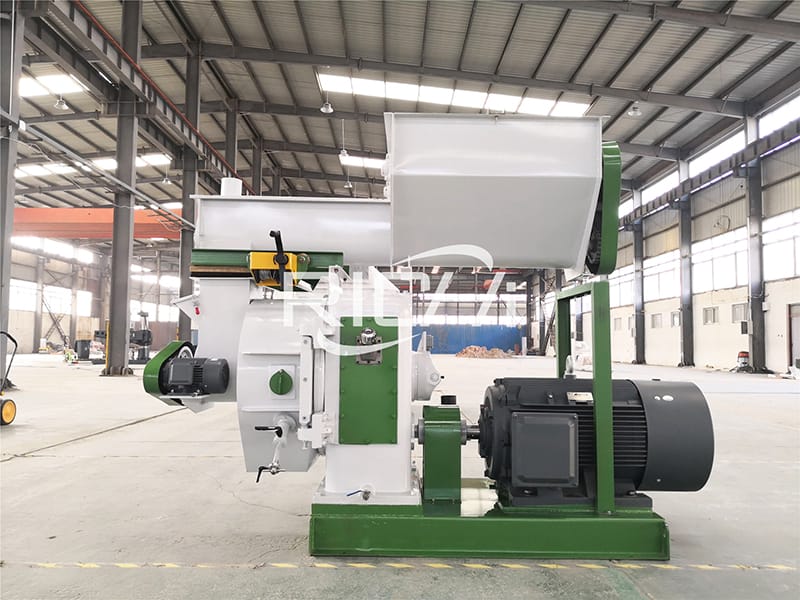 1.Main Parameters of RICHI good performance 1 ton per hour small capacity wood pellet mill machine
MODEL:MZLH competitive price wood sawdust pelletizing machine
POWER:90kw
CAPACITY (t/h):1-1.2
WEIGHT:4000kg
PACKING SIZE:2800*1150*1730 MM
2.Price of new 90kw high quality 1 ton per hour biomass pellet machine for wood sawdust
High performance 1 ton per hour biomass wood sawdust pellet making machine price is around 30000USD-35000USD.
3.Advantages of RICHI 1tph hot selling good quality wood pellet mill sawdust pellet machine for sale
The following points will show how our 1 ton per hour ce wood pellet machine for sawdust is better than any other machine.
(1)The 1t/h reasonable design ce wood pelletizer machine is designed for the low consumption of energy and providing life spanning parts.
(2)The 1t/h factory offered sawdust wood pelleting machine is composed of highly certified electric motor that ensure a steady and stable flow of electricity.
(3)With on-site electric control cabinet, ,with oilidng machine.
(4)Suitable for sawdust,herbage,chrysanthemum,palm leaf,etc lightweight raw material granulating.
(5)Special feeding mechanism, reliable feed evenly, specially designed for suppressing various specific gravity of 0.3 to 0.6 g/cm3 designed lightweight material granulating.
(6)Feeding ground speed is adjustable, can apply various production requirements.
(7)The whole machine is equipped with iron and overload protection device, give full consideration to the protection of the machine in use process.
(8)The main transmission gear drive with high precision, USES the quick-release ring mould type of anchorear type, output is about 15% higher than type belt drive.
(9)The machine transmission part selects Japan high quality bearing, ensure transmission efficient, stable and reliable.
(10)Adopt international advanced equipment and process of processing and manufacturing of steel ring die, long service life, the final pellet is smooth, high quality.

4.Profit from 1 ton biomass wood pellets production (calculated based on Chinese market conditions)
Take a wood waste pellet production line with 1 ton per hour capacity as an example:
Working 10 hours a day, 2 workers operate.
Sawdust is 500 yuan per ton.
Labor: 30 yuan/ton
Electricity fee: 65 yuan/ton
Machine wear: 15 yuan/ton
Transportation cost: 60 yuan/ton
Cost of sales: RMB 50/ton
Buy 850 per ton of pellets, with a profit of 130 per ton. 10 tons a day is 1,300, and a year is 470,000. The equipment investment cost is between 100,000 and 300,000.
Production costs, sales costs, and transportation costs are basically fixed or difficult to control. The cost of raw materials accounts for the largest proportion, so if you can find cheaper raw materials, the benefits will be more.
RICHI is one of China's oldest biomass fuel pellet machine factories that deals in biomass energy-efficient machinery research and development. We develop machines which can support and are compatible with biomass energy. RICHI, as the company is known, is a world class manufacturer of complete set of wood and biomass pellet mill equipment.