How To Make Grass Pellets For Animal Poultry Livestock Feed By Grass Pellet Making Machine?
2020-11-18 Back to List
If you are looking for related products or have any other questions, please feel free to contact us.
Contact Us
How to make grass pellets for poultry?How do you make grass pellets?step by step how make pellet from grass?How to make feed pellets from grass?How to make grass pellets for animal feed? grass chopper machine for animal feed?Today we will talk about "How To Make Grass Pellets For Animal Poultry Livestock Feed By Grass Pellet Making Machine?"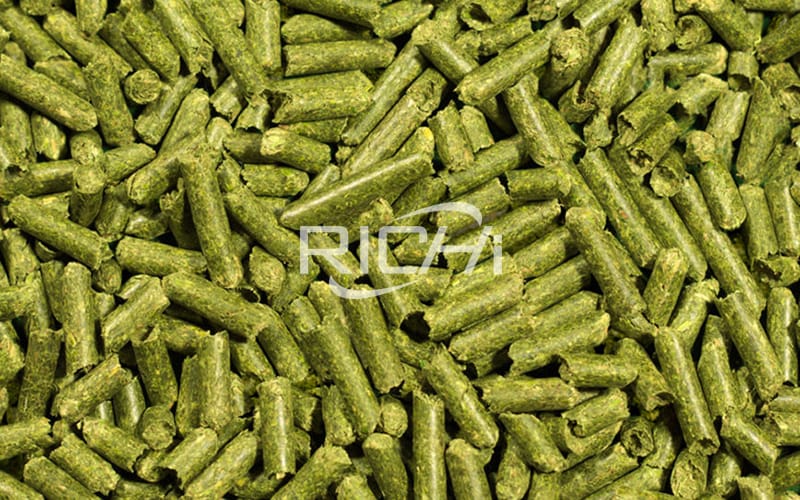 1.RICHI grass pellet mill machine for sale
Feed is the basis for the development of aquaculture. Sometimes, if there is a food crisis, major raw materials such as corn and soybean meal will be in short supply, and prices will soar, which will cause great threats and losses to the aquaculture industry. Therefore, grass raw materials become An indispensable supplement.And due to the fact that the feed in winter is less and withered and contains less nutrient solution, it is not enough for poultry,ruminant and livestock to eat. In the warm season, although the feed grows vigorously and contains rich nutrients, there is too much grass and the poultry and livestock cannot eat it. Using grass pellet feed processing technology, the forage grass is cut, sun-dried, crushed, and processed into grass pellets for preservation for winter feeding.
Grasses suitable for poultry livestock ruminant use are:alfalfa grass,lucerne,hops,hemp,hay,rice straw,reed,sunflower stalk,etc.So grass pelleting machine can also named hay pellet making machine,alfalfa pellet milling machine, lucerne pelleting machines,hop pelletizer machine,hemp pellet maker,etc.
2.Grass pellet manufacturing process for animal poultry livestock ruminant feed
Grass pellets is an alternative fuel which could be produced easily by grass pellet mill machine. Grass pellets have a great potential as a low-tech, small-scale and renewable energy system which can be widely locally produced, processed and consumed. And this will have a positive effect on rural communities. Then do you know how to make grass pellets? Today we will share with you the grass pellets produtction.
(1)Any mixture of grasses can be utilized to process into grass pellets, whatever cut in mid-to late summer or left in the field to leach out minerals. But due to the moisture content, the grasses need drying in the sunshine or under a covering in order to get high qulity grass pellets. Then it is necessary to adjust the moisture content of grasses. Usually, the moisture content is controlled 13%-15%. Too wet or too dry, will both affect the quality of grass pellets.
Machine needed:chaff cutter machine,grass crusher machine, rotary dryer for drying grass
(2)Start the grass pellet press machine and give it some time to heat up. It is an important step because it is the heat of ring die inside the grass pellet mill that creates steam out of a little moisture in the grass. The steam can help the natural lignin in grass to become the binder make the pellets together. Place a pail at the chute of the grass pellet mill. Start to feed the grass into the hopper by hand. After a few seconds, the grass pellet mill will press the grass into the pellets and eject into the pail.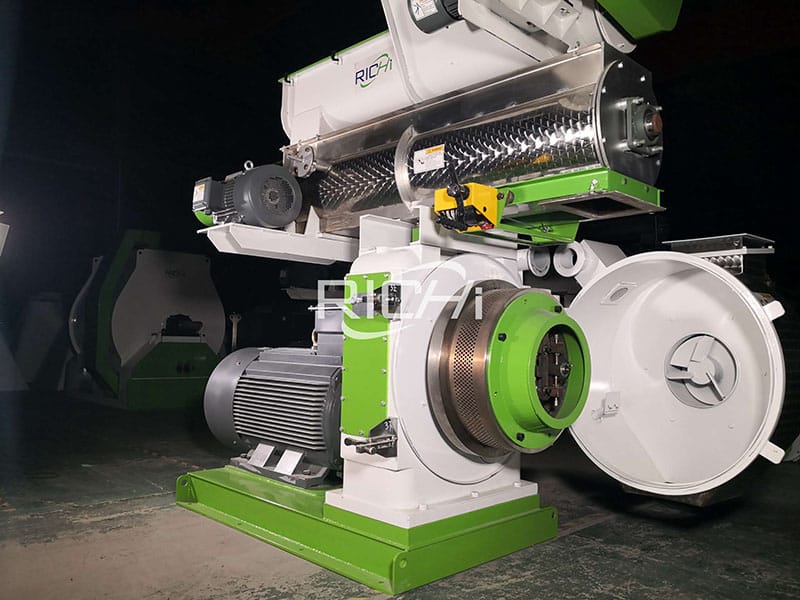 Machine needed:alfalfa lucerne grass straw hay pellet mill with ce
(3)Make the grass pellets cool in the pail before packing.
Machine needed:grass pellet cooler machine
(4)After cooling, they are ready to burn in your pellet stove or cooking stove for heating or cooking.Or packing for selling.In order to prevent the grass pellets from absorbing too water from air, it is better to bag for store.
Machine needed:Fully automatic bagging machine or bulk
3. Advantages of grass feed pellets
(1) High feed conversion rate
Feeding poultry and livestock with grass pellets in winter can obtain more meat, eggs, and milk with a small amount of forage, thereby increasing the feed conversion rate.
(2) Small size
The volume of the grass pellet feed is only one-fourth of the volume of the raw hay, which is very convenient for storage and transportation; the grass pellet feed has less dust and is beneficial to the health of poultry and people; the grass pellet feed is convenient to feed, in order to achieve intensive and mechanized animal husbandry Create conditions for industrial production.
(3) Increase palatability and improve forage quality
Grass pellet feed has good palatability. For example, sweet clover has the special smell of coumarin. If it is eaten directly by poultry and livestock, it will feed the feed intake of poultry and livestock. When made into grass pellet feed, it becomes the palatability of poultry and livestock feeding. Strong forage with high nutritional value.
(4) Expand feed sources
There are many varieties of grass, which can expand the source. These branches are relatively thick and hard, but after processing and crushing into grass particles, they become the favorite forage grass of poultry and livestock. At the same time, agricultural and sideline products, husks, straws and various Planting leaves and other processed grass pellets can feed poultry and livestock.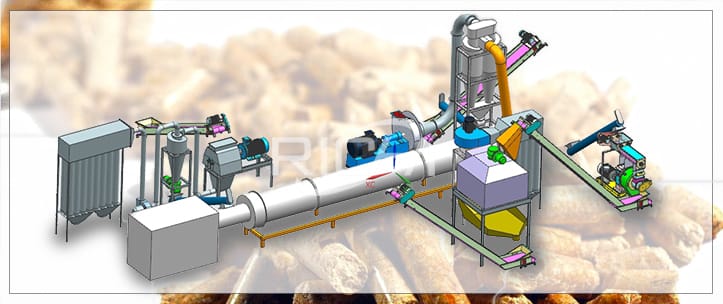 4. Common herbivorous poultry livestock ruminant?
(1) Chicken
Likes to live in groups, has a docile temperament, and is slow in action. It feeds on plant stems, leaves, seeds and fruits, but also eats insects, and occasionally frogs and lizards.
(2) Duck
Ducks are divided into wild ducks and domestic ducks. Wild ducks are relatively small in size and have short necks. They live on the water all year round and have strong diving ability. They feed on small water animals (small fish, shrimp, etc.). Domestic ducks are larger than wild ducks. They live in water or on land. They feed on small animals (fish, shrimp, loach, etc.) and plants (waterweed, tares, rice, etc.) in the water.
(3) Goose
Goose is a herbivore. The main raw materials for goose feed are straw biological feed, bone meal, bean cake, fish meal, corn, bran, grass, green vegetables or succulent roots, etc. The value of goose is comparable to that of mutton.
(4) Cattle
Cattle is a mammal and herbivorous. The main raw materials for cattle feed include hay, straw, green fodder, silage, wild hay (autumn white grass), rye grass, alfalfa, corn stalks, straw, etc.
(5) Sheep
Sheep are also herbivores. The main raw materials for sheep feed are various pastures, corn, sorghum, barley, soybean meal, cotton meal, peanut cake, bone meal, salt and baking soda.
(6) Rabbit
Rabbits are herbivores that feed on weeds, wild vegetables, leaves, twigs, etc. They are mostly white, gray and black. They like to live alone, have little activity during the day, is in a state of sleep or rest, is active at night, eats a lot, and has the habit of chewing wood and scraping soil.
I have shared with you six kinds of herbivorous poultry livestock ruminant animals above. Compared with meat-eating poultry and livestock, herbivores still save costs. You can also choose these kinds of poultry and livestock for breeding.
At present, the upsurge of vigorously planting forage crops is set off. Choosing the most suitable forage grass species from a wide range of forage crops is a prerequisite for good planting and use of forage, and it is a big issue that many customers are most concerned about. Richi Machinery recommends that the selection principle is mainly based on the type of livestock poultry and the way of utilization. It should be different from use to local conditions.