Brief Introduction
This series crusher is equipped with a forced feeding device, which is mainly suitable for the crushing of lighter materials such as alfalfa, straw, chaff, grass and etc.
Get Quote
Alfalfa/Straw/Husk/Grass Crusher
| | | | | | |
| --- | --- | --- | --- | --- | --- |
| Model | 9FB56*40 | 9FB56*60 | 9FB56*80 | 9FB56*100 | 9FB56*120 |
| Power | 22kw | 30/37kw | 37kw | 55kw | 93kw |
| Capacity | 0.3-0.8t/h | 0.5-1.2t/h | 0.6-1.5t/h | 1-2t/h | 1.5-3t/h |
What Are The Parts of Grass Crushing Machine?
Grass Crushing Machine is a key equipment for the production of pellets, which composed of multiple components. It is mainly composed of drive system, feeding system, etc. The following figure is for reference.
Contact Us
1. Raw Material Inlet
2. Access Door
3. Siemens Main Motor
4. Bearing & Bearing Seat
5. Feeding Motor
6. Crushing Chamber
7. Forced Feeding Mechanism
Detailed Instructions of Grass Crushing Machine
RICHI always believes that good products are one of the important indicators of corporate survival. We use high-standard materials in the production process and cooperate with internationally renowned brands to ensure that we can bring high-quality equipment to customers. The following is a detailed display of RICHI pellet machine.
Contact Us
The optimized arrangement of hammers improves the stability of the equipment and the crushing efficiency

Forced feeding with clockwise rotation, feeding inside with the back to prevent the grass from getting onto the shaft

We use a replaceable screen device, you can change the screen at any time to achieve the fineness of the crush

Specially designed for grass raw materials, improving production efficiency and reducing maintenance costs

Forage grass or other grass raw materials are relatively light, so we increase a forced feeding device to improve the feeding efficiency

The main motor of this equipment adopts Siemens motor, which has stable performance and longer service life

We use 5mm thick hammers, which are hardened and wear-resistant alloy steel after quenching
Specially Designed,Improve Efficiency
After a long period of experimentation, our engineers changed the ordinary feeder to a forced feeder and increased the crushing chamber of the crusher, greatly improving the crushing efficiency of the light raw materials.
Contact Us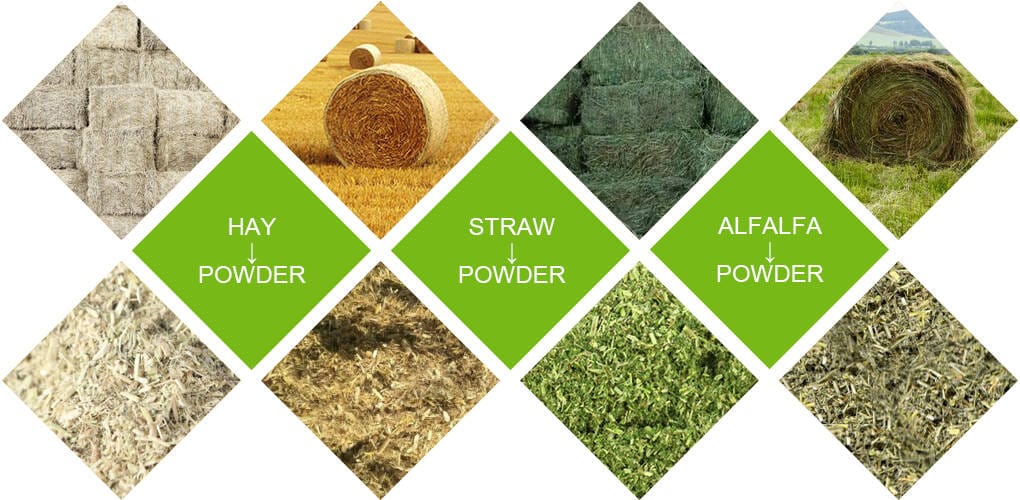 Accessories
Doing high quality products is RICHI's long-standing commitment. We guarantee that every equipment uses high specification accessories.
Contact Us
SIEMENS
Motor
SKF
Bearing
Grinder
Hammer
Grinder
Screen Sheet
Equipment In RICHI Workshop
Alfalfa Crushing Machine
Straw Crushing Machine
Grass Crushing Machine
Husk Crushing Machine