Best Quality 1-2 TPH Small Capacity Poultry Chicken Feed Mill Equipment and Production Process
2020-10-23 Back to List
If you are looking for related products or have any other questions, please feel free to contact us.
Contact Us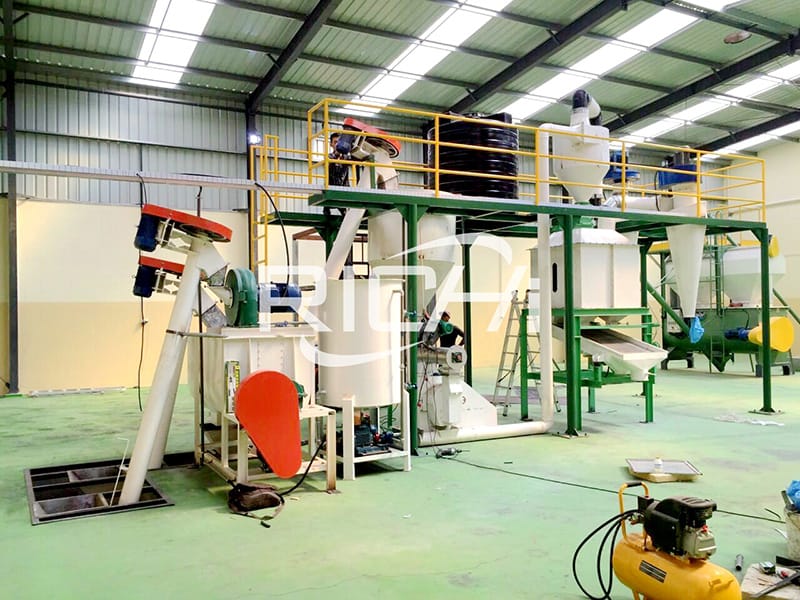 1.1-2 TPH Small Capacity Poultry Chicken Feed Mill Pellet Making Process(machinery for poultry chicken feeds production)
(Since the most common poultry animal is chicken, so our article mainly focuses on chicken.)1-2 TPH Poultry chicken feed pellet mill machine as explained earlier is a small and less complicated machine. This makes the processing of the pellets a bit easier to comprehend. The initial process is to bring the material for making the poultry pellets. These includes soya bean meal, maize meal, vitamin among others.
(1)Crushing machine for 1-2tph poultry chicken fodder pellets production plant
This is the first step to ensuring all the large grains are crushed into powder forms. The 1-2t/h animal poultry feed plant production line has a poultry chicken feed grinder machine that is specifically for the crushing purposes. Maize meals, broomcorn, wheat, beans, oilseed meal, soya bean meal may be in large grains and hence must pass the process. They are taken to the corn grinder for animal poultry chicken feed where they are crushed into fine powder. Without this process, it might be next to impossible to make poultry pellets.
(2)Mixing machine of 1-2tph small animal feed plants or big farms
This is where all the ingredients are mixed. The animal poultry chicken food mixer is known as horizontal feed mixer. It has a large barrel where all the ingredients are put in different proportions. With the help of the machines, the powder is mixed in different proportions to form one mixture which is known as feed mesh.
(3)Poultry chicken pellet milling machine for 1-2t/h factory Price poultry feed pellet processing line plant
The pelletizing system incorporates the pellet mill for poultry chicken feed. This is meant to press the feed mesh and form pellets. The machine used here is the SZLH250 poultry feed pellet mill making machine. It is able to make the pellets into uniform sizes. These includes the same diameter and length. This is to ensure that the small capacity 1-2t/h chicken poultry feed pellet mill produces the required sizes for different poultry animals to ensure that it provides what is required and also avoid wastage during feeding.SZLH series ring die type feed pellet machine is widely used in small scale poultry chicken feed production line and othe small scale animal feed mills.
(4)Cooling machine for 1-2 ton per hour poultry chicken feed pellet making plant
After crushing, mixing and pelletizing the final main process is cooling. The cooling machine used here is the KLN series counter flow type cooler. The pellet cooler machine is small in size and convenient when transporting and installing. At the pelleting system, the pellets tend to produce heat which ranges from 70 to 85 degrees. This heat must be reduced to room temperature to meet the storage requirement. Without cooling process, the hot pellets would produce mildew resulting to damage of the pellets. With a cooling fan in place, the pellets pass through the cooling area and their temperature is reduced to harmless levels. The pellets are then packed and stored in a cool dry place.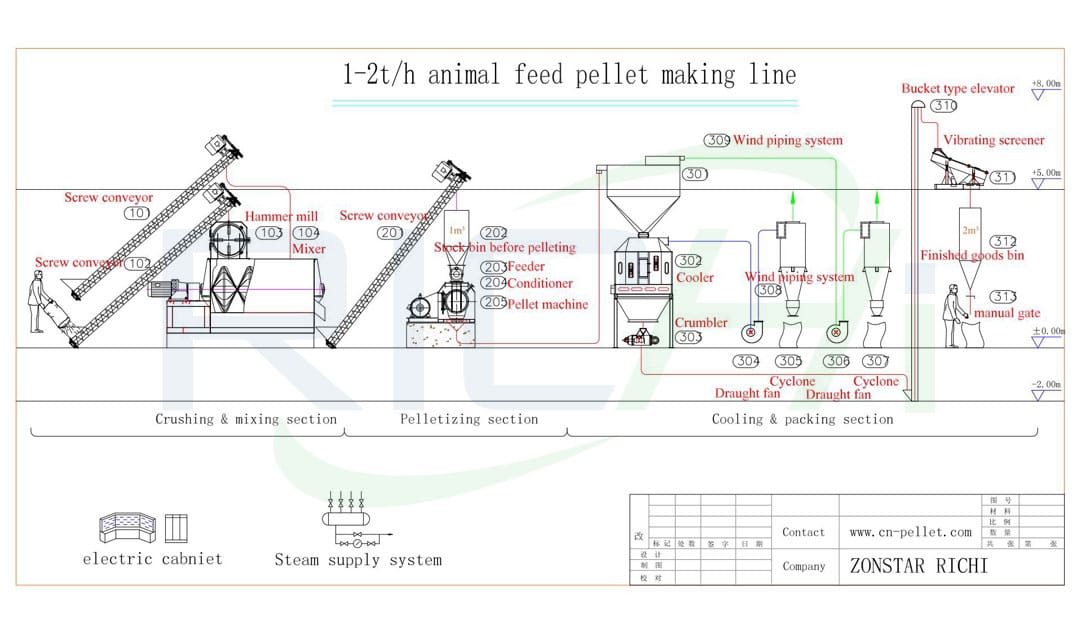 2.1-2 ton/h low cost high return small sized poultry chicken feed mill processing plant layout design
Have you ever wondered how poultry chicken feed is made, or what the nutritional requirements of a chicken are? A poultry chicken's diet is formulated from a range of potential ingredients, that are then mixed together to provide all of the chicken's nutritional requirements. Most of these ingredients are grains, oil seed meals, and animal byproduct meals. The followings are our hot sale equipment unit for small scale poultry feed mill. It is designed for 1~2 ton per hour poultry feed production line.
View the "poultry feed manufacturing process flow and equipment layout design" as shown in the below picture. It is just for reference. Actually, each of our equipment unit or project is designed specially depending on the situation and needs of each clients. So just feel free to leave us a message and tell RICHI what you need, then we can offer the best plan with detailed cost!
Whole Set Machines Needed In Small Scale 1-2TPH Poultry Chicken Feed Mill Plant
(1)4-6T/H Animal Poultry Chicken Food Hammer Mill Machine
(2)Air Lock
(3)Silo with arch breaking structure
(4)Screw Conveyor
(5)250KG/BATCH Horizontal Poultry Feed Mixing Machine
(6)Screw Conveyor
(7)Storage Silo
(8)1-2 T/H High Quality Poultry Feed Pellet Mill
(9)Belt Conveyor
(10) Cache Bin
(11) Feed Cooling Machine
(12) Belt Conveyor
(13)Feed Packaging Machine
(14)Electrical Controlling System-PLC
(15)Steam System-boiler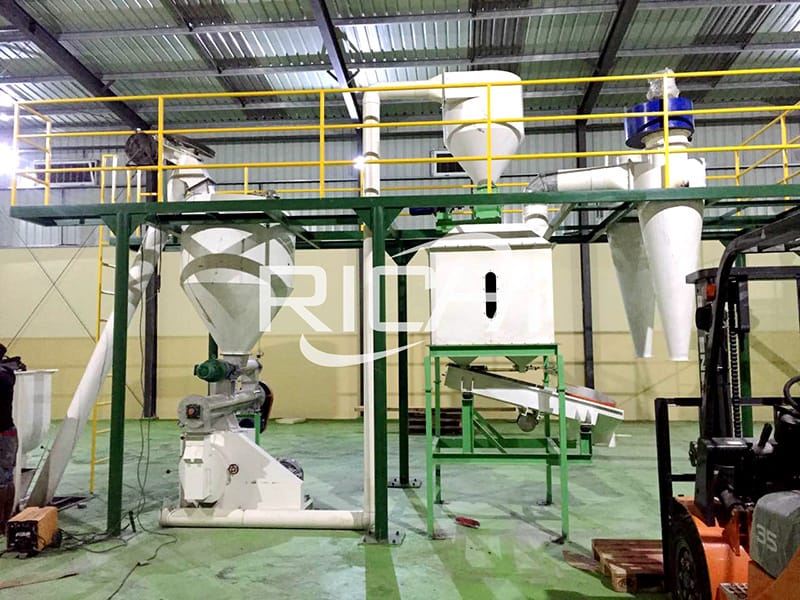 3.Cost of customizable easy to use 1-2t/h small poultry chicken feed plant
The factory price of a complete set 1-2T/H poultry chicken feed line price is usually between 5000USD to 50000USD.Just feel free to contact us and inquiry for detailed quotaion.
4.What ingredients needed in making poultry chicken feed?(poultry feed pellet ingredients for making high quality chicken feedstuff)
Here are some tips for large poultry farms and chicken feed mill factory about chicken feed formula. Most poutlry animals are omnivores, which means they naturally eat both plants and meat. So what ingredients go into making poultry feed?
(1)For starters, about 60-70% of a chicken's diet consists of cereal grains like wheat, barley, or sorghum. Another thing that often goes into chicken feed is oil seed meals, such as soybean or canola meal. These ingredients make up the bulk of the energy content of the chickens' diet. Sometimes vegetable oils or animal fat will be added as an additional source of energy. Since poultry need lots of protein and the cereal grains do not generally contain enough protein for them, many poultry feeds will also contain up to 20% animal byproduct meal. All the ingredients for making poultry feed products are carefully mixed together, and the nutritional composition is precisely calculated in order to give the poultry animals all the nutrition it needs, no matter what stage of development it is at. The grains, oil seed meal, and animal byproducts are referred to as macro-ingredients, because they make up the main part of the chicken diet.
(2)Special Micro-Ingredients Added In Poultry Feedstuffs
Often, special micro-ingredients are added to poultry fattener as needed, because poultry is very sensitive to the balance of vitamins, minerals and amino acids in their diet. The purpose of the micro-ingredients is to correct any imbalances or deficiencies in the macro-ingredients. They are called micro-ingredients because only tiny amounts of them are added to the poultry feedstuffs.
5.Poultry Chicken Feed Pellet Market In Some Countries
In Australia, nearly all of the food given to chickens raised for their meat is in the form of compressed pellets. The pelleted feed is made by first mixing the ingredients according to nutritional balance, and then using steam and pressure to heat said ingredients to 85 degrees Celsius. This causes the pellets to gelatinize and stick together firmly in a cohesive form.
Interestingly enough, most chicken diets in Australia have some grain added back into the pellets after they are made. This means the finished feed is a mixture of pellets and 10-30% whole grain. The reason this is done is that, according to research, eating grains stimulates the chicken's gizzard. Since chickens don't chew their food, they rely on swallowed stones in the gizzard (a muscular part of the stomach) to grind their food into smaller particles. This gizzard stimulation has been found to have long-term health benefits for the chickens, so adding whole grains into the chickens' diet makes for healthier birds.
In America, France, Australia, and the UK, most meat chickens are "grain fed", because the primary ingredient in the feed given to meat chickens consists of grains such as wheat, sorghum and barley. In Australia, for example, about 60-70% of the chickens' diet will consist of grains such as these.
6.Simple operation portable 1-2 ton per hour small animal poultry chicken feed pellet mill machine for sale
The above content is all about the complete 1-2 ton/hour poutry chicken feed pelletizing line, but if the customer's raw materials are already crushed, then you only need to pay attention to the 1-2 t/h small poultry chicken feed pelletizer.
Due to increased technology, poultry chicken feed pellet mill is among the new machines in the market. They are making it easier to make pellets for a various variety of animals like fish, sheep, cattle, poultry, rabbit, chicken, duck, cheese, geese among others. The 1-2t/h poultry feed pellet machine is able to make pellets of a diameter ranging from 2mm to 12mm. It has a capacity of producing 1tph to 2ton/hour. This means you can control the speed of production depending on the demand in the market. The 1-2tph feed processing machine is a great boost to small scale poultry chicken feed mills in the market since they can invest in the small amount of money they have with the 1-2 ton per hour poultry feed pellet mill machine.
Model:SZLH250
Power(Kw):22
Capacity(t/h):1-2
Dia.of Ring Die(mm):250
Final Pellet(mm):2-12
Advantages Of The 1-2 TPH Poultry Feed Pellet Mill Unit
①It has a low production cost
The small poultry feedstuff pellet feed machine does not require too many people to operate. In fact, it requires just one or two people to operate it. This greatly cuts the cost of labor that largely affects the production cost. Low production cost leads to increase in the profit margin.
②Reduced installation cost
The 1-2 ton per hour easy to use small animal feed pellet mill machine is simple and small hence it is easier to purchase and install it. You only need a few minutes to assemble the different parts. This reduces the amount of cash required to call a qualified personnel to assemble it. You only need one qualified personnel and another to help him.
③It's a low investment machine
Due to its small size, the small size poultry feed pellet mill requires a small area. This reduces the cost of hiring a big area of installing it and also the time required to install it.
④Has a wide application
The 1-2tph chicken feed pellet mill machine is capable of producing different sizes of pellets for different poultry and livestock animals. This means you can feed all your animals using one machine at the same time. It has made it easier for the farmers to rear different types of animals in their farms.
RICHI is a reliable poultry chicken feed pellet making machine supplier in China, with decades of experiences in livestock poultry feed manufacturing process.This small poultry chicken feed plant machinery is one of our hot sell equipment for small poultry feed making factories around the world . If you want to buy chicken feed pellet mill for starting your own small poultry feed mill factory, it should be your best choice! Whenever you are interested in our equipments for making poultry feed pellets, don't hesitate to get in touch!