Professional 1-2 ton per hour poultry granule feed pellet mill machine for making chicken feed
2020-09-15 Back to List
If you are looking for related products or have any other questions, please feel free to contact us.
Contact Us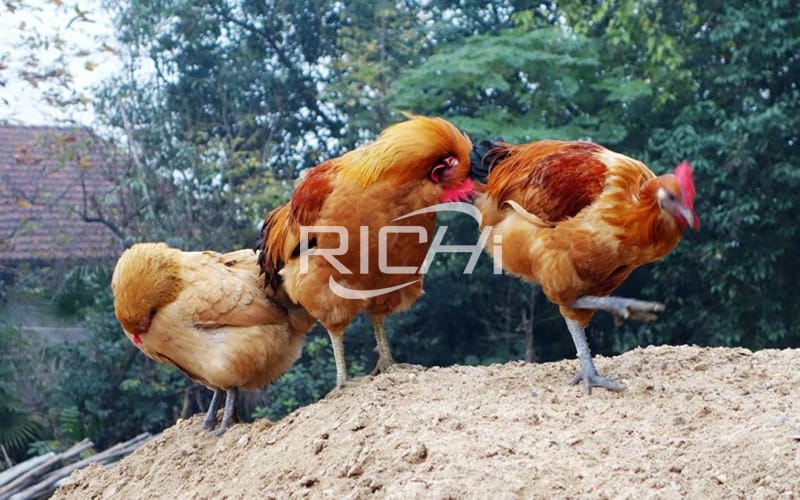 1.China factory price 1-2 ton per hour poultry farming feed pellet mill for chicken feed
1-2 ton per hour poultry feeding pellet mill machine is designed and developed for making feed for chicken ,also for all kinds of animals, adopting pelleting die and pressing roller to compress the loose raw materials into density pellet feed under the high temperature of the pelleting chamber. It's also called poultry feed pellet making machine or poultry feed processing machine. Various raw materials can be made into poultry chicken feed pellet, such as, corn, wheat, grass, grasses, pasture, soybean, straw meal, leftover, carrot, potato, cassava, rice, oil cake etc.
The finished chicken feed pellet has uniform size, high density, rich nutrition, easy to store and manage, and avoiding animals being picky, can be used for feeding cattle, sheep, duck, goose, pig, cat, fish, goat, deer, pigeon, rabbit, chicken, horse etc. The poultry feed pellet mill making machine can be used for many places, including home, backyard, individual farm, breeding factory, livestock feed mill plant, poultry chicken feed mill and animal feed production lines.
2.Classification of 1-2 ton per hour feed pellet mill for poultry chicken feed
According to the different principle, the 1-2 ton per hour poultry feeding pellet mill machine is divided into two big types, including flat die poultry feed pellet mill and ring die poultry feed pellet mill machine, the former adopts flat die while the die of latter is just like a ring, each of them has its own unique features.
(1)Flat die type poultry farming feed pellet mill
This type poultry farming feed pellet mill is mainly composed of feeding hopper, main shaft, roller, electric control cabinet, gear box etc. The driving device drives the main shaft through the gear box, then the pelleting device will start to rotate to press the raw materials, when the raw material enters into the pelleting chamber.
The flat die fodder pellet mill is designed with small size, simple structure and small output production ranging from 80kg/h to 800kg/h, suitable for making chicken feed pellet at home, on farm, small chicken feed making plant,etc.(The flat die granulator can provide a maximum output of 1 ton/hour, because if you need 1-2 tons/hour, this kind of granulator is not suitable.)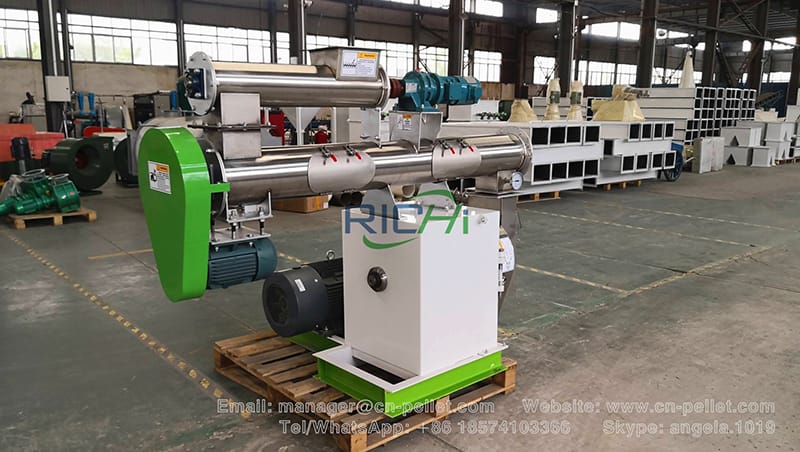 (2)Ring die type 1-2 ton per hour pellet mill for chicken feed
1-2 ton per hour ring die poultry chicken pellet mill mainly consists of screw feeder, conditioner, face plate, press chamber transmission system, over load protection and electric control system. Adopting double belt driven structure to drive the screw feeder, the feeding can be even and accurate, equipped with full resistant steel feeding hopper and imported frequency changer. Various ring die with different die hole and compression ratio ranging from 1 mm to 12 mm are equipped, the clients can choose them according their requirements and actual situation.
The ring die poultry feed machine can produce fodder pellets 1-15 ton per hour, more suitable for making animal feed in medium and large scale pellet production in large scale poultry and livestock farm, breeding factory, animal poultry feed mill factory,etc.
1-2t/h SZLH250 China small chicken feed pellet machine
3-4t/h China factory directly supply good performance poultry chicken feed pellet mill machine
5-7t/h simple operation portable small chicken feed pellet mill machine
8-12t/h China chicken feeding pellet mill equipment
10-18t/h china supplier poultry farming feed pellet mill with ce
15-25t/h China factory price poultry food for making pellet mill
20-30t/h China hot selling poultry animal feed processing pellet machine
25-40t/h With Longlife Guarantee Poultry Chicken Feed Pellet Mill
28-45t/h China poultry chicken granule feed pellet mill machine with ce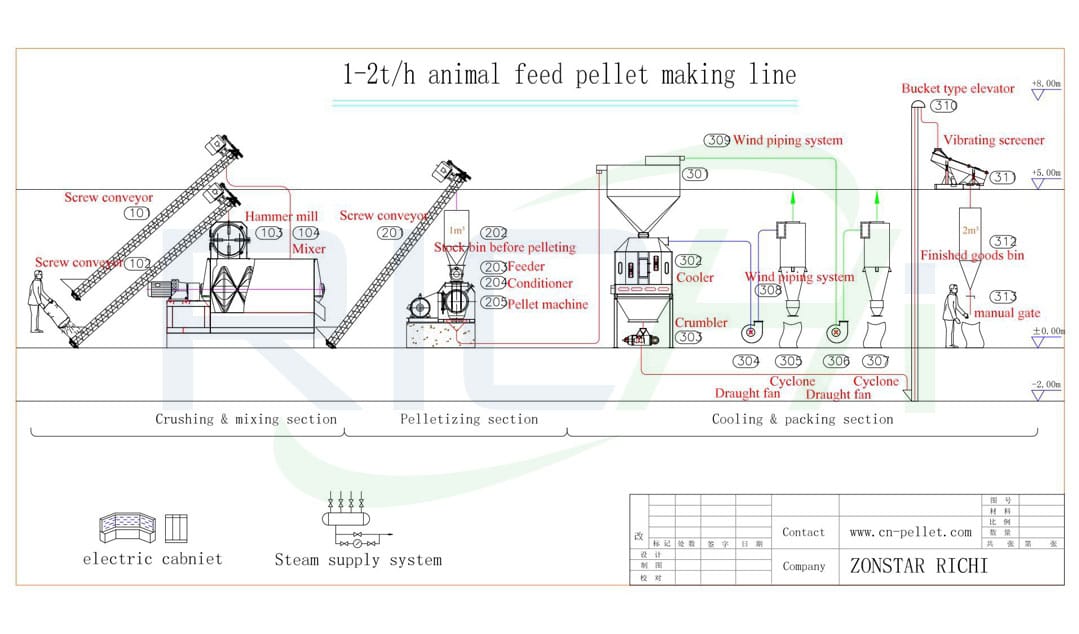 3.Chicken feed manufacturing process in poultry chicken feed pellet making plant
(1)At the first process, you need to prepare the raw material according to the nutrition demand of your animals, as we all know that different animals require different nutrition, even the same kind of animal, they have different nutrition demand in their different growing period.
(2)Before you start to make chicken feed pellets, you should do some pre-preparation well, because the pellet mill for chicken feed has a strict requirement for the raw material. The moisture content should be around 12%-15%, and the size can not be larger than the diameter of die hole. If your raw material are not proper, you can choose the related machine for better production, like poultry feed grinder, dryer and chicken feed mixer.
(3)After preparing the raw material well, it's time to start the chicken feed pellet production. Our poultry pellet making machine types have been mentioned above, you can choose the proper one for your application.
(4)The fresh finished feed pellet has a high temperature, you should cool them before packing. If you make small scale feed pellet, you can put the pellets in a cooling place for self-cooling; if you make large scale fodder pellets, the cooling machine and packing machine are suggested to you for saving your time and proving the production efficiency.
4.1-2t/h poultry chicken broiler layer feed production line we have done:
1-2t/h chicken feed pellet production machine line for poultry feed in Australian
1-2t/h simple home use poultry chicken feed pellet making line in Papua New Guinea
1-2t/h small scale chicken feed pellet processing plant in Peru
1-2t/h automatic small plant poultry pellet feed production plant in Sudan
1-2t/h poultry chicken broiler animal feed pellet making plant in Tanzania
1-2T/H poultry feeding plant in Cape Verde
1-2t/h poultry feedstuff powder feed processing unit line in Tanzania