Best pice 1 ton per hour small poultry chicken feed pellet making plant machinery for sale
2020-09-15 Back to List
If you are looking for related products or have any other questions, please feel free to contact us.
Contact Us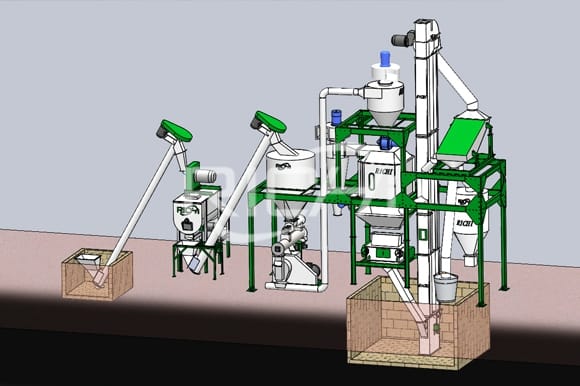 1.1 Ton per hour small poultry chicken feed pellet making plant machinery getting competitive
At present, 1t/h small poultry pellet feed production plant machinery industry is getting increasingly developed, more and more investors are joining in this industry after seeing the bright prospect and high benefits, which leads the intense competition. How to stand out in the competition around the market becomes the consensus. The manufacturers grab the cost sensitivity of the buyers. The price war starts, causing the quality problem appears, too.
2.1 Ton per hour small farm poultry feed pelletizing line plant machinery price
The price is certainly one important element for the buyer to choosing the product, but for the investors, caring about the price only without seeing the product quality, it is the worst thing. Small feed machinery is specially designed and developed for the new beginners with low price and high efficiency.
Generally speaking, the total price of 1 ton per hour poultry chicken animal feed processing plant machinery is 5000USD-50000USD, which is also the cost of setting up a 1t/h poultry chicken feed plant. According to different customer needs, the specific production line configuration is also different. For example, the following three 1 ton per hour poultry chicken feed manufacturing process flow charts:
(1) Customized 1 ton per hour ring die poultry chicken feed pellet making plant (including crumbling machine for baby chicken)
This poultry chicken feed making plant machinery:corn grinder for chicken feed,small mixer machine for animal feed,1 ton per hour polutry feed pellet mill,poultry pellet crumbler,poultry feed pellet cooler,screener,etc.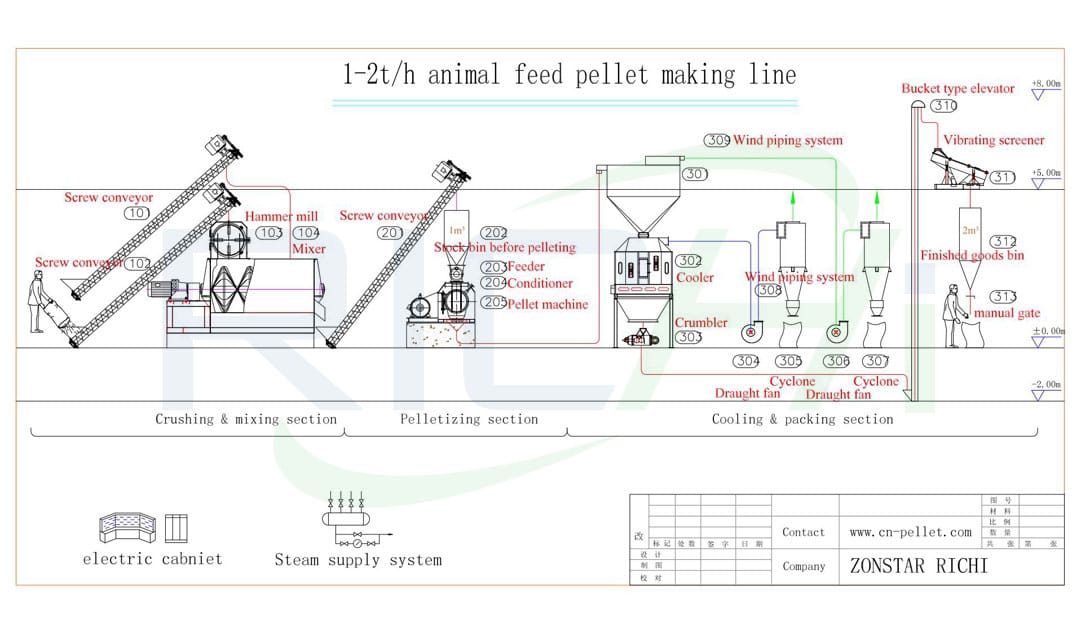 (2)Customizable easy to use 1t/h small ring die poultry feed plant (cover a small area)
This 1 ton poultry feed plant machinery:small poultry feed grinder,small poultry feed mixer,1 ton per hour ring die poultry chicken feed pellet making machine,animal feed pellet cooler,vibrating screener,etc.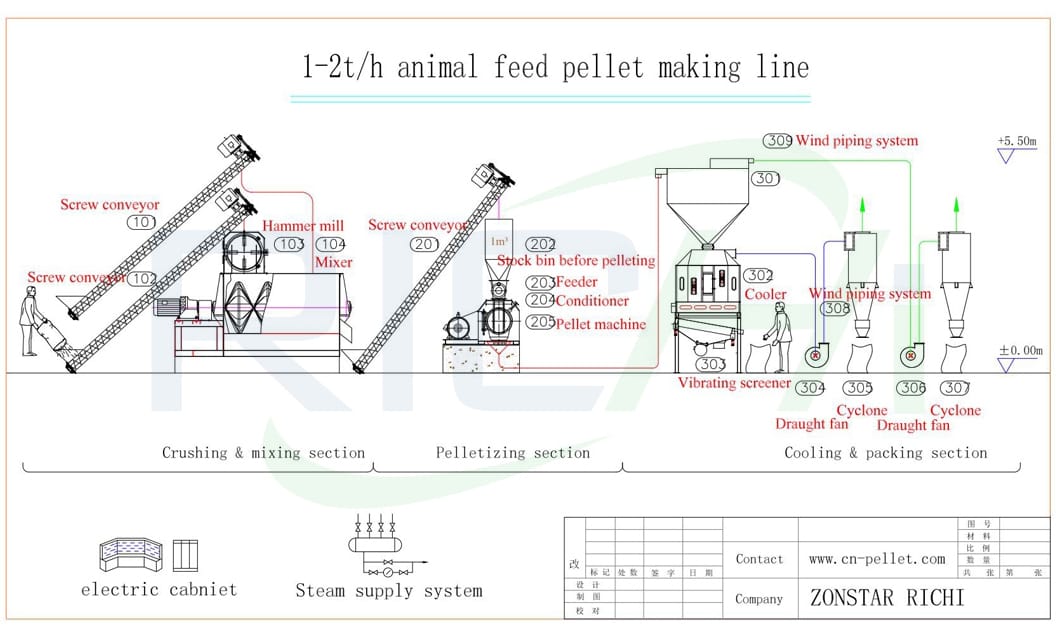 (3)Widely used 1t/h flat die poultry feed production line
This poultry feed line machinery:Vertical 2 in 1 type poultry feed mill machine poultry animal feed grinder and mixer,flat die poultry feed pellet mill.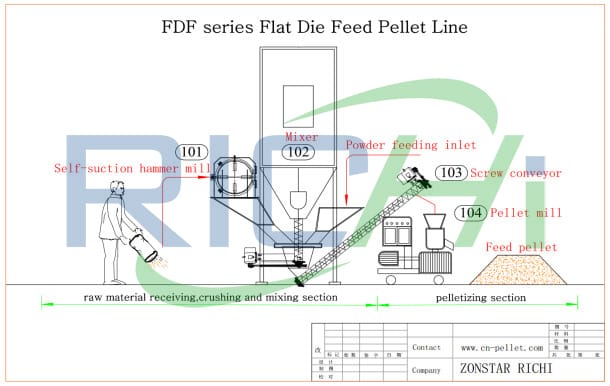 It should be noted that the above flowcharts are only three of our countless flowcharts, and we will customize the production line configuration for customers according to customer needs, raw materials, and actual sites.
3.Small poultry chicken feed mill plant 1 ton per hour machine for sale
Small poultry feed mill machinery is the feed pellet making equipment adopting high temperature and pressing to compress the loose raw materials into high density cylinders by using pelleting die and pressing roller. It is mainly composed of pelleting die, pressing roller, feeder, supporting frame, electric cabinet etc.
Small poultry feed plant processing machine is divided into two big types including flat die type and ring die type, both of them can produce high quality poultry feed pellets for animals.
4.Advantage of Small Poultry Chicken Feed Mill Machinery
(1)Featured with small size, simple structure, wide adaptation, covering a small area, low noise, small poultry pellet feed production line machine has a low cost, small poultry feed machine costs less with high efficiency, very suitable for the new beginners and new investors.
(2)For making the powder feed and grass powder feed, there is no need to add much addictives for producing into uniform size of feed pellets, thus the moisture content of the final feed pellet is basically the pre-moisture content, better for storage.
(3)Whether with the single or complete small poultry feed machine, various animal feed pellets can be produced like chicken, duck, fish, birds etc, which obtains higher economic benefits.
(4)With dry material processing, the produced feed pellet has higher density, more smooth surface, higher inner curing degree, improving the digestion and absorption of nutrition.
(5)During the poultry feed pelleting processing, the trypsin resistance factor inside of grain and soybean militate, reducing the bad influence on digestion, killing the various parasitic ovum and other pathogenic microorganisms, thus reducing the hemiparasite and digestive system disease.
Richi Machinery has been engaged into manufacturing 1t/h small poultry feed plant machinery from the earlier time, becoming the leading of this industry. Tears of experience in manufacturing poultry chicken feed machinery and building small scale poultry chicken feed production line, we have provided the clients from all around the world, getting their high praise.
1-2 ton per hour chicken pellet mill in Tanzania chicken feed making plant
chicken pellet mill machine for 1-2 ton per hour chicken poultry feed mill in Gambia
ISO approved chicken pellet making machine in Iraq small chicken feed processing plant
1-2 ton per hour machine for chicken feed in Cape Verde full automatic chicken feed pellet production line with CE
1-2t/h chicken poultry feed machine in Malawi complete set poultry animal feed pellet production line
1-2 ton per hour chicken feed making machine for widely used ring die pellet production line in sudan
1-2t/h chicken feed machine in Uzbekistan small scale chicken feed pellet making line
1-2t/h chicken feed pellet making machine in Botswana small chicken pellet production making line
To realize highly efficient machinery, meet the requirement of low cost, we are improving the market reaction rate, fastening the technological innovation, strictly controlling the mechanical quality, reducing the production cost, thus giving the best benefits to the customers. Welcome to join Richi Machienry!